TORONTO — In the first period, Laura Stacey had fired a nearly no-look cross-ice pass that her captain rifled into the back of the net, and so, when Stacey dropped a shoulder and made like she was going to shoot later in the game, linemate Jamie Lee Rattray wasn't fully convinced.
"She kind of faked everyone else in the building out," said a grinning Rattray after Team Canada's 4-3 win over the rival Americans on Thursday, "and luckily I was ready for it."
Rattray ripped a shot low and blocker-side before she exploded in celebration, along with her teammates and a very loud Scotiabank Arena. The celebration was huge — thousands of kids wearing their minor hockey jerseys will do that — and eventually, very fitting, because Rattray's third period goal stood as the winner in a Valentine's Day Battle. And now this inaugural Rivalry Series is knotted at one.
You had to know a Team USA and Team Canada best-of-three women's hockey series would come down to Game 3, which is slated for Sunday afternoon at Little Caesars Arena in Detroit. "It usually comes down to that final moment," Stacey said, "the final buzzer."
Though Canada out-played the Americans for large parts of Tuesday's Game 1 — mainly the first, and much of the third — they couldn't find the back of the net in the 1-0 loss. On Thursday, it was their power play and third line that drove some much-needed production.
Rattray and Stacey, who are both scoring at a more than point-per-game clip for the CWHL's Markham Thunder, are new linemates with their club team, starting about six games ago. This series marks the first time they've played on a line with Blayre Turnbull up the middle.
Turnbull led the rush that led to the game-winner, dishing the puck off to Stacey before driving the net and pushing back the American defenders. That opened things up for Stacey's second beauty pass of the game, after finding Marie-Philip Poulin earlier to get Team Canada on the board.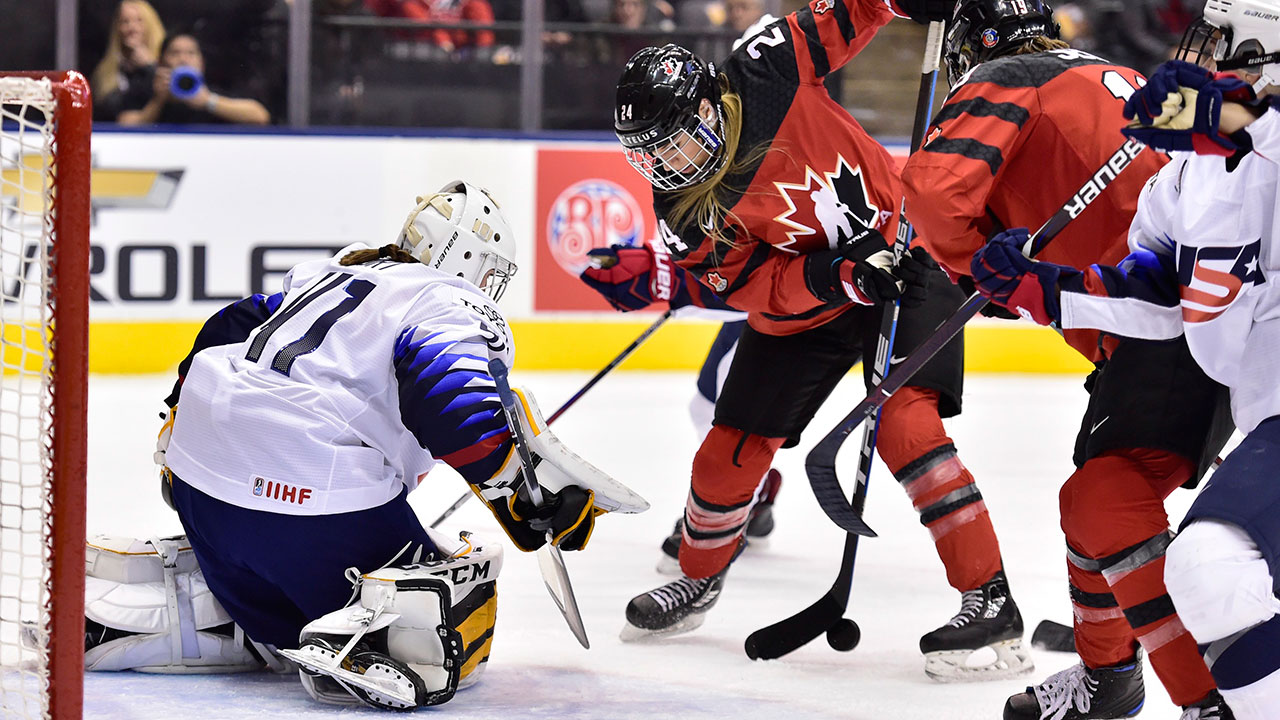 On that first goal, which tied things up shortly after Team USA had opened the scoring, Stacey says she heard "a ton of people" calling for the puck. As soon as she saw an opening for the cross-ice pass, she made it happen. Is there anyone she'd rather find wide open in the slot than Poulin? "Definitely not, that's for sure," Stacey said, grinning. "Worked out pretty well, I can say that."
Poulin was hoping the puck was coming her way, but she wasn't sure.
"I didn't know if she saw me, and she really put it on my stick and lucky enough I was right there," the captain said. "She had a great game. That whole line — Turnbull, Rattray and Stacey played unbelievable. It's nice to feed off them."
The team's third line of Turnbull, Stacey and Rattray have been trying to keep things simple: Get pucks behind the American defenders, chase and try to create turnovers. "We've been trying to use our speed and our size and just create chaos," Stacey said. "I think so far it's done a little bit of damage."
More than a bit, if you ask Canada's head coach, Perry Pearn. "I thought one of the big differences in the game [Thursday] was how good the Turnbull unit was," he said. "I just knew when I sent them on the ice, chances are we're going to play a shift in their end. And chances are we're going to grind on them. That's certainly what they did."
That's not the role Turnbull and Stacey and Rattray are used to. Pearn has asked the trio to be the grinding and checking line, and it's an adjustment for three women who are elite scorers on their club teams. "She's an offensive player in the CWHL," the coach said, of Rattray. "Here we're asking her to be a completely different kind of player, be patient. And I give her a lot of credit — she's worked very, very hard at trying to do that, and tonight was rewarded for it."
In her college days, Rattray won the Patty Kazmaier Award (in 2014) as the top player in NCAA hockey and led Clarkson to a first-ever NCAA title. She's the school's all-time leading scorer with 181 points (77 goals, 104 assists) in 147 games.
And yet, the 26-year-old from Kanata, Ont., is pretty sure that goal she scored on Thursday was just her second with the senior women's national team, which she cracked for the first time in 2014. Rattray, who also had an assist in the win, thinks it's her first-ever winner for Canada at the senior level — a goal witnessed live by her girlfriend, her parents and some other extended family.
"Yeah, that was pretty fun," she said, grinning, "Not a bad goal to score, I think."
Not in the least. And while the win doesn't mean anything in terms of points or hardware, it's a big one for Canada, its first against the Americans since the round robin at the Olympics a year ago. As Poulin put it: "It's been a while, obviously."
It has. And for Pearn, who took over as the team's head coach last October, it's a first-ever win against the Americans in his new role.
"We've played three games against them with me and the helm and hadn't won, so you always want to be in the win column," he said. "You know the GM's up there looking down, and I think in this job if you can't beat the U.S., they might find somebody else to do it. You want to beat the U.S."
Canada does, and one more time to close out this series in a winner-takes-all. Could it end any other way between these two hockey powerhouses?
"It's gonna be fun," Rattray said, "that's for sure."