NASHVILLE — Say it like Dr. Evil: One million dollars.
In addition to switching to a 3-on-3 format for Sunday's All-Star Game, the National Hockey League splashed the pot, plunking a $1 million prize for the winning squad—$90,909 per player. The idea being that, with some green up for grabs, the players would make sure to attend, skate a little harder, and fan interest might spike.
---
Free Sunday: Users in Canada can watch the the 3-on-3 NHL All-Star tournament on Rogers NHL GameCentre Live.
---
But how much does the dough matter to the mostly millionaire all-stars? Will it really have an effect on the level of play, which had sunk somewhere near casual Sunday shinny?
Depends whom you ask. Will 90 large make a difference on the ice?
"What do you think?" laughs Philadelphia's Claude Giroux, dreaming of dollar signs. "It's good."
---
NHL All-Star teams by total salary cap hit
Central — $68.4M
Metropolitan — $65.8M
Atlantic — $54.7M
Pacific — $52.4M
---
"Some of these guys are making so much money, it doesn't even matter, but I'll absolutely take it," says Aaron Ekblad, still on an entry-level contract with a base salary of $925,000.
Ottawa defenceman Erik Karlsson says of course the money matters but believes there will be a feeling-out process between the squads early in the tournament.
"We'll see how the other guys treat it," Karlsson says. "I won't say I'll block any shots, but I maybe will skate faster and shoot harder."
Patrick Kane's $10.5-million average annual salary tops all the stars, while John Scott's $575,000 cap hit marks the lowest.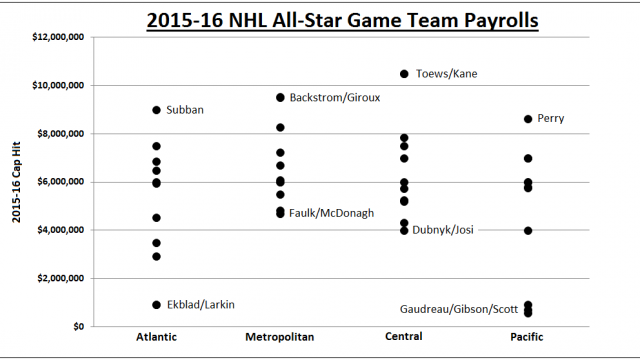 (Salary chart via Forbes. Created before Alex Ovechkin and Jonathan Toews pulled out of the game.)
For the average all-star, a win would equate to a 1.6% salary bonus, basically a cost-of-living raise. For the average full-time employed Canadian, this would be like winning $784.
If Scott's Pacific team wins, that'll translate to a 16% salary bonus, but that's not why he's here.
"Oh, gosh, no. It didn't even cross my mind. It's definitely not a factor," Scott said. "I don't expect any money out of this."
Florida's Roberto Luongo says the money is irrelevant to goaltenders—arguably the one group that wasn't half-trying during previous exhibitions. Toronto's Leo Komarov says the money will make winning feel better but will have no bearing on his game. He won't be dishing out any hits.
Daniel Sedin already knows what he'll do with his reward if his Pacific, the "poorest" team, takes the tourney.
"If I win, it'll be going to a good cause, I know that," says Sedin, who runs a charitable foundation with brother Henrik. "You can play for those kind of things. But I think the All-Star Game, guys should want to go regardless if there's money or not."
Commissioner Gary Bettman won't say who came up with idea or whether another $1 million will be dangled next year in Los Angeles.
"A great idea has a million parents, and a bad idea is an orphan," Bettman said. "Nobody needs to take credit for that. It's there, and it should be good."