She's a 29-year-old sniper nominated for top rookie honours.
She played for Team Russia at three Olympic Games before moving to North America, speaking very little English.
She was the first Russian to win Canadian Inter-university Sports' top female hockey player, and could become the first Russian to raise the CWHL's Clarkson Cup.
Her name is Iya Gavrilova.
An example of the unique opportunities and stories the Canadian Women's Hockey League provides, Gavrilova has had just about the most remarkable road to the top prize in women's professional hockey.
Born in Krasnoyarsk, (then) Soviet Union — also the birthplace of Alex Semin — the Calgary Inferno forward was a standout with the Russian team internationally but her father had dreams of her playing in North America.
"I think he had that vision since I was little, even if I didn't feel like going. I was pretty comfortable back home," Gavrilova says ahead of the Inferno's last practice before Sunday's final.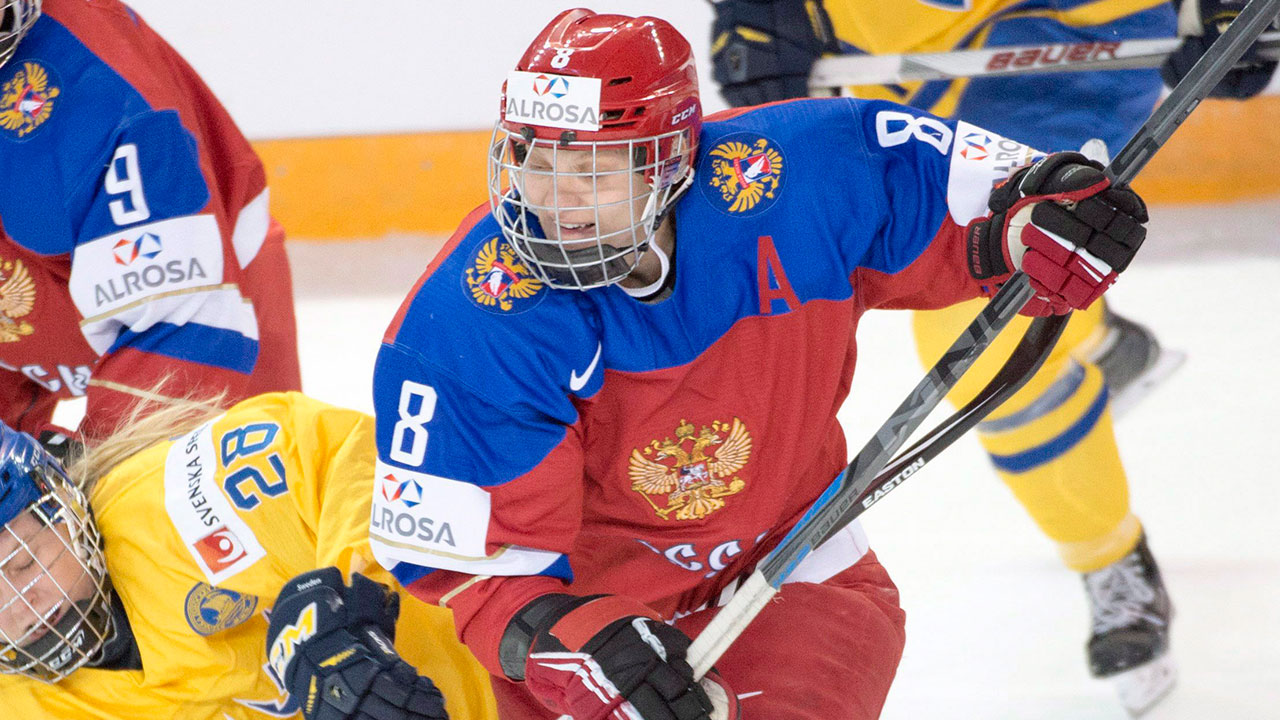 Gavrilova played for Team Russia at three Olympic Games before moving to North America. (Ryan Remiorz/CP)
---
But at the 2007 world championships in Winnipeg, Gavrilova met coach Shannon Miller, who coached the first Canadian women's team at the Olympics to a silver medal in 1998 and who convinced Iya that the NCAA was better for her growth.
"She is the best coach I've ever had," Gavrilova says. "She's not just coaching the athletes, she coaches people. She cares about her team so much and you feel that — you feel taken care of. You want to play for her and the team and the university. Watching videos, doing systems — that was a new world for me, I'd never done that."
Gavrilova scored 41 points in 26 games before losing her eligibility after one season, and since then, she's led a charmed life, bouncing from one invaluable women's hockey legend to another. Miller, whose record is fourth all-time among Division 1 women's coaches, steered her toward Danielle Goyette, a three-time medalist with Team Canada, who was coaching at the University of Calgary.
Once there, the Russian played on a line with Hayley Wickenheiser. By the end of her four-year tenure with the Dinos, Gavrilova was the school's all-time leading scorer, one point ahead of her Canadian linemate.
"Hayley's an amazing woman, off and on the ice," she says. "She was part of the reason I came to Calgary because I thought I could learn form her and the coach, Danielle Goyette."
Interrupting her years in Calgary was the year she spent back in Russia, training and playing in the 2014 Sochi Olympics. She wondered if she'd ever go back.
"I missed Canada: the culture, the food, my friends — I wanted to go back and play hockey," she says. Gavrilova returned and was named 2015's top female hockey player in the CIS (now USports). "Coming back in 2015, I was hungry for the game and maybe that's what paid off in the end. I was enjoying my life, being happy."
As a 29-year-old, she joined the CWHL's Inferno with an established tie to the city and found instant success, being nominated for rookie of the year. She lost out to the Brampton Thunder's Laura Stacey at Friday's awards gala.
"It's been a transitional year for me, going from university to working full-time and playing competitive hockey," says Gavrilova. "It wasn't easy for me."
Chris Tanouye on Twitter

About that. She rattled off 14 points in the Inferno's last 10 games of the regular season and scored three goals in the team's three-game semi-final series against the Toronto Furies last weekend. She finished second in team goal scoring and fourth in points. She also scored in her first CWHL game.
"We call her the Russian sniper. She's been so hot lately," says Inferno captain Brianne Jenner. "The word I would use to describe her is dangerous. I saw her score a goal from almost behind the goal line when we were in Japan this year."
The Inferno, who have two Japanese players on the roster in Akane Hosoyamada and Aina Takeuchi, played Team Japan in a tune-up game for the international squad. Japan later qualified for the 2018 Olympics.
"It was at the goal line, it wasn't from behind it," Gavrilova says.
[relatedlinks]
Winning the Clarkson Cup would be another in a long line of impressive accomplishments for the Russian goal scorer, while the Stanley Cup eludes a peer of hers whom she hopes also finds success. Alex Ovechkin is two years older than Gavrilova and she would be wearing number eight for Calgary if it was available.
What would it mean if he finally won the NHL's ultimate prize?
"Oh my god, I've been waiting 10 years," she says. "I watched him grow up in Russia and went to his games in Moscow. I want him to finally win and for his dream to come true."
Are there similarities in their games?
"We're different players," she says. "He's a big guy…and I'm just a skinny girl. I just love watching him, the way he enjoys the game and the fun he has on the ice. When you're 29, sometimes you get caught up in work but you come to the rink and try to enjoy it."
Gavrilova turns 30 in September but that's not on her radar yet.
"Actually, I don't have plans. I don't want to think about it."
For at least one more day, she can just go to the rink and enjoy the game.