The Sherwin-Williams CHL/NHL Top Prospects Game will take place Monday, January 30 in Quebec City and features 40 prospects eligible for this summer's NHL draft.
Here are 10 things to keep an eye on during the game, which you can watch on Sportsnet.
10. Another Audition for Centre Videotron
It would be a crying shame if this building never got a chance to host an NHL team. The 18,000-plus capacity building is spread over 65,000 square metres. It looks like a spaceship from the city centre and there's a massive unfinished space in the middle of the building awaiting plans for an NHL dressing room. It will show beautifully on TV.
9. Return of the Panel
Jeff Marek, Todd Warriner and Colby Armstrong will be on-site to discuss the plight of the prospects from a variety of angles. Warriner was the fourth overall selection to the Quebec Nordiques in 1992, while Armstrong went 21st to Pittsburgh in 2001. Armstrong played in the 2001 Top Prospects Game. The trio will be fired up to be back on the scene for the first time in the 2016-17 season.
8. Sour Grapes
Team Cherry has not won this game since 2010 in Windsor. Team Red was paced by Jordan Weal and Alex Petrovic who each had two points. Ryan Spooner's short-handed marker past the midway mark of the third period proved to be the deciding goal. That game also featured a Don Cherry-like two scraps. Since then, however, the $100 bet has gone the way of old No. 4.
---

Follow Jeff Marek's 2017 NHL Draft Rankings all season.
---
7. Strome-ing around
One last kick at the can for a Strome. The Strome family is 0-2 with Team Cherry. First, Ryan played in the 2011 game and went pointless in a 7-1 loss — he was selected fifth overall by the Islanders that June. Dylan lost 6-0 in the 2015 with Team Cherry, but wound up going third overall to Arizona that summer. Organizers must have known this and maybe that's why Matthew Strome has been placed on Team Orr, where he will attempt to end the Strome jinx.
6. Trade Winds a Blowin'
With so many GMs and head scouts in attendance, it's impossible not to have an NHL rumour or two come out of this game. It essentially marks the unofficial start to the NHL trade deadline. Several teams build their scouting meetings around this game.
5. It's been that long?
Quebec City last hosted this event in 2007 where Team Burns/Bergeron defeated Team Bowman/Demers 5-3. The game-winning goal was scored by Jakub Voracek, with an assist from David Perron. In case you're wondering, Patrick Kane, Logan Couture, Sam Gagne, Brandon Sutter and Karl Alzner also participated in that game.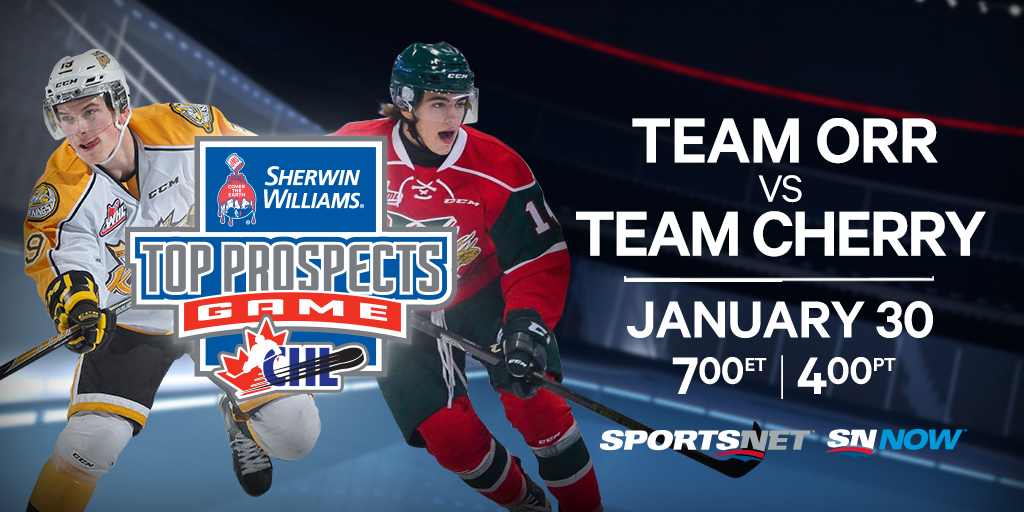 4. Sons of NHLers
The trend continues in the 2017 edition with the likes of Jake Leschyshyn, son of former Stanley Cup winner and 1988 third overall pick Curtis. Nolan Patrick, whose dad Steve went 20th overall to Buffalo in 1980 and Callan Foote, the son of stalwart NHL defenceman Adam (22nd overall in 1989) will all play Monday night.
3. No Swedish, all Finnish
The small Scandanavian country accounted for three of the top five picks in the 2016 draft. While that's not likely to happen in Chicago, there should still be a strong contingent of Finnish first rounders, including Tri-City's Juuso Valimaki and Portland's Henri Jokiharju, who are both participating in this game. Eeli Tolvanen will also go early in the first round, but he's in the USHL so you won't see him in Monday's game.
---

Not a scout? No worries. Jeff Marek's newest podcast is all you need.
Listen now | iTunes | Podcatchers
---
2. Who will quickly arrive in The Show?
With this draft class considered weaker than in recent memory who, if anyone, will emerge from this game and stick in the NHL for the 2017-18 season? Last year Team Cherry's Jakob Chychrun, and Team Orr's Matthew Tkachuk were the only two to make the jump to full-time NHLers. Chychrun is playing over 16 minutes per game in the NHL, while Tkachuk is quickly making a name for himself as a point-producing menace with Calgary.
1. Nolan Patrick vs. Nico Hischier
Thanks to a stellar world juniors, Halifax's Nico Hischier enters the game as the second-ranked North American Skater. And Patrick, despite not having played a game from October 12 until the day the mid-term rankings were released, maintained his status as the top-ranked player. Don't tell either player that one game doesn't make a difference.