TORONTO — In an alternate universe, Ty Smith may have taken a different journey to reach the same place.
Smith, a Spokane Chiefs defenceman and the best 2018 NHL Draft prospect from the WHL, is about to compete in his second straight world under-18 championship for Canada.
But first, some background. Smith was the No. 1 WHL bantam pick in 2015, a year when he could have been selected by a team much closer to his home in Lloydminster – a city that divides Alberta and Saskatchewan.
"Some of the guys on our team laugh about the trade that was made for Collin Valcourt and got the first and fifth (round picks) that ended up being (Kailer) Yamamoto and I," he said after a recent Team Canada practice. "Some guys kind of joke about it and say that we could be in Saskatoon."
In 2013, the Blades were in the midst of a Memorial Cup-hosting season and were in desperate need of reinforcements after struggling in the first half. One of the deals they made was for Valcourt, a bruising veteran winger, in exchange for a 2013 fifth-rounder and 2015 first. But the cost of futures to bolster their lineup in the present ended up sending the Blades into a years-long rebuild.
Smith, meanwhile, ended up far away from home and in a different country after the Blades won the 2015 draft lottery, but had to forfeit their selection to the Spokane Chiefs.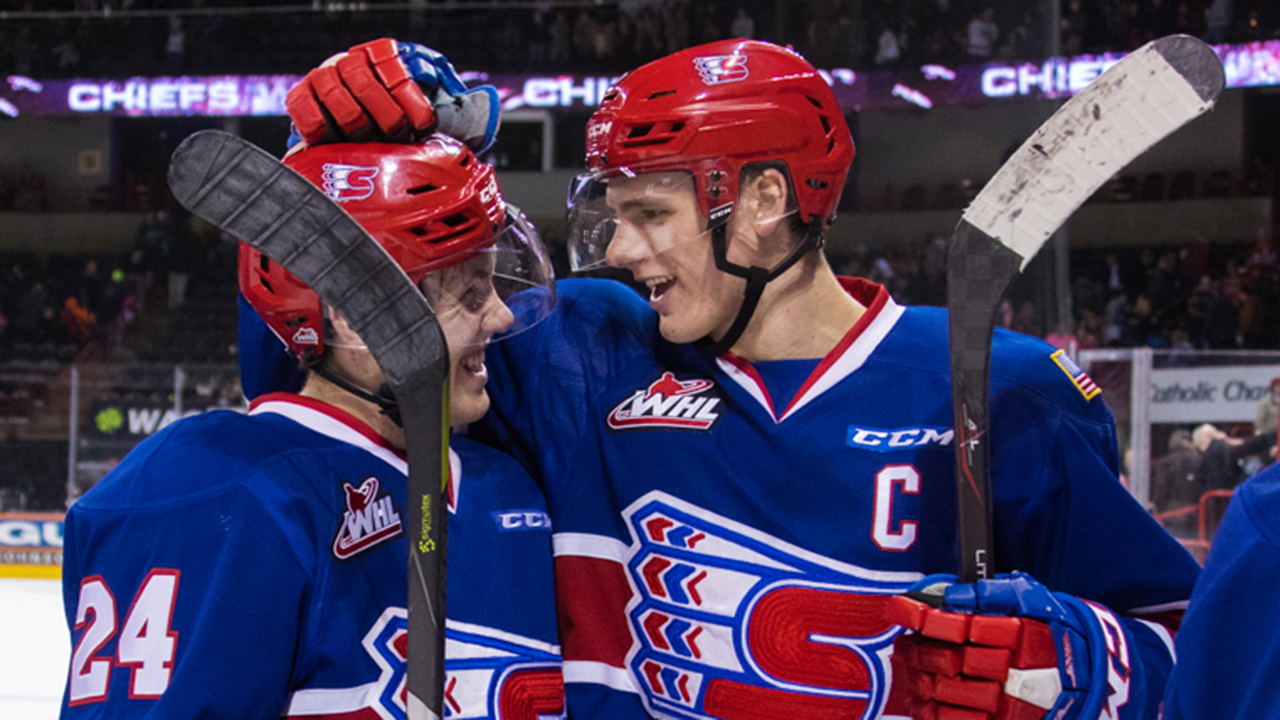 It's impossible to know how the two teams would have fared had the trade not been made.
Would the Blades have even selected Yamamoto, the 2017 Edmonton Oilers first-rounder, with their own 2013 fifth-round pick? Would Yamamoto, a Spokane product, have reported to Saskatoon?
And how would Smith have changed the fortunes of a team that's now missed the playoffs in five straight seasons?
Other than the occasional chuckle with teammates, Smith said he doesn't spend much time thinking about what could have been with the Blades.
In his first two WHL seasons, Smith has seen both his real and would-be teams have their years end early. The Blades missed the playoffs for the fifth straight time since hosting the 2013 Memorial Cup, whereas Spokane fell short of the post-season in 2016-17 and then lost to Portland in seven games Round 1 this year.
So, Smith gets a chance to compete at another under-18 tournament, beginning Thursday. Last year he was one of six under-age players on the team that finished fifth. After serving as an alternate captain on Canada's gold medal-winning Ivan Hlinka team in August, he's expected to play a leadership role in Russia.
"Failing last year makes me that much hungrier for success," Smith, 18, said. "There's a couple other guys in there that are returning guys and I think we're all having the same feeling."
[snippet id=3700369]
Canada is rarely the favourite at this tournament and has only claimed seven medals with golds coming in 2003, 2008 and 2013. Candidates to play on the team are ineligible if their CHL teams are still competing in the playoffs, whereas other countries mostly aren't faced with the same restrictions. (Sweden, however, won't have defenceman Rasmus Dahlin at its disposal this year as the NHL's projected No. 1 pick recovers from a hectic season).
Having a player like Smith — the 14th-best North American skater, per NHL Central Scouting's mid-term rankings — is a boon for Team Canada coach Don Hay. Hay knows the five-foot-10, 175-pound blueliner well, having seen him regularly from the opposing bench with WHL Kamloops.
"He's a really good player. He's really competitive. He's a worker. He's got a very high-quality skill package. He has an ability to make plays," Hay said. "I watched him really closely in the playoff series against Portland. He really controls things and played a really hard game. He's not the biggest guy, but he competes at a really high level."
[snippet id=3637277]
Speaking of reaching another level, Smith's offensive game took a massive step forward this season.
Smith was named to the Western Conference's first all-star team after finishing second in scoring among all WHL defencemen with 14 goals, 59 assists and 73 points, earning 41 more points than he did a year ago. He also quarterbacked the Spokane power play, where he recorded three goals and 24 helpers.
Smith attributes the production increase to experience and maturity, but Hay believes there's more to it than that.
"He's a really smart guy. He doesn't have a hard, hard shot, but he gets his shot through. He finds a way to have his head up and get pucks through," Hay said. "He gets lots of assists. He took charge of the power play there in Spokane. He was a big reason why it was successful.
"I watched him when he was a bantam. He's just continued to grow and has gotten better. It's a real credit to him and a real credit to Spokane."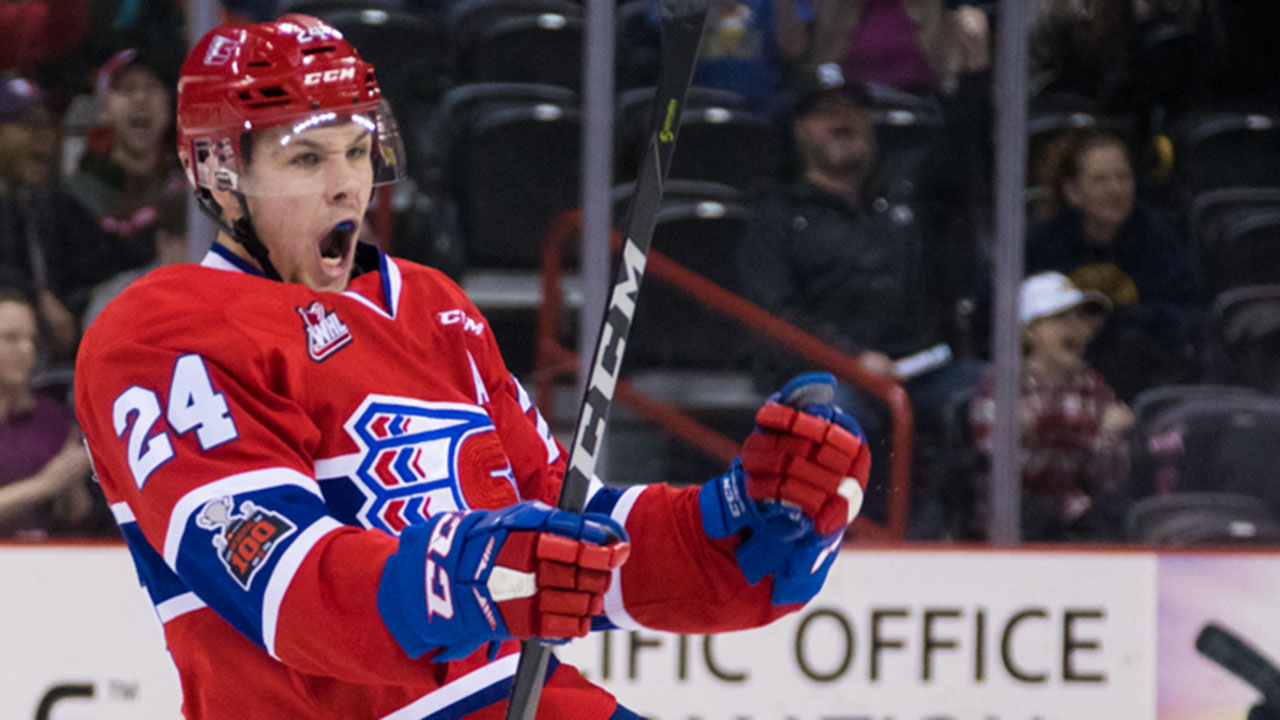 Smith's development has flourished in Spokane, a place he probably wouldn't have been had it not been for that lopsided trade a few years ago.
Although being closer to home surely would have been nice, getting selected by the Chiefs put Smith in arguably the toughest division in the WHL and has regularly pitted him against some of its best players.
That's made for a treacherous journey, but one worth taking.
"It's a battle every night. It's fast. It's heavy, hard-hitting hockey," Smith said.
"Both years I've played in the league, the U.S. Division's been really strong. Last year with guys like (Mathew) Barzal, it helps me improve a lot and work on my defensive side of things, too. There are such good players – (Cody) Glass, (Kieffer) Bellows, (Michael) Rasmussen. They're all high-skilled players. It helps out a lot."
[relatedlinks]