The Seattle Thunderbirds tore through the Western Conference playoffs last year, going 12-1 on their way to the final. They lost out to Brandon for the big prize but could be poised to make another run but their fortunes may be decided by what happens in Brooklyn with the Islanders and Mathew Barzal.
Even if Barzal does return to the fold for one more year, Seattle will have some stiff competition within their own division and the tough, deep B.C. Division. Can Seattle repeat? Will one of those B.C. teams overtake them this year? Who will surprise? Who are the top players to watch? Here is a break down of the WHL's Western Conference.
Who's going to win this thing?
If Seattle gets Barzal back it will be in the conversation again to get back to the finals. The Thunderbirds will have to make up for Ryan Gropp's 34 goals along with the graduation of some veteran defencemen and goalie Landon Bow. Either way they have some depth and will be a contender to at least win the U.S. Division, but the question remains will they have enough to advance and get past the big boys in the B.C. Division?
The Victoria Royals won the Scotty Munro Trophy last year for leading the league in points and even though they lose blueliner Joe Hicketts, appear to be just as strong this year. Head Coach Dave Lowry has his team loaded with speed to kill with guys like Matthew Phillips, Dante Hannoun and Tyler Soy. In net, Griffen Outhouse appears more than ready to take over the top spot. They'll have a tough go at it in deep division and will have to deal with the always hard to beat Kelowna Rockets.
Last season, the Royals were less than a second away from advancing to the Western Conference final. They lost a heartbreaker to the Rockets in Game 7 but will have learned from that experience. Victoria will put that last second goal behind them and get to the first WHL Final in the history of the franchise.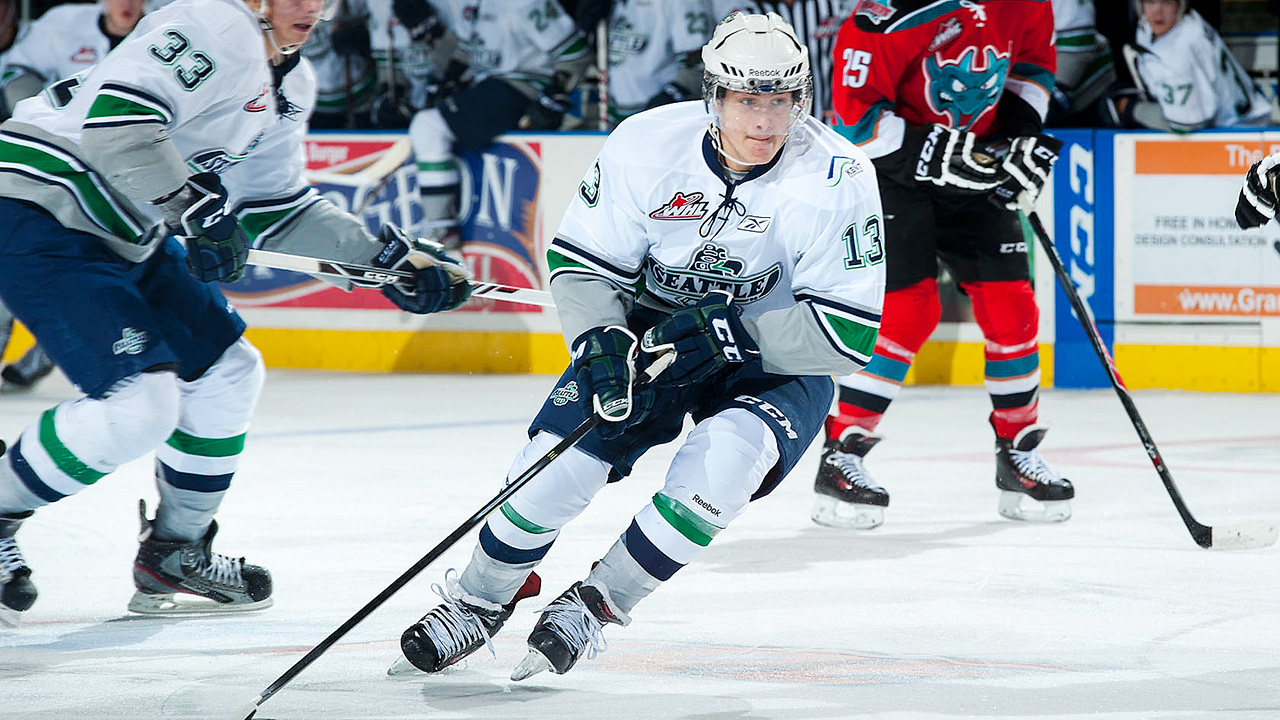 Who could surprise?
After a terrible start to the season, Don Hay got his Kamloops Blazers going and they were as good as anyone down the stretch. Kamloops pushed Kelowna to seven games in the first round and could be a surprise club this year. The Blazers have outstanding goaltending in Connor Ingram and enough firepower up front with guys like Collin Shirley, Deven Sideroff and Matt Revel to contend. They are in a slog of a division and will have to punch it out nightly with Victoria, Kelowna and Prince George but don't be surprised if the Blazers push for the division lead.
What ifs?
What if Barzal sticks with the Islanders? It's been hard to read the tea leaves with the Islanders. A Thunderbirds team with Barzal in the lineup will be hard to knock off. Without him, Seattle still has some horses in guys like Keegan Kolesar, Edmonton Oilers prospect Ethan Bear and Scott Eansor. The loss of Barzal probably knocks them out of the conversation for the conference title but they could still be the class of the U.S. Division.
What if Spokane's young guns gel early? The Chiefs are on the doorstep of something special. They are loaded with young, promising players and the future looks pretty bright. The general consensus is that they are still a year, or two, from their maximum potential. Kailer Yamamoto is the lynch pin and the 2017 draft eligible will lead them in scoring. If guys like former first-overall bantam pick Ty Smith and fellow first rounder Koby Morrisseau can put together strong rookie seasons, the Chiefs will make some noise.
Pre-season all-conference team
Mathew Barzal, C, Seattle Thunderbirds
Assuming the Islanders prospect is returned to Seattle he will be one of the top players in the WHL. Coming off a year that saw him dish out 61 assists in only 58 games, he has a chance to end his junior career averaging an assist a game.
Tyler Soy, C, Victoria Royals
Soy broke out with Victoria last year. He set a career high with 46 goals and 85 points. That was good enough to get him selected in the seventh round by the Anaheim Ducks in the NHL Draft and he will be counted on to lead the Royals this year as a 19-year-old.
Jesse Gabrielle, LW, Prince George Cougars
The 19-year-old Boston Bruins prospect has played for three WHL teams, but seems to have found a home in Prince George. He potted 40 goals last year and plays a tough, physical game.
Ethan Bear, D, Seattle Thunderbirds
Despite being left off of Team Canada's U-20 summer camp roster, Bear will continue to be one of the best blueliners in the league. Always humble, the Oilers' draft pick—who has a monster of a slapper—scored 19 times last year and was nearly a point-per-game player.
Noah Juulsen, D, Everett Silvertips
The Montreal Canadiens first-rounder is often overlooked because he hasn't exploded offensively. Don't let that fool you—Juulsen is the real deal. He plays physical and mans the power play for the Silvertips. He won't be the top scoring defenceman but he does have some sneaky offensive prowess.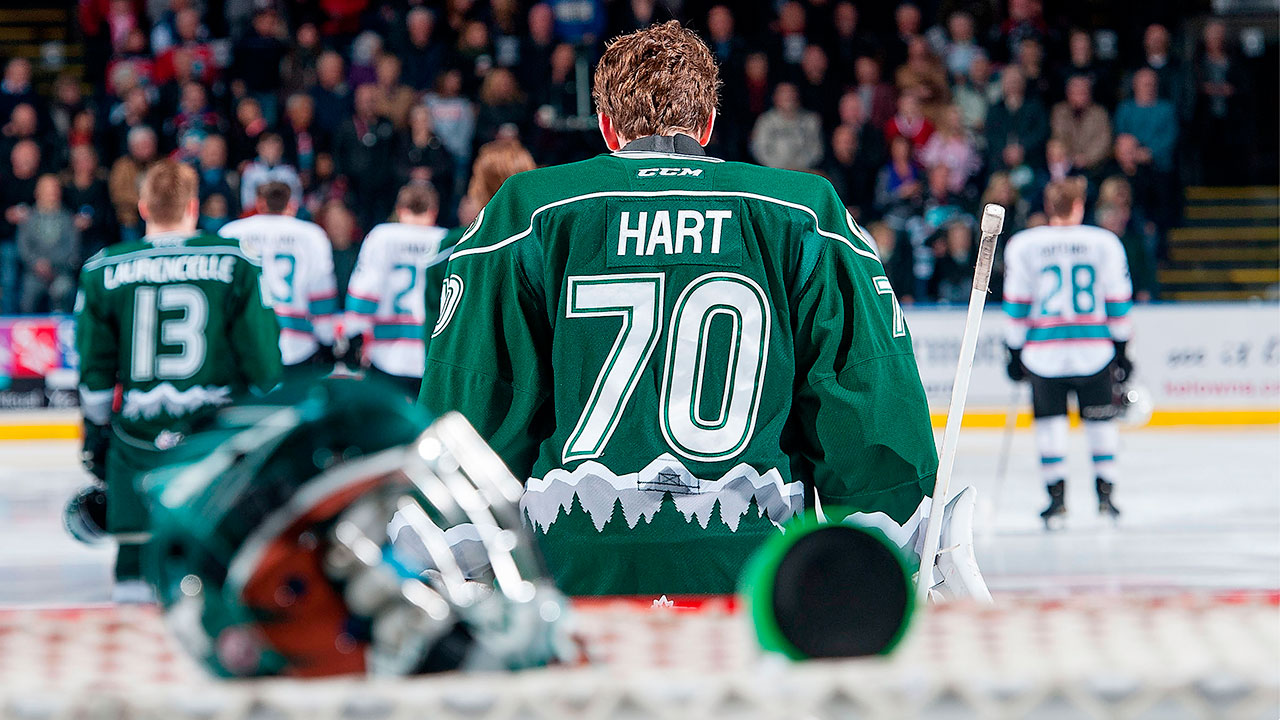 Carter Hart, G, Everett Silvertips
Hart started 63 of Everett's 72 games last year and basically put the Silvertips on his back. He was selected in the second round by the Philadelphia Flyers last June and will be in the mix to represent Canada at the World Junior Championships this winter.
New faces in new places
The coach
It's hard to call a coach who's won over 360 games and a couple of conference titles for your club a new face, but that's what is happening in Portland. Mike Johnston has returned to take over the coaching and general manager duties for the Winterhawks. After a couple of seasons with Pittsburgh in the NHL he will try to recapture the magic that made Portland a perennial power in the WHL.
Johnston inherits a roster that is pretty green and yet to have developed the elite talent that they had when he left three years ago. While that may be true, the franchise is in much better shape than when he first came on board back in 2008.
The rookie
Spokane's Ty Smith looks like he's ready to be a player. The Edmonton native was the top pick in last year's Bantam Draft and the Chiefs have a good one. Playing on the defence this pre-season he already looks comfortable and confident in quarterbacking the power play. He's only 16 but has shown a high hockey IQ and on-ice vision that would make you swear he's older.
The import
Eetu Tuulola was drafted in the sixth round by the Calgary Flames out of Finland in June. The Everett Silvertips nabbed him in the import draft and the big—like, six-foot-three, 225-lb. big—winger should provide them with some much needed offence. He has already compared himself to Milan Lucic and impressed in the pre-season with a strong, heavy shot. Whether in front of the net or on the point for the power play, Tuulola will be a fun one to watch this season.
Five 2017 NHL Draft eligible players to watch
Kailer Yamamoto, RW, Spokane Chiefs
Speed is the name of the game with Yamamoto and you'll be hard pressed to find a faster player in the WHL. He picked up 71 points last season in just 57 games and don't be surprised if those numbers jump this year.
Cal Foote, D, Kelowna Rockets
Foote was an impressive looking rookie last season for the high-flying Rockets and now a year older will be an even bigger factor. Look for him to improve on his 36-point campaign in his draft year, which turned enough heads to earn him an invite to Canada's U-20 summer camp despite only being 17.
Michael Rasmussen, F, Tri City Americans
Measuring at six-foot-five feet, tall the Surrey, B.C. native had a strong season for the Americans as a 16-year-old. He scored 18 times for 43 points and got off to a hot start in the pre-season. For a guy his size, he as solid hands and is a load in front of the net. Good luck to Western Conference defenders trying to move him this year.
Cody Glass, C, Portland Winterhawks
The lone first-round bantam pick on the roster figures to be Portland's best player this season. With Johnston back behind the bench, along with his track record of developing players, Glass could be in for a big campaign. As a rookie he scored 10 goals and 27 points on an inconsistent Winterhawks team last year.
Jaret Anderson-Dolan, C, Spokane Chiefs
Part of the youth brigade in Spokane, the Calgary product burst onto the scene last year by potting a hat trick in his first WHL game. He cooled off somewhat after that but still ended up with 14 markers as a 16-year-old.