For Alex Nedeljkovic and the Niagara IceDogs, it is a good time to run a gauntlet in the OHL schedule.
Changing teams and OHL conferences in December before leaving to be Team USA's No. 1 netminder at the IIHF World Junior Championship was a whirlwind for Nedeljkovic. Now that he's had an uninterrupted month with the IceDogs, he's more locked in. Niagara, currently in a 2-4-0-1 dip, begins February with a 3-in-3 that includes facing the London Knights and then the Kitchener Rangers on Friday Night Hockey, before a divisional tilt with the surprising North Bay Battalion.

"It's not the easiest thing, coming in and trying to be a vocal leader when you're a new guy to the room and there are guys who have been around for four years," said Nedeljkovic, a Carolina Hurricanes pick (37th in 2014) whose first three and a half OHL seasons were with Plymouth/Flint. "But that comes with being a leader… you have to make do with what you have. That's where the best leaders rise, to take any kind of situation and make the most of it.
"It has its challenges—going from Flint, to Niagara, then right to Boston for the world junior camp," added Nedeljkovic, who helped Team USA win the WJC bronze medal. "You had to put a face to a name, name to a face in Niagara and then right away go on to world junior camp and do that there, too. But it's been pretty fun coming back and getting to know the guys."
The IceDogs (24-17-3-3, .574 point pct., fourth in the Eastern Conference) have been an enigma of late. They have 15 overagers and/or 19-year-olds, but are two points behind behind the younger Battalion, who have seven players in those age brackets. The 'Dogs have hinted at having a high ceiling—a 2-1 shootout loss at conference-leading Kingston where Nedeljkovic stopped 33 of 34 shots, or the 4-1 win at league-leading Erie where he turned back 27 of 28. This weekend could set a tone for the final quarter of the regular season.
---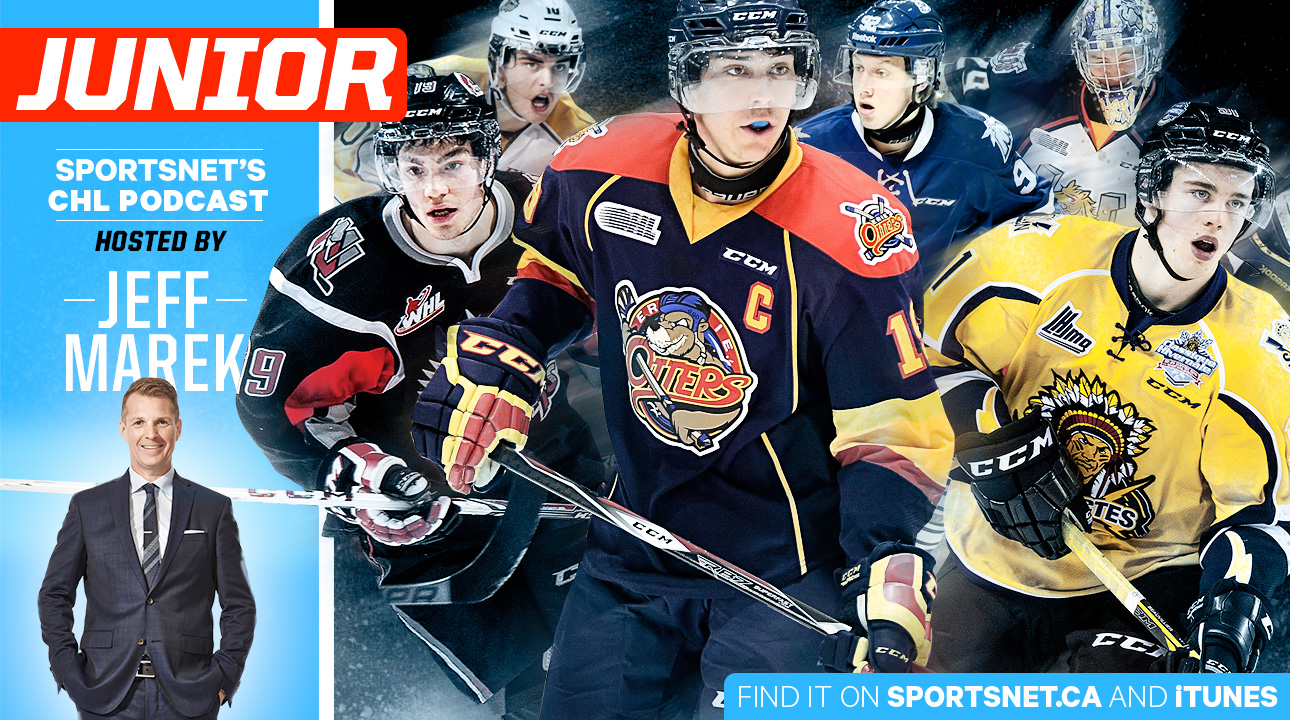 Jeff Marek hosts Sportsnet's weekly CHL podcast, a one-stop shop for news, analysis, opinion and interviews covering the WHL, OHL, QMJHL and NHL Draft.
Listen now | iTunes | Podcatchers
---
"We step up for big games. Our problem has been inconsistency," IceDogs coach-GM Marty Williamson said. "But you always like these challenges like this weekend's—London and the high-powered offence, Kitchener brings you that four-line consistency where they don't make many mistakes, and North Bay's a counter-puncher with that big line with [Mike] Amadio and [Mathew] Santos and very good goaltending [from overage Jake Smith].
"Alex has been extremely impressive—he's what we needed. He'll give us a chance in the playoffs if we can get the team playing well. I think we're right up there with what Kingston and Barrie have."
For Niagara, adding Nedeljkovic filled several needs. Williamson mentioned that Carolina assistant GM and director of hockey operations Mike Vellucci—who coached Nedeljkovic for two seasons with Plymouth—told him that the goalie has an infectious personality.
"He wants to influence a team with more than his goaltending," Williamson said. "Mike mentioned that, 'he's one of those guys who wants to wear the "C" on his sweater and sometimes you have to tell him you're the goalie, relax a little bit.' It was something we needed… just to get a little more balance, get calmer and understand our jobs and not be quite as hyper as we were."
The Western Conference, of course, has its triumvirate of Erie, Kitchener and London, who are the top three teams in the overall standings. The Eastern side of the league can't match that, but its top four teams all have game stealers in goal. Barrie's Mackenzie Blackwood also played in the world juniors. Kingston's Lucas Peressini is reigning OHL goaltender of the year and North Bay's Jake Smith has won five playoff series in two seasons. Nedeljkovic, who will turn pro next season, appreciates seeing how the league's 'other half' lives.
"It's exciting to go into rinks that you only visited once a season [as a Western Conference player] and see what the fans are like when rivals are in," he said. "There's also a different style of play. The West is more more run and gun, whereas the East is more defensive-minded with most teams. You have the high-skilled forwards at the top, but it's a little more defensive."
Coming home from Helsinki with a well-earned bronze gave Nedeljkovic a full set of international medals. He backstopped the U.S. to gold in the 2014 world under-18s and also earned silver at the preseason 2013 Ivan Hlinka U18 tournament. The Parma, Ohio native has been wanting for OHL playoff success since he was the 16-year-old starter in 2012-13 with Plymouth, which lost a heated five-game conference final to London.
"It would be something special, to go deep into the playoffs this year," he said. "That series against London was an unforgettable experience, the best hockey I've ever been part of, every night was thrilling. It had everything.
"To miss playoffs last year was upsetting. You got the feel for what it's like to go home early. You don't ever want to have that again."