Once again, there's a seismic shift going on in the hockey world.
The last major one, you could argue, came in the late 1980s and early '90s when European players started coming overseas in large numbers to play in the NHL, minor pro, U.S. colleges and in the Canadian Hockey League. At around the same time, the seeds were being planted in the southwestern United States for a harvest that would take more than two decades to be realized, but is now coming into plain view for anyone paying attention.
---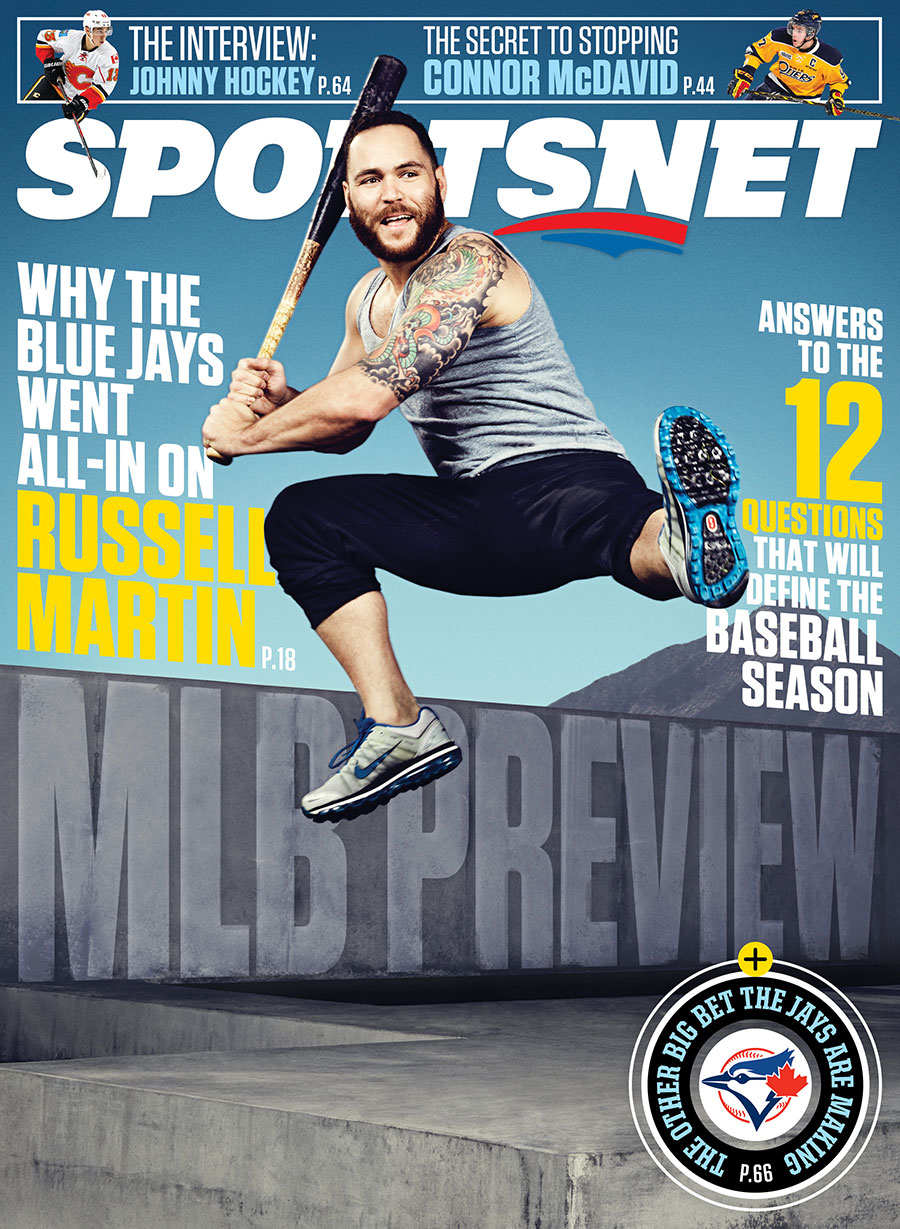 Sportsnet Magazine's MLB Preview:
Why the Blue Jays went all in with Russell Martin, and answers to the 12 questions that will define the baseball season. Download it right now on your iOS or Android device, free to Sportsnet ONE subscribers.
---
The indicators are all around. Since 1992, the registration of hockey players in the Pacific, Rocky Mountain (Arizona, Colorado, Texas) and southeastern U.S. has increased by 240 percent, more than half of that has come over the past 10 years. In the same time period, there have been NHL teams added in Florida, Dallas, Phoenix, Denver, Anaheim, San Jose and Nashville, joining the Los Angeles Kings, whose acquisition of Wayne Gretzky in 1988 undoubtedly accelerated interest in the sport in virgin territories.
Not surprisingly, all these teams and registered skaters have started to produce more and more elite players. Of the 44 American-born players skating in the Western Hockey League this season, 24 are from California, Colorado, Texas, Nevada and Arizona. The Portland Winterhawks alone have 11 American-born players, including four from California and two from Colorado. The Tri-City Americans have seven U.S. players, including two from Washington and Colorado, and one each from California, Alaska and Texas.
That WHL crop doesn't include—yet—tantalizing teenager Auston Matthews, who is currently with the U.S. National Team Development Program in Ann Arbor, Mich. His rights are owned by the Everett Silvertips, and he's been courted by all the big NCAA schools.
And he's from Scottsdale, Arizona.
This isn't one of those born there, grew up somewhere else stories. Matthews, whose nickname is "Papi," started going to Phoenix Coyotes games with his late Uncle Billy when he was two years old, fell in love with the team and the game, and played all his formative years in the Phoenix area. "If the Phoenix Coyotes aren't there, maybe he would have played baseball or some other sport," says USNTDP coach Don Granato.
But the Coyotes were, and just like the Sharks, Stars, Ducks and other southern teams, they began to promote the game locally and spawned the construction of new arenas. As well, Granato says, former professional players and college players began to settle in those areas, making available a new level of coaching expertise.
Matthews, whose father hails from California and his mother from Hermosillo in northeastern Mexico, was born Sept. 17, 1997, just two days too late to be included in this year's draft. Otherwise, he'd be no worse than the third pick behind Connor McDavid and Jack Eichel, and is already the consensus No. 1 selection for the 2016 draft.
Yep, a kid out of Phoenix, not Canada or Michigan or Boston or Minnesota.
"I lived about five minutes from the practice rink the Coyotes used, so there were lots of options, a lot of different programs. I just picked one and got into it," Matthews says.
Matthews grew up part of the Arizona Bobcats minor hockey program. This year, the Bobcats won the AAA Division at the prestigious Quebec peewee tournament.
"You're definitely starting to see more players coming from that region," says Matthews, who will make his choice for next year after he returns from the world under-18 championship in Switzerland this spring.
Along with the Bobcats, scouts are spending more and more time watching programs like the Colorado T-Birds, the Colorado Rampage, the Phoenix Jr. Coyotes, the Rocky Mountain Roughriders, the Dallas Stars Elite, the San Diego Jr. Gulls, the California Wave and the St. Louis AAA Blues. The WHL now holds a combine sponsored by Under Armour in Anaheim every year for players from the U.S. southwest, while the U.S. development program's next big recruit is likely to be defenceman Max Gildon, who hails from Dallas.
Matthews, who has 42 goals in 49 games with the U.S. development program this season, isn't alone as a product of Arizona hockey. His buddy Christian Cakebread plays for Fargo in the USHL, and he sometimes practices with Coyotes draft pick Zac Larazza, who is also from Scottsdale.
By 2016, Arizona State University will have an NCAA Div. I hockey program up and running. "I just don't see it as a disadvantage," says Matthews of his desert hockey roots. "You've still got to work hard, try to get better, just like everyone else."
What now seems like a trickle of talent seems likely to turn into a torrent. The AHL is adding a California division next year, which will move even more professional players in that direction. The Anaheim high school league has gone from one to 28 teams in five years.
Quickly, the talent level of players in those areas is starting to match that of more northern regions.
"I thought I was pretty talented growing up, and a lot of people told me I was pretty good," says Matthews. "I'd always hear about kids in other parts of the country, Michigan and the northeast. So it wasn't until I came to Ann Arbor for the 40-man tryout that I did really well, and I began to think I really was pretty good.
"I grew up playing baseball as well, but I gave that up after Little League. My true passion was for hockey, and there were too many missed games for baseball."
As with Seth Jones, who threatened to spurn the WHL for college until his rights were traded from Everett to Portland a few years ago, the issue of whether Matthews will go to the Silvertips or go the NCAA route is a hot and complicated one these days as competition between the CHL and U.S. colleges continues to heat up.
Everett GM Gary Davidson has high hopes of landing Matthews, even if it's only for one season, with the Silvertips now a much better team than they were when Jones was making his WHL choice. "It's a pretty big decision. Either way I go, got to put in the time and effort to get better and better," says Matthews.
His story is unique because of his talent. But where he's come from, more are sure to follow.