We need to talk about Kevin Labanc before the playoffs—about how the Barrie Colts played a long game to land the OHL scoring champ, and how the right winger is bent on an extended spring run after signing with the San Jose Sharks.
With 127 points, Labanc, a sixth-round pickup in both the OHL and NHL drafts, won the scoring title by six over London Knights centre Christian Dvorak. Labanc is also the odds-on favourite to be voted OHL Overage Player Of The Year, although Erie goalie Devin Williams has a worthy case. If Labanc wins the Leo Lalonde Memorial Trophy it would make Barrie, under coach Dale Hawerchuk, the first team to have the winner in back-to-back seasons after Joseph Blandisi won it in 2015 before making it to the New Jersey Devils this season.
---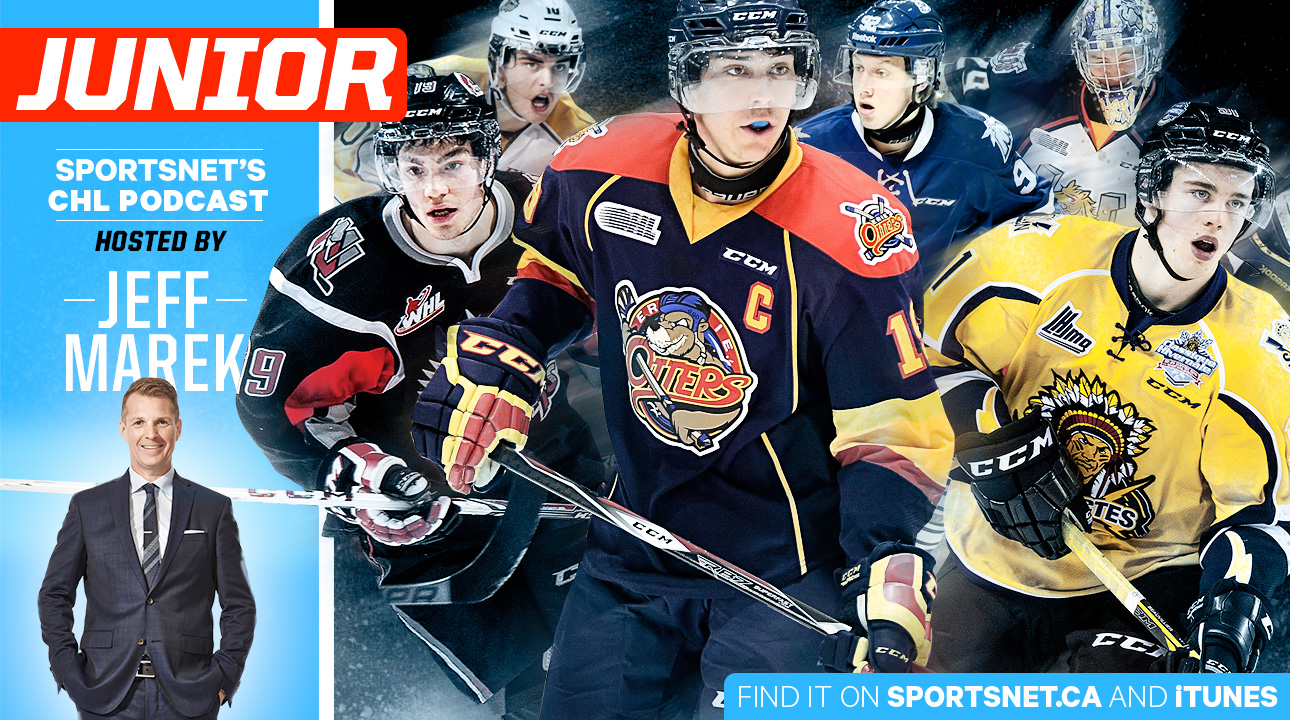 Jeff Marek hosts Sportsnet's weekly CHL podcast, a one-stop shop for news, analysis, opinion and interviews covering the WHL, OHL and QMJHL.
Listen now | iTunes | Podcatchers
---
Come spring, frantic fans can get frothy over NHL signees' focus on their last weeks of junior puck. Labanc, whom the Sharks signed on March 9, sees the value of paying it forward.
"Barrie is unbelievable, from the coaching staff to everyone throughout the organization," he says. "I don't think there's any better way to end it than doing really well in the playoffs. I'm extremely grateful for everything they have done for me. With this team, you learn a lot of things about never taking anything for granted. I've been doing a lot of reminiscing about my time here and want to make it last."
The Colts' No. 2 seed in the Eastern Conference became official after a road loss to Peterborough on Tuesday. The first-place Kingston Frontenacs won each post-trade deadline division-leader tilts, but the likes of Labanc and Calgary Flames prospect Andrew Mangiapane, the potent Colts scored nine goals over those two games. Since they last met, though, Kingston is 12-3-1-0 with an average goal differential of 2.31.
"I have to congratulate Kingston for finishing in first place," Labanc says. "I have a feeling we're going to be meeting down the road.
"Going from the offensive to the defensive side of the game, we're just on the same page in understanding the structure of our game," adds Labanc, a U.S. national team development program alumnus.
How Labanc got from Staten Island, N.Y., to winning a spot with the USNTDP, to choosing the Colts in 2013 over the University of Notre Dame, is illustrative of how the tired 'college or major junior' debate is off-point. It really should be about how to have a structure that is player-first at every step, since they have a short window to break into the hockey industry. There are also a lot of butterfly effects.
Labanc credits good mentoring with his Junior B New Jersey Rockets coach, Bob Thornton.
"He just taught me the ins and outs," Labanc says. "That was really the start of my career—it was the most fun, no stress. Just play."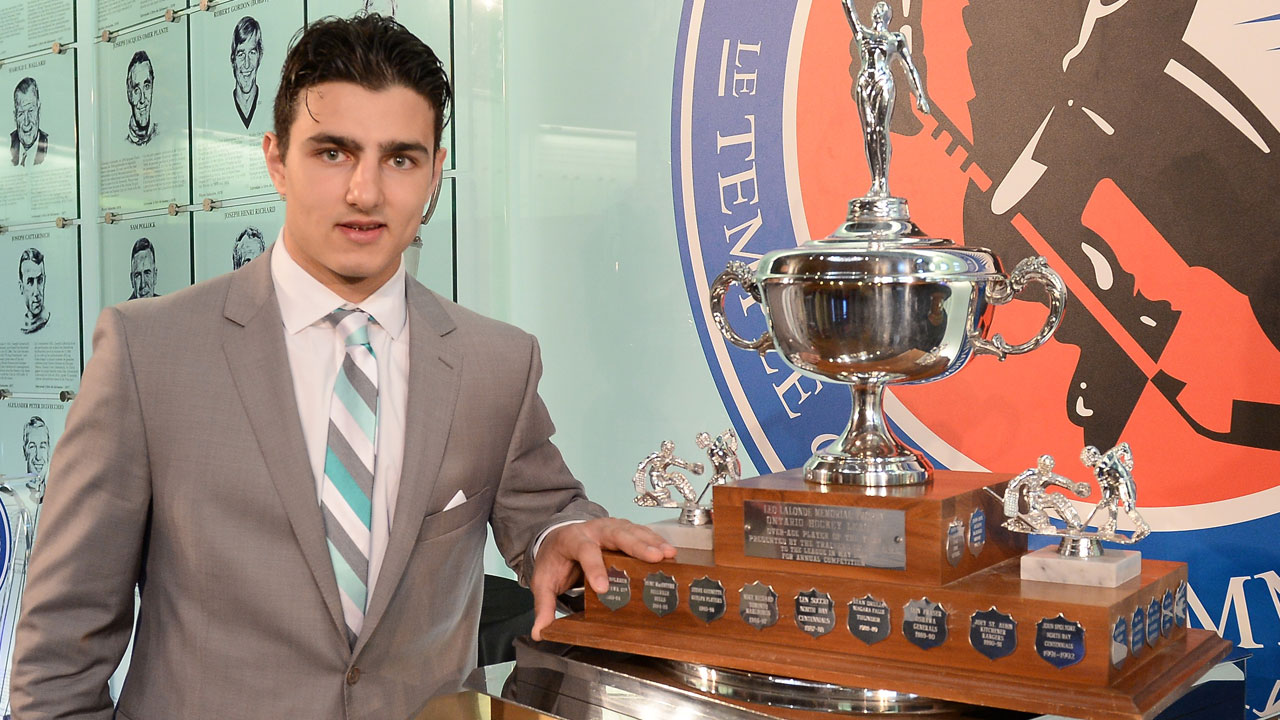 Joseph Blandisi won the Leo Lalonde Trophy last season after an OHL-high 52 goals. (OHL Images)
The New York/New Jersey Metroplex is on the remotest edge of the OHL's catchment area. Colts GM and head scout Jason Ford notes Thornton, a New Yorker who played a season for North Bay and Kingston in the mid-1990s, always brings teams to the annual OHL Cup tournament. That included the 2011 event, the "Aaron Ekblad draft," when Barrie was rebuilding.
"For us, that place is kind of hard to get to," Ford says. "I don't have a scout in New England, not many OHL teams do. Our Central Scouting, they have one scout in that area. He did one report on Kevin and loved him. I went to see about five kids, and he was one of ones I was the most intrigued by.
"He was one of those kids who'd back up what he'd say and put in the work. It looks good when you bring players in and they turn into success stories."
Since everything panned out for Labanc and the Colts, each can contemplate the roads not taken. Labanc might have been one of the OHL's youngest players in 2011-12, were it not for a summer callback from USA Hockey for the centralized NTDP. In 2013-14, Labanc was in line to play at Notre Dame. Being a top-nine player in Barrie while scouts were flocking to watch Ekblad and Brendan Lemieux won out over starting the season as a 17-year-old frosh for Fighting Irish.
"You can't help but wonder, 'what if I did to go to college?'" Labanc adds when asked how much he revisits his version of The Decision. "I try to keep updated on players I played with who have gone to Notre Dame. It was a great program.
"I think the OHL was the best route for me at the time. It was tough, American kids, they tend to go NCAA."
Ultimately, though, it amounts to a one-year shift in the start date of a pro career for the December-born dervish. Labanc, and Blandisi, are far from the only later-maturing Colts during the Hawerchuk era. Left wing Andrew Mangiapane, the Colts' second-leading scorer with 106 points—sixth overall—came to Barrie undrafted and is now a Calgary Flames sixth-rounder.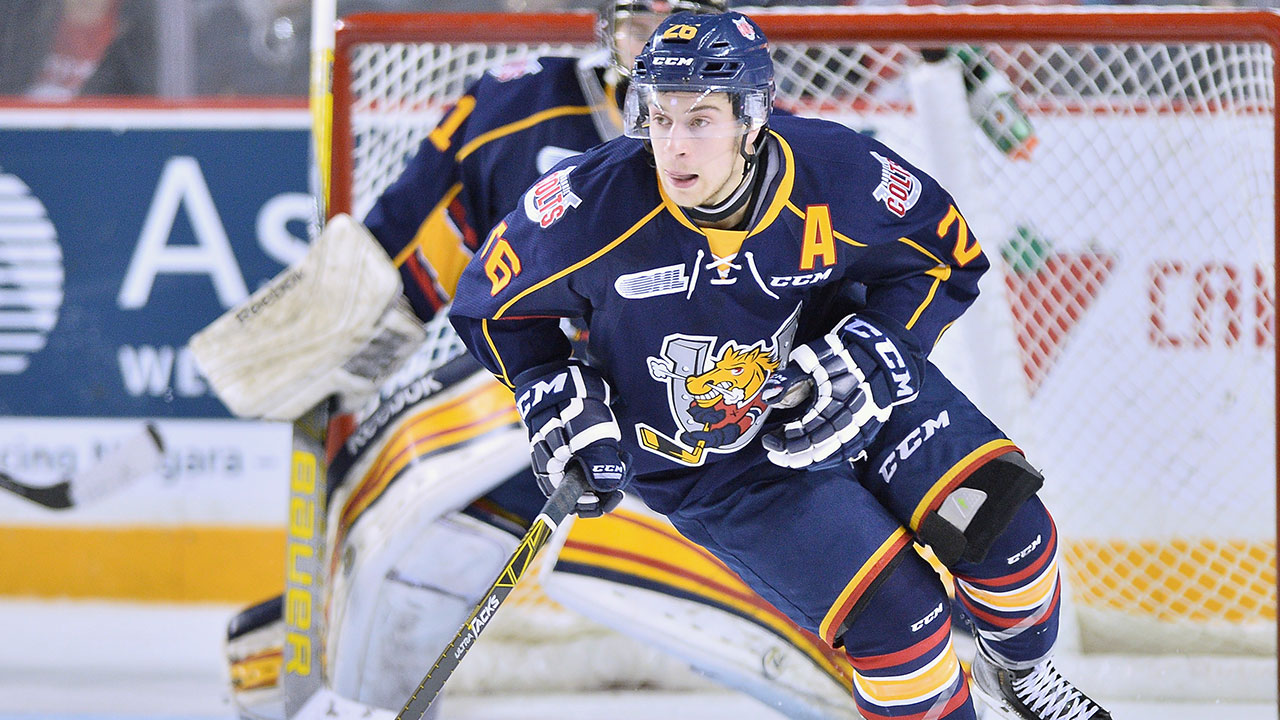 Mangiapane has been the beneficiary of Labanc's playmaking this season.(Terry Wilson/OHL Images)
Winnipeg Jets centre Mark Scheifele was well down draft lists at the start of 2010-11 before going No. 7 overall. Los Angeles Kings left winger Tanner Pearson, who didn't get into the OHL until he was 18, became a NHL first-rounder in '12.
"Dale is in his sixth year here and it shows he can really develop players," Ford says. "It's funny with Kevin, we had him here for rookie camp when he was 15, offered him a real good package before he decided on the [U.S.] program. In hindsight, maybe he would not have played an OA year, but who knows?
"Bottom line is, he's turning into a real nice player."
The butterfly effect from the outcome on Jan. 2 might have decided the scoring race. That night in Barrie, Labanc had a never-see-that-again stat line: three goals, four assists, nine shots and plus-9. The Colts beat the North Bay Battalion 12-3 while going 0-for-4 on the power play, because… junior hockey.
And, if Labanc had been born three weeks later—Jan. 2, 1996 rather than Dec. 12, 1995—he would not have been playing. He would have been in Helsinki that day with Team USA.
That outburst was a reminder of why it's good to watch junior at more than the peak times. There's always a chance to see a star who's had to be in the league a little longer go off like that. Of course, Labanc will soon be off, likely to the AHL's San Jose Barracuda. And with Blandisi breaking in with the Devils this season, Labanc has a template.
"To see him doing so well in the NHL is inspiring," he says. "It definitely gives me chills—thinking about next season, where I might wind up."