OTTAWA–A shot not taken illustrates what Cam Dineen is about as much as one of his highlight plays.
Inevitably, invariably, point-producing defencemen in the Ontario Hockey League get drafted twice—first as a polarizing prospect for the sport's Twitterati before being handed an NHL sweater at the draft. Ask Anthony DeAngelo. Or Ryan Murphy. Or even Ryan Ellis. With Dineen, it is more the mystery of why there is little hoopla about the 17-year-old North Bay Battalion rookie, who is first in OHL defenceman scoring with 49 points in 53 games.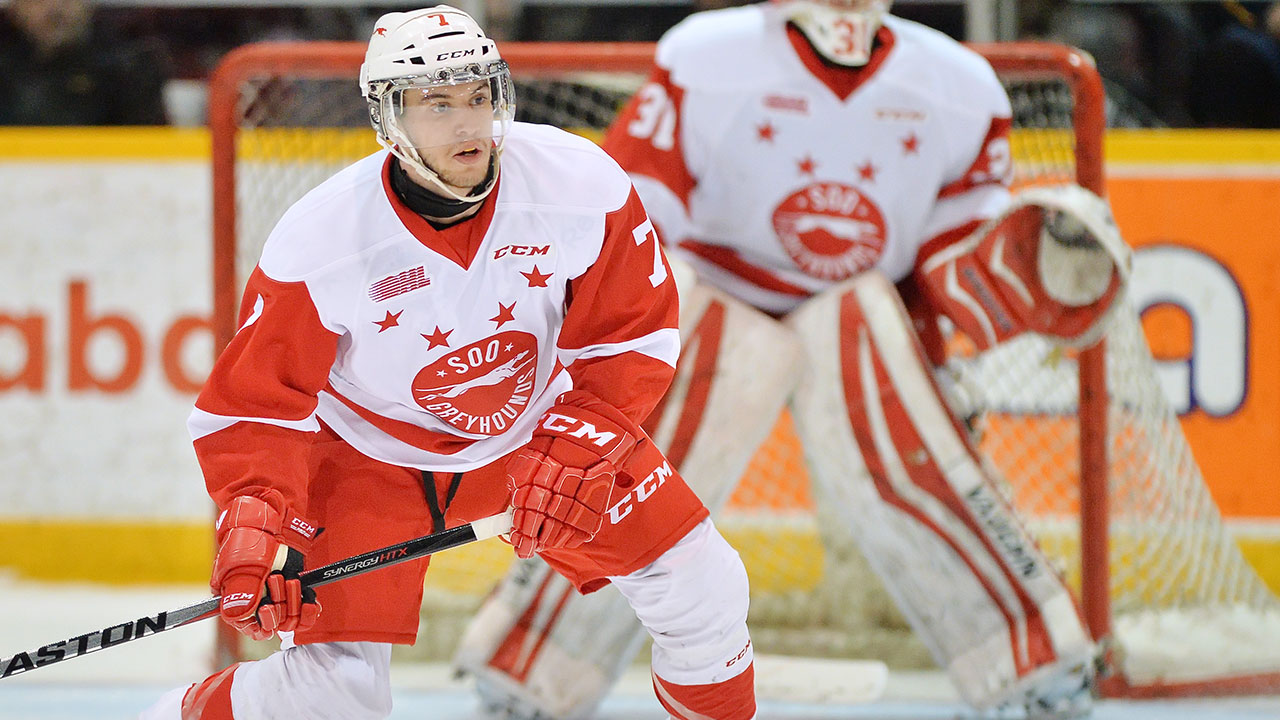 Anthony DeAngelo had 89 points in 55 games split between Sarnia and Sault-Ste. Marie last season to lead OHL D-men in scoring. (Terry Wilson/OHL Images)
In some cases with young offensive defencemen, there are concerns about hockey sense. On Monday, when North Bay was two minutes from closing out a 3-2 road win against Ottawa, the puck came to Dineen at the blueline along the boards. Ample time to unleash a slapshot. All sorts of puck permutations abounded. Many juniors would have let fly. Maybe the puck would have missed the net and become a gift breakout for an odd-man rush and overtime-forcing goal. Others would have opted for the craven soft dump to the near corner to eliminate the elements of risk, scoring and entertainment.
Dineen—And what would you expect from the son of a school principal who passed on Yale to go to the OHL for his draft year?—split the difference. He took something off his fastball and shot the puck so it would ricochet off the boards and create a goalmouth scramble. As a result, the Battalion got a valuable offensive-zone faceoff.
"I think he is pretty underrated," Battalion assistant coach Ryan Oulahen said of Dineen. "He is very cerebral, great mind for the game, knows his position very well. You don't see him make very many mistakes."
Dineen was intent on Yale before committing to North Bay last spring. The Toms River, N.J., native is on the compact side at 5-foot-11 and 182 lb., but the hockey IQ is Mensa-worthy. Dineen also has the beyond-his-years confidence to acknowledge that he wants a big stage for his skills.
"When I visited for rookie camp, I really thought that is where I should be, this is the right place for my development for my draft season," said Dineen, who spent his 16-year-old season with the New Jersey Rockets in the Eastern Hockey League, a Junior B-calibre circuit.
"Up here, we have Battalion Day at school, all these little kids come up to us with their Battalion gear on asking for our autographs, which I think is pretty cool. You have to perform in front of a whole city because everyone is expecting you to do big things because that's what you're there for—to play hockey, and perform.
"No one from the East Coast really comes up here to play," Dineen added, who's not related to the famed hockey family, although his educator father is named Kevin. "When you choose that route, everyone thinks like you're an outcast, like you're doing something wrong. You just got to come up here and prove them wrong—'I'm coming here for a reason.'"
---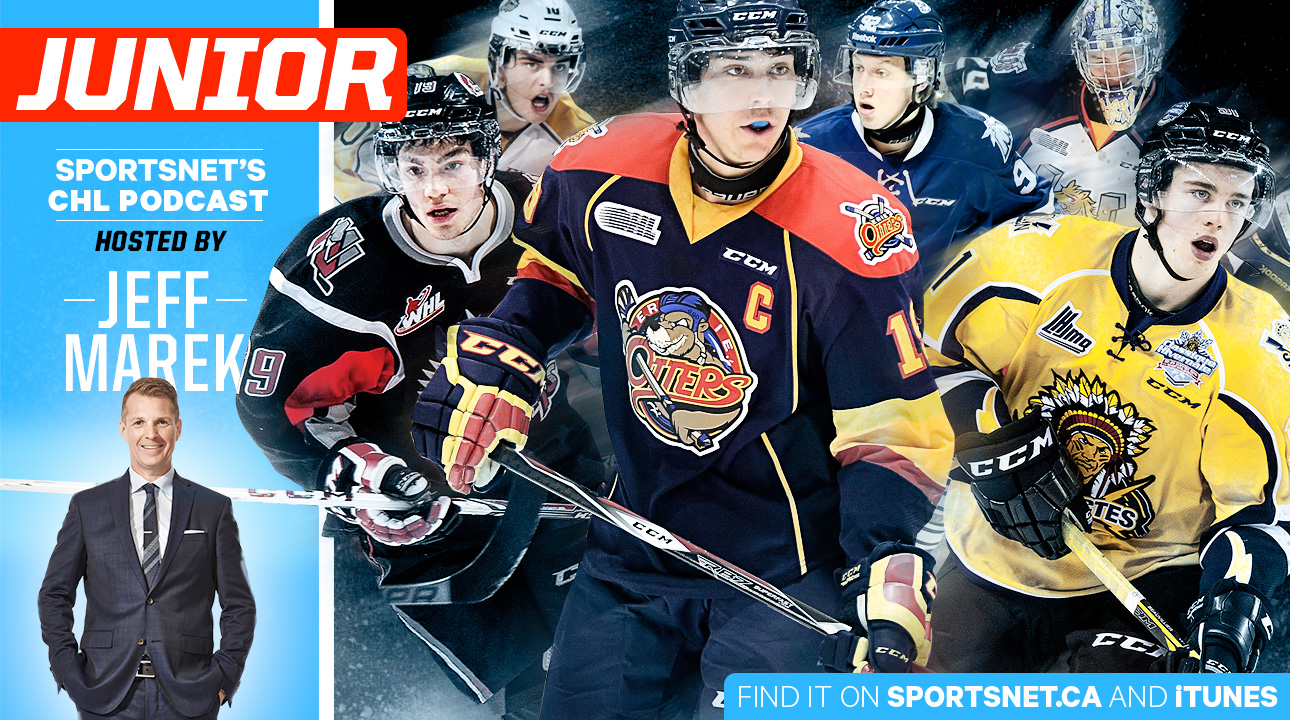 Jeff Marek hosts Sportsnet's weekly CHL podcast, a one-stop shop for news, analysis, opinion and interviews covering the WHL, OHL and QMJHL.
Listen now | iTunes | Podcatchers
---
One prevailing observation about Dineen, who is also second in OHL rookie scoring to Mississauga Steelheads surefire first-rounder Alexander Nylander, is his propensity for getting a point shot through shot blockers. His 12 goals are third among all OHL defencemen.
"I think that comes down to just working on it in practice a lot," he said. "I think last year my coach, Bob Thornton, really made that an important aspect of my game. So he would always work with me getting pucks through from the point."
DeAngelo and Ellis are the only 17-year-olds over the past decade to lead OHL defencemen in scoring over an entire regular season. Dineen is in that rare company while also partnering with 19-year-old Colorado Avalanche third-rounder Kyle Wood on North Bay's first pairing and penalty killing unit.
"Cam's that kind of new-age defenceman," Oulahen said. "He defends really well, uses his stick well, and doesn't get himself into bad situations."
Monday, Dineen didn't get any points and yet his impact was indelible. He hustled back for a dump-in and drew a cross-checking penalty on Montreal Canadiens draft pick Jeremiah Addison that set up the game's first goal. There he was again, joining the rush to become a decoy and open a passing lane to facilitate captain Mike Amadio's game-winning goal. And making smart passes that initiated dangerous rushes and forced Ottawa to take penalties, one of which also led to a power-play goal.

Playing in a Junior B league as a 16-year-old reinforced the need to play smart. Dineen was rookie of the year and led all defencemen with 41 points in 39 games.
"It was mainly older, stronger kids and I thought it would translate to this year," Dineen said. "I just thought that would help me mature."
Attending Yale, an Ivy League school, would have been a dream come true. But with a tight window to get traction at the uppermost echelons of hockey, North Bay won out.
"My dad told me, 'if you go to Yale you're set for life even if hockey doesn't work out.' But he just wanted what was best for me, so he supported me for this decision."
Good decisions, after all, are a stock in trade for Dineen. The big question is how NHL teams are going to project him for the next level. One can feel safe in disregarding Dineen being 117th among North American skaters in NHL Central Scouting's Midterm Ranking.
There is the size question, of course, but these days NHL teams are investing heavily in identifying which players have a big mind. The former is easier to measure, and Dineen is addressing it.
"I'm supposed to grow a little more, according to the doctor," he said. "I just have to keep working in the weight room and get thicker and stronger."