Having endured a hard-luck season, the Windsor Spitfires are subscribing to the adage that whatever doesn't kill them only makes them stronger.
Considering the deck is stacked against them as a fifth seed in a tough Western Conference, the OHL playoffs are going to put their mettle to the test once again.
"Adversity always is a blessing," coach Rocky Thompson said. "As hard as it is to deal with and battle through, it always strengthens you." 
The Spitfires, the Memorial Cup hosts, begin their first-round series Friday against the London Knights, the defending Memorial Cup champions. It's the marquee matchup of not only the OHL playoffs, but the CHL at large. One of the league's best clubs, both expecting to make a long post-season run, will be eliminated within two weeks.
"We're both good teams. Obviously, us hosting does put a little bit of pressure on us," winger and Toronto Maple Leafs prospect Jeremy Bracco said. "In the possibility that we do get beat out, we'll be waiting around for a bit.
"I don't think one team has more pressure per se."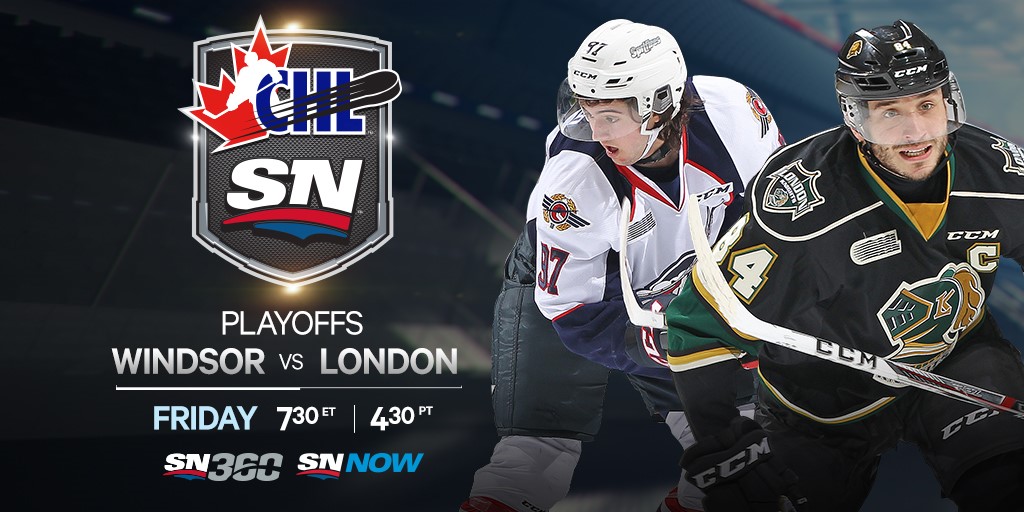 But with any kind of good fortune this season, the Spitfires wouldn't be faced with this unenviable task.
Windsor finished 41-19-5-3, good for 90 points – the fifth-highest total in the entire league. The Spitfires would be the top seed and be feasting on a .500 opponent in the first round if they called the Eastern Conference home. It seems unfair. But Thompson said someone will have to go through a Western "gauntlet" that includes the Erie Otters, Sault Ste. Marie Greyhounds and Owen Sound Attack anyway.
"That's not for me to decide to tell you the truth," Thompson said. "I think about the positive in that considering what we've had to go through to be in the position that we're in, we're in a good spot. We've played good hockey."
What they've been through is a number of hardships when it comes to important members of their roster.
Top defenceman Mikhail Sergachev was lost for a quarter of the season while he suited up for the Montreal Canadiens and Russia's world junior team. Same goes for leading scorer Gabriel Vilardi, a prospective high NHL draft pick in June. Vilardi had an appendectomy in November. Winnipeg Jets first-rounder Logan Stanley had surgery in January to repair a torn meniscus in his right knee. The recovery period is up to four months, which coincides with the start of the Memorial Cup.
Ottawa Senators prospect Logan Brown was dogged by injuries to his shoulder, wrist and groin. Despite being out since March 9 with the latter ailment, Thompson said Brown is scheduled to play in Game 1.
Brown's addition to the lineup is an important one for Windsor. The plan is to deploy him as the No. 1 centre flanked by in-season acquisitions Bracco and Graham Knott (CHI).
Brown and Knott, listed at six-foot-six and six-foot-four, will be responsible for making life miserable for London defencemen. Brown is a handful because of his range, strength and possession skills.
The smaller Bracco stands to benefit. Bracco, who signed his entry-level NHL contract earlier this week, cost the Spitfires two players and three draft picks in a trade with Kitchener. He had eight goals and 32 points in 30 games after the January deal.
"We're a big, strong team and that's how we're going to play them," Thompson said.
Despite all their challenges, the Spitfires feel ready for the post-season.
A silver lining to all the man games lost was depth players like Aaron Luchuk, Luke Bora and Jalen Chatfield got to play more. They were instrumental on a penalty kill that was 88.5 per cent efficient, the best rate in the league.
The Spitfires split their six-game season series with London, the last result being a 4-1 win on March 4.
They're certainly in tough against the Knights, who added Canadian world junior member Mitchell Stephens (TB) and blueliner Mitchell Vande Sompel (NYI) before the trade deadline. Their roster already included a bevy of NHL prospects including Olli Juolevi (VAN), Max Jones (ANA), Cliff Pu (BUF), Victor Mete (MTL) and goaltender Tyler Parsons (CGY), who backstopped the United States to gold at the world juniors.
And to think of what the Knights would be like if Mitch Marner and Matthew Tkachuk were returned to junior.
Only twice this century has a Memorial Cup host been eliminated in the first round of its league's playoffs – WHL teams Regina in 2001 and Saskatoon in 2013.
Even with the tough draw, the Spitfires are determined not to join that club.
"I feel prepared and I feel confident in our group," Thompson said. "We've played them extremely well. We feel we have a game plan in place that's conducive to the way to play to have success whether we're in London or we're in Windsor.
"Our guys have been battle-tested throughout the year. We've had to persevere and face a lot of adversity. That's what the playoffs are all about."