With a pure goal scorer such as the Erie Otters' Alex DeBrincat, it can be easy to apply the slump label without factoring in that he is a growing 18-year-old facing a grueling OHL schedule.
Ahead of Thursday's BMO CHL/NHL Top Prospects Game at Pacific Coliseum in Vancouver, Erie coach Kris Knoblauch gave DeBrincat time off to go home to Farmington Hills, Mich., for the the break the right winger missed while helping Team USA earn a bronze medal at the World Junior Championship in Helsinki. The timing seems ideal, since DeBrincat is having a relatively slow January with two goals in eight games. Of course, that leaves him with a mere 35 in 38 games, second in the OHL.
"It's perfect timing to regroup," said DeBrincat, who will skate for Team Cherry on Thursday, making him an opponent of Otters linemate Taylor Raddysh, who's on Team Orr. "It's one of those games you really want to play well, so having as much as rest as possible is what is best for me.
"Sometimes the season kind of gets long and you start slacking a little bit maybe," added the 5-foot-7, 163-pound DeBrincat, who is also sixth in OHL scoring with 62 points. "I'm just trying to refresh my mind and hopefully come back and continue to play the way I was earlier. It's always good to get home and see family and friends."
---

Team Cherry vs. Team Orr, Thursday on Sportsnet East, Ontario, West, and Pacific
---
DeBrincat is one of a half-dozen WJC participants at Top Prospects, along with Team Cherry's Julien Gauthier (Canada) and Team Orr's Olli Juolevi (Finland), Alexander Nylander (Sweden), Simon Stransky (Czech Republic) and Matthew Tkachuk (United States). Compounding the strain of a high-intensity short tournament over Christmas was the fact USA Hockey holds its selection camp closer to the start of the WJC than its neighbouring rival. DeBrincat stayed with Erie for two more games in December after Travis Dermott and Dylan Strome joined Team Canada.
"He never got a break, so he's just having his a little bit later," said Otters coach Kris Knoblauch, whose team is four points ahead of the London Knights for first overall with 23 games to play. "We have a pretty long season—68 regular-season games, plus playoffs, exhibitions. Typically these kids have a day off each week, but sometimes those days have travel, too, so it's not a complete day.
"It's good to get away, see their family and come back just full of energy, batteries recharged," Knoblauch added. "I think Alex is a very skilled player and one of the few guys going to that game who was on his respective world junior team. I think he should put in a very good showing."
The first points of reference with DeBrincat, of course, are his small stature and the debate over to what extent his 51-goal, 104-point CHL rookie of the year season owed to playing with Connor McDavid. DeBrincat was passed over in two OHL priority selection drafts before former Erie managing partner Sherry Bassin signed him as a free agent in 2014.
"I probably [became aware of questions about his size] in my minor midget year [with Detroit Victory Honda]," DeBrincat said. "It was my first draft year. Everyone wants to get drafted. I wasn't the biggest guy, so I had to prove myself in other ways.
"The game is getting a lot more open for smaller players to go to the NHL. I think as long as I keep working hard I have a shot. I've set myself up pretty well the past two years."
---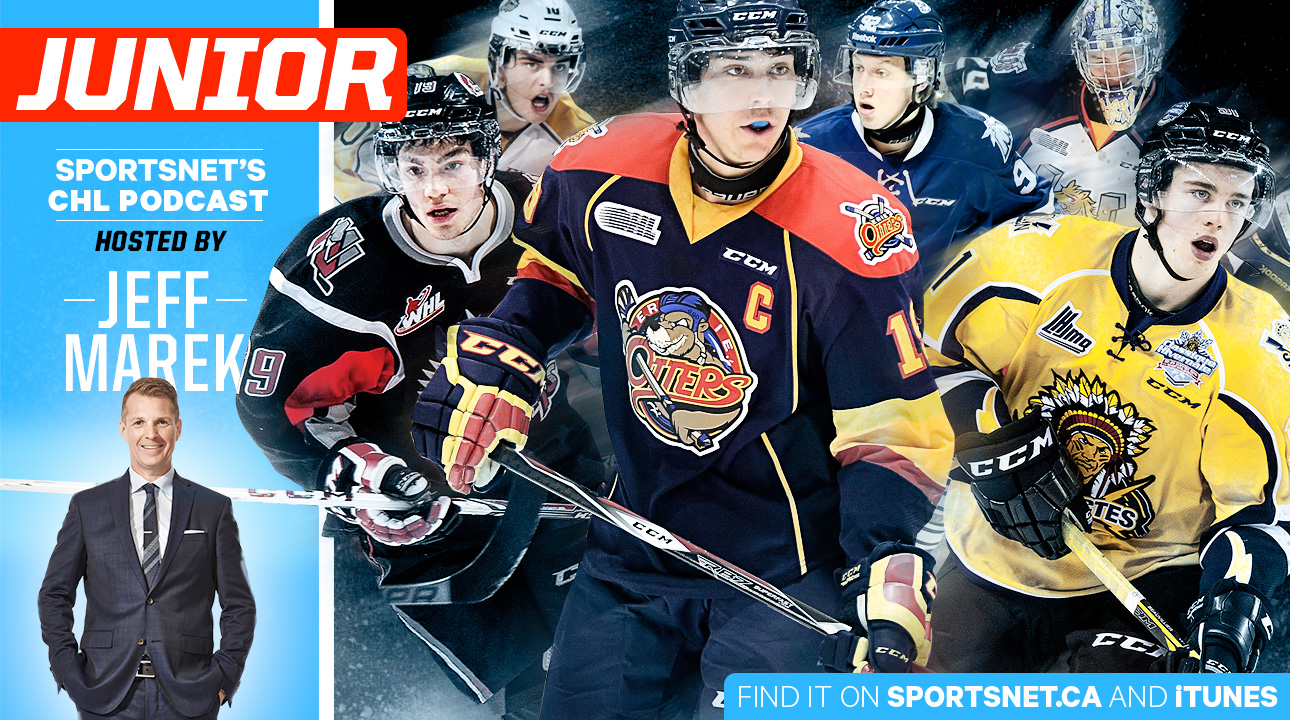 Jeff Marek hosts Sportsnet's weekly CHL podcast. Look for a Top Prospects preview pod coming Wednesday and a post-game show Thursday.
Listen now | iTunes | Podcatchers
---
There are NHL teams that might blanch at using a first-round choice on a diminutive forward, in spite of the NHL success of Johnny Gaudreau (5-foot-7) and Tyler Johnson (5-9). The independent scouting service HockeyProspect.com views DeBrincat as a first-rounder, listing him No. 20 in its January top-60 ranking. DeBrincat is No. 22 among North American skaters in NHL Central Scouting's midterm ranking.
As for the McDavid factor? Even with added defensive attention, DeBrincat is averaging 1.13 non-power play points per game, a slight uptick from 1.01 in 2014-15.
"His 5-on-5 play has taken the biggest step," Knoblauch said. "Last year Alex had a lot of power-play goals [21 of his 51]. This year, as a guy who is averaging almost a goal a game, he's not among the power-play goal leaders. His shooting off the rush has improved. He's very perceptive of where, if the shot's taken away, he can change directions and attack somewhere else."
Understandably, DeBrincat came out of last season with a sense of unfinished business. The season of McDavid Mania ended with Erie losing the OHL final 4-1 to the Oshawa Generals, who went on to win the MasterCard Memorial Cup. These Otters have an .833 point percentage, compared to .733 at the same stage last season.
"Hopefully we can finish off what we didn't last year," DeBrincat said. "I think that's the thought on everyone's mind in the locker room. Once you get that close but don't get the taste of winning, I think you want it that much more.
"Everyone on our team has his role," he added. "When people do that, it helps everyone out. Without the team we have I wouldn't be as successful."