Carter Hart is the eye of the hurricane. It's the second period of an intense divisional match up between the Seattle Thunderbirds and Hart's Everett Silvertips. It's scoreless, but Seattle's top line—made up of three drafted NHL prospects—is buzzing. While Everett's defence frantically tries to stop them, Hart remains unnerved. He kicks away a chance with his pad, then calmly makes a blocker save and even stops the puck from the seat of his pants after being knocked down. The crowd's anxiety level is heightened but Hart doesn't look stressed at all. His mates finally corral the puck, get it to the other end and 30 seconds later force a turnover that ends up in the back of Seattle's net. The tide has turned and Everett goes on to a critical 5-1 win against a division rival.
That has been the Everett formula this season. Force turnovers, capitalize and keep the puck out of your own net. It's worked so far—the Silvertips are in first place in the U.S. Division, but it wouldn't work at all without the guy in the goal. Hart's carrying the team so far and has played in 43 of the team's first 46 games. "I don't like sitting out very much," he says.
---

Team Cherry vs. Team Orr, Thursday on Sportsnet East, Ontario, West, and Pacific
---
Hart grew up playing hockey and baseball and is a huge New York Yankees fan. He also roots for the Montreal Canadiens and loves the way Carey Price plays. He shares a sports psychologist with Washington Capitals goalie Braden Holtby, who he also likes to emulate on the ice. He and Holtby have talked during the off-season and Hart is thankful for the advice the NHLer has given him.
His spectacular play started last season as a 16-year-old rookie. He began the year as the back-up to the established Austin Lotz, barely seeing any ice time. But by season's end, Hart was seeing the bulk of it. That doesn't happen often for a young goaltender and Hart credits his head coach, Kevin Constantine. "I felt like I wasn't part of the team," he says. "At Christmas, [he] brought me in for a meeting and told me, 'If you start working harder in practice we're going to start giving you a chance.' So I took that to heart and I credit Constantine for having confidence in me."
As the Silvertips entered the playoffs, it was Hart, not the veteran Lotz, who was the No. 1 goalie. He guided Everett to an opening-round win over Spokane before falling to the veteran laden Portland Winterhawks in the second round. Coming into this season there was no doubt who would lead the Silvertips. Lotz was traded and Everett put all its faith in Hart.
He's repaid them by becoming the WHL's top goaltender. Through 43 games he has a 27-13-1-2 record and leads the WHL with a .927 save percentage and 1.93 GAA—better numbers than any netminder in the CHL. On top of that he's posted six shutouts, also tops in the WHL. Impressive, although not to Hart. "I don't check stats until the end of the year," he says. "I don't want to get caught up in that. I just worry about stopping the next one."
Off the ice Hart is just as calm as he is on it. He doesn't pay attention to the hype surrounding his play and is instead focused on improving each night. Playing in big games against big-time players is nothing new to him either, which helps with his on-ice demeanor. After growing up in Fort Saskatchewan he moved to the Edmonton area and played hockey in Sherwood Park. He reflects on big rivalry games he played against a south side team that featured Vancouver's Tyler Benson and Lethbridge's Stuart Skinner. That's a good primer for playing at a high level.
---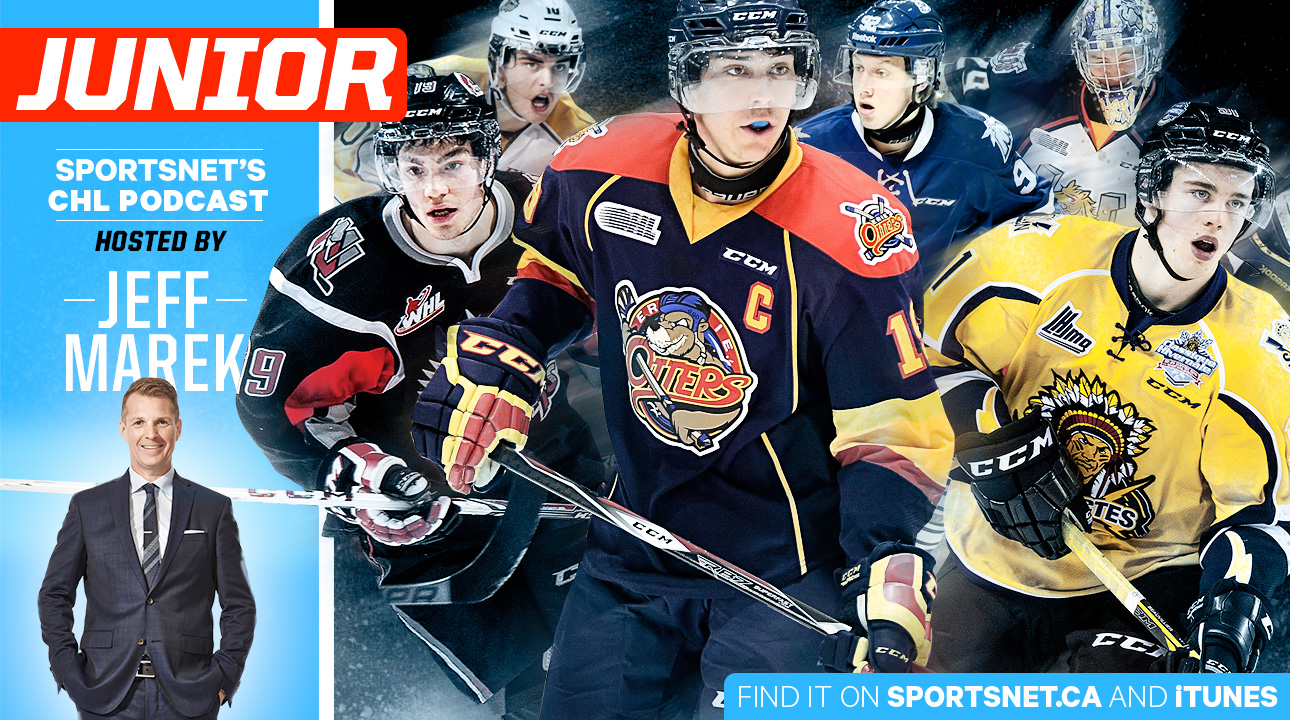 Jeff Marek hosts Sportsnet's weekly CHL podcast, a one-stop shop for news, analysis, opinion and interviews covering the WHL, OHL and QMJHL.
Listen now | iTunes | Podcatchers
---
Hart played for Team Canada at last summer's Ivan Hlinka tournament and was invited to take part in the Canada-Russia Series this fall. With his play and experience he could be in line to be Canada's next great World Junior Championship goalie, something he would love a shot at. He's aware of the pressure that the nation puts on its goaltenders and he welcomes it. "Definitely a dream of mine to play for my country," he says. "Anytime you get that kind of pressure, it's a good thing. Going and representing your country… it's such an incredible feeling."
It's Hart's NHL Draft year, but he's not worried about where he'll end up. He's the top-rated goaltender and will be on display for Team Orr in Vancouver at the Top Prospects Game. It's a draft showcase event, but Hart is more excited to reunite with friends than anything. "You can't really think about [the draft]," he says, sounding like a seasoned pro. "It's a long ways away still. You just have to stick to the process and get better every day. If you worry about that, things will take care of themselves."
The world juniors and the NHL Draft can wait. All that Hart cares about presently are the Everett Silvertips and winning hockey games. He plays on a team that only averages two-and-a-half goals a game, by far the worst among playoff teams in the WHL. That's a lot of pressure on the goalie, and he knows night in and night out he has to be sharp if they want to win.
So far, that hasn't been a factor. Hart has the Silvertips headed towards a second straight division title.