VANCOUVER–The big stage has proven to be an elusive destination for Jakob Chychrun over the past year.
He missed the Ontario Hockey League playoffs and a chance to go head-to-head with Connor McDavid last spring because of shoulder issues, and surgery on the damaged left wing cost him a chance to play for Canada at the prestigious Ivan Hlinka tournament in August.
And a slow start to this OHL season with the Sarnia Sting and a spotty performance at the Team Canada selection camp then found him on the outside looking in for the 2016 World Junior Championship, and left him watching other top-ranked teenagers like Auston Matthews, Julian Gauthier, Jesse Puljujarvi, Patrik Laine and Matthew Tkachuk put on a show in Helsinki.
---

Team Cherry vs. Team Orr, Thursday on Sportsnet East, Ontario, West, and Pacific
---
Well, enough is enough.
Chychrun will get his first big moment before a horde of NHL scouts Thursday night at the 2016 BMO CHL/NHL Top Prospects Game, a chance to demonstrate that while Tkachuk may now be the No. 1-ranked prospect among North American players according to NHL Central Scouting, he's still at the head of a crop of quality defencemen that includes London's Olli Juolevi, Windsor Spitfires backliner Mikhail Sergachev and Jake Bean of the Calgary Hitmen.
If that means Florida Panthers scouts take extra notice and find a way to finagle their way into the top part of the NHL Draft to get the powerfully built defender in June, that would be just fine for the native of Boca Raton, Fla. "That'd be awesome. That would be a dream come true," he said.
Yes, where once kids grew up dreaming to be a Hab, Leaf or Red Wing, expansion over the decades has bred a new generation of youngsters from various parts of the U.S. who grew up cheering for their teams, not the Original Six. So just as Seth Jones was an Avalanche fan and Matthews cheered for the Phoenix Coyotes, Chychrun is a lifelong Panthers fan and season ticket holder.
---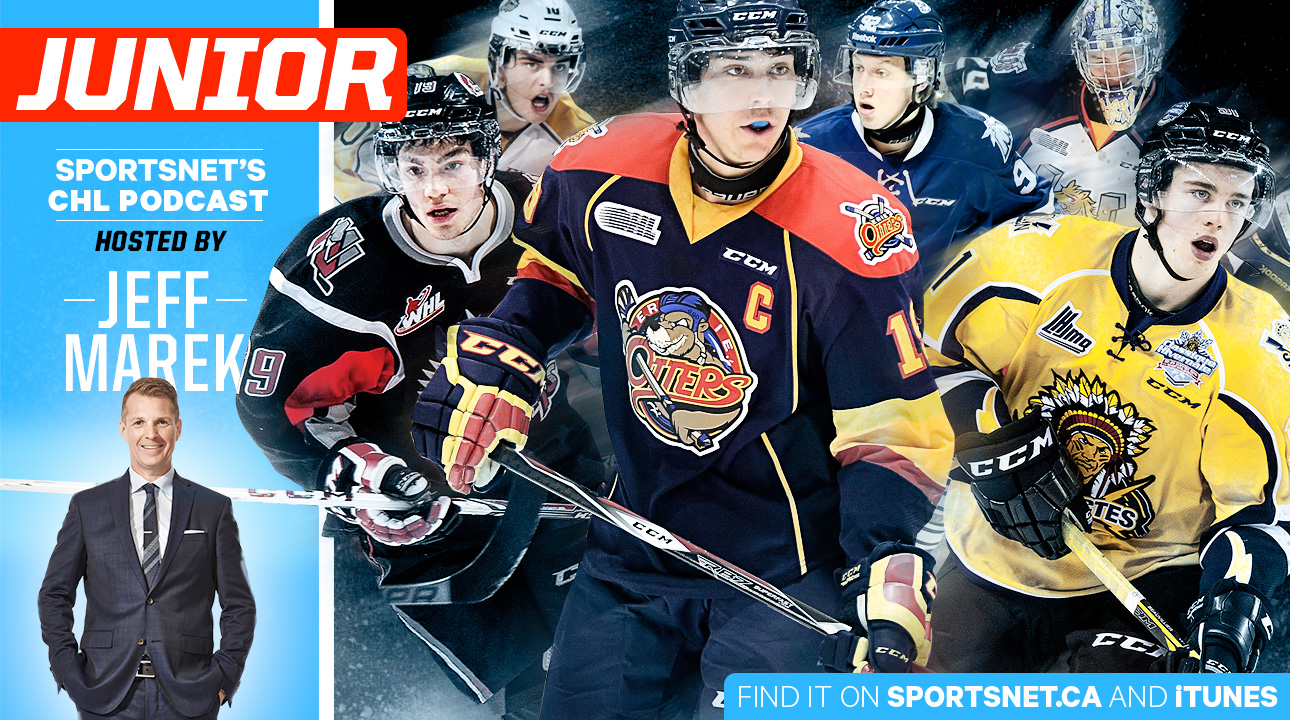 Jeff Marek hosts Sportsnet's weekly CHL podcast. Listen to his Top Prospects preview pod now and a post-game show Thursday/Friday.
Listen now | iTunes | Podcatchers
---
He watched Aaron Ekblad go first overall to the Panthers two years ago and, like Ekblad, seems more than ready and mature enough to play in the NHL as soon as next year. The son of former NHLer Jeff Chychrun has been grooming himself for making the jump to the NHL since his minor hockey days.
"I knew when I was playing for the Florida Everblades and we would travel and play against some of the best '97-born players in the nation, and just seeing how I stacked up against them, I knew I had a chance with my work ethic and my dedication to the game I could probably make it where I wanted to," he said. "My years in Michigan were great because… the top five teams in the nation are usually there. You've got Compuware, Belle Tire, Little Caesar's all in the same league.
"Then, I kind of knew for sure I wanted to be in the NHL."
There was a year in Toronto playing for the Jr. Canadiens for his OHL draft year, as well, when the USHL wouldn't allow him to play as a 15-year-old. Through that process, and with his dual citizenship, the Florida kid fell into the hands of Hockey Canada.
"I feel like every year growing up I've spent half my year living in Florida and half my year in Ottawa, even though it's not really half," he said. "We spend every summer at the cottage (near Ottawa) and I have so much family there.
"I have my heart in two places. When it comes to hockey, Hockey Canada has been great to me. In my year playing in Toronto they gave me the opportunity to play for the under-17 team and since then we've built a strong relationship. Canada's probably where I'm going to play. I love wearing the Maple Leaf."
He didn't get to wear it at the world juniors, however, when he was one of the first four players cut from the roster.
"It was tough having that exit meeting, for sure," he said. "But I tried to take all the positives away from it. It's good having all that extra knowledge for, hopefully, another invite next year. Plain and simple, I didn't perform well enough. I should have been better and I wasn't. So next time around I'll make sure I'm better."
He's hoping the left shoulder problems that ended last season after only 42 games are behind him. He had a tear in a posterior muscle, and the shoulder kept popping out. When it came out again in a fight against 6-foot-5 Brock Phillips of Guelph, he was shut down for the season and had surgery on April 1. He knows scouts are watching him closely to see that the shoulder isn't a problem any longer, and to see that he can be a dominant force at both ends of the rink.
"It was a different off-season for me. I had shoulder surgery and had to be off skates for three months and my first game action coming back was actually our first regular season game," he said. "It was tough jumping back right back into things, but I'm starting to hit my stride and feel like myself again.
"It was my first time going through something like that. Experiencing how hard it is to come back makes me want to stay healthy that much more. I'm in the gym every day doing my maintenance stuff."
As his father and former NHLer Jeff Brown are close friends, so too are he and Brown's son, Logan. They're lifelong pals, something not disrupted with Chychrun trying to help his Sting overcome Brown's Spitfires in the OHL standings. Both were assigned to Team Cherry for the prospects game, and both expected to be first round picks in June.
"Since such a young age we've been talking about moments like this together," said Chychrun. "It's going to be fun being able to share this experience with him."