• On not dwelling on poor results
• Why Scotty Bowman and Al Arbour are the best coaches ever
• How best to deal with referees
Coaches are involved in every facet of the game, from drawing up a last-second play to making sure the healthy scratch works harder instead of losing hope. They don't often have time to talk at length, but when they do, you'd better listen. And learn.
In partnership with ProSmart, Sportsnet has been publishing a number of coaching-related pieces over the past couple of months. In this installment, Hall of Famer Brian Kilrea talks with Shannon Proudfoot about his life behind the bench.

Brian Kilrea played two dozen games in the NHL and won three consecutive Calder Cups during a lengthy AHL career. But it was behind the bench that he made his greatest mark on the game — even if "Killer" was reluctant to embrace the role at first. Starting in 1974, he spent three decades as the head coach of the OHL's Ottawa 67's, with a brief pause for a two-season stint as assistant coach of the New York Islanders in the mid-'80s.
By the time Kilrea retired at the end of the 2008–09 season, he'd racked up 1,913 wins with the 67's and was the walking embodiment of Canadian junior hockey excellence. Through it all, what worked for him was simply being himself — outspoken, funny (sometimes by accident) and tuned in enough to figure out whether a player needed a pat on the back or kick in the pants. 
"As a player, I was always interested in what the other team was doing and I would have things to say about the other team — what we could maybe exploit. I was vocal. That doesn't mean you're a natural leader, but on a great many teams, I was either an alternate captain or a captain, so obviously somebody else thought I was.
When I was a player with the Tulsa Oilers, Johnny McLellan approached me and said, "Did you ever think about being a coach?" I said, "No, I'm a player." He just let it drop, and I never thought of it again. Then when I retired from playing, my wife registered our son and they were short of coaches, so she volunteered me. I was going to be an assistant coach and as it turned out, the head coach whose wife volunteered him didn't know anything about hockey. So he said, "How about we reverse roles?" That's how I started coaching — for tykes, little guys. I never thought it was going to lead to coaching at any other level — I was running a restaurant at the time and it was just getting started. 
A couple of years later, I was coaching this midget team and all of them were going to get a chance to play a touring Russian team. The coach for the West Ottawa Golden Knights fell sick and they asked me to replace him. This Russian team had been demoralizing some of the other teams in Quebec and Ontario, beating them very badly 18–2 and 19–1 and all that. We went down and scouted them one day and I came back with an idea of what to do, and we ended up tying them 4–4 . It was a highly successful game from our standpoint here in Ottawa, and that's the game that led the Ottawa 67's to gambling and hoping that I could be a coach for Major A. 
My first big win was the first game, because I'm coaching against the Toronto Marlies and it's my first day on the job, basically. I was nervous, naturally — but not to the point where it was going to be a distraction. You're just hoping that you do well, and it's against the Toronto Marlies and George Armstrong. They were the class of the league and as it turned out, we beat them 9–5 and I think we proved to our team as well as to myself that we'd picked the right guys and we had a pretty good team. 
I remember the first time we lost a game that cost us a series; you always wonder if you could have done something to change the outcome. But I learned as a player and very quickly as a coach, you don't look back. You can't dwell on the past, you can't get the two points you've already lost. You try to learn from some of the mistakes and go forward. I think it helps to have been a player. I know there are some coaches who learned it from a book — I find that difficult when you're trying to show somebody how to win a faceoff. It's not only your hands, it's your positioning, your feet, there are a lot of things that go into it — same thing with passing a puck. Because I was a player, I could show them rather than tell them. 
"I think video was the biggest change in the game. In the old days when I was a player, you went into every game not knowing really what they did on the power play, how they penalty-killed"
There's certain ways you dealt with players and sometimes all of a sudden, you might have said something that turned them around. My very first year was a turnaround thing because I was the new kid on the block and a few of the players were veterans, and the best 67's player was a fellow by the name of Timmy Young.
Timmy and I had a couple of major disagreements early, so I offered to trade him. As it turned out, the offers that came back for him weren't really good and I told Timmy what I was offered, and I think it changed his mind that maybe he'd better settle down and do things my way. I knew what I was doing and I wanted to let him know he wasn't as good as he thought he was.
He became a very good and close friend — he was one of these kids who would call up and ask if he could come over and watch a hockey game at night. We would talk about what he did wrong and what he did right. Anyway, Timmy turned our team around and went on to a very successful career in the NHL, and I think that all happened because he changed his way of thinking.
Some players need a pat on the back and some players can take a little bit of criticism. I think you have to learn from years of going through it, but I was always one to know that humour is probably one of the best ways to relax a dressing room and get your point across. There were a lot of times I walked out of a room when the whole team was just bursting laughing and, at the time, I was serious. But when I said it, all of a sudden, it was something that was tremendously funny. Everyone just sort of took it and went about playing and hopefully improving next period. 
I had some coaches I liked, and you tried to take something good from every one of them. I always respected Eddie Shore, even when he wasn't my favourite person. He treated players very poorly and very tough, but he did have a knack on some of the hockey things that made players better, so I respected him. I had the luxury of playing for Red Kelly, who was so very quiet, never swore. You try to pattern yourself after different people, but I just tried to be myself, really — because players will know if you're not. 
I did things by instinct and I was a coach who coached while the game was going on, so when players would make a mistake, I would correct them when they came to the bench, just to let them know, "Don't do that one again." My feeling was you don't wait until you get in the dressing room because then you may have half a period to see the same mistake. I was a little bit loud, but that's the way I played — I was mouthy and I was opinionated, so as a coach, I expressed it, got it off my chest and then let it go. 
I would certainly rate Scotty Bowman and Al Arbour as the two greatest coaches ever. It's the way Scotty handled the bench, and he had an unbelievable memory. If you sat down with Scotty Bowman today, he can tell you who was on the ice in 1965 when they won the Stanley Cup and who was on the ice for the goals against. He had a marvelous memory and I think that's why when he got into situations, he knew the players he would put on the ice who could get the job done. He was remarkable. Same goes for Al Arbour — you don't win those Cups in a row like he did with the New York Islanders without having a keen knowledge of the other teams and the other team's mistakes.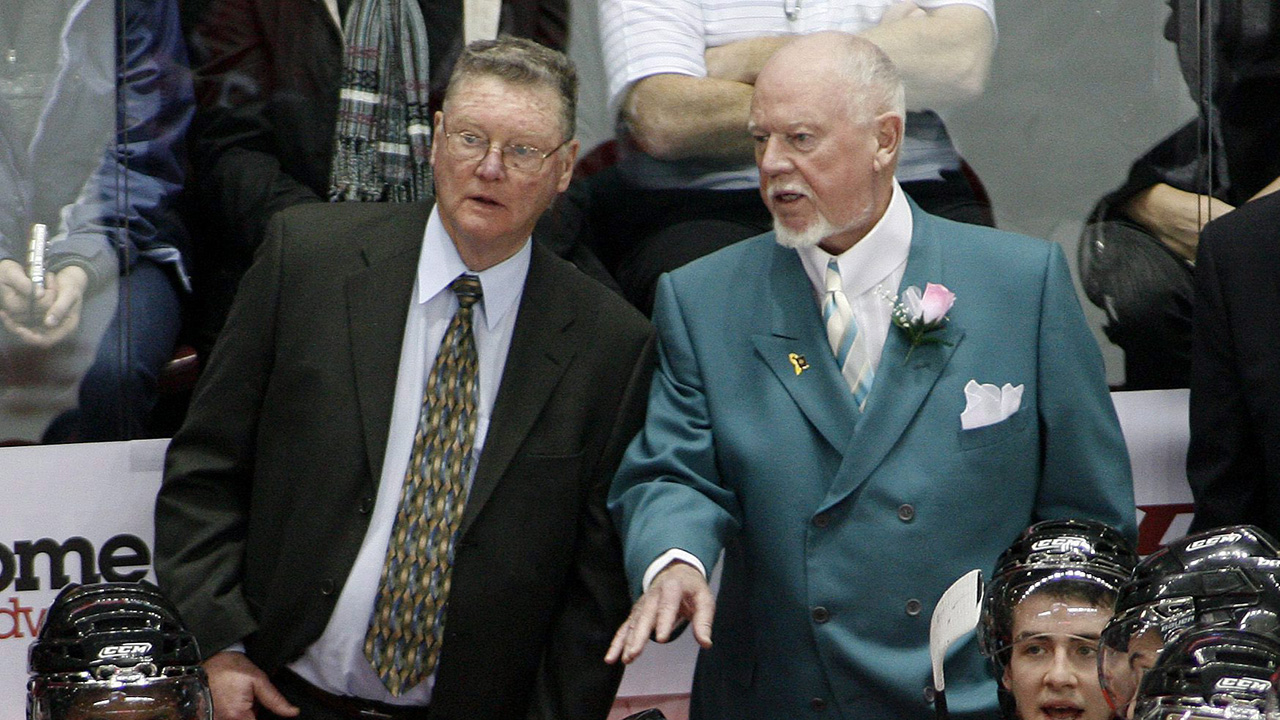 Don Cherry and Brian Kilrea have been friends for more than 50 years. (Dave Chidley/CP)
I think video was the biggest change in the game. With video, you could capitalize — you could see what a team was doing all of a sudden. In the old days when I was a player, you didn't have video, so you went into every game not knowing really what they did on the power play, how they penalty-killed, what were they doing with the attacking, were they sitting back? 
Larry Mavety was my favourite to coach against. He and I played together and I just respect him. He was a big, tough guy, and one way or the other — win, lose or draw — we would always have a beer with each other after the game. I'd go to his dressing room if it was on the road, and if it was our home game, he'd come to ours and we always had something to say. We could kid each other, make fun of each other, but there was total respect. 
I always had a beer and a cigar and then we'd get talking about different things. After that first 15 minutes or so, it was fine — the game's over, give me my Molson Ex and I'll light my cigar and we'll go on. We left the game at the rink and when my wife, Judy, and I got home, we'd end up flicking the dial and catching the end of a million movies — I'd always look for one with comedy or sometimes Columbo. I watch Don Cherry religiously. We played together and against each other, friends for 50 years. If we had the Saturday night off when I was coaching, I always, always watched Coach's Corner. 
"The biggest lesson in coaching is humility. Don't think you're bigger than the game."
Sometimes coaches go overboard and over-coach. I still think you let the players determine the game. Other times, when it looked like it might get out of hand, you didn't want to have an end result being a bad image of hockey. I saw many times where it was close and the referee was trying his best to put a cap on it. You need both coaches to help control the teams, instead of berating the officials and inciting your players so they lose control. 
With officiating problems, it just depends on who it is. If it's an official who's bad continually, sometimes you lose a little bit of self-control and you berate him. But if it's a referee who's one of your favourites, you let him know that you thought it might have been a bad call with a bark here or there, but you didn't continually berate him because they're right more than they're wrong.
I've seen a lot of bad calls and I've seen a lot of calls that went our way. Sometimes you're hoping for a call and you get one maybe because you need a spark or you need a power play goal to get back in the game or whatever, but I don't think you ever coach hoping that one of those calls will determine the outcome. The best thing is to say what you have to say and get it off your chest, and then move on. 
The biggest lesson in coaching is humility. Don't think you're bigger than the game. It's the players who win and the players who lose, so don't think you're gonna make a big difference. Let the players do their jobs and just encourage them to do it to the best of their ability.