HUMBOLDT, Sask. – Driving into Humboldt for the first time this week, Ethan Paulin-Hatch couldn't help but notice the faded green and gold ribbons adorning the trees lining Glenn Hall Drive.
He saw the large sign outside the dental office on Main Street that reads "Prayers for Humboldt #Broncosstrong."
Many of the cars in this small town an hour east of Saskatoon sport Broncos bumper stickers, waitresses at Johnny's Bistro wear Broncos logos on their sleeves and the sticks locals put out on porches to honour their 16 fallen heroes are still in place.
This tight-knit town of 5,800 will never stop honouring the 29 players and staffers of the Humboldt Broncos involved in the Apr. 6, 2018 bus crash that rocked a nation.
And in a way, that is part of why Paulin-Hatch has travelled all the way from Fort McMurray, Alta., to be here.
"I had a couple options but I just thought this was a really great opportunity to help the community rebuild," said the 18-year-old, one of eight goaltenders in camp with an eye on making the Saskatchewan Junior Hockey League squad.
"What happened here is part of it, but they're also historically a really strong organization – they've won the RBC (national championship) a couple times – and a great organization to play for.
"It's going to be a special year here, and I hope I can be a part of it."
So do 78 other hopefuls who took part in Day 2 of a training camp that opened Friday with a Humboldt Hockey Day that attracted 4,000 people who came see Washington Capitals forward Chandler Stephenson with the Stanley Cup, and to take part in a star-studded celebration aimed at furthering the healing process.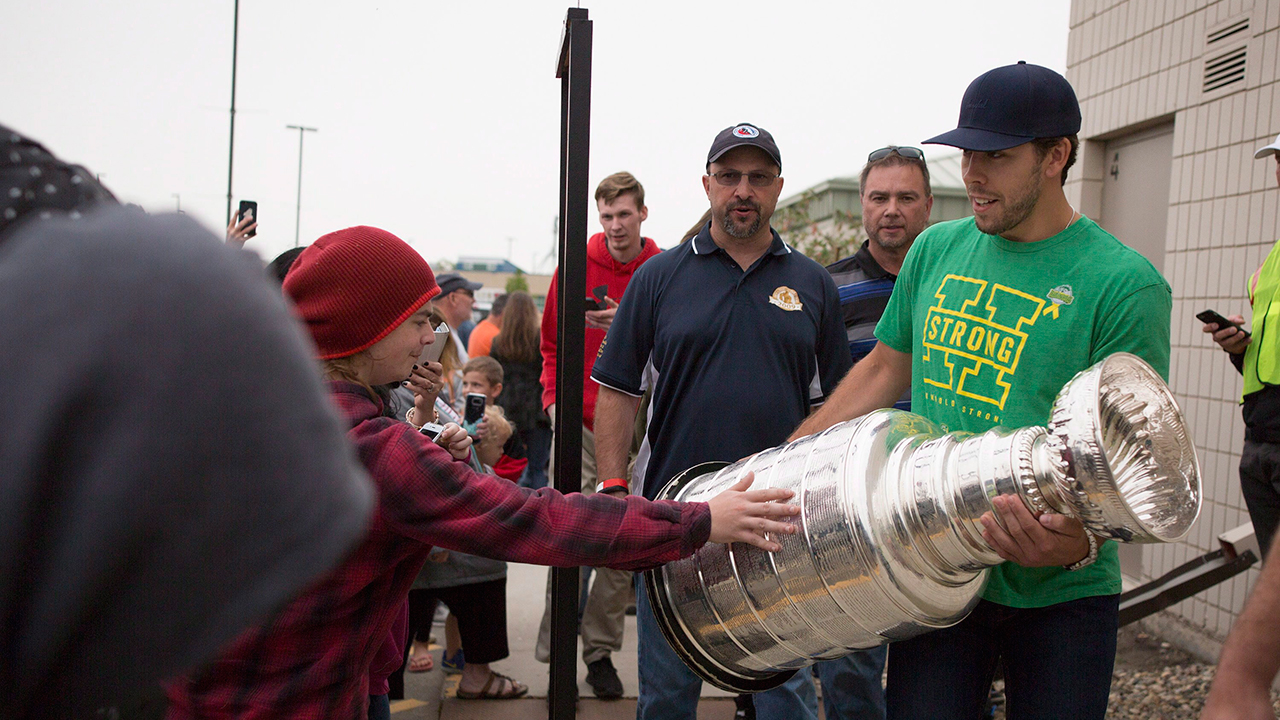 On Saturday, 3,900 of those people were gone, leaving the organization and its prospects alone in their quest to do what matters most now: getting back to business.
Finding a norm.
Everyone involved knows it won't be easy, as the first thing players saw as they entered the Elgar Petersen Arena was an oversized stick and a large cross with the names of those lost in the crash.
A lobby display case features a stirring memorial for the team complete with photos, memorabilia and poems.
Banners signed by well-wishers hang on the arena walls and gifts pepper the foyer.
On the ice are two green and gold ribbons.
New coach Nathan Oystrick told the players he wants them focused entirely on hockey moving forward, but he knows as well as anyone else that's easier said than done.
"That's what I am doing – when I'm at the rink I'm just really focused on the hockey aspect," said Paulin-Hatch, who posted a shutout in Saturday morning's green-blue scrimmage.
"But being here it gets you a little emotional for sure. It was emotional hitting the ice."
Two members of last year's team are on the training camp roster, forwards Derek Patter and Brayden Camrud.
Patter respectfully declined to do any interviews and Camrud isn't skating this weekend.
Otherwise, Oystrick is dealing with unknowns as he tries to rebuild an organization from scratch.
His message to the players is to avoid distractions and show how hard they can compete. As he says, "you can't fake compete."
"It's a blank slate for everyone and a great opportunity," said Oystrick, a former NHLer who knows he has big shoes to fill for late coach Darcy Haugan.
"There were some players that reached out and wanted to come to Humboldt and be some sort of a help to the community and do their part to give back to hockey."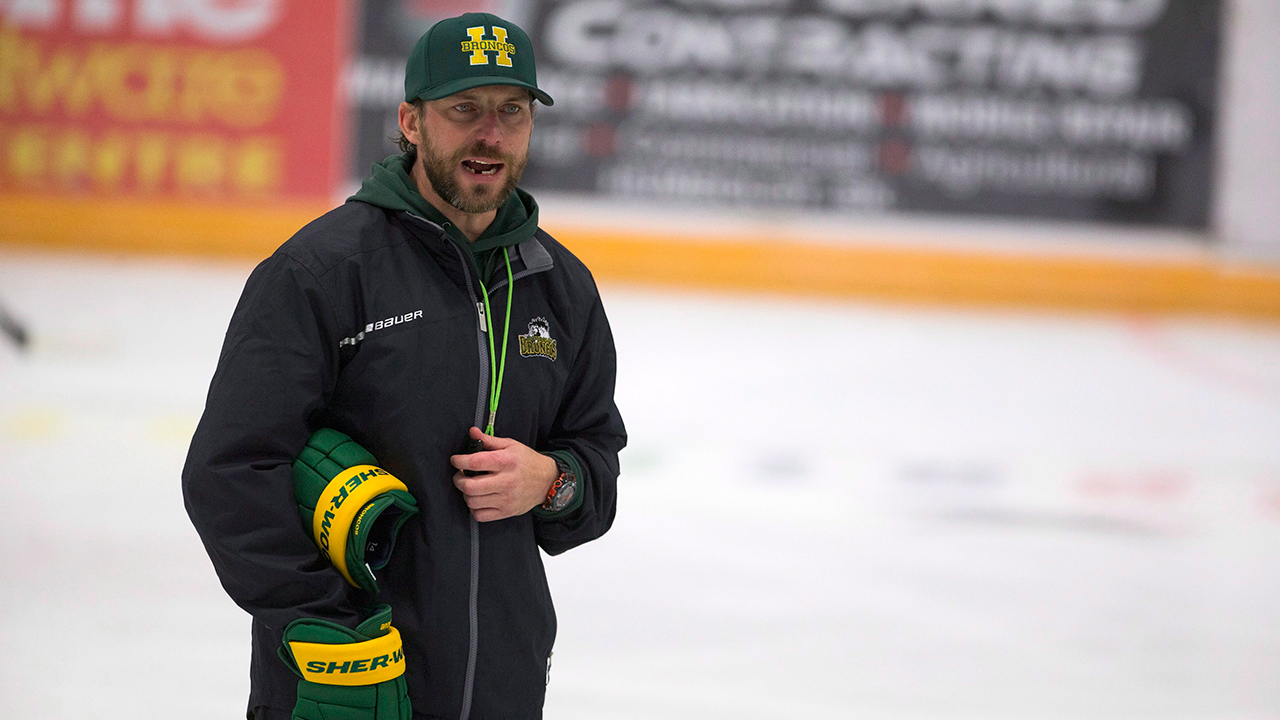 Luke Spadafora, like many players here, had options in Alberta and B.C. However, given what happened here, it was a no brainer for him to choose Humboldt.
"It wasn't just a hockey decision – it was a life decision as well," said the 17-year-old who played midget triple-A for the Calgary Northstars last year.
"I'm not just going to develop as a hockey player, but as a person. It's going to be a really good life experience. It's pretty emotional seeing all the things around here and the support."
Fellow Calgarian Michael Bladon feels exactly the same way.
"I saw the way this city, all of Canada and the world has rallied around this little town and it was a major part of why I wanted to come here – hockey has such a huge influence on people here," said Bladon, who played for Nelson in the Kootenay International Junior Hockey League in B.C. Last season.
"It was a tear-jerker walking in (Friday) and seeing all those people, and even seeing guys in the locker room that were on that bus. Trying to know what they went through … it just shows how tight knit a community it is that they can come back and feel the support of everyone.
"Driving in you go past farms and they have signs up saying 'Prayers for Humboldt,' and every business and car has a Humboldt Broncos sticker in their window.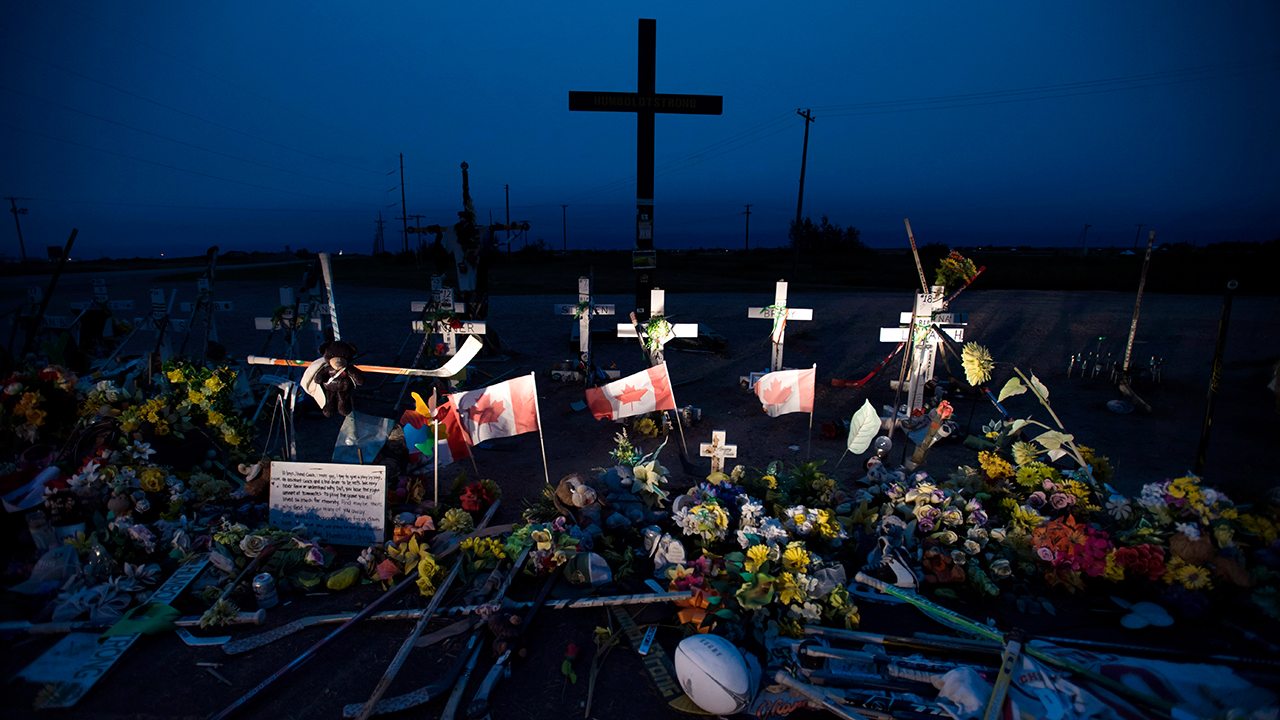 "Everybody is excited to see the new team and what we're going to do."
And that includes Broncos crash survivors like Caleb Dahlgren, who said as much Friday.
"It's about moving forward," said Dahlgren, who is moving on to York University where he hopes to be fit enough mentally to make the team this fall or after Christmas.
"If I would have passed away I would have wanted them to move on with the season and honour that crest. It's an emotional roller coaster for sure. They have lots they have to honour and it starts with the logo on the chest."
Their first pre-season trip is an 11-hour bus ride to Peace River, Alta., and emotions will get ramped up even further when the team plays its home opener Sept. 12 against the Nipawin Hawks – the team the Broncos were travelling to play against last spring when the bus crash at a rural intersection near Tisdale, Sask., occurred.
"We're going to learn as a group to see how we get through things," said team president Jamie Brockman.
"There's a hockey season coming up and the only way to move forward is to tackle that season one game at a time and we want to do that obviously remembering the friends we've lost and the people that are still with us.
"I guess the kids here want to be part of something special. Everybody wants to be part of something special. They're here to represent the Humboldt Broncos and the Humboldt Broncos, prior to this, had a great name in Canada. So we just want to keep that going and we're looking forward to that."
So is the rest of Canada.