Ask Cal Foote, a born-and-raised American, why he'd like to represent Canada at the world junior championship and his answer is succinct.
The main reason is far simpler than just following in the footsteps of his father, Adam – the longtime Colorado Avalanche defenceman who played in two World Cups and three Olympics for Canada.
"It was very easy for me because, to be honest, USA never really contacted me for anything," said Foote, a Kelowna Rockets defenceman, ahead of the WHL portion of the Canada Russia Series. "So when Canada contacted me it was a pretty easy decision."
Coincidentally, the man who first alerted Hockey Canada about Foote was Bruce Hamilton, Kelowna's owner and GM.
The Rockets drafted Foote 43rd overall in the 2013 WHL bantam draft and then selected his younger brother, Nolan, a forward and 2019 NHL Draft prospect, with the same pick two years later.
Meanwhile, Hamilton served on Hockey Canada's world junior management group in 2014 and 2015. He tipped off Hockey Canada vice-president of hockey operations Scott Salmond about the Footes once he'd successfully recruited them from Colorado and they were in the process of getting dual citizenship. (Salmond's son, Brodan, was a Rockets prospect at the time and now is one of their goaltenders.)
"I had just finish two years in a row of managing the team for them," said Hamilton. "I had a pretty good idea of what was going on."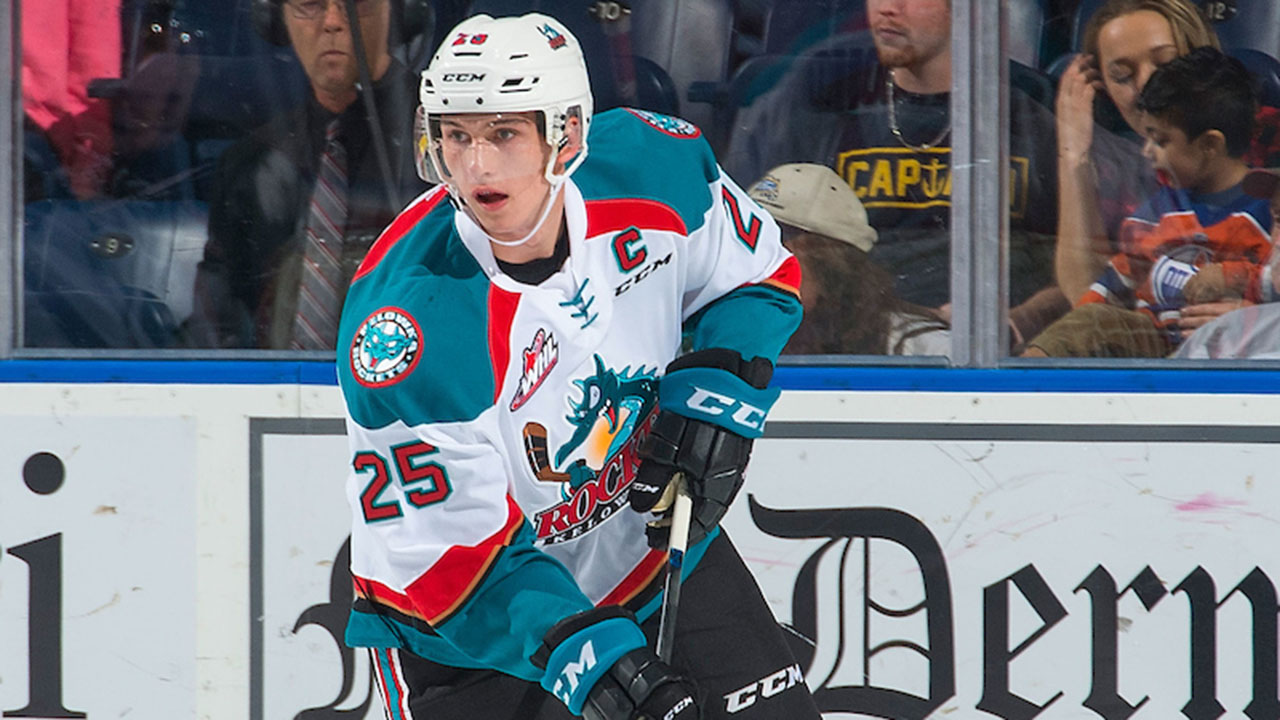 Foote is now finally getting his chance to impress Hockey Canada's brass with real stakes on the line. The series is the last showcase before the world junior selection camp roster is named.
Sure, Foote competed in the series a year ago. However, when invitations were extended for camp, he wasn't among them after being deemed ineligible by the IIHF.
The governing body's rules indicate players with dual citizenships must live in the country for which they want to play for 16 consecutive months and play for a team in the same country for two complete seasons.
Foote was only amid his second season with the Rockets. He'd go on to record six goals and 57 points in 71 games before being selected 14th overall by the Tampa Bay Lightning.
"He didn't make an issue of it. There was no feeling of regret," said Rockets coach Jason Smith. "He kept his foot on the gas pedal and continued to strive to have success. That's just a sign of his character that it didn't become an overbearing issue on him."
Added Foote: "It was too bad with legal reasons, but that's over with and I'm excited for this year. I have a good opportunity playing in these two games against Russia. I'm going to try to take it and run with it."
Besides, Foote has put himself in a better position to make the team this time around.
Last season, the knock on Foote, oddly enough, was his feet – that is poor agility and foot speed thanks to his size 16 feet.
This year, Hamilton said, he's adapted and there are no such concerns. Foote's arsenal includes a booming shot, which has contributed to his five goals and 15 points in 17 games so far. Hamilton believes his offensive abilities are underrated.
"If I was managing that team he'd certainly be a candidate for me," Hamilton said. "I'm sure he will be for them, too."
Naturally, the six-foot-four, 210-pound defenceman is also equipped with many of his father's intangibles: elite defending, decisiveness with the puck, and an ability to compute details quickly.
Smith, a longtime NHL defenceman who captained Edmonton and Philadelphia, played against Adam for years and sees many similarities.
"You can draw something for him, you can show him video, you tell him something, and it's one and done," said Smith. "He understands the message you're delivering."
And then there's the leadership he brings, arguably the biggest similarity Foote shares with his father.
As Kelowna's captain, Foote is charged with guiding promising young blueliners Libor Zabransky and Kaedan Korczak, the latter of which Hamilton said could be one of the best defencemen the Rockets ever produce. (That's saying something considering Josh Gorges, Duncan Keith, Shea Weber, Luke Schenn and Tyler Myers are among the franchise's alums.)
It doesn't hurt that Foote lives with his father — and brother and mother, Jennifer — during the season in a house the family had built in Kelowna.
"He gives me all kinds of tips about everything I need to know about the game," Foote said of his dad. "In terms of leadership, he tells me to be a good teammate and to try to be the best I can for my teammates and everything will work out."
That's the hope for Foote when it comes to Canada and the world juniors. Because he turns 19 in December, this is his final opportunity. His path to a roster spot won't be easy, not with three of the seven defensive spots likely held by returnees Dante Fabbro, Jake Bean and Kale Clague.
Foote was too young to remember his dad's 2002 Olympic gold medal, but memories of the 2004 World Cup championship and 2006 Games are clearer. He's looked at all his dad's memorabilia from his Team Canada days. As a child, the family spent its summers in Ontario, mostly in Whitby where Adam is from.
So, despite being born in Colorado and living there before the move to Kelowna (other than during Adam's brief stint with the Columbus Blue Jackets), Foote is glad Hamilton made the push for Hockey Canada to give him a call.
"Growing up, I've always been a true Canadian cheering for Canada," he said. "I dreamed of maybe one day playing for them."