TORONTO — Mitch Marner knows what's expected of him and his teammates on Canada's world junior team.
Marner and Dylan Strome were two of the biggest names on Hockey Canada's 30-man selection camp roster announced on Tuesday. The two NHL draft picks will be counted on to lead Canada's forwards to back-to-back world junior championships.
"I think that however they finish there's always pressure on the next team to go up and do better," said Marner while wearing a Team Canada jersey shortly after the announcement. "Our goal is obviously to go in and try and win a gold medal. So that's what we're going to do."
Marner was selected fourth overall by the Toronto Maple Leafs in June, but was returned to the Ontario Hockey League's London Knights after NHL training camp. Strome was taken third overall by the Arizona Coyotes and was also sent back to play junior with the OHL's Erie Otters.
The pair are tied for fourth in the OHL with 47 points after 22 games. Marner has 15 goals and 32 assists while Strome has 14 goals and 33 assists.
"They're certainly amongst the elite players on this team and yet it's not going to be those two guys that win us a gold medal, it's going to be all 22 players," said Ryan Jankowski, the team's director of player personnel. "I think their roles are going to be important on this team and yet I think all 13 forwards are going to be important.
"As we saw last year, we need a team that has depth."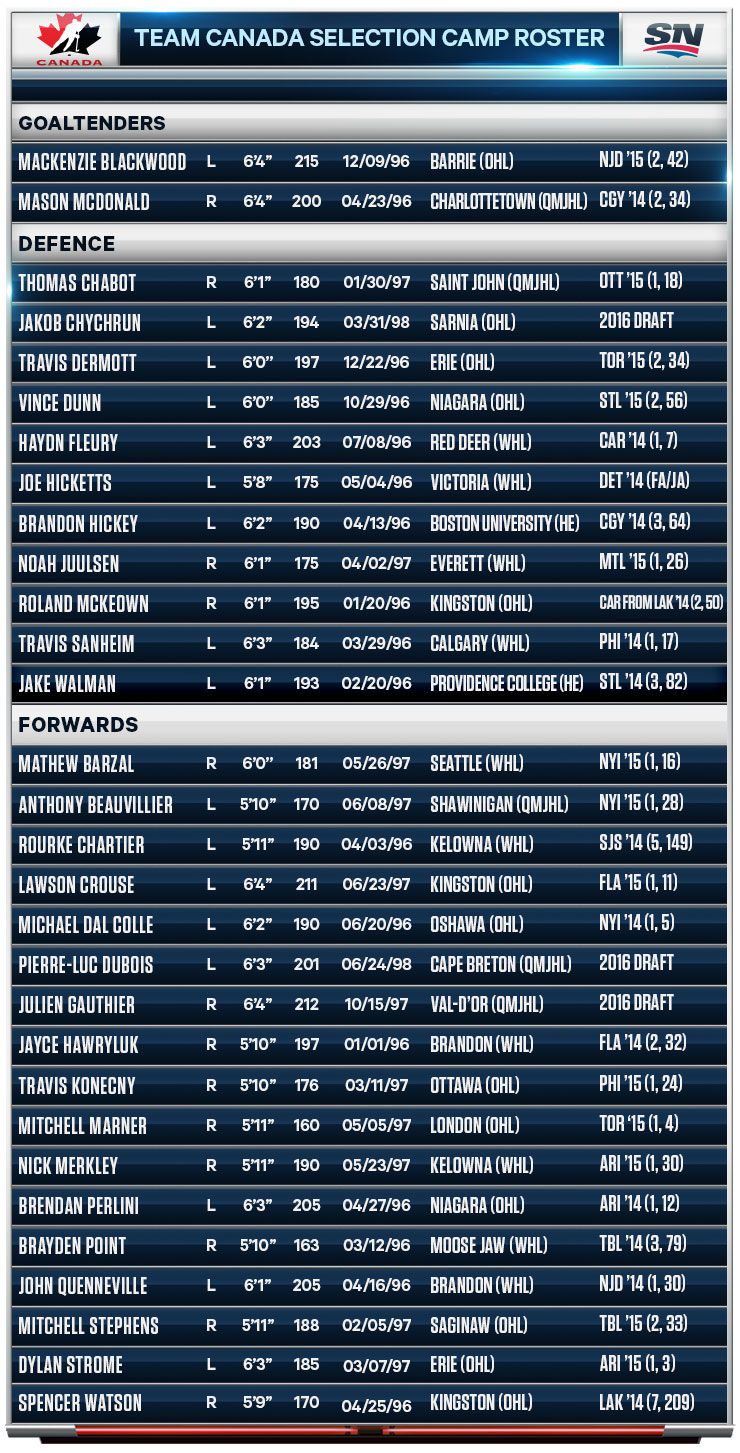 Hockey Canada will hold a four-day selection camp Dec. 10-13 in Toronto that will include two exhibition games against an all-star team from Canadian universities. The 30-man roster will be whittled down to 22 before Canada's first game in Helsinki, Finland, on Dec. 26. It's expected that Canada will have 13 forwards, seven defencemen and goaltenders Mackenzie Blackwood (Barrie Colts, OHL) and Mason McDonald (Charlottetown Islanders, QMJHL) for the holiday tournament.
"Growing up as a kid it's everyone's dream to be named to the world junior," said Marner. "It should be a lot of fun going to camp and trying hard to make the team."
Lawson Crouse, Joe Hicketts and Brayden Point will all return from Canada's gold-medal winning team in 2015, but the team's front office would like to see more familiar faces including NHLers like Robby Fabbri of the St. Louis Blues, as well as Jake Virtanen and Jared McCann of the Vancouver Canucks.
"There has been connections made with those NHL teams and we're in a wait-and-see process with them," said Jankowski, who added that Canada would finalize its team on Dec. 19 at midnight when the NHL freezes its rosters for the holidays. "We'd love Sam Bennett but I think things are going really well for him in Calgary and that (Connor) McDavid guy is injured so unfortunately he's not going to be eligible."
Crouse, who has nine goals and 11 assists in 18 games with the OHL's Kingston Frontenacs this season, was pleased to be returning to Canada and assuming more of a leadership role.
"Just from my experience last year I can kind of mentor these guys," said Crouse. "I obviously can use that experience from last year to help settle some nerves down for other guys and help us win."
One surprising name on Canada's roster was defenceman Jake Walman, who was born and raised in Toronto but holds dual citizenship with the United States. He tried out for the American team and attended the U.S. summer camp in Lake Placid, N.Y. However, last week the International Ice Hockey Federation ruled he was ineligible to play for the U.S., leaving Canada as his only option.