TORONTO — For Canada, the most critical thing to come out of Thursday night's bloodbath of a hockey game against Latvia was that no one got hurt. Sure, some other stuff happened. Taylor Raddysh scored four times, tying three guys you may have heard of—Mario Lemieux, Simon Gagne and Brayden Schenn—for the most goals ever by a Canadian in a single world junior game. Dylan Strome had four assists; Kale Clague had three. It took two pieces of double-sided paper to print the final score sheet. That's all well and fine. But, most critically, no one got hurt.
It was that kind of game—the most lopsided the tournament has seen to this point. Canada stopped celebrating their goals around the midway mark of the second period and had 10 on the board by the end of the night, against two from Latvia. At one point in the third, Canada played about 15 seconds of even strength hockey with only four players on the ice until Julien Gauthier noticed and hopped over the boards. He scored a goal 10 seconds later.
So, to lose a player to injury in a game like that would have been devastating. And it looked like things may have been heading that way in the second period, as the testy Latvians refused to succumb peacefully, throwing themselves at any Canadian who dared carry the puck. At one point, Maksims Ponomarenko lined Strome up in open ice, catching the Canadian captain with a jarring hit that featured some questionable knee contact. Strome went straight to the dressing room and missed the remainder of the period.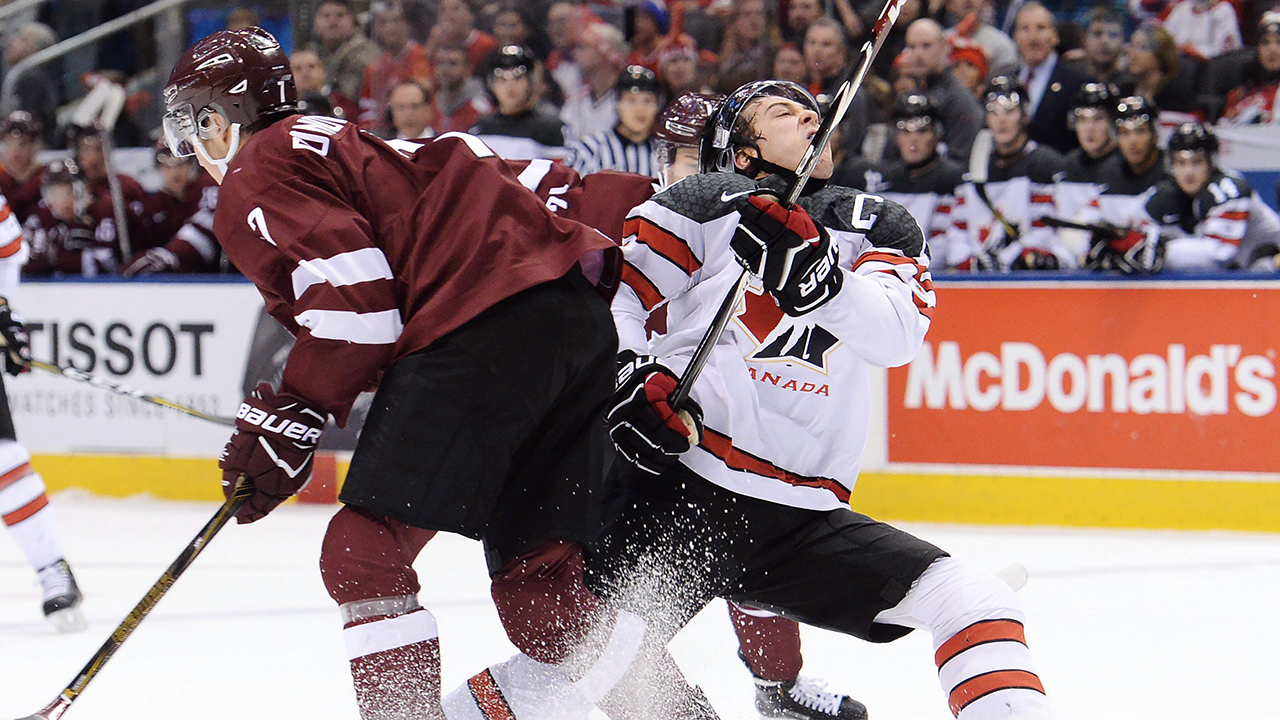 Latvia defenceman Maksims Ponomarenko hits Canada forward Dylan Strome on Thursday. (Nathan Denette/CP)
That was worrying. But when the third began, there was Strome playing three minutes of the period, an abbreviated stint that was more due to the disproportional state of the score than anything else. Naturally, he still managed to set up Canada's final goal.
So now Canada moves on, healthy and confident, to a New Year's Eve clash with the United States that will decide their pool. That will be Canada's first true test of the tournament. But you came here for takeaways, and takeaways you shall get. Here are some other things that happened on the ice Thursday night.
Hart bounces back
After watching Connor Ingram secure a leisurely six-shot shutout against Slovakia, Carter Hart was back in net for Canada Thursday night, looking to prove he could be Canada's No. 1.
Hart struggled in both his team's final tuneup game against Switzerland and first preliminary game against Russia, allowing six goals on 32 combined shots, including several he should have stopped. And, if you were so inclined, you could even trace Hart's struggles back to his final two games prior to this tournament with the WHL's Everett Silvertips, when he allowed eight goals on 41 combined shots.
Not much of a leap to say he's in a bit of a slump. And, hey, all goalies slump. All athletes slump. But a two-week tournament that is quickly entering must-win territory is a sub-optimal time to have a goaltender go through one, which is why Hart's play was under a particularly fine microscope Thursday night.
Fortunately for those looking to evaluate him, Hart was tested early and often against Latvia, who outshot Canada in the first period and finished the game with 25 shots, which is more than Canada faced in its first two games combined. And while many of Latvia's shots came from quite a distance, it's arguable that those are exactly the kind of pucks Hart needed to prove he could handle.
Switzerland and Russia scored on a number of long, sometimes-screened shots that caught Hart too far back in his crease. But through the first 38 minutes or so of Thursday night's game, Hart was out at the top of the blue ice, challenging shooters and taking away their angles. That's exactly what he needed to do.
Well, cue the moment late in the second when Latvia broke out on a rush after Canada coughed the puck up at the blue-line on a power play. Renars Krastenbergs carried it up the left side of the ice with a teammate along for the ride to his right. Krastenbergs took a look at Hart, who was drifting deep into his crease, and fired, beating the Canadian goaltender clean. That's exactly the kind of goal Hart has been asked to eliminate, and although he had to guard against the potential of a pass during the two-on-one, Hart definitely could have been further out of his own net.
Latvia's second goal, scored in close by Martins Dzierkals after a crafty deke, was more forgivable as Michael McLeod's errant pass gifted the Latvian a clean breakaway. And the fact Hart stopped every other shot he faced means Ducharme will likely turn to him again New Year's Eve against the Americans.
If Hart can come out of that game without major incident, he'll surely be Canada's goalie through the medal round. But if he struggles, Ducharme—who at no point in this tournament has elaborated on what his goaltending plans are or if they even exist—could be tempted to go back to Ingram. Watch closely.


On the latest podcast, Gare Joyce from Toronto and Eric Engels from Montreal join the guys to talk all things world juniors.
Listen now | iTunes | Podcatchers
A lack of discipline
Infractions were certainly an issue Thursday night for Canada as they took 10 penalties and five in the first period alone. Now, that sounds worse than it was. Two of those penalties were offset by diving calls. Another came for too many players on the ice. And a third, called on Blake Speers for goaltender interference, was awarded when Latvian netminder Mareks Mitens stepped on his own player's stick in his crease and did his best Simone Biles, fooling the officials.
And not to put too fine of a point on it, but the Latvians were diving all over the place. Less than a minute after his team's second embellishment penalty, Mitens was going for another tumble after a high stick from his own defenceman, which produced a penalty on Gauthier, who just happened to be in the area.
Still, one imagines Ducharme will mention tightening up the discipline during his team's preparations for the United States, as a team like that can make you pay for spending too much time in the box. Canada faced a similar problem during their exhibition schedule when they took seven penalties against Finland. Ducharme's players answered by taking just two in their next game. On New Year's Eve, he'll surely be looking for a similar response.


Not a scout? No worries. Jeff Marek's newest podcast is all you need.
Listen now | iTunes | Podcatchers
Specials continue to be a strength
All those penalties meant plenty of power plays, penalty kills and four-on-four stretches in this game, which we're going to go ahead and spin as a good thing for Canada. The hosts had plenty of opportunities to work on the finer points of their special teams, which are always a crucial foundation for success in tournaments like these.
Canada scored three power play goals despite spending less than five minutes with a man advantage, and the team's 1-3-1 formation continued to run efficiently, producing several great scoring chances. Raddysh's second goal was the product of that system as Strome and Pierre-Luc Dubois moved the puck beautifully down low before setting Raddysh up for a shot he couldn't miss. Through three games, Canada's power play is the best at the tournament by far with eight goals in 14 opportunities.
Meanwhile, Canada killed off every single penalty they took Thursday night and have allowed only one goal in 13 shorthanded situations through the tournament. No team has spent more time killing penalties than Canada has, which isn't exactly a good thing. But the fact the team has been so adept at killing them off has to be encouraging.