The world juniors is a New Year's tradition. Likewise, to only a slightly lesser extent, the emergence of players who have been previously little noticed is a fixture on the hockey calendar.
A lot of players, the top draft picks, come into the under-20s with reputations while a select few, some previously anonymous, make their reputations at the event. So here's a case of the latter, one to watch when Canada hosts the U.S. in the world junior hockey championship final at the Bell Centre Thursday night.
Anthony Cirelli hadn't flown completely under the radar. His name is easy to locate in the record books. He scored the last goal of the 2015 major-junior season, an overtime winner for the Oshawa Generals in the championship game at the Memorial Cup. It was his second goal that day, all the more remarkable when you consider that he had scored just two goals in 21 games in the OHL playoffs. After that goal, the janitor turned off the lights at ye olde Colisee and the game of hockey in Quebec City moved to the new arena next door.
Many, if not all, presumed that Cirelli already had his career moment. Hockey Hoosiers of a sort: He scored that goal for all those like him who never got a chance to play in that game. By "like him" I mean a kid whose name was never called at the OHL draft, overlooked not once but two years in a row. By "like him" I mean a kid who talked a major-junior team into letting him try out as a walk-on, the longest of long shots.

Cirelli was the Memorial Cup hero for the Generals in 2015. (Jacques Boissinot/CP)
---
You would have been more likely to have presumed Cirelli had his moment if you had looked at him in the immediate aftermath of that Memorial Cup final. The kid was built like a six-foot Q-Tip. Physically there was nothing to him. Maybe he was listed at 160 pounds but he was likely weighed while wearing a knapsack full of rocks. You could see how the OHL teams had passed him over. This wasn't just a case of missing him nor never having seen him. Scouts for every OHL team had seen him playing midget in Mississauga and never circled his name on a program. He had 16 points in 33 games in minor midget, his OHL draft year, and 28 points in 31 games in midget, playing just a couple of Junior A games and making no impression at all.
When the Tampa Bay Lightning selected him in the third round of the 2015 draft, you'd have thought the Bolts viewed him as a rabbit's foot as much as a player—he was a found-in when great things happen, maybe with the Lightning he'd strike twice. Magical thinking.
Flash forward to Dec. 2016. Hockey Canada sent out its invitations to the WJC selection camp and there was Cirelli's name. Okay, in the year and a half since the Memorial Cup he had developed into a very respectable major-junior player, more or less on pace to score 30-plus goals with the Generals this year. Cirelli had filled out somewhat—now 6-foot-1 and 170 or 175 pounds. But this was going to be Dylan Strome's team and/or Matt Barzal's team, two NHL first-round draft picks, two kids who were still with their NHL teams in November, two returning players from last year's WJC team, bound and determined to make good after a hugely disappointing quarter-final in Finland in their first trips to the big stage. Many viewed Cirelli's chances of making the final roster as slim. When he survived the final cut he was slotted as a fourth-line centre, a penalty killer, a faceoff specialist—more or less a fit with his profile as a no-maintenance two-way guy in Oshawa.
Now flash forward again, this time to Canada's semi-final victory over Sweden at the Bell Centre on Wednesday. Okay, he wasn't the home team's player of the game. Goaltender Carter Hart entered in relief of starter Connor Ingram and faced 28 shots, turned aside all, locking up the honours that night and his teammates' eternal thanks. Nonetheless, with Canada down 1-0 and 2-1, Cirelli was the best player on the ice. On the goal that tied the game at one, Cirelli's work on the cycle had the Swedish defence scrambling and his attempted wrap-around led to a rebound that Mitchell Stephens cashed in.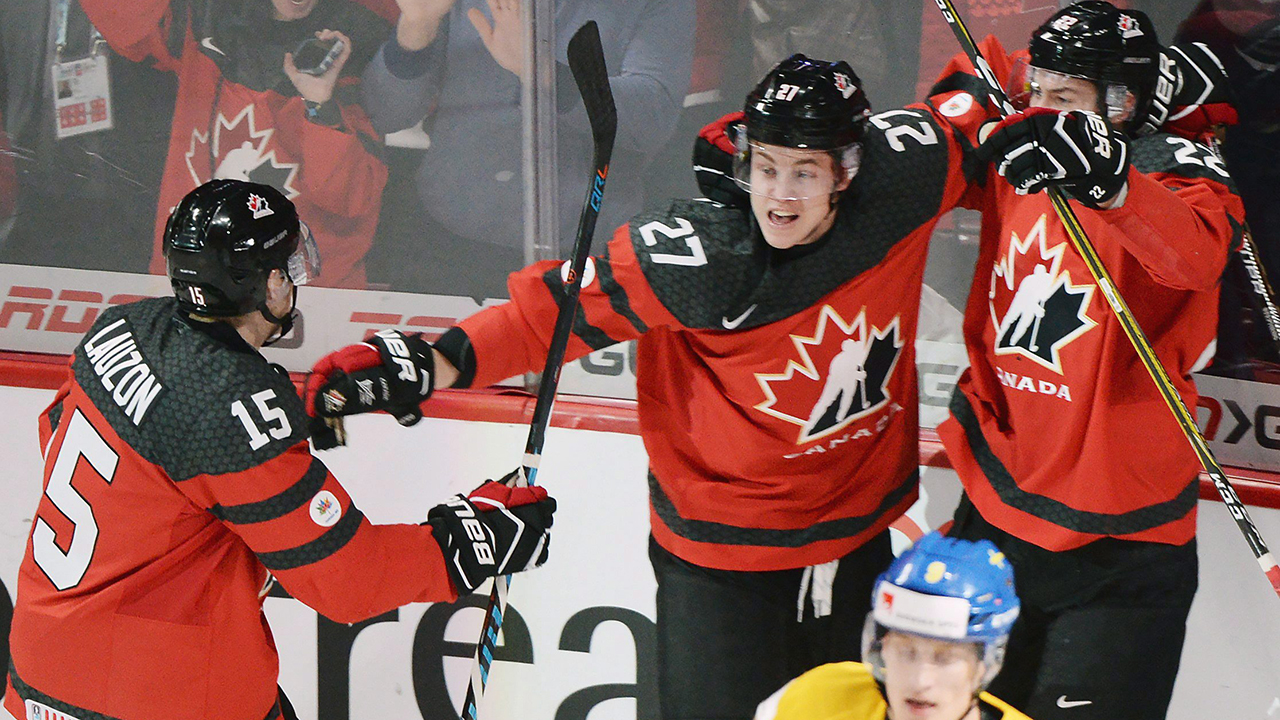 Canada's Mitchell Stephens (27) celebrates his goal against Sweden with teammates Jeremy Lauzon (15) and Anthony Cirelli (22) (Paul Chiasson/CP)
---
With about a minute left in the opening frame Cirelli scored Canada's second goal on a surgical top-corner snapshot from the slot. Though it only tied the game at two apiece Cirelli's goal had to crush the Swedes' spirits—they were counting on taking a basically stolen 2-1 lead into the intermission. From Cirelli's goal on, Canada wasn't going to lose that game and at some level the Swedes knew it.
"My role is to bring energy to this team, be physical, bring some emotion," Cirelli said after the game. "[Against the Swedes] we had a game plan and stuck to it. We had to get there on the forecheck and be physical. Don't give [the Swedish defence] too much time to handle the puck."
In the semis, Dylan Strome did pick up a key goal late with the team needing insurance, but he hasn't quite played up to expectations. Matt Barzal showed flashes of abundant skill but he has had better games, including those early in this tournament. Nobody saw Anthony Cirelli and Nicolas Roy having bigger impacts down the middle than Strome and Barzal, not in a game with a shot at gold on the line but that's exactly how it turned out. If Cirelli exceeds expectations one more time, it's long past time to be surprised.