This story originally appeared in the March 23, 2015 edition of Sportsnet magazine.
ST. CATHERINES – At 9:20 a.m., the kids in the hall at the CHL/NHL Top Prospects Game were advised that the interview crew was running behind. They heard the same at 9:40. And at 10. They wondered what the holdup was. Finally, at 10:20, the cause of the delay was clear to all.
Dylan Strome walked out of the studio.
"Not the guy you'd want to start this with," said Connor McDavid, Strome's teammate with the Erie Otters. "He just won't shut up." McDavid already knew what everyone in the studio and the hallway was just finding out—that while there might be some dispute about this draft class's best skater or slickest passer, one kid stands alone as the most voluble character. And you suspect that, even standing alone, Strome would find some way to keep a conversation going.
That Strome's session would run long was foreseeable even if he weren't so talkative. You knew he'd get a lot of questions about McDavid, the wunderkind projected to go first overall in June. You would have expected that he might go on and on about getting a chance to see his brother Ryan play with the New York Islanders. And, of course, his own game wasn't anything to gloss over—when McDavid was sidelined in November with a hand broken in a fight, Strome raised his game, keeping the Otters in the hunt for the first seed in the Western Conference and vying with London's Mitch Marner for the lead in the Ontario Hockey League scoring race. Lots to talk about there, for sure.
---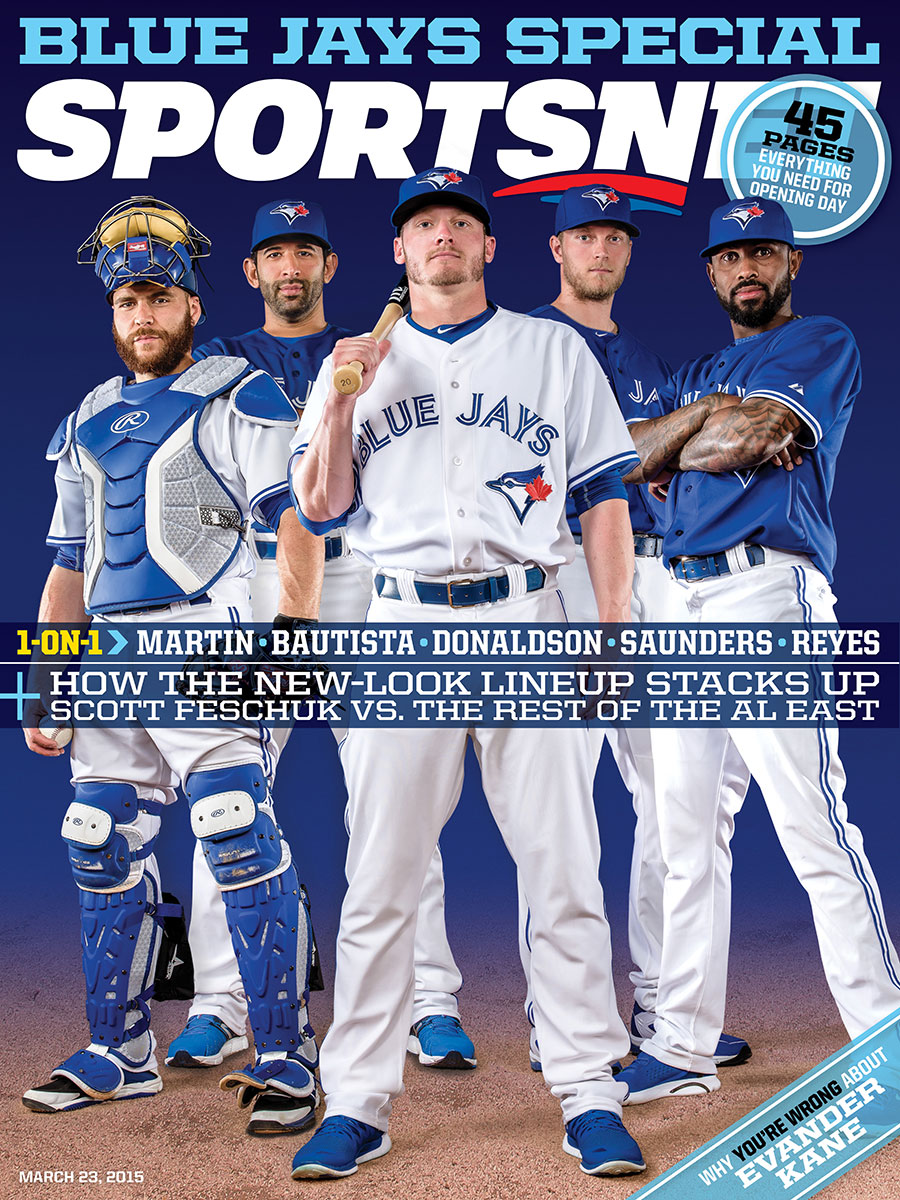 Sportsnet Magazine's Toronto
Blue Jays Special: From the heart of the order to the bottom of the bullpen, we've got this team covered in our preview issue. Download it right now on your iOSor Android device, free to Sportsnet ONE subscribers.
---
Yet these topics were fairly well covered in half an hour or so. The rest of the time, Strome talked about his obsession: street hockey. The brothers Strome (Ryan, Dylan and their younger brother, Matt) have played hundreds of games against the McLeod brothers (Matt, Mike and Ryan), who live around the corner in Mississauga.
The Stromes aren't ringers in this matchup. Matt McLeod plays for Canisius College in Buffalo, Mike's a centre with the Mississauga Steelheads and their little brother, Ryan, will likely be a high pick in the 2015 OHL draft (as will his Toronto Marlboros teammate Matt Strome).
These aren't just casual games, either—they're heated contests for the greatest prize in Mississauga street hockey: a miniature Stanley Cup fashioned in wood-shop class. "And there's the most valuable player award, the Conn Strome Trophy," Dylan says.
Strome has tried to recruit other talents—so far McDavid has balked, but Marner has made a couple of guest appearances. That added talent might be needed to sustain the Stromes' and McLeods' game. It seems like Ryan Strome might be winding down his street-hockey career—understandably, the Islanders might think there are better ways to work out in the off-season. Dylan Strome, though, says he can't see completely forgoing the pavement for the ice. "I plan on playing as long as I can and keeping the tradition alive," he said.
Advised of this, McDavid could only shake his head. "He's going to be a top-five pick, but when his name is called, he's going to be playing ball hockey on his street and slashing some 12-year-old on the ankle," McDavid says.
The presumptive No. 1 isn't being overly generous when he pegs his teammate as a top-five pick. NHL Central Scouting ranked Strome fifth among North American skaters in its January mid-term rankings. At six-foot-three and 190 lb., Strome is a rangy centre who gets high marks for hockey sense and creative passing. His stats show he's more of a playmaker than a finisher: Strome has 39 goals and 117 points through 65 games. Those numbers are even more eye-popping measured against his production as a rookie last season—10 goals and 29 assists—after being the No. 2 pick of the 2013 OHL draft. "We had a lot of veterans, with Connor Brown and Dane Fox. And Connor [McDavid], of course," Strome says. "There wasn't pressure for me coming in as a first-rounder. Playing beside those guys every game and practising against them every day just made me raise my game. And it was great to get playoff experience, going three rounds. And, really, it's a huge advantage being able to train and learn from Ryan—to have an older brother who's gone through everything I have and plays in the NHL. I can go to school on everything he does."
Skating is a work in progress for Strome, but that will pick up when he fills out physically and gains strength. One of his strengths is an unusual one to see in a draft-eligible player: He's dominant in the faceoff circle, the Otters' first option on the power play even with McDavid out there.
Said one Ontario-based NHL scout: "He's almost exactly like his brother that way. Off the ice, they just don't stop talking—they're really outgoing, good teammates. On the ice, they're really similar too, a pair of rink rats. They do a lot of the same things. They both made huge jumps from their rookie season to their draft season. [Ryan Strome went from 29 points to 109.] Dylan figures to be a different package—a bigger body. But, like his brother, he'll be a no-maintenance type, a guy who won't need anyone pushing him to become a better player."
It could even be that Strome goes fifth overall in the draft, just like his brother did to the Islanders in 2011. Despite McDavid's jabs, Strome will be in the arena at the draft in Sunrise, Fla. But after his selection, it would be no surprise to find him in the parking lot with a stick and running shoes chasing an orange ball with his brothers and the McLeods, attempting to become the first player ever to win the Calder and the Conn Strome in the same season.