On the eve of the Canadian Hockey League season, Sportsnet magazine polled coaches and executives from every CHL team about their respective leagues. We asked 14 questions covering everything from best overall player to hardest hitter to who will win the MasterCard Memorial Cup.
In our first installment, we ran down the results for the top forwards, hitters and NHL Draft prospects. Then we went through some team questions, including league and Memorial Cup favourites. And last time we were back to individual results with the top sniper, playmaker and best hands in each league. In this edition, we're going to finish off the results, because, you know, we're a month into the season.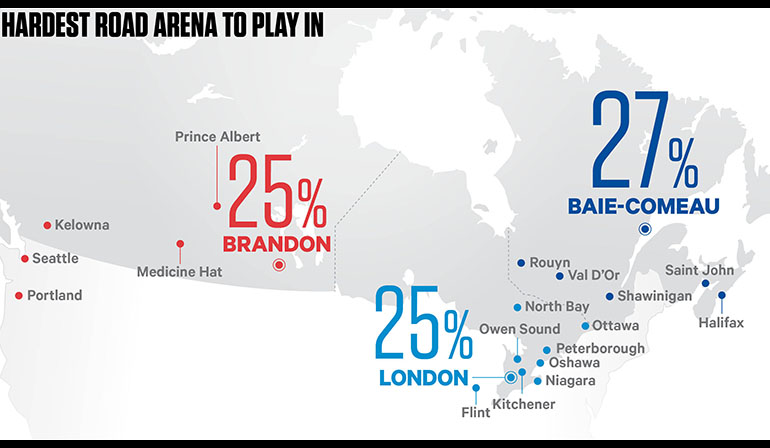 There was no clear winner in any of the leagues, with votes split all over the place. The Wheat Kings lost a ridiculous three games in regulation at Westman Place all of last season. This year they're off to a 3-1-0-2 start at home and have outscored opponents 32-16.
London probably has the best rink in the CHL—it sports everything you'd find at an NHL arena, minus half the seats. In 2014-15, the Knights went 24-7-0-3 at Budweiser Gardens and this season are off to another fast start, sporting a 6-0-1-1 record while scoring more than five goals per game.
There really is nowhere more remote in the CHL than Baie-Comeau, and fans there make sure visiting teams feel very alone. With only a third of the seats found in London, the 45-year-old Centre Henry-Leonard provides a similar advantage for the Drakkar that the Knights get. The past three campaigns, Baie-Comeau hasn't had worse than a .676 points percentage at home and last season that ballooned to .808, second only to Rimouski.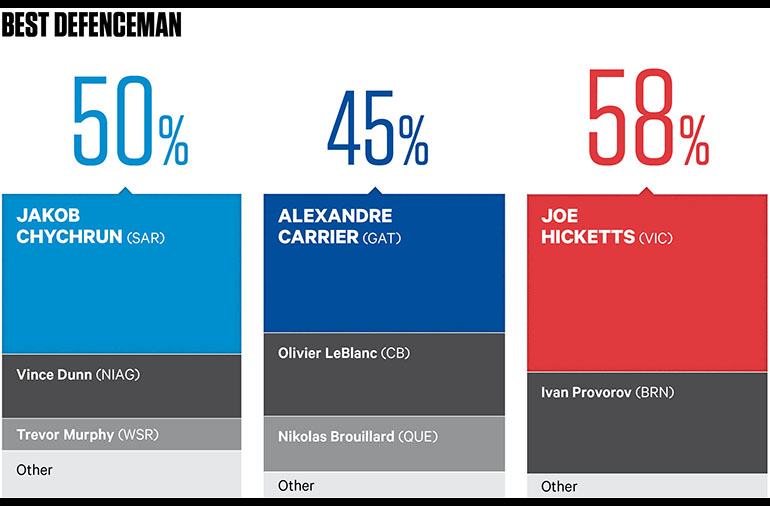 The OHL's highest-rated player for the 2016 NHL Draft is also its top blueliner according to our voters. He's currently tied for fourth among D-men with 10 points in 12 games, is plus-11 and playing an estimated 33:24 per game—second in the league—and has led the Sting to an 8-3-1-0 record and the third-lowest goals-against.
Carrier, the fourth-year Olympique, is leading his team in minutes played by a wide margin and its blueline in scoring thanks to two goals and 14 points in 13 games. Gatineau is sitting sixth in points percentage thanks in large part to the Nashville fourth-rounder who will captain Team QMJHL in its Canada Russia Series games.
After all the hype last season over Ivan Provorov, Hicketts winning the vote by the widest margin in the country was somewhat surprising. But maybe it shouldn't have been considering he was coming off a 64-point campaign and starred at the World Junior Championship for Canada. The undrafted 5-foot-8, 177-pounder is leading his defence-first team in points.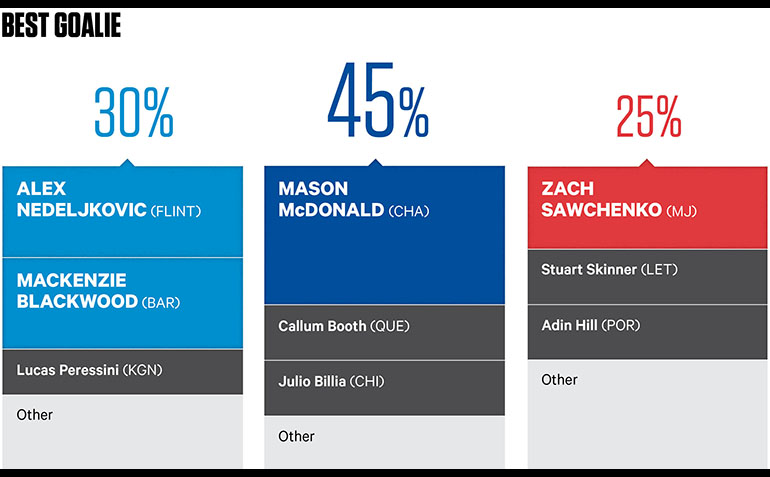 Nedeljkovic hasn't exactly been lighting the league on fire(birds) this season. While Blackwood—the second goalie off the board at the 2015 NHL Draft—is sitting with 11 games played and .934 save percentage and Pressini is 7-1-1-1 with a 2.15 GAA, the OHL's 2014 goalie of the year is 2-1-0-0 with a 3.67 and .891—not exactly awesome numbers. Granted, he isn't playing for a top team like the other two.
Charlottetown's stud netminder, McDonald, was recently named to Team QMJHL to face Russia and has an inside track on a 2016 WJC spot as well. He played the fourth-most minutes in the "Q" last season and spent the early part of this campaign in Calgary Flames training camp. With a 4-3-0-0 record, 3.13 and .900, he's not killing it right now and Billia, in particular, is outperforming him.
There was a lot less consensus in the Dub than anywhere else, Sawchenko was one of the highest-rated netminders in NHL Central Scouting's prelim rankings last month and is 6-1-1-1 with a 2.54 and .929 so far. Hill's numbers are even better, while young Skinner—who doesn't even turn 17 until Nov. 1—has taken a backseat to veteran Jayden Sittler in the early going.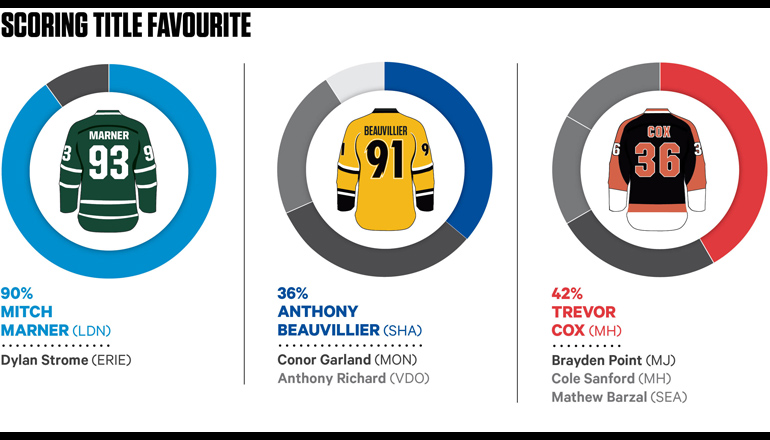 Well, I guess Marner is going to win the scoring title? Ninety percent is far and away the closest to a consensus that we've had in this poll. And at 15 points through 10 games after spending time with the Maple Leafs at training camp, Marner's well on his way to contending. Strome has played just seven games, but his 1.57 Pts/G suggest he'll contend as well, and his abysmal 3.0 shooting percentage will rise. Remember, he scored 45 times last season. Both play for teams that surround them with talent, so if they can make up for a little lost time and stay healthy, expect a battle.
In Quebec, Beauvillier will be in tough simply because that league's early start meant he missed Shawinigan's first six games. With 18 points, he's cruising along at a 2.0 Pts/G clip, but Garland is at 2.33 and Beauvillier is 12 points behind Val d'Or's Anthony Beauregard for the league lead.
Out west, Neither Cox nor Sanford are going to win the scoring title. Cox broke his hand earlier this month in a fight and has played just six games, while Sanford is off to a slow start with 12 points in nine games—same goes for Barzal and his 10 in seven contests. But Point? He has 24 points in 10 games to lead the Dub. And a ridiculous 83 percent of those are primary points, so he's really driving the bus.
And now we come to our final question of the poll.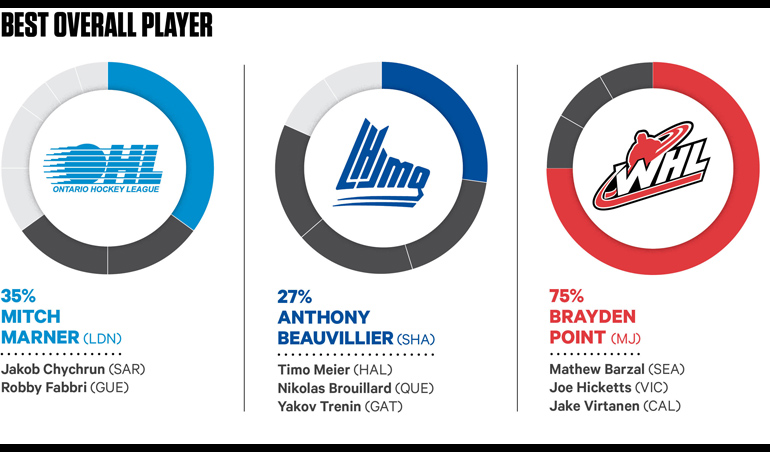 Here again we have familiar names—although Fabbri and Virtanen have so far stuck in the NHL—but also some curious responses as they relate to other questions. Brouillard is the QMJHL's third-best overall player according to voters, but was only the No. 3 blueliner, and the winner there didn't register here. Weird. Same goes for Fabbri and Trenin, neither of whom were ranked among the top three forwards in their leagues. The constant here is Moose Jaw's Point, who also won for best forward and best hands, and finished second when voters predicted who would win the scoring title.
Hicketts and Brouillard are both small or smallish offensive D-men who have gone undrafted, otherwise the lowest pick named is—you guessed it, or maybe you didn't—Point, who went 79th to Tampa Bay in 2014.
I'll bet that if you ask the coaches, they'd say that was a great pick. Maybe next time.