The big news of the week that was in the CHL came off the ice as the ongoing saga surrounding a $180-million class action lawsuit against the league continues. An Alberta judge ordered the 42 WHL and OHL teams to open their books and reveal the numbers behind their businesses. So, for the first time, the public might actually get a good picture of the kind of revenue major-junior hockey franchises generate.
"The defendants obviously consider that this evidence of financial difficulties is key to their opposition to the certification of this action as a class action," Judge R.J. Hall wrote in his decision. "Having placed the clubs' and the leagues' financial viability squarely into issue, the CHL, the WHL and the clubs must produce their financial documents as potentially proving their position, or placing their evidence into dispute. The defendants' evidence has rendered these records relevant to the issues on certification, and necessary to supplement their affidavit evidence."
---


Not a scout? No worries. Jeff Marek's newest podcast is all you need.
Listen now | iTunes | Podcatchers
---
In a statement emailed to Sportsnet over the weekend, CHL President David Branch said "our players are, and have always been, amateur athletes and not employees." A statement from WHL Commissioner Ron Robison last week—prior to Judge Hall's ruling—emphasized what paying players would mean for teams: "Recent reports have grossly overstated WHL club revenues and franchise values. The majority of WHL Clubs either breakeven [sic] or lose money on an annual basis…. [I]f our WHL Clubs were required to provide minimum wage in addition to the benefits the players currently receive, the majority of our teams would not be in a position to continue operating."
No matter what Branch, Robison or anyone associated with the CHL says about franchise values and revenue streams (including a broadcasting contract with Sportsnet), there are detractors who believe that the financial health of individual teams doesn't matter, CHL franchises are for-profit operations and therefore should be subject to the same labour laws as any other Canadian business.
---


Look for Sportsnet's 2017 NHL Draft Rankings all season long.
---
If the courts, which have so far agreed with the CHL, decide that is the side of the argument to come down on, one thing is for sure: major-junior hockey in this country will be forever changed. Hopefully we'll know more early in 2017.
And now on to some fun stuff.
The Rich Get Richer (No lawyers edition)
MasterCard Memorial Cup hosts the Windsor Spitfires got some good news Monday when the Montreal Canadiens returned them stud blueliner Mikhail Sergachev. The 6-foot-3, 215-pounder averaged 16 shifts and 10:25 over three games with the Habs and will bolster an already fearsome D-corps in Windsor that boasts Logan Stanley and Sean Day.
"I want to win the OHL title, the Memorial Cup, and be the best player I can be." – @sergachev31 #GoHabsGo pic.twitter.com/nInopmqhvm

— Canadiens Montréal (@CanadiensMTL) October 31, 2016
With Sergachev, Stanley and Day, Windsor has three big bodies who are also loaded with skill. Add in over-ager Jalen Chatfield, who's scoring at nearly a point per game early, and you've got one of the CHL's best top fours. Sergachev will also help a Spitfires team that, according to Prospect-Stats.com, is below 50 percent in possession and has negative goals-for and shot differentials at 5-on-5.
Spicy Raddysh
The OHL's longest current point streak comes courtesy of—surprise, surprise—the league's scoring leader, Taylor Raddysh, who's posted six goals and 11 points in his past five games for Erie. The 18-year-old was the 19th pick of the 2014 OHL draft and turned a 73-point campaign into a 58th overall selection by Tampa Bay in the 2016 NHL Draft.
It's no coincidence that Raddysh's hot streak comes at a time when the Otters are lighting it up. Erie hasn't lost in regulation in 10 games, going 9-0-1-0 and outscoring opponents 54-22 en route to jumping into first overall. It also doesn't hurt that Alex DeBrincat came back from Blackhawks camp—he's got 24 points in 11 games.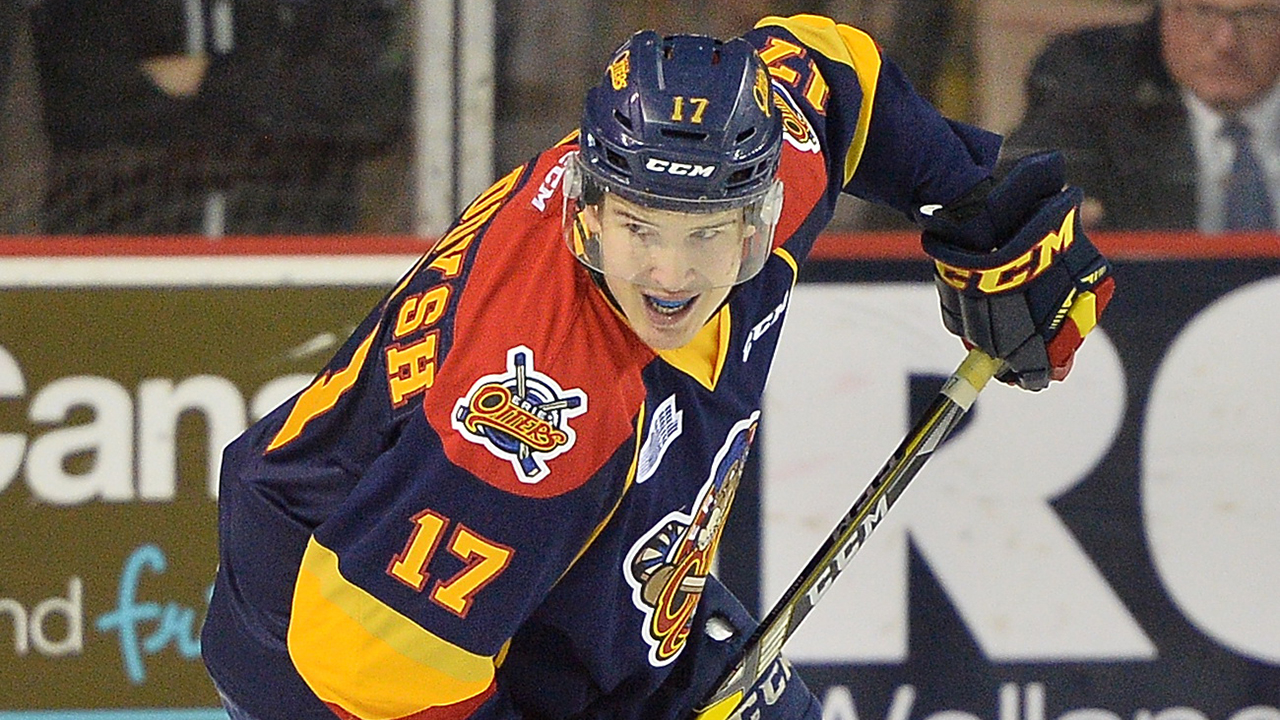 Taylor Raddysh of the Erie Otters has 11 goals and 28 points to lead the OHL in scoring. (Terry Wilson/OHL Images)
The Shawinigan Shake
Speaking of streaks, the Cataractes' finally came to an end. After dropping its opening game of the season to Victoriaville, Shawinigan ripped off 11 wins in a row to vault to the top of the CHL rankings before losing to Victoriaville in the first of a weekend home-and-home series (the Cats took Game 2).
Shawinigan owns the Q's No. 1 power play and third-ranked penalty kill, as well as the best 5-on-5 goals-for percentage. Defenceman Samuel Girard leads a well-balanced group with 20 points in nine games since returning from Nashville Predators camp. For his part, Dennis Yan has 12 goals in 11 contests and is well on his way to besting his draft-season career high of 33 in 2014–15.
Lucky No. 13
The Regina Pats still haven't lost in regulation. At 10-0-3-0, they are the last CHL team that can make the claim. Like Shawinigan, the Pats are deep, with 10 players already in double-digit scoring. Offensively they are led by Sam Steel, the 30th pick in the 2016 NHL Draft, who's taken his game to another level this season—maybe because he was as annoyed as Jeff Marek by the way he was treated at the draft.
Goal of the Week
Kitchener's Adam Mascherin is one point behind Raddysh for the OHL scoring lead. The Panthers second-rounder played overtime hero Sunday against Saginaw for the 10-3-0-1 Rangers
WATCH THIS: @FlaPanthers prospect Adam Mascherin (@amascherin_23) scores the OT winner in style for the @OHLRangers #OHL pic.twitter.com/5A0IlNYHPD

— OntarioHockeyLeague (@OHLHockey) October 30, 2016
Gaffe of the Week
Forgive the pun, but this was an "exceptional" goal for all the wrong reasons.
Stat Line of the Week
How about Halifax import Nico Hischier? The 2017 NHL Draft-eligible was in on every Mooseheads' goal in a 6-3 win over Acadie-Bathurst on Wednesday—three goals, three assists, plus-1 and 9-for-16 in the faceoff circle.
https://t.co/vdul5S2Ccv #RiseTogether pic.twitter.com/Stk8XY34or

— Halifax Mooseheads (@HFXMooseheads) October 27, 2016
The Swiss centre now has a five-point lead in the rookie scoring race, which, so far, is being dominated by imports.
| Name | Pos | Team | Country | Import Draft | GP | G | A | PTS | +/- | PIM |
| --- | --- | --- | --- | --- | --- | --- | --- | --- |
| Nico Hischier | C | Halifax | Switzerland | 6th | 16 | 8 | 12 | 20 | -2 | 2 |
| Denis Mikhnin | RW | Rimouski | Russia | 33rd | 15 | 8 | 7 | 15 | 5 | 12 |
| Ivan Kosorenkov | RW | Victoraiville | Russia | 24th | 17 | 10 | 4 | 14 | 2 | 4 |
| Ivan Chekhovich | C | Baie Comeau | Russia | 3rd | 11 | 8 | 6 | 14 | 4 | 6 |
| Pavel Koltygin | LW | Drummondville | Russia | 9th | 14 | 6 | 8 | 14 | 2 | 10 |