Ty Ronning has been part of the Vancouver Giants for a quarter of his young life, meaning the 20-year-old knows that closing in on a club record for goals in a season goes far beyond the trivial.
Vancouver is returning to relevance in the Western Hockey League's B.C. Division after missing the playoffs three seasons in a row, thanks to an eclectic mix of talents such as Ronning (NYR) and Tyler Benson (EDM). Ronning is quick to spread credit to his teammates, but with 47 goals in 52 games, the Burnaby, B.C., native is only one goal away from breaking the team mark that a 17-year-old Evander Kane set in 2008-09.
"Getting that would be a huge honour, especially since I've been on this team for five years," Ronning says. "When I was 16, coming into the locker room at the (Pacific) Coliseum (the Giants' former home rink), there were those plaques on the board and you'd just see Evander Kane's name on top. If I can leave a little legacy of having the most goals, I'm all for it … that said, I haven't been focusing on scoring, I'm just focusing on playing."
"In Langley, those plaques are right outside our dressing room," Ronning adds. "You walk by them as you walk into the room. I wouldn't say I focus on it, but I do go by that every day."
Ronning has had to win over doubters at various steps on the way to becoming a prospect, somewhat due to being a compact five foot nine and 172 pounds. As a 2016 NHL Draft selection, there is a June 1 deadline for the Rangers to sign him – "I can control my effort and attitude; I'm putting out the effort and I'm keeping a positive attitude and we're in talks," he says – but having that arching over his season has actually affirmed why he appreciates the support of his father, longtime NHL centre Cliff Ronning.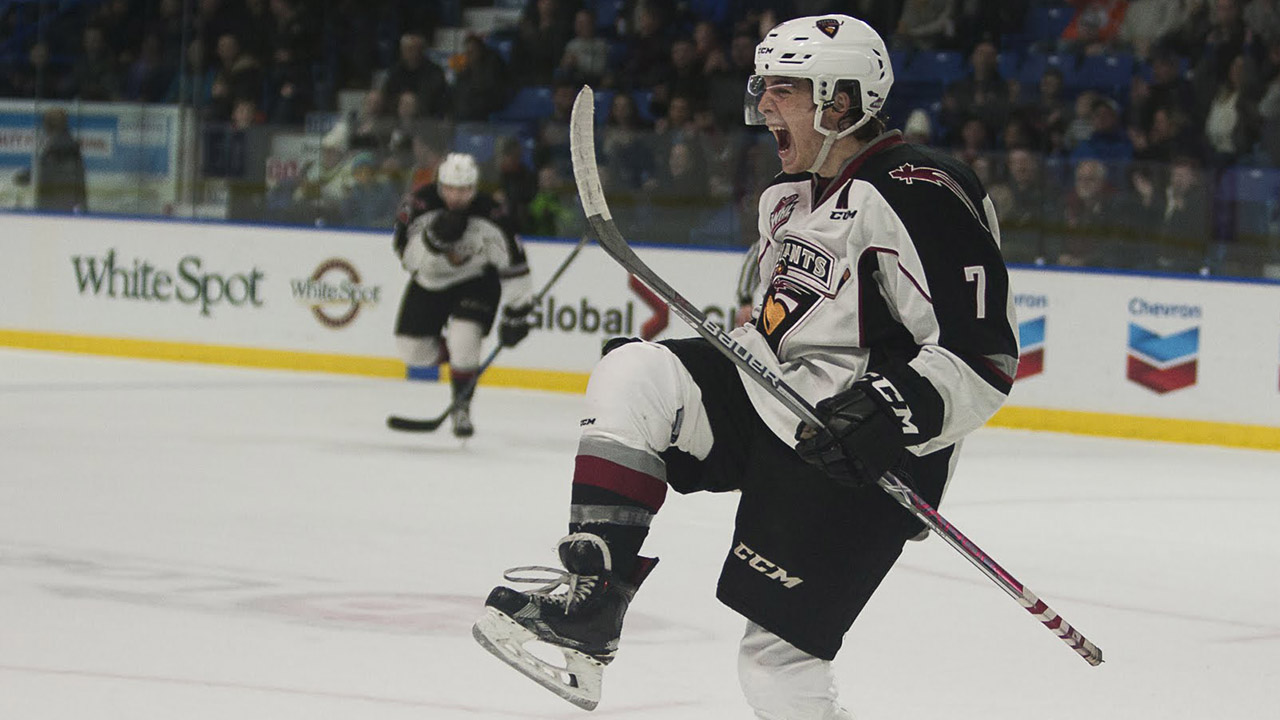 The like-father, like-son story has a twist in that the elder Ronning, who was five foot eight and 170 pounds but played 1,137 NHL games, envisioned other career options for his son. Ivana Ronning exercised the maternal prerogative.
"It was my mum who put me in hockey because I was always begging her to," Ty Ronning recalls. "I was rollerblading before I was walking. My dad always wanted me to be, I don't know, a golfer or a doctor. I don't know that I was that bright to be a doctor, but I stuck with the hockey route and it's paying off."
"Looking back, I guess he didn't really want me to be a hockey player because of the grind," Ronning adds. "I never understood that until now. It is a grind and it's a mental sport. He's such a good hockey player and he's such a good dad. He's a superhero and I look up to him."
The Giants, likewise, showed their maturity last Saturday when they outlasted the Central Division-leading Medicine Hat Tigers 5-4 after giving up the lead three times, which also completed a 3-0 week. Benson and Ronning are near the end of their major junior hockey road, but the club has a good foundation, in particular through 2019 NHL draft prospect Bowen Byram and other young defenceman such as Alex Kannok Leipert.
Vancouver (.615 points pct.) is only four points behind the Kelowna Rockets (.654) and Victoria Royals (.630), who are level on points in the B.C. Division. The Giants, though, have only eight of their final 20 games at home, due in part to the Langley Events Centre hosting the B.C. high school basketball championship in March. Kelowna and Victoria each have 12 home dates left. Nothing like a challenge, eh?
"Everything's earned, not given," says Ronning, who typically skates on a line with 19-year-old David Koch and 18-year-old Brayden Watts. "I think that's been so special about our group. It's such a mix of guys, whether it's Tyler Benson, good studs on our back end with Bowen Bryam and (Alex Kannok) Leipert and good goaltending (with starter David Tendeck). What I've learned in my time in the WHL is any team can beat anyone at any time."
Ronning and defenceman Matt Barberis are the lone Giants who played during the club's last playoff series in 2014, when the team played at Pacific Coliseum. Understandably, he's savouring the chance to contribute to playoff run that might help build the base in Langley.
"I think we're going to try to push to win our division. We're really enjoying our games and it's a tight group. We're having lots of fun."
Merkley the mystifying
Guelph Storm defenceman Ryan Merkley often gives a game its so-called wow factor, except on Sunday it came via an undisciplined slash instead of unbridled creativity. The NHL draft prospect got a slashing major and game misconduct after a retaliatory baseball swing at the ankles of the North Bay Battalion's Daniel Walker.
@Storm_City Ryan Merkley takes a slash and gives retaliatory baseball swing to @OHLBattalion Daniel Walker. Merkley gets a 5 min slash, Unsportsmanlike Misconduct & Game Misconduct #OHL Guelph wins 3-2 OT pic.twitter.com/HWSXizYVhN

— Troy Izlakar (@izzies44) February 4, 2018
Would think Merkley might get a game or two for that slash. Optics were not good.

— Tony Saxon (@SaxonOnTheStorm) February 5, 2018
The OHL, which meted a five-game suspension to the Hamilton Bulldogs centre Robert Thomas (STL) last week for a slash to the face of Peterborough's Zach Gallant, will surely want to know what triggered Merkley in that instance. The game was heated, with the Battalion and Storm ultimately combining for 109 penalty minutes. In terms of situational hockey, though, it looked like Merkley indulged some bad intentions when his team was nursing a 2-0 lead, on the road, with just more than seven minutes left in the third period.
Merkley (58 points in 46 games), who is second in the OHL defenceman scoring race behind the London Knights' Evan Bouchard (63 in 49), has been hailed as perhaps the best offensive talent to ever grace the Guelph franchise. Lashing out at an opponent in that manner is rather enigmatic, to say the least.
Frontenacs' Day dinged up
Sean Day (NYR) got the worst of a knee-on-knee collision last Saturday, which leaves the Kingston Frontenacs potentially down two of the 19-year-old frontline players they paid a premium to acquire before the Jan. 10 trade deadline. Day was helped off the ice and could not put weight on his right leg after being taken down by the Niagara IceDogs' Kyle Langdon, who was penalized for tripping on the play. It usually takes a few days before the extent of such an injury – the best-case scenario is usually a deep bruise – is known.
Kingston (.610 points pct., third in the OHL Eastern Conference) is on a five-win streak, but now has Day hobbled while Max Jones (ANA) is also out for a few weeks with a hand injury. Los Angeles Kings first-rounder Gabriel Vilardi, clear of a hip injury, is averaging two points per game since coming over with Day in the deal with the Windsor Spitfires. The upshot for the Frontenacs, who will likely be a No. 3 or 4 playoff seed, is that they could be an ideal situation come playoff time – everyone healthy and able to adopt a credible against-everybody attitude since they might only have home-ice advantage in the first round.
Batherson buoying Armada
The QMJHL-leading Blainville-Boisbriand Armada face a tough upcoming slate, which includes Team Canada standout Drake Batherson (OTT) having a return game in Cape Breton on Sunday.
The Armada (.770 points pct.) are five points clear of second-place Halifax and have not suffered a regulation loss since Batherson (17 points in 11 games post-trade) arrived after the world junior championship in a trade with the Screaming Eagles. That said, six of their next seven games are away from home, including this week's three-game trek through the Maritimes Division. Getting though this span relatively unscathed will go a long way toward securing home-ice advantage throughout the playoffs.
Both Halifax (.706) and the Drummondville Voltigeurs (.700) have only lost twice in their past 10 games. Yet each has ceded ground to Blainville-Boisbriand.
Canadian NHL Team Prospect of the Week: Matt Brassard, D, Oshawa Generals (OHL)
Brassard, the righty defenceman whom the Vancouver Canucks scooped up late in the 2017 draft at No. 188 overall, has had multi-point games in three of the Generals' last four outings to help Oshawa keep a tenuous grip on a place in the top half of the OHL Eastern Conference table. At six foot three and 198 pounds, Brassard became a player of interest during the second half of last season, especially after a crunching open-ice check on Sudbury's Ryan Valentini during the playoffs went semi-viral. As a 19-year-old this season, Brassard has expanded the offensive component of his game, which every big-bodied blueliner must do these days. With 37 points (13G-24A) over 51 games, Brassard has already topped his tally from his previous two OHL seasons.
New name to know: Keltie Jeri-Leon, RW, Lethbridge Hurricanes (WHL)
The third team's the charm for Jeri-Leon. The second-year winger began the year in Kamloops and was moved to Tri-City before being sent to another team, in another division. He has three goals and eight points in 12 games for the Hurricanes, who are now in a race for the WHL Central Division lead after being a seller at the trade deadline in January. The five-foot-10, 194-pound Leon was a low-cost pickup for Lethbridge, who only had to give up a seventh-round pick to acquire the 18-year-old Kelowna, B.C., native. The offensive spurt could just be a blip, but Jeri-Leon was a scorer two seasons ago when he had 33 goals in 45 games for the Okanagan Hockey Academy midgets.
The Cane Train resembled Grand Central Station during the run up to the WHL trade deadline, since Lethbridge GM Peter Anholt had the duelling tasks of moving expiring assets such as 19-year-old goalie Stuart Skinner while also keeping the Hurricanes in the running to get home ice in the first round of the playoffs. Lethbridge (.538 points pct.) is on a five-game point streak, so evidently all that tinkering is working.