Hockey Canada, the Erie Otters and last, but not least, Dylan Strome will benefit from the Arizona Coyotes returning the No. 3-overall pick in 2015 to the OHL.
It is plausible that Strome was always going to join Team Canada, since NHL teams typically are more amenable to loaning a player for the world junior championship when it is held in North America. (In 2015, when the WJC was also in Montreal and Toronto, Canada got an late airlift of Curtis Lazar, Anthony Duclair and Jake Virtanen before winning the gold medal.) At the very least, where Strome will be in December is now clear.


Follow Jeff Marek's 2017 NHL Draft Rankings all season.
Erie also regains an erstwhile league scoring champion to add to its arsenal up front of Alex DeBrincat, Taylor Raddysh and captain Kyle Pettit, an overage two-way centre. It makes the Otters (.739 points pct.) all the more formidable for what is a three-horse race in the Western Conference with the now league-leading London Knights (.795) and MasterCard Memorial Cup-host Windsor Spitfires (.738), plus potentially the Kitchener Rangers or Sault Ste. Marie Greyhounds.
All of that, though, is symptomatic of a less discussed issue—the OHL's lack of parity and the impact on the bottom line at a time when, in many cities, crowds are getting smaller and more grey-haired. In a league where so much is staked on winning the Memorial Cup, perhaps having a few super-teams on an inevitable collision course is the way to go, but it can make the good majority of the league seem like an afterthought.
Teams might sell a few more tickets when the Knights or Otters come to town, but in much of the OHL the public knows that a long playoff run—the type that creates brand loyalty—is unrealistic. Having a drag on revenue is especially troubling at a time when it's not certain what will happen in the next few seasons to player costs, which are under court scrutiny due to class-action suits filed by former CHL players Sam Berg and Lukas Walter.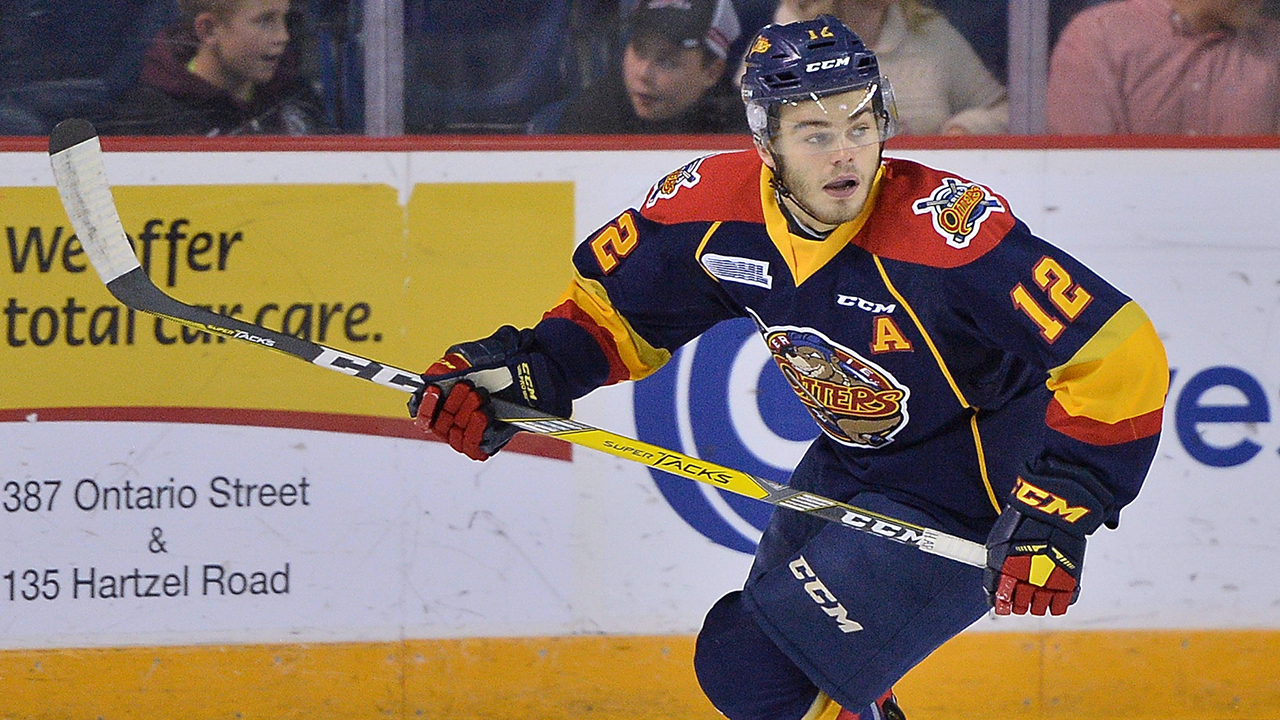 Alex DeBrincat has a chance to be the first OHLer in 40 years to hit 50 goals in three straight seasons, and the Erie Otters could be the first CHL team to four consecutive 50-win campaigns. (Terry Wilson/OHL Images)
The defence of the OHL's status quo is that it's the ultimate cyclical sport since the lifespan of a player's tenure is five seasons maximum. Erie and London should not necessarily be shamed for being able to sustain their apex at the top of the cycle. This instance of the rich getting richer shows that if the CHL is going to have teams reeling off 100-point seasons ad infinitum, the league does need a more flexible divisional and post-season format.
The conference-based playoff format also means one of Erie, London and Windsor—a team that could possibly win the Memorial Cup—will be out after the second round. The practice of giving the No. 2 seed to a division champion has also, in three of the past four seasons, meant a Midwest Division team with more points than the West Division winner did not have home-ice advantage in the second round. And, of course, 10 of the 12 OHL champions were from the Western Conference.
There is no real political will in the OHL to re-align, or or adopt the purist 1-through-16 playoff format that the QMJHL employs, even though it deals with considerably more travel. Twenty teams goes evenly into four divisions and the schedule is unbalanced as it is due to certain geographical rivalries—the Soo and Sudbury, Hamilton and Niagara, Barrie and Owen Sound. All of that would probably fit better into a three-division alignment: eight teams in the Central, six in the East and West.
Strome being back in the OHL is good in the short-term and could result in him showing his best during a six- or seven-game epic in the spring. Of course, if it happens one or two rounds before the OHL final, that is part of the problem.


Not a scout? No worries. Jeff Marek's newest podcast is all you need. Catch Otters star Alex DeBrincat on the latest episode.
Listen now | iTunes | Podcatchers
Pats-Cougars in a WHL final preview?
Suffice to say, 19-year-old cornerstone defenceman Brendan Guhle (Buffalo Sabres) was moved at an opportune time, even if it was awkward for the principals.
The WHL conference leaders, the Regina Pats (.875 point pct.) and Prince George Cougars (.783), have their lone regular-season game on Tuesday. It's expected to be Guhle's debut with the Cougars—he was acquired Friday in a major trade that was consummated minutes after he had played for the Prince Albert Raiders against the Cougars. Essentially, Prince Albert's biannual visit to Prince George was the drop-off point for Guhle and the new Raiders, defenceman Max Martin and left wing Kolby Johnson.
Bringing Guhle aboard signals that Prince George, which has the most veteran lineup in the WHL, is in it to win it. Centre Jansen Harkins (Winnipeg Jets) has been pointless in only two games, while overage goalie Ty Edmonds has been redoubtable. The Cougars also are not just pouncing on travel-weary teams making the long schlep to CN Centre; they are 10-1-1-0 on the road.
Very excited to join the @PGCougars this season!

— Brendan Guhle (@guhles_) November 20, 2016
Prince George's trade for Guhle sets precedent for other contenders https://t.co/r76uU9h3N2 #WHL #TBirds

— Tim Pigulski (@tpigulski) November 21, 2016
Pats overager Adam Brooks (32 points in 14 games) has been on a tear since returning from Toronto Maple Leafs camp, where he was caught in a numbers game with the AHL Marlies. Regina, which also has centre Sam Steel (Anaheim Ducks) averaging more than two points per game, was undefeated in regulation until losing to the Victoria Royals on Saturday.
Conclusion after 40 minutes?@WHLPats best team I've seen this season. Unmatched skill. Royals opportunistic. Victoria leads 3-2 after 2nd.

— Regan Bartel (@Reganrant) November 20, 2016
The last week of November might be early to talk about a WHL final preview, but Tuesday's tilt involves top teams that have each been revitalized under new ownership after scuffling for seasons on end.
Titan go to 11 on Mooseheads
It looked like the QMJHL app went buggy. But, really, the Acadie-Bathurst Titan won 11-10 against the Halifax Mooseheads on Sunday in the ultimate last-shot-wins game.
In the highest-scoring Q game in 25 seasons—pre-dating the league's expansion to the Maritimes—the Titan came back from an 8-5 second-period deficit by scoring six of the last eight goals. The Titan's Daniil Miromanov, one of 15 players on both teams who had a multi-point outing, got the decider with 12 seconds left. Miromanov scored two goals in the final five minutes, matching his output from the first 22 games.
Got a pic at #Mooseheads practice this morning. pic.twitter.com/P97hrPsIrn

— Matt (@mattyfax) November 21, 2016
Mooseheads had a scheduled practice at 8:00am this morning. I'm guessing it wasn't a fun one today.

— Scott MacIntosh (@scottmacintosh4) November 21, 2016
The Titan, who are 14th overall in the 18-team QMJHL, had scored five or more goals only four times in their first 22 games. This was a total collapse by the Mooseheads.
Halifax's Maxim Fortier had six points to take over the league scoring lead, with top NHL Draft prospect Nico Hischier running a close second
It was only the second QMJHL game this century with at least 20 goals; the other also involved Halifax. The Titan and Mooseheads play again on Tuesday; one would expect a 2-1 game, because hockey.
Canadian NHL team prospect of the week
Jeremy Bracco, RW, Kitchener Rangers (OHL)
The week did not start particularly well for the Toronto Maple Leafs second-rounder, as he was limited to one assist and one shot on goal during a Rangers' loss to the London Knights. But then he had a pair of four-point games during victories against Peterborough and Guelph, jumping up into third in OHL scoring with 40 points through 19 games.
Jeremy Bracco in Toronto today for a visit this morning. #tmltalk

— Paul Hendrick (@HennyTweets) November 21, 2016
That London game was a rare time when Bracco was kept from getting chances. He has had a whopping 46 shots across his last 10 games.

Jeremy Bracco has averaged 1.53 points per game since joiing the Kitchener Rangers from Boston College. (Aaron Bell/OHL Images)
New name to know
Leon Gawanke, D, Cape Breton Screaming Eagles (QMJHL)
The more recent NHL breakthroughs from Germany have typically been forwards—Leon Draisaitl, Tobias Rieder, Tom Kühnhackl. That makes the 17-year-old Gawanke, a Berlin native who is leading QMJHL rookie defencemen with 16 points in 21 games, interesting to follow.
Gawanke played at the junior level in Germany with the intention of going to North America to play in front of more scouts. A right-shooting D-man with offensive skill is often be prized as a rare commodity and Gawanke is already drawing power-play time under the watch of Eagles coach Marc-André Dumont. The 6-foot-1, 180-pounder is also steadily adapting to playing on the more compact North American ice surface.