By protocol, Nolan Patrick and Nico Hischier are the headliners for the Sherwin-Williams CHL/NHL Top Prospects Game, slated for Monday night in Quebec City.
At its essence, though, the annual showcase game of the three leagues' best draft-eligible prospects is about the players whose draft fate rests anywhere from Rounds 2 to 7. The 2013 game in Halifax was a classic example. It was, justifiably, played up as a head-to-head matchup between Nathan MacKinnon and Seth Jones. However, while MacKinnon was kept off of the scoresheet for Team Cherry – not for any lack of persistence – Team Orr's player of the game was the unknown Laurent Dauphin.
Dauphin, then of the Chicoutimi Saguenéens and now a young pro who's shuffled between the Arizona Coyotes and the AHL, was a last-minute injury replacement who didn't have time to be nervous. How much of a role that performance played into Dauphin going early in the second round to the Coyotes in the 2013 draft is unverifiable, but it was more appealing than seeing all the attention go to the top of the class.
An even better example: in 2012, Sault Ste. Marie Greyhounds goalie Matt Murray arrived at the Top Prospects game in Kelowna, B.C., trailing tendrils of skepticism. To that point, Murray was the backup to Jack Campbell on a 'Hounds team which was destined to miss the OHL playoffs – not exactly an ideal situation for a 17-year-old goalie learning how to get control of his long 6-foot-4 frame.
Murray, who had allowed eight goals against the London Knights in his previous OHL start, made a game-high 17 saves during the first half of his stint against Team Orr, which was graced by Andreas Athanasiou, Tanner Pearson and Mikhail Grigorenko. While one automatic thought was that of course goalies would shine in a draft showcase during a thin year for forward prospects, Murray had made a point to skeptics who had labelled him as a goalie reliant on his size.
You know the rest of that story. Last June, Murray backstopped the Pittsburgh Penguins to the Stanley Cup.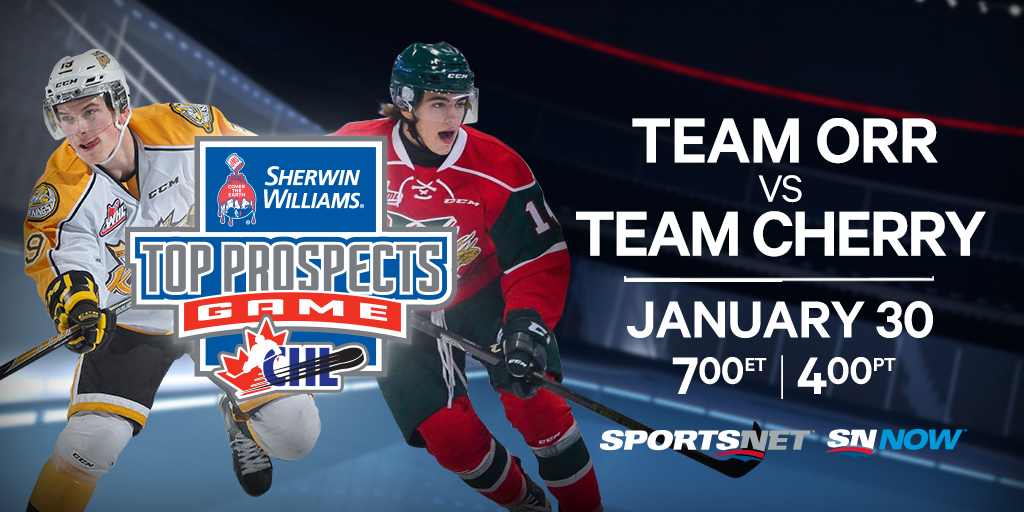 Will Nanaimo bar door to WHL?
Given how populist sentiment can bubble up – Brexit, anyone? – the chance of voters approving a WHL-friendly arena in Nanaimo, B.C., might seem shaky.
Last week, city council in the Vancouver Island community voted to hold a referendum that would seek public approval to borrow some $80 million to build an events centre, which would be suitable for the WHL. It is no secret the Western League is chomping at the bit to find a long-term solution for the Kootenay Ice and the franchise could be transferred to Nanaimo, to play in a smaller arena temporarily, as early as next season.
If city approves new rink, WHL could land in Nanaimo soon as next season. Good stuff from @gdrinnan https://t.co/wR8Nd0a56f

— Scott Brown ? (@BrownieScott) January 27, 2017
WHL working on schedule with Nanaimo team involved. Seems like a done deal if DT arena vote gets a yes. Still a big if…but https://t.co/Aqw1DuArVd

— Chandler Grieve (@CTVNewsChandler) January 27, 2017

Venerable WHL chronicler Gregg Drinnan reported that the WHL is even working on two different schedules. One is for the eventuality that the Ice stay put in the Central Division of the Eastern Conference, one is for Nanaimo, which would join the B.C. Division in the Western Conference.
Ice president and GM Jeff Chynoweth said recently that the team needs a "fresh outlook," which is a signal he's seeking an exit strategy. The Cranbrook, B.C.-based team is second-last in the WHL.
There's no telling whether Nanaimo residents would be on board with building an events centre. Many similarly sized venues fail to meet their revenue projections, although that seldom seems to stop midsize cities from believing they need one.
The vote could be held March 11. If it fails, the WHL would need a Plan B.
A fitting tribute, fully completely
It will be tough for any team to produce a specialty jersey imbued with as much poignancy as The Tragically Hip tribute togs the Kingston Frontenacs sported last Saturday.
Dougie Gilmour, Mr Leaf himself presents Paul, Gord and Rob of the Hip their own Tragically Hip jersey…and sweet jerseys they are. pic.twitter.com/3Pa4sIyP7U

— Glenn (@savageimagery67) January 30, 2017
The only thing that makes this photo cooler, is the fact that @DougGilmour93 took it!! @tthbaker @paullanglois101 @KingstonFronts #ygk pic.twitter.com/m4hD4UG49c

— REID (@rockinreid) January 29, 2017

The band's last concert with terminally ill frontman Gord Downie in August was a national event, but organizing a benefit at a home game might have offered some Hip fans who couldn't get into that Aug. 19 concert a chance to show their love to the band. The jerseys, with The Hip's logo and the titles of their entire song catalogue thoughtfully incorporated, are being auctioned online, with 100 per cent of net proceeds to be donated to the Gord Downie Fund For Brain Cancer Research through Sunnybrook Hospital in Toronto. At this writing, the lowest bid is $620, with some topping $1,500.
The way the game played out, with a 1-0 Frontenacs overtime win against the Mississauga Steelheads, evoked two of The Hip's classics. The man at The Lonely End Of The Rink, goaltender Jeremy Helvig, recorded a shutout. The last goal ever scored – well, the only goal – came from a defenceman Nathan Billitier, which put on in mind of the tale Bill Barilko in Fifty Mission Cap.
Canadian NHL team prospect of the week: Matteo Gennaro, C, Calgary Hitmen (WHL)
Twenty goals is a good season for many players, but Gennaro has done that in a month, adding nine assists for 29 points in 15 games so far in January. The seventh-rounder of the Winnipeg Jets (No. 203 overall in 2015) is up to 21st in WHL scoring, with 31 goals and 58 points across 46 games.
Scouts were far from enamoured with Gennaro after his underage seasons with the Prince Albert Raiders. Moving his 6-foot-2, 196-pound frame wasn't an issue, but there were questions about his deftness with the puck. It's safe to hazard that it would be pretty difficult to score 20 goals in 15 games with stone hands.
New name to know: Matthew Grouchy, C, Charlottetown Islanders (QMJHL)
The Islanders rookie from Labrador City, N.L., finished last week on a season-high four-game point streak. A late-birthday 17-year-old, Grouchy is listed at a reedy 6-foot and 160 pounds but gives Charlottetown's depth. He has a flair for agitating opponents and can also make plays.
Grouchy, who spent his formative years at the Canadian International Hockey Academy in Rockland, Ont., has nine goals and 21 assists across 42 games.