January 10 marked the trade deadline for all three leagues in the CHL. While there were deals made long before that date, for this piece we'll include only the ones made after Dec. 12, which marked the beginning of Hockey Canada's world junior camp.
Trades are always difficult, as young men are uprooted from their billet homes and have to adjust to a new city, a new team and a new family. Having said that, veteran players understand it's part of the cyclical nature of junior hockey. It usually takes a bit of time for younger players to realize that trades are often the best part of their hockey development. A young player on a stacked, veteran-laden team rarely gets enough opportunity to show his worth, confidence can wane and ultimately the numbers suffer.
In the long run, however, those young players become centrepieces of their new teams and are instantly given an opportunity they never had before.
Here is a look at 12 of the biggest trades made in the CHL in the lead up to, and on, trade deadline day.
12. Drummondville acquires Joe Veleno from Saint John for first round picks in 2018, 2019 and 2020 and second round picks in 2018 and 2020
Veleno's numbers don't tell the whole story as he tried to do more than his share on a rebuilding Saint John team stripped down from its 2017 President's Cup win. Add to that the pressure of his draft year, and a point-per-game pace seems low for the Q's only "exceptional player." Although he has yet to score with Drummondville, that'll likely change down the stretch as head coach/GM Dominique Ducharme returns from coaching Canada to gold at the WJC.
Ducharme will demand the greasy style of game where Veleno is most effective. He adds high-end production and should improve a power play that has been well below average most of the season. With all the picks Saint John GM Trevor Georgie has acquired, the young GM will get to mould this franchise in his own shadow moving forward.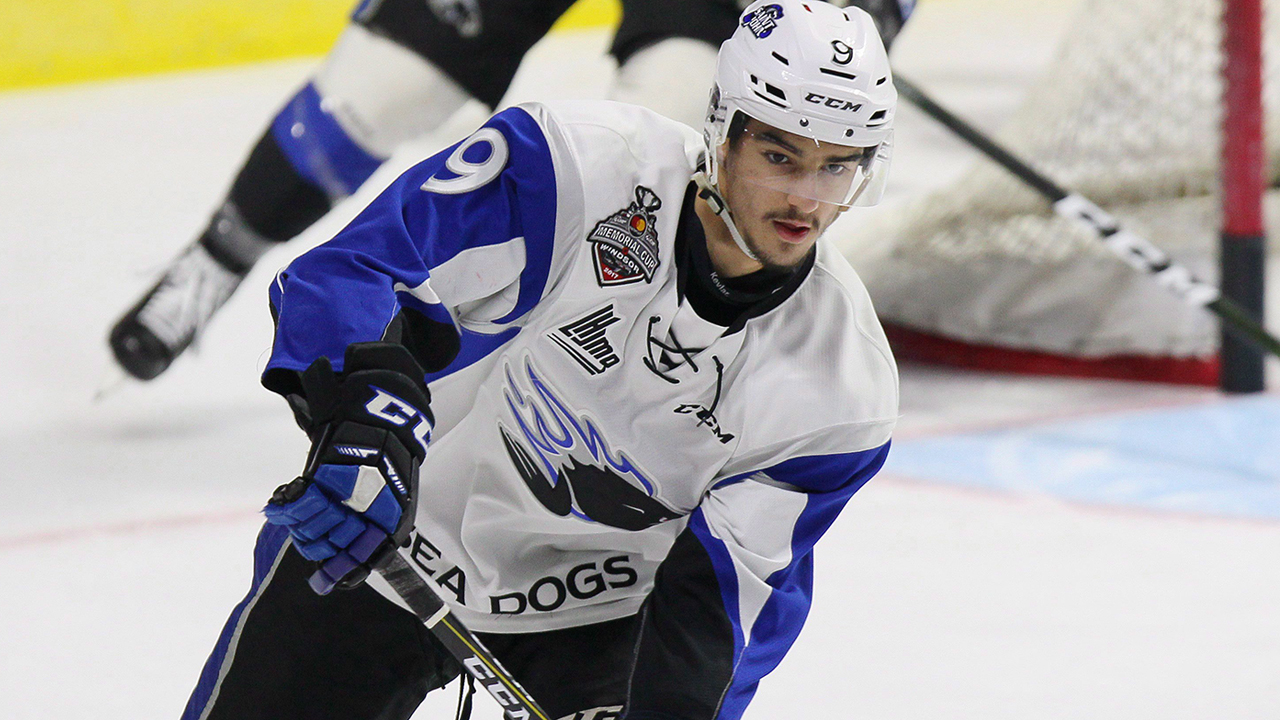 11. Regina acquires Libor Hajek from Saskatoon for Dawson Davidson, Tristen Robins and a first round pick in 2019
The Pats definitely address a need with one of the top defencemen from the 2018 world juniors. Hajek, a Tampa prospect, has been playing in relative anonymity in Saskatoon, but proved to the world that he can do it all with a Czech team that surprised by capturing fourth place at the WJC.
Hajek has size, skates well and can run a power play, not to mention he's worn a letter for the Blades for the past two seasons. Along with Josh Mahura and Cale Fleury, the Pats have a formidable top three D. Dawson Davidson is a perfect add for a Saskatoon team fighting for the first wildcard spot in the Eastern Conference.
Tristen Robins is a late '01 birthday who is playing at the Rink Academy in Manitoba. Saskatoon is just coming out of the doldrums from hosting the 2013 Mastercard Memorial Cup, so an additional first-round pick is welcomed.
10. Sarnia acquires Cam Dineen from North Bay for Braden Henderson, second round picks in 2019, 2021, 2025, and a third round pick in 2023
A steep price to pay but Dineen, an Arizona prospect, is performing to expectations at just under a point per game pace. He will be given more licence to move freely in Sarnia's system that badly needed some scoring from the back end. Up to the deal, the Sting had only one defenceman near a half point-per-game pace, so Dineen will not only add scoring, but provide a top-notched puck mover to move it to a deep group of forwards. Look for players like the newly acquired Jonathan Ang, stalwart Jordan Kyrou and Adam Ruzicka to thrive with Dineen's help.
For North Bay, Henderson is a former sixth-round pick who excelled in Jr. B last season, but had only played in 19 games with Sarnia this season. North Bay is not considered an elite Eastern Conference team this year, but with the picks acquired, look for GM/head coach Stan Butler to shrewdly leverage those picks into young talent and high-end draft picks.
Join Jeff Marek and Sam Cosentino for all the CHL and NHL prospect talk you can handle.
9. Kitchener acquires Logan Brown and Austin McEneny from Windsor for Grayson Ladd, second round picks in 2018 and 2019, third round pick in 2018 and a fifth round pick in 2019
Kitchener GM Mike McKenzie made a value deal if Brown can get back to 100 per cent. The Ottawa prospect missed time in the world juniors and has been in and out of Windsor's lineup over the past couple seasons. When right, he's a threat every time he gets the puck. Brown can win draws, shoot it a ton and has winning pedigree on his side.
McEneny, a reclamation project, earned high marks last year as a calming influence on a Memorial Cup winner. He defends well and can add some offence to a back end that could use that element. For Windsor, it was all about pick acquisition. Had there been no concerns with Brown's health, the price exacted by the Spits would have been steeper.
8. Blainville-Boisbriand acquires Drake Batherson and a sixth round pick in 2018 from Cape Breton for Kyle Havlena, Felix Lafrance, Shaun Miller and a first round pick in 2020
The Armada is the QMJHL's top scoring team, thanks to a deadly power play featuring the likes of perennial league-leading scorer Alex Barre-Boulet and Alexandre Alain. But if GM/head coach Joel Bouchard learned anything from last year's four-game sweep at the hands of the Saint John Sea Dogs in the President's Cup, it's that you can never have enough scoring.
Batherson will help address that through the regular season but his presence, it is hoped, will be felt most in the playoffs. Cape Breton is in no-man's land, and the league's top asset (especially after the world juniors) became expendable as the Screaming Eagles get three lightly used young players and a coveted first-rounder in 2020.
7. Hamilton acquires Robert Thomas from London for Connor McMichael, second round picks in 2020, 2021, 2025, 2026 and a third round pick in 2022
Thomas may be the best centre in the entire CHL. He's bound for the NHL next season, but before he gets there the Bulldogs will take a run with him at an Eastern Conference title. Thomas can play and produce in all situations and gives the Bulldogs three legit centres and a nightmare to match-up against.
The Knights will let Sault Ste. Marie, Sarnia, and Kitchener slug it out this year, while the mass exodus equals a boatload of picks for the Knights to move forward with. London has always coveted the second round pick and will have a cupboard full of them for when they are ready to strike again in two years.
6. Barrie acquires Aaron Luchuk for Curtis Douglas, second round picks in 2021 and 2022 and a third round pick in 2024
This deal was so important because it signalled that not only were the Windsor Spitfires officially in sell mode, but it also fired a shot across the bow of the Eastern Conference, setting off a flurry of deals on both sides of the league.
This deal essentially marked the unofficial start to trade season. Barrie was in first place in the Central Division when the deal was made and it gave the Colts another secondary scoring option to complement the likes of Andrei Svechnikov, Dmitry Sokolov, Jason Willms and Lucas Chiodo. For Windsor, Douglas, an ever-improving prospect, adds size and skill to essentially replace that of Logan Brown, not to mention recouping picks lost in the 2012 sanctions and from building the 2017 Memorial Cup-winning team.
5. Moose Jaw acquires Kale Clague from Brandon for Luka Burzan, Chase Hartje, first round picks in 2019 and 2021 and a second round pick in 2018
The Wheaties waited patiently with the best defensive card in the league. While Swift Current and Regina made deal after deal, GM Grant Armstrong exacted a massive price out of Moose Jaw for one of the very best players available in any of the three leagues. With a first-round match-up against either one of Moose Jaw or Swift Current, Armstrong realized he could add pieces to use now and still address the future for a re-load and not a re-build.
This will all happen in the midst of division rivals Moose Jaw, Swift Current and Regina having to deal with full re-builds after this season, opening up division title potential as early as next season. For now, though, the Warriors possess the best back-end in the CHL. Draft eligible Jet Woo and NHL prospects Josh Brook and Oleg Sosunov, will complement Clague perfectly, while Brandon Schuldhaus and Dmitri Zaitsev can act as a shut-down pair.
GM Alan Millar paid a steep price, but he had the prospects and the picks to make this happen, without destroying his team chemistry by bringing in too many players. The Warriors will be fun to watch down the stretch.
Jeff Marek and Elliotte Friedman talk to a lot of people around the hockey world, and then they tell listeners all about what they've heard and what they think about it.
4.) Regina acquires Cameron Hebig and Ryan Kubic from Saskatoon for Tyler Brown, Bryan Lockner, a first round pick in 2020, a second round pick in 2020, and third round picks in 2019 and 2020
The host team at the Mastercard Memorial Cup has been a bone of contention since 2012 when the Shawinigan Cataractes were ousted in the QMJHL playoffs in Round 1, only to come back and win the Cup in May. Ditto for the Windsor Spitfires last year. Was it rest or proficiency that allowed those teams to come back and win a national title? That is the great debate.
The Pats were one of the best teams in all of the CHL for most of last year, but were unable to get by the Seattle Thunderbirds in the Ed Chynoweth Cup. Hoping to get back the likes of Tyson Jost and Austin Wagner didn't come to fruition, leaving a big hole up front for the Pats. Hebig is one of the most underrated players in the WHL and will be a huge boost for the Pats up front. Tyler Brown's numbers aren't the same as they were a year ago, and the hope is Ryan Kubic will be able to take the ball and run with it the rest of the way.
It's a big gamble considering Kubic has played less than half of Saskatoon's games, but he is a former second-round bantam pick who's spent most of his career on pedestrian teams, so the move to a Mastercard Memorial Cup host may inspire the young man.
3. Tri-City acquires Jake Bean from Calgary for Carson Focht, Dakota Krebs, first round pick in 2019 and second round picks in 2018 and 2020
For Tri-City it's tough sledding in the US Division, which once again has gone under the radar as a perennial top three division in the CHL. Bean should look a lot more like the 2015-16 Jake Bean as opposed to the one that was severely overworked as Calgary's top everything guy on the back end.
Tri-City has balance, can score goals and an already lethal power play should get better with Bean. Teams can no longer focus on just Jusso Valimaki and if those two anchor the top four, Tri-City should be a tough team to match-up against on both ends of the ice. Calgary's new regime has wasted little time in acquiring assets as evidenced by the deal made with Swift Current back in late November. It was only a matter of time for Bean to move and the asking price for essentially a rental player was steep.
Aside from the bevy of picks, Focht is a former first-round bantam pick, while Krebs looks like a five-year player with good size and steady play on the back end.
2. Sault Ste. Marie acquires Taylor Raddysh and Garrett Sambrook from Erie for Hayden Fowler, second round picks in 2019, 2020, 2021, 2022, 2023, third picks in 2018, 2023 and a sixth round pick in 2018
Rumors of this deal started swirling before the world juniors started, but couldn't be made official until after the tournament ended. The Hounds didn't appear to have needed much, but Raddysh heads north with the resume of a CEO. Sambrook is a well-rounded defenceman who can move pucks efficiently.
A key part of this deal is both players have won a league title and have played in the Mastercard Memorial Cup before, something Sault Ste. Marie hasn't done in more than two decades. Erie GM Dave Brown single-handedly re-stocked several of the draft picks used to bolster the Otters, a 50-win team in each of the past four seasons.
Fowler was the Hounds' first-round pick, 19th overall, in the 2017 draft. He's a late '01 birthday, so Otters fans will see him for at least the next two seasons, and beyond. Although on the small side, Fowler has displayed high-end speed and stick skills with a bulldog-like work ethic.
1. Swift Current acquires Giorgio Estephan, Stuart Skinner and Tanner Nagel from Lethbridge for Logan Flodell, Logan Barlage, Owen Blocker, Matthew Stanley and first and third round picks in 2020 and a conditional second round pick in 2021
The time is now for the Broncos, who came within a Game 7 of beating last year's top team, the Regina Pats in the playoffs. A November trade with Calgary addressed secondary scoring in the form of Matteo Gennaro and Beck Malenstyn, but this deal added the veteran Estephan, who is one of the best centres in the league.
Numbers-wise Skinner has had a down year, but he has size and past playoff success. He will also be a piece that can be moved next year to get back some of what the Broncos have given up to make their run this year. Sheer brilliance for Lethbridge.
Hurricanes GM Peter Anholt is a long-time WHL veteran and Lethbridge's slow start allowed him to sit back and watch the rest of the conference emerge. A weak Central Division allowed him to accelerate the future in this deal with the ability to maintain a playoff spot and potentially win a round, which would be a massive win-win.
Flodell has had a breakout year in Swift Current, while Logan Barlage will earn first-round NHL consideration next year. Blocker is a right winger who hasn't had a ton of opportunity, but is a former second-round bantam pick. Nagel is another right winger with leadership qualities who plays a gritty game suited for the playoffs.