With the 2017 Memorial Cup — the 99th edition — set to go in Windsor Friday night, Sportsnet's Sam Cosentino looks at the top 10 storylines around the event, from a collection of teams with excellent parity, to some top prospects and more.
10. 3 Dub Coaches: Three of the tournament's four coaches have worked behind a WHL bench. Steve Konowalchuk spent two years behind Colorado's bench as an NHL assistant coach before taking over the Seattle job for the 2011-12 season. He's in his sixth year at the helm of the T-Birds. According to stats guru Geoffrey Brandow, Erie head coach Kris Knoblauch is one of a select few to win two different CHL league championships. His career started with Kootenay in the WHL and he took the Ice to the 2011 Memorial Cup in Mississauga as an underdog. Windsor's Rocky Thompson started his coaching career with the expansion Edmonton Oil Kings back in 2007-08. He also served a year as an assistant behind the bench of the Edmonton Oilers in 2014-15 before being hired to head the Spitfires a year later.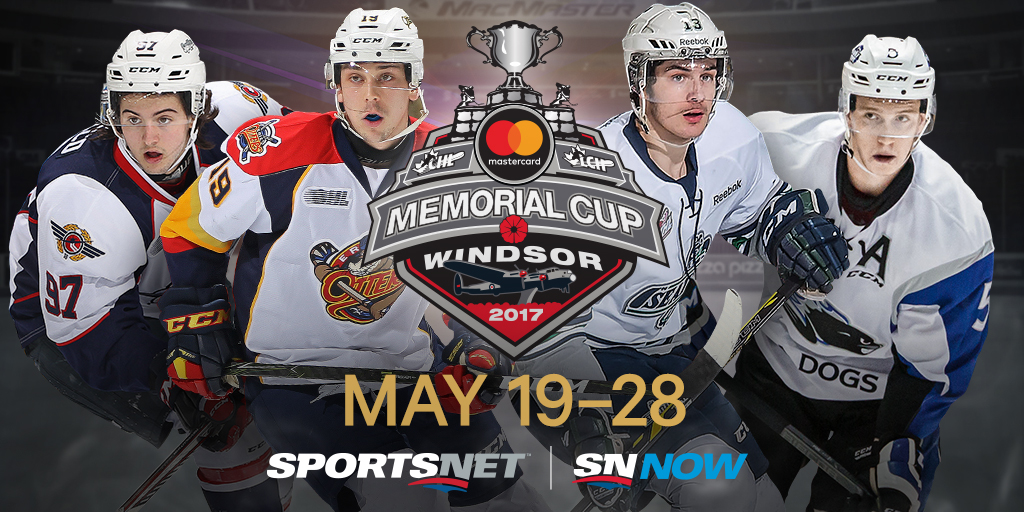 9. Seattle Thunderbirds: It's often said you must learn to lose before you can win. There are no truer words for the Birds who lost to Brandon in five games in the 2016 Ed Chynoweth Cup. For the second straight season, Seattle was up against the CHL's No. 1 team in the league final, but this time they emerged victorious in six games to upend the high-flying Regina Pats. Seattle is mostly home-grown and had two sneaky additions on the back end in Austin Strand and Aaron Hyman to shore up the defence corps. Seattle was not in the final CHL top-10 ranking and will use that as motivation against the field.
8. Carl Stankowski: The 17-year old Seattle netminder took over for injured veteran Rylan Toth at the end of the regular season and has not looked back. He went 16-4, with a 2.50 GAA, .910 save percentage in leading the Thunderbirds to their first league title in the franchise's 40-year existence. What makes the accomplishment unfathomable is the fact he only played seven regular season games this season — his rookie year. And by the way, he's listed generously as 5-foot-9, 159 pounds on the WHL's official website.
Point Taken - Wednesday - May 17th
May 17 2017
7. Host with the Most?: The Windsor Spitfires tabbed Shawinigan and Saskatoon to figure out what to do as a host team that had a long layoff. In 2012 Eric Veilleux lead Shawinigan to a title, utilizing a "second" training camp to whip his team into top physical condition. The Cataractes lost on opening night of the Memorial Cup and took the hard road, winning games in four of the final five nights culminating in a 2-1 overtime win against London in the final. A year later, the Blades played host to the 95th edition of the Cup and were swept out by Medicine Hat in Round 1 of the WHL playoffs. Lorne Molleken leaned heavily on sports psychology to prepare his team. The Blades lost by a goal on opening night, but beat the eventual champion Halifax Mooseheads for their only win of the tournament. Windsor has blended the two philosophies and is hoping to channel the 2012 Cats to a title on home ice.
6. Erie Otters: A CHL record four consecutive 50-plus win seasons and finally the Otters are here. In each of the previous three campaigns, the Otters lost in the OHL playoffs to two MasterCard Memorial Cup champions and one finalist. In 2014 it was Guelph that eliminated Erie in the Western Conference championship. The Storm lost to Edmonton in the Memorial Cup final in London. In 2015 Oshawa ended Erie's season in the OHL final. The Generals went on to win the Cup in Quebec City. And last year, the London Knights took out Erie in the Western Conference championship before hoisting the Cup in Red Deer.
5. Saint John Sea Dogs: The Dogs were the most dominant league champion of the three. Saint John held Blainville-Boisbriand to a QMJHL record low four goals in its four-game President Cup sweep. The Sea Dogs have 11 players either signed or drafted to NHL teams, three of which are first-rounders. They have four players who have world junior experience, three that have played in the Memorial Cup previously and head coach Danny Flynn is making his sixth appearance behind the bench in this event. He lead Moncton to a league title in 2010 and has four other appearances as an assistant to Ted Nolan (three with Sault Ste. Marie and one with Moncton).
4. Alex DeBrincat: The Chicago second-rounder is a snipe show. DeBrincat equalled an OHL record with his third straight 50-plus goal campaign, finishing the regular season with a video game-like 65 goals in 63 games played. He was held to just 13 goals in 22 playoff games. DeBrincat's 127 regular season and 38 post-season points lead all OHLers. Everyone in the hockey world knows it's going to end up on his stick, he draws all the top assignments, is just 5-foot-8 and still manages to snipe at a dizzying pace.
3. Thomas Chabot: You would've needed a sundial to track his playoff minutes, especially in the President Cup. He was matched-up almost exclusively against Pierre-Luc Dubois and Alex Barre-Boulet and held the high-scoring Blainville duo to a combined goal and assist with a minus-10 rating. In Game 3, he tracked over 36 minutes of ice. The Ottawa first-rounder was named MVP of the world juniors and was the first defenceman in 15 years to win the Guy Lafleur Trophy as the QMJHL's playoff MVP. His 23 points led all Q defencemen in playoff scoring.
2. Four Show: This event features four players who all played at least one NHL game this season. Thomas Chabot of Saint John got into one game with the Ottawa Senators before being returned to the Sea Dogs in early November. Dylan Strome had one assist in seven games, while averaging almost 14 minutes per game before being returned on November 20. Mikhail Sergachev has a total of four NHL games under his belt with the Montreal Canadiens, including a late-season emergency recall where he played over 18 minutes in Detroit. Seattle's Mathew Barzal played in two NHL games, but ultimately gave way to 19-year-old Anthony Beauvillier before being returned to the Thunderbirds in November.
1. Parity: In my 12 years covering this event, I don't think I've seen a field more evenly matched. While every team has its warts, each team has a multitude of strengths. Windsor has 10 players signed to NHL deals. Saint John is the only team to have swept its league title and is making its third appearance in the Memorial Cup in the past seven years. Seattle is 44-12 since the calendar flipped to 2017. Erie averaged 4.69 goals for per game to finish third in the 60-team CHL. In the previous 11 years I've called this event, you could identify at least one team in the field that was either a cut above or a cut below. That team does not exist in Windsor.