Just about a month into the season it's interesting to see who's starting to separate themselves from the pack — not just individuals, but teams as well.
The cyclical nature of the CHL often propels teams into the spotlight as they build from the ground up. Prince Albert would be a perfect example of that in the WHL.
From an individual standpoint, a summer can make all the difference in the world. Older players realize it might be their last chance to earn a pro contract, while younger players continue to grow, build strength, and gain confidence. Opportunity also comes into play – maybe last season a team was more veteran or star-laden and opportunities for younger players were scarce. With off-season trades and graduating players, doors open for those who didn't previously have an opportunity. Peterborough goalie Hunter Jones would fit this example.
Overall, here's our list of the top 10 CHL starts to the 2018-19 season.
Senior Writer Ryan Dixon and NHL Editor Rory Boylen always give it 110%, but never rely on clichés when it comes to podcasting. Instead, they use a mix of facts, fun and a varied group of hockey voices to cover Canada's most beloved game.
10.) Victoria Royals (WHL): Never one to sit still, GM Cam Hope is masterful at manipulating his lineup on the fly. Over the past couple of seasons, he's watched former head coach Dave Lowry move to the NHL, his right hand man Grant Armstrong move to Brandon, and several of his players move on to other locales, yet the Royals just keep on winning.
The start of 2018-19 has been no different. Hope remains an astute talent evaluator with a winning vision. A few key pieces have remained such as Dante Hannoun, Ralph Jarratt, Scott Walford and Griffen Outhouse, all of whom have performed to expected levels. What's most amazing about the Royals' fast start is they have no scorers in the league's top 20 and just one defenceman (Jarratt) inside the league's top 20 for scoring at the position.
A balanced attack, the ability to win close games (five one-goal wins), and stymying defence allowed the Royals to start the season with seven straight wins before dropping a 3-2 decision to Vancouver Sunday.
9.) Emile Samson (Blainville-Boisbriand Armada, QMJHL): When then-GM/head coach Joel Bouchard released the experienced Francis Leclerc in favour of the diminutive Samson last season, people wondered how the move would work out. A year ago, the 5-foot-8, 142-pound netminder rode a 15-game undefeated streak in regulation time all the way to the President Cup final. This year Samson is up to his old tricks and is amongst the league leaders with a 2.21 goals-against average and a .927 save percentage. He's played in eight of the Armada's nine games to date with a 4-2-1-0 record.
8.) Dmitry Zavgorodniy (Rimouski Oceanic, QMJHL): The 18-year-old Russian winger was selected 198th overall by Calgary in the 2018 NHL Draft. He's already amassed seven multi-point games, including two four-point efforts in pacing the Oceanic scoring attack.
At 5-foot-9, 169 pounds, Zavgorodniy has become a favourite of head coach/GM Serge Beausoleil for his speed, stick and shooting skills. While a 26.9 shooting percentage is unlikely to stay with him all season, he did put up 26 goals last year. Impressively, 12 of his 19 points have come at even strength, and most of that has been apart from young sensation Alexis Lafreniere.
7.) Hunter Jones (Peterborough Petes, OHL): Jones has the Petes off to an East-leading 8-2 start. He leads the OHL in wins, minutes and save percentage (.936) and is ranked second in GAA (2.22). Getting into 15 games last year mentoring under Edmonton prospect Dylan Wells enabled Jones to step right in as the Petes' No. 1 this season. His experiences include representing his country at the World Junior A Challenge and the U-17s.
With the size NHL scouts are looking for (6-foot-3, 194 pounds), Jones should be one of the top goalies selected in the 2019 NHL Draft. Not bad for a fifth round OHL Priority selection.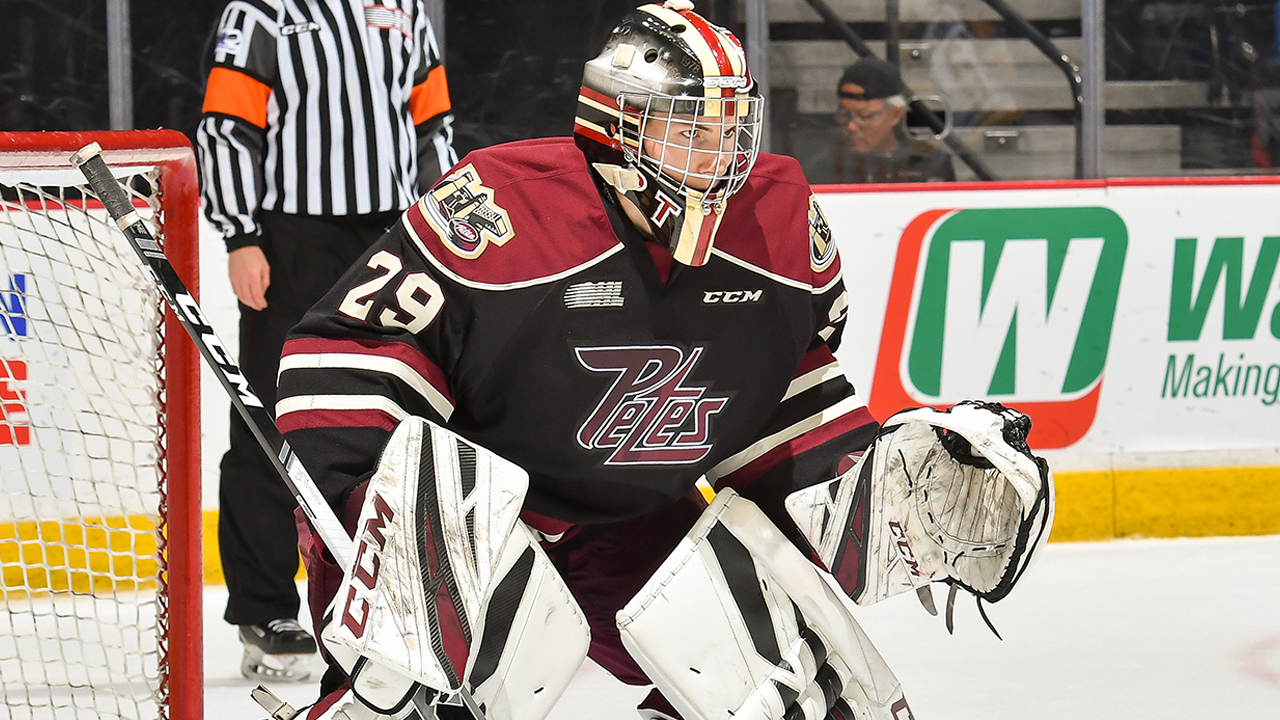 6.) Ryan Suzkuki (Barrie Colts, OHL): After posting a respectable 44 points last year, the younger brother of Montreal prospect Nick is on pace to shatter that mark. Through Barrie's first 10 games, Suzuki has four goals for 18 points. Expected to go in the top half of the first round of the 2019 NHL Draft, Suzuki is the centrepiece of Barrie's offence. He's quickly building a reputation as a pass-first player, but there's no doubt coach Dale Hawerchuk would like to see him be a little more selfish and shoot the puck more often.
5.) Cody Glass (Portland Winterhawks, WHL): A late return from Vegas camp didn't seem to phase the soft-spoken Glass, who has been nothing short of remarkable in his first seven games. Glass currently sits tied for third in WHL scoring with 18 points, but has played at least two fewer games than those ahead of him. He has put up three or more points in five of the seven games, with at least a point in each one.
Jeff Marek and Elliotte Friedman talk to a lot of people around the hockey world, and then they tell listeners all about what they've heard and what they think about it.
4.) Ian Scott (Prince Albert Raiders, WHL): It's been fascinating to watch the progression of this young man from being the ninth overall bantam pick, going through Hockey Canada's program of excellence, and developing into a true No. 1 for Prince Albert. Starting from the middle of February, Scott has elevated his game to an elite level. His start this season has propelled the Prince Albert Raiders to No. 1 in the KIA CHL Top 10. Scott leads the league in wins, minutes, is second in goals-against and tied for second with a .943 save percentage.
3.) Rouyn-Noranda (QMJHL): When considering the powerhouse teams for the 2018-19 QMJHL season, most would've pointed to Halifax, Drummondville and Rimouski. Some may have said Baie- Comeau, maybe Charlottetown, but not many people would've suggested Rouyn-Noranda.
Three years removed from a President Cup, the Huskies are back thanks to a couple of holdovers from that magical 2016 run. Through 10 games this season, their only blemish is a 3-1 loss to Gatineau, thanks to a 48-save effort from Tristan Berube. The Huskies' power play is up over 30 per cent, the PK has five shorthanded goals, and Peter Abbandonato leads the league with 20 points. New head coach and GM Mario Pouliot is fresh off a Memorial Cup win with Acadie-Bathurst, and his no-nonsense approach has fit well with the Huskies.
2.) Jason Robertson (Kingston Frontenacs, OHL): Over the course of his CHL career, the Dallas prospect has lit the lamp 114 times in 200 games. With a depleted lineup around him compared to years past, Robertson is being given ample opportunity to put Kingston on his back. Having said that, he's also the opposition's key focal point and continuously draws the toughest defenders, which makes his 13 goals through 10 games so impressive.
He's been held without a goal just twice through Kingston's first 10 games, with two hat-tricks already in the books. Like many natural goal-scorers he has the ability to find open areas on the ice, and when he gets the opportunity, he doesn't miss. Robertson possesses an NHL-ready shot and release.
1.) Brett Leason (Prince Albert Raiders, WHL): Acquired from Tri-City a year ago, Leason has turned out to be a diamond in the rough for the Raiders. The 6-foot-4 right winger has lit up the WHL with a CHL-leading 2.17 points per game pace (amongst qualifiers with eight-plus games played). Each of his past five games have been multi-point efforts, and through the Raiders' first 11 games Leason has not been held off the score sheet. A career-high 32 points last season is likely to be surpassed before Halloween. Leason's plus-19 rating is also best amongst all CHL players.