In every Sportsnet magazine, Kristina Rutherfod has The Interview, a revealing sit down with the biggest names in sport. In the Dec. 29, 2014 issue, she talks to Connor McDavid.
You shattered a puck.
Yeah, in practice. I took a wrist shot on net during a warm-up drill, the puck hit the crossbar and it went everywhere. I think people took it a bit too far…
"The Next One is superhuman! He broke a puck!"
They were going crazy on Twitter, saying crazy stuff. I think it was just a bad puck.
Did you go get a broom and dustpan, sweep it up, then glue it back together and put it on your mantle?
[Laughs.] No, I didn't do anything like that.
You scored 99 points last year. Was that… frustrating?
That was frustrating—like, just one more, honestly. My last shift of the year, it was kind of a nothing game and we didn't really need to score. But I wanted that 100th point. So coach put my line out with two minutes left. We were out there for the full two minutes, in their zone. And it's pretty funny looking back on it. The guys were having such a good time on the ice, passin' it around. I had three or four chances that I should have scored on—I hit the post.
You're on a pretty good pace this year.
I was, yeah, until I broke my hand. Still got the whole second half, so we'll see.
We last spoke when you were 15. You've grown up quite a bit.
It's funny, I was five-foot-seven, 160 lb. I've grown taller and put on a little more weight. But even just going through experiences, playing in the OHL at 15 and playing world juniors at 16, going through day-to-day life in the OHL, you kind of grow up and realize you can't really be a kid anymore.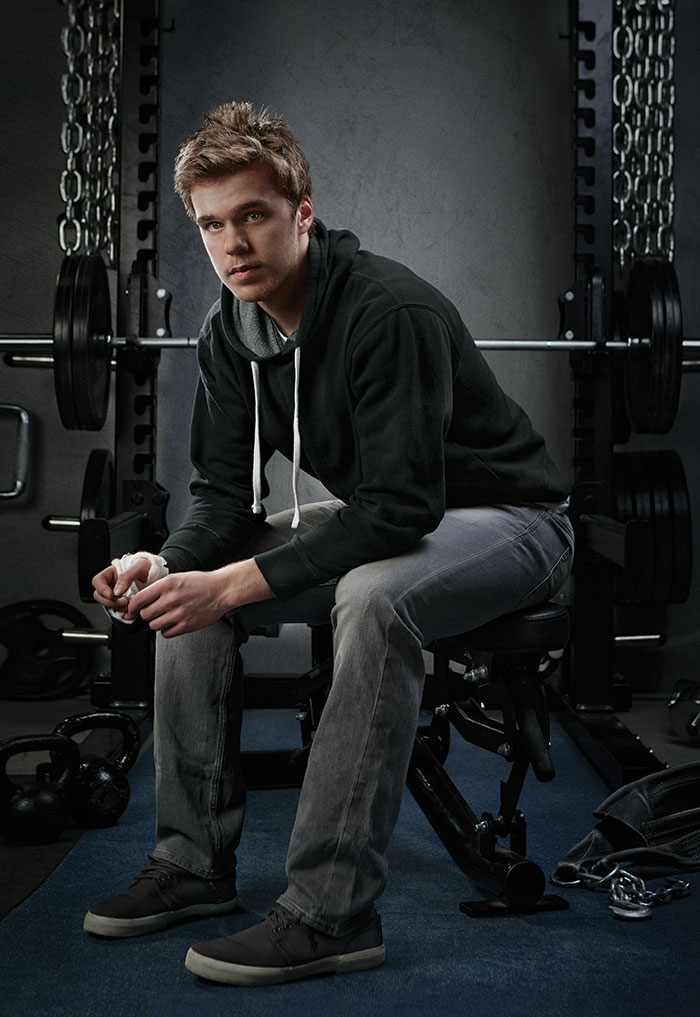 When do you get to act your age?
Around the guys. We have a pretty close group, and we're always having fun in the room, making jokes, being idiots.
Now that it's your draft year, and since you got in that fight, you're all over the news. It's you and Taylor Swift.
I've never been compared to Taylor Swift before. That's new. But yeah, it's pretty weird. [I'll be] in the car with my dad, and my name comes on the radio. Or watching TV. But it's what you work for, right?
Does it ever surprise you, what you're able to do on the ice?
The only time it surprised me was the goal against Plymouth last year. [Editor's note: McDavid basically turned a Whalers defenceman inside out.] I honestly didn't think I was gonna get by him.
Do you think about what you're doing while you're doing it?
Not really, no. It kind of just happens, I guess. There is a lot of instinct that comes with playing hockey and playing a number of games and playing all the way up; you kind of get a feel for what's gonna happen and make plays off that.
If an NHL team tanks to try to get you, would that impress you?
If a team is tanking to get me then no, I do not want to play on that team. If you're tanking to get a higher draft pick, you really shouldn't be playing hockey. But I don't think anyone is tanking to draft me.
Have you seen the "Keep Calm and Pray We Get McDavid" shirts?
Those are pretty weird. I see them around Erie; people wear them sometimes who come from Buffalo. Why have you got that shirt?
I don't understand. [Laughs.]
What's the most fun part about all the attention you're getting?
I don't know. Probably the Twitter stuff that happens. Like today, Dez Bryant tweeted me, which I thought was pretty cool. And,
actually, Andrew Wiggins tweeted me. That's probably the coolest part about it.
And Wayne Gretzky called you out of the blue two years ago.
Yeah, I was 15. I thought it was a prank at first. I honestly thought it was for sure one of the guys. But I checked the area code and it wasn't anyone in Erie. Arizona area code.
Expectations are very high. You have a three-point night, ho-hum. Is that tough to live up to?
It can be hard. Playing in the OHL, people expect you to get a ton of points. When you go out and have a good game it's almost like people expect that out of you.
The Next One. Do you like that nickname?
No. It's a nice nickname, but it's a lot to live up to, and I'm not sure if I'm necessarily deserving right now.
If you could pick your nickname, what would you go with?
Probably something with my name. I'm not a big nickname guy. The King, Captain Serious, I don't like that kind of stuff. Probably just a nice regular name.
Connie?
No. God, no. Connie's a terrible nickname.
Does it get old talking about Sidney Crosby and Jack Eichel?
Well, not really. You expect everybody's gonna talk about Crosby and about the guy who's competing with you. There's no way around it, really.
Do you look at NHL Draft rankings?
No, I don't. Ah, well, I do a little bit. Not necessarily to see where I am, but I like to see where my friends are. A guy like Stromer [Dylan Strome], I'm always looking for him. He's having such a good year, I don't know why you guys haven't bumped him up.
Being No. 1 is important to you. Why?
It's in my competitive nature to want to go No. 1. Anything you do you want to be the first. If you're running, you wanna be the first one to finish the race. Just like you, you probably want to have the best article. It's no different. It's obviously a bigger scale in the NHL Draft. Just to be selected is special, but to go No. 1 overall that would be absolutely unbelievable.
You deflect attention a lot. Can you talk about your strengths?
Well, I dunno. I'm not a cocky guy. I'm a good skater, I'm good with the puck, I kind of see the ice pretty well.
That's some terrible bragging. So you're an OK hockey player. You're a good student. What are you bad at?
I'm a terrible golfer. I don't do a whole lot of cooking.
Do you eat doughnuts and McDonald's and bad food?
Of course. Don't tell Gary that. [Editor's note: Gary Roberts trains McDavid in the off-season]. But I have to eat that stuff, really.
You grew up playing hockey and road hockey with an older brother. Any close calls?
My left eye, I almost lost it. I was probably around five. We were going for the ball in the grass, and he got his stick up, and it literally just came right underneath. My eye was swollen shut. My mom was losin' her mind.
What's the worst part about being the best player on the ice.
You get special attention from the guys. We call it special attention but it's really just an extra slash, or guys taking a couple extra steps to finish a check on you.
What part of your game sets you apart from everybody else?
Again, you're trying to get me to talk about myself. I don't really know. I think the thing that really helps me in junior hockey and something that needs to get better to play in the NHL is my skating.
Playing in the NHL must feel like a long time coming for you.
There's been so much talk around me for a couple years. It's been a bit of a wait to get to the NHL Draft, and especially last year, those are the guys I grew up with. Watching them get drafted, and my good buddy Aaron Ekblad is now playing in the NHL. Everyone's saying "Your time will come," but you just want it to happen. The thing I'm most excited about is being able to play in the NHL. If I'm able to do that it would be unbelievable.
As you wait, expectations grow.
The advice [John] Tavares gave me is that in your draft year, nothing's ever perfect. In his second year in the OHL he scored 70-something goals. Well, you got two more years left, how are you possibly going to pass that? Everyone was kind of picking his game apart. He might've been a little bit frustrated because people were picking his game apart so much, and he just told me that's something that could happen in your draft year. You just can't let it get to you.
The criticism I hear about you is you have to shoot more.
That's the one I hear all the time. I've got it since I was eight years old so I don't think that's ever gonna stop. I'm more of a pass-first guy. I'm workin' on my shot and tryin' to get more comfortable with it. I don't really have a good shot. It's true, I don't.
You believe that? You have a lot of goals for someone with a bad shot.
Well, not because I'm shootin' it all the time.
Is there anything people don't know about you?
Well, I probably know every Friends episode ever taped. Me and my brother are absolute Friends goofies. We watch it all the time. We have all the series on DVD. We've watched every single episode at least three or four times now. If you wanted to play me and my brother in Friends trivia, I don't think there's a chance you'd beat us.