EDMONTON — What happened Friday night in Edmonton wasn't about the horrible hand dealt to Team USA, which bows out of the Hlinka Gretzky Cup on a tying goal that was still on Dylan Cozens' stick blade when the clock read 0.00.
It had been agreed upon that there would be no video review at this tournament because three separate rinks were being used and they did not all have the same capabilities. We get that.
But what really smelled Friday — as Canada won 6-5 in overtime, advancing to Saturday night's gold-medal game against Sweden while the United States walked out of Rogers Place fully fleeced, pockets inside out as they trudged towards the team bus — was how the Americans' game-opening goal had counted.
Officials said they couldn't use video replay to count Canada's game-tying goal at "19:59 of the third period," which allowed Josh Williams to score the overtime winner just 1:46 into the extra period. However, when a rather obvious American goal had been missed just 3:20 into the game, the officials huddled and somehow re-saw what everyone on TV had already seen — the puck clearly in the Canadian net for a relatively lengthy period of time before shooting out the other side.
"They said the water bottle went up. Look at the video. Tell me if the water bottle went up," said a highly skeptical Canadian coach, Andre Tourigny.
In fact, the water bottle did bobble up and down on that first goal, perhaps as much as an inch and a half. But what seems impossible — okay, highly improbable — is that the officials could see that tiny wiggle of a water bottle, yet all four of them missed a puck that went in over the goalie's right shoulder, wrapped around the back of the net, and shot out past his left side.
Unless, of course, video replay somehow helped that call to be corrected.
"That's a great point. That was my argument as well," said American head coach Cory Laylin. "They said that they saw the water bottle go, but I think we deserved better."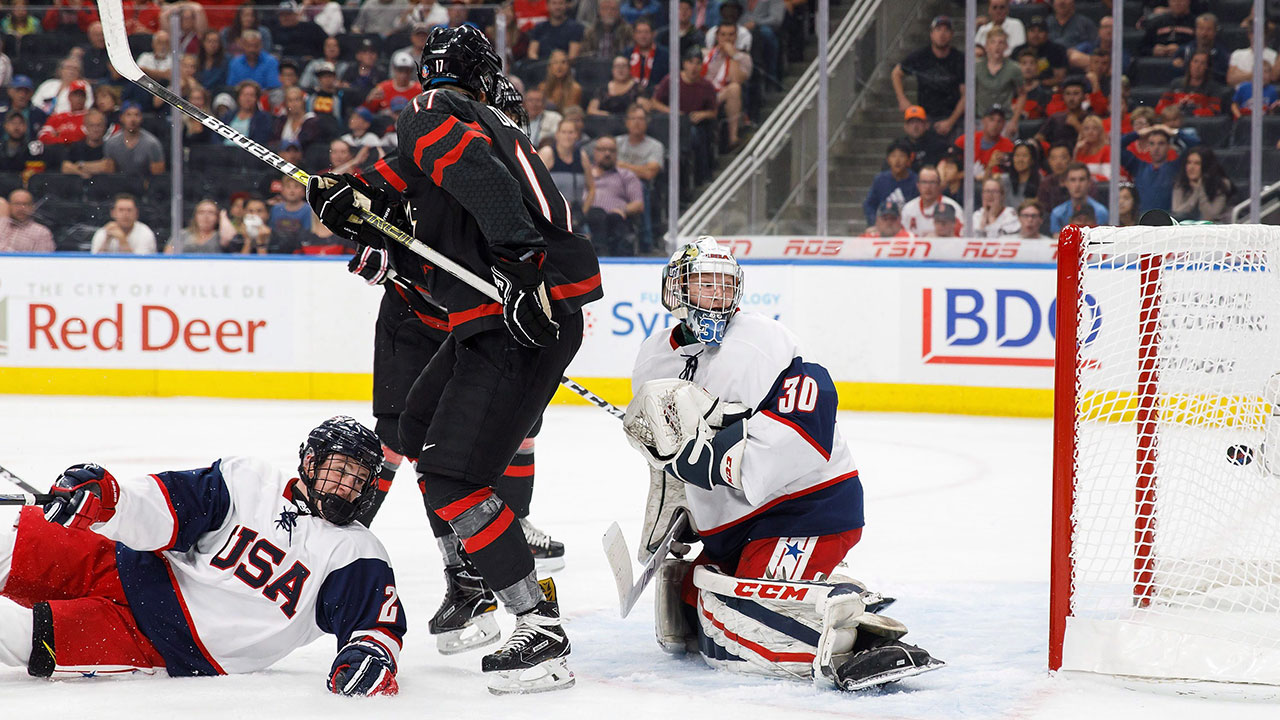 What really strikes a hockey observer, as we see a game lost on what was indisputably a goal that should not have counted, is how seldom we see these things happen anymore. Today we're calling goals off because a player's skate blade is a quarter-inch above the blue-line, not because a puck was three- or four-tenths of a second — perhaps even more — late in crossing the goal line.
Tom Renney, the president of Hockey Canada, explained how this could still be happening, in a state-of-the-art arena in 2018:
"Prior to the competition, at the directorate meeting, it was decided there would be no video review because the three venues being used don't all have that capacity," Renney said. "In the best interest of consistency and fairness throughout all three venues, it was decided by all teams — and signed off on — that the officials on the ice would make that call, as they did tonight."
But what about that first American goal that was rightly changed?
"I'm not talking about that one," he said.
If you've noticed the paucity of player quotes, it is because the American players chanted a unified theme: "It is what it is. We have a big (bronze medal) game tomorrow." The Canadian players would not address the issue either.
Even Renney, however, did not like the smell of this one. The American kids had beaten the Canadian kids fair and square — everyone knows it. Yet on Saturday, Canada gets Sweden for the gold, while Russia and the USA play for bronze.
"I feel for everyone — for our kids too. They know what happened," Renney said. "If I'm the U.S. squad, I'm kind of scratching my head, wondering what might have happened here. They are owed some type of an explanation and I'll go in and see them next."
What was masked by this non-buzzer-beater was a fabulous game, loaded with high-skill plays — including Aaron Huglen's sizzling, lacrosse-style goal in the first period for the U.S. — and an incredible finish, with three goals in the last 8:02.
The ending, however, left a sour taste in everyone's mouths.
"It's a bitter pill to swallow, for sure," said former New York Rangers goalie John Vanbiesbrouck, the head of USA Hockey. "This is a great building and the venues have been great. I believe we do have the technology. The game was broadcast on TSN and the NHL Network. We were watching it with the naked eye and we couldn't tell, and that's why you use technology to get things right.
"It was determined before the tournament that they weren't going to use video review, so we have to accept our fate."
But, somehow, that first goal was made to count.
Guess they saw that water bottle jump, after all.