Editor's note: Dylan Strome was returned to the Erie Otters on Nov. 20.
Mid-November doesn't seem like a critical juncture on the hockey schedule, but then again not all matters of consequence are played out in the spring. Chief among those is the World Junior Championships, which open in about six weeks in Montreal and Toronto. Canadian teams at the under-20s have a pretty lamentable history in recent years—in this decade, one gold and that with the conspicuous advantages of home ice and Connor McDavid. Three of the past four turns have been medal-less. You'd hope that the host team would have some sort of shape or design by this time, but really you have only a sense of what it's guaranteed not to be, e.g. it's not going to be Mitch Marner's team because he's not getting returned or loaned anywhere.


Not a scout? No worries. Jeff Marek's newest podcast is all you need.
Listen now | iTunes | Podcatchers
Right now the hanging question is: Whither Dylan Strome? Playing beside Marner, Strome, the No. 3 pick in the 2015 draft, was as good as anybody and better than most on a Canadian team that had few good moments in Finland last trip. In the normal course of things you'd pencil him in as the first-line centre, but then again the normal course of things requires some certainty about his availability and, as of this writing, there is none.
Strome's with Arizona, watching the Coyotes more than playing with them, which is really no way to prep for elite international play. Yeah, you might think that he has nothing left to prove back in junior, but still if he were back in Erie with the Otters he'd at least be on his game and ready to go. Instead he has played in just six NHL games this season and the prospect of him being installed in the big club's lineup anytime soon is remote at best.
It's not that Coyotes GM John Chayka should return Strome to Erie out of consideration to the Canadian world junior team. No, it's in the best interests of Strome's development and Arizona's future that he should be playing a lot and gaining confidence. Said one NHL scout: "If [the Coyotes] loaned Strome to Team Canada and he hasn't been playing, they're putting him in a bad situation and really setting him up to fail. Even if they sent him back to Erie in a week or two, it's going to be tough for him to be on his game in time for the tournament. That would be a lot of changes late in the day and unfair to expect a kid to deal with it."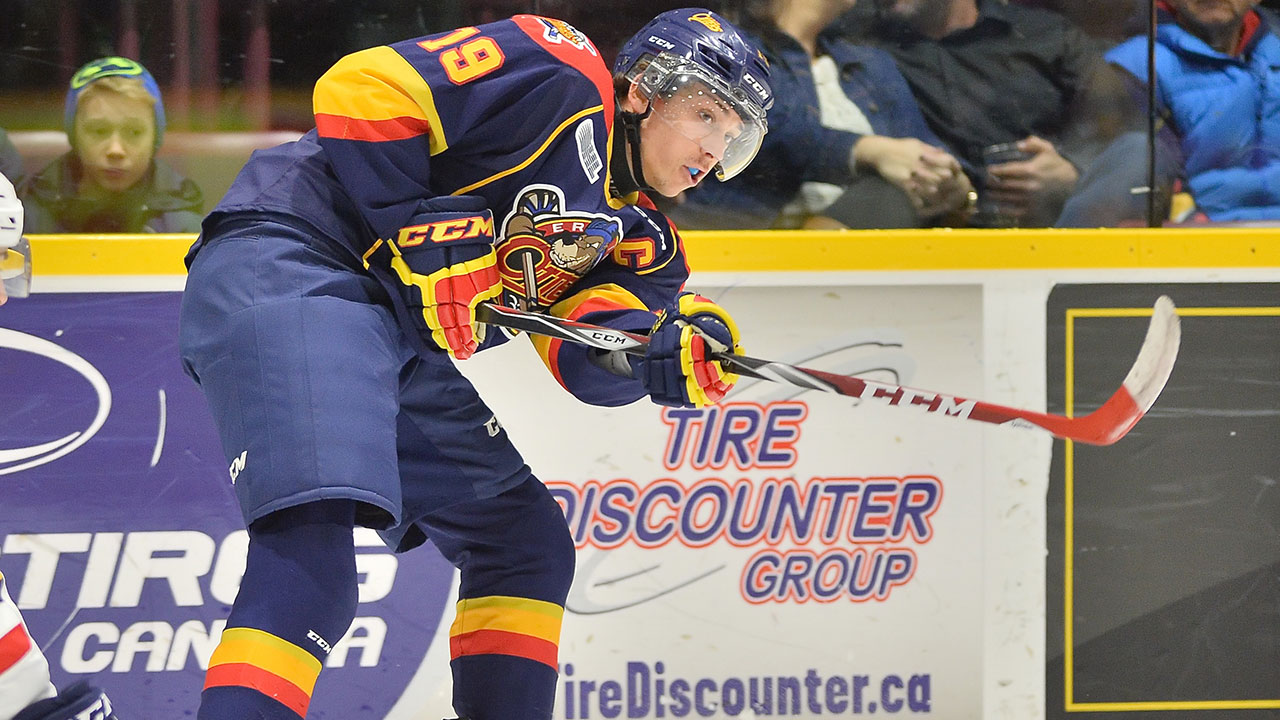 Dylan Strome averaged 1.52 points per game in three seasons with the Erie Otters. He had four goals and six points at last year's world juniors. (Terry Wilson/OHL Images)
Chayka is new to all this, and this aspect of management isn't the stuff of analytics' certainty, thus you have to wonder if he understands either the potential benefit of getting his prospect another shot at the under-20s or the risk to his development.
Mathew Barzal was in a similar situation to Strome. In fact, Barzal was playing even less—just 20 minutes across two games in a month with the Islanders before being sent back to Seattle last week. While it feels like early days in the hockey season, Barzal's return to the Thunderbirds is probably just under the wire, at least when it comes to having his game up to speed for the opening of the U-20 camp.
No, he didn't get back in time for the WHL games against the touring Russians, but no matter—Barzal proved himself not just at last year's WJC (where he deserved a larger role) but also in Seattle's run to the WHL Final. There's every shot that he'll be a first-line player for the Canadian team, giving the home side a necessary injection of speed and creativity.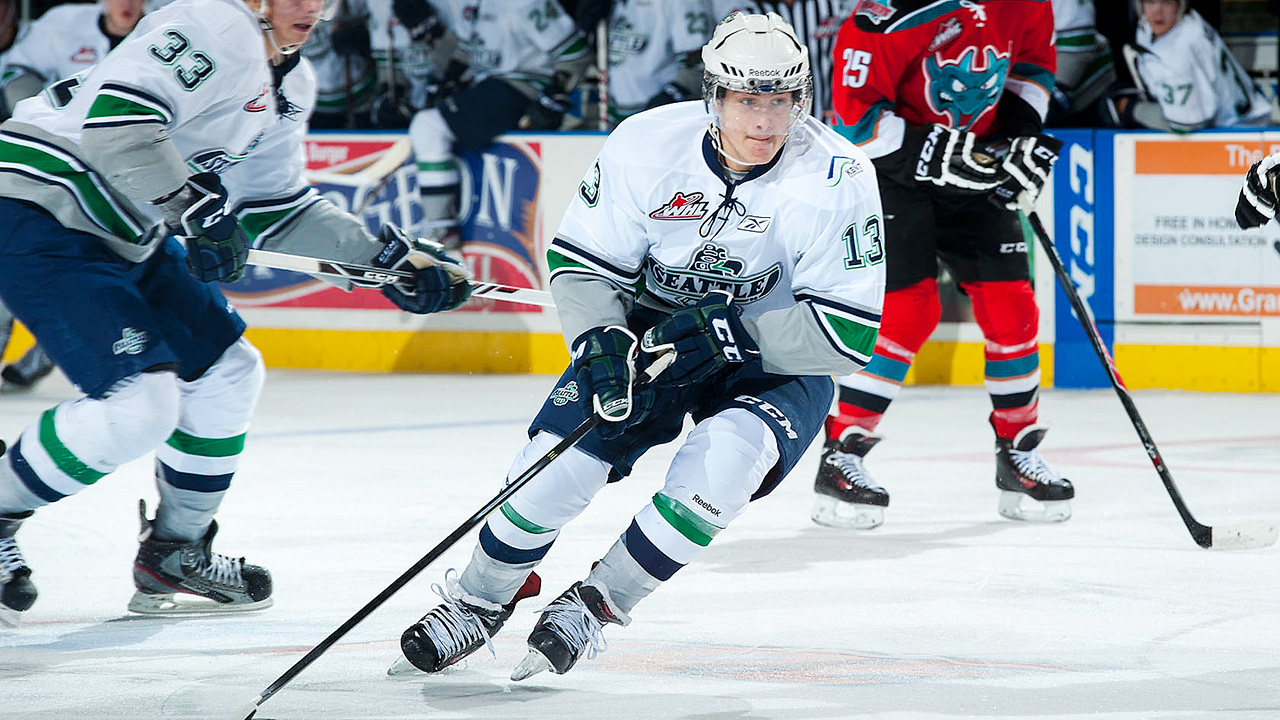 Barzal notched an assist in his first game back with Seattle. He scored three points for Canada at the 2016 WJC. (Marissa Baecker/Getty)
There doesn't seem like much of a question about Nolan Patrick's best position with the world junior team: spectator. Yes, the Brandon centre is at this point remains, by consensus, the projected first-overall pick in the 2017 NHL Draft. Still, at this point, those who should get consideration for the Canadian team have to be playing and, moreover, raising their game to mid-season speed. And this would be especially true of a player as young as Patrick.
Yeah, the old line about the WJC being a 19-year-olds' tournament doesn't ring as true today as it did 10 or 20 years ago, but it's very rarely a 17-year-old's tournament. And it's not a tournament for 17-year-olds coming off an injury. The point might be moot in Patrick's case—scuttlebutt in NHL scouting circles is that Patrick will remain on the sidelines until mid-December and maybe even into January. Still, based on what he has and hasn't been able to do this season it would seem a bad risk and a brutally big ask of a kid to throw him into the lineup, even as a 13th forward.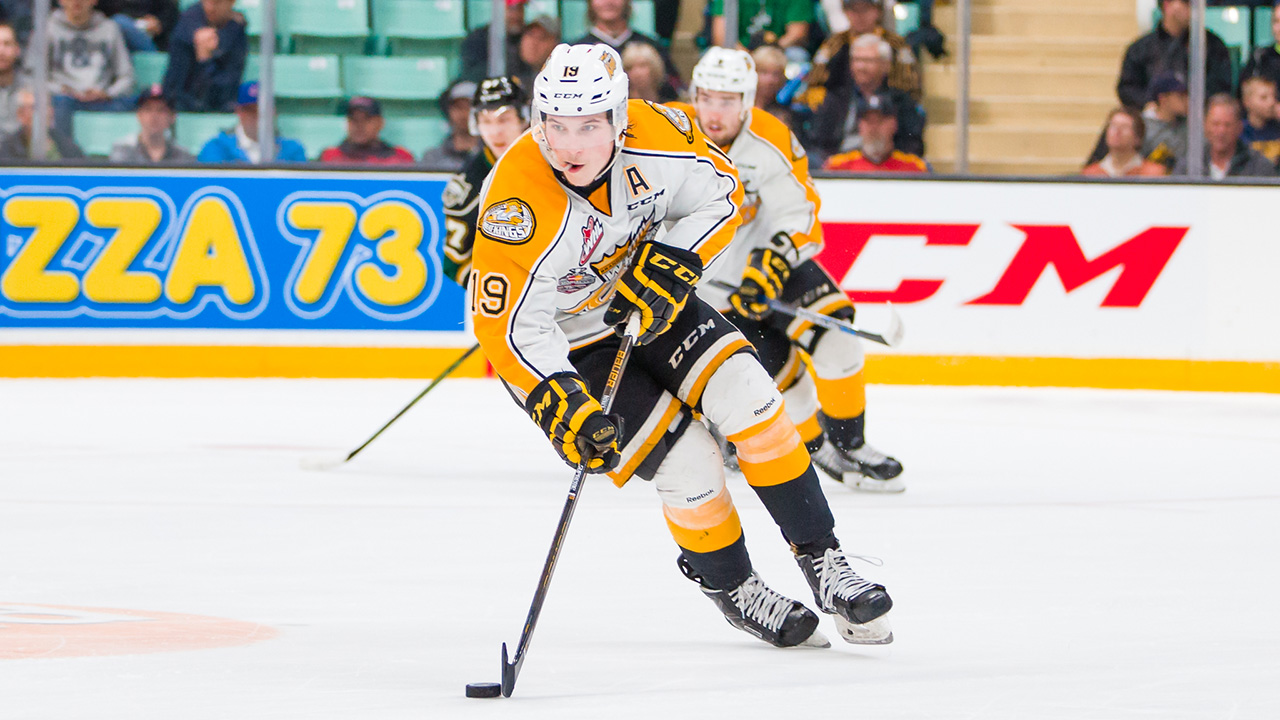 He's still the favourite to go No. 1, but check out a scout's take on Nolan Patrick sitting out. (Rob Wallator/CHL Images)
CIBC Canada-Russa Series
As noted in a game story from Monday night, Hamilton's Will Bitten impressed in the OHL's victory over the Russian selects in Game 4 of their cross-country tour. A third-round pick of the Canadiens last June, Bitten let the Flint Firebirds know that he wouldn't return this season and forced a trade, which is completely within his right and reasonable given what went down with a franchise in disarray last season.
Bitten mentioned that he sees himself as a player in the mold of Brendan Gallagher and he had a chance to play with Montreal's firestarter in the pre-season. The analogy seems on point—undersized, speedy, gutsy and sneaky physical. Somehow it would be fitting if Bitten had a chance to replicate Gallagher's role when the home team skates onto the ice at the ACC and, potentially, the Bell Centre in January. One aspect of Bitten's game that helps his cause: the ability to move between wing, where he played last year, and centre, his position since heading over to the Bulldogs.


Follow Jeff Marek's 2017 NHL Draft Rankings all season.