Not every Canadian team that heads to the world juniors has a personality or style on arrival. When you have a team that is put together in a few short weeks, when you have a couple of days between the final cut and the first game that counts, a team identity is one of those To Be Announced things. An identity develops over the course of the tournament. Or, in the case of teams that don't cover themselves in glory, it doesn't.
So, let's keep it open-ended: What might this Canadian junior team be?
The consensus among NHL scouts is that it's a talented team but not a powerhouse like the 2005 squad that steamrolled the field. Fair to say that more individually skilled teams have gone to the tournament and lost. Fair to say that less splashy and less gifted teams have come back with gold.
Let's start with what the team isn't.
One
It isn't a team loaded with returning players, like the team in '05 was. You've got Lawson Crouse, Brayden Point, Joe Hicketts and Jake Virtanen. All of them had their moments in last year's tournament (Point more than the others), but you wouldn't say that any one of them was a defining player, someone to build a team around.
Some would suggest that Point could be that guy and was on course for that until he was injured in November. Likewise some would suggest that Point can get back in form post-injury like Connor McDavid did last year—the wonder boy missed weeks with a broken bone in his hand after an antic and ill-advised fight. That Point's been in and out of the lineup in exhibitions doesn't inspire a lot of confidence on that count. Even if he's hale, there can't be any expectation that Point could lead the team as John Tavares did in '09, singlehandedly, electrically getting Canada back into a crucial game against the U.S.
---
Junior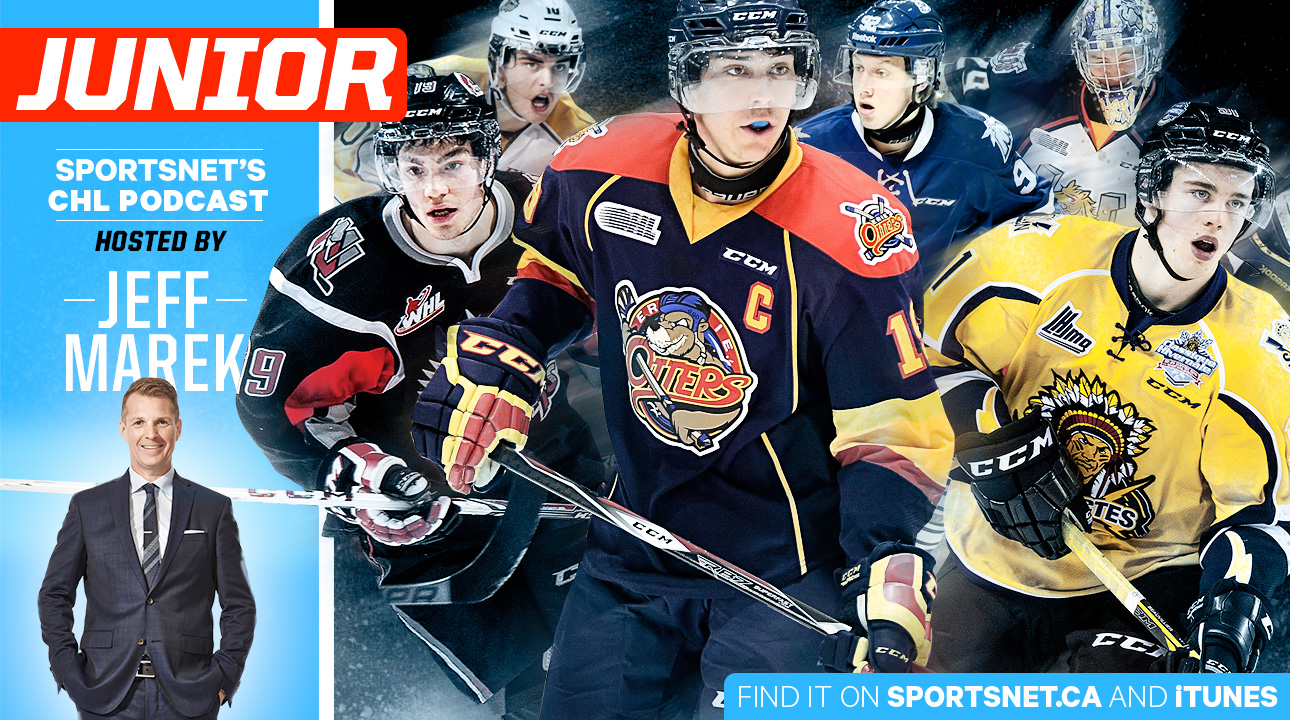 Check out our World Junior Championship preview podcast with hosts Jeff Marek and Sam Cosentino. A full breakdown of all the contenders and stars, plus Canada's head coach Dave Lowry and VP of hockey ops Scott Salmond stop by, as does Team USA head coach Ron Wilson and Team Canada pioneer Sherry Bassin.
Listen now | iTunes | Podcatchers
Two
It's not a team that goes into the tournament looking to draw strength from its goaltending. Back in '99 with Roberto Luongo and '03 and '04 with Marc-Andre Fleury, Canada had netminders considered not just the tournament's best but also goalie prospects that come along once every three or four years. And Canada came back with silver in all of those trips.
Square that with the fact that Canada has won gold with the likes of Dustin Tokarski in goal, a little guy whose ceiling was NHL back-up. A few weeks back there was cross-talk among NHL scouts about Canada's No. 1. Some thought it was Mackenzie Blackwood of the Barrie Colts, others Mason McDonald of the Charlottetown Islanders.
Blackwood is considered the far better athlete, Mason more the technician. Neither had a great advantage based on recent form—some would give an edge to Blackwood. Moot point now, though, with Blackwood suspended for a stick-swinging incident in OHL play, a sentence that will keep him out of the mix until late in the opening round. Either of them might steal a game for Canada, which, in a short tournament is about as much as you can ask of a masked marvel. Then again, they might struggle.
So let's get to what the team has a chance to be.
Three
A smallish, fleet team that can draw penalties and then punish opponents on the power play. Mitch Marner, the Leafs' first-rounder last June, is the nominal lead man on that count, but others are just a step behind him in skill, including Travis Konecny and Mathew Barzal. All mentioned here can wheel and deal the puck, likely drawing minors for hooking, holding and tripping and staying out for the power play. Konecny is a little more bold in traffic, Marner, given his size, thankfully a little more elusive. Still you imagine all of them finding a way to get opposing defencemen to chase in vain.
Four
A team that has just enough size spread through the lineup to discourage anyone from trying to push Marner et al around. Between a man-child in Lawson Crouse, draft eligible Julien Gauthier and Brendan Perlini, Canada has some big bodies who can chase hard on the forecheck and try to create turnovers with the physical game. Add to the mix Jake Virtanen, who creates a little bit of anarchy, just greasy enough to get under opponents' skin but so much so that the refs eventually catch up to his act.
It's the nature of the team and the tournament that no one really looks at the team—winner or loser—drawing its identity from the coach. Dave Lowry is an interesting story—I remember covering him in Florida when the Panthers made their run to the Cup final and you'd never describe him as gifted.
Back in his day he would have been the farthest thing from a candidate for an invitation to the under-20s. Still, he made the most of what he had to work with and got to the right place and the right time. And early on he's been hitting the team with a message that passion and a willingness to pay a physical price can take a team a long way.