To kick off our first Friday Night Hockey game of the 2016 portion of the schedule, we feature the Flint Firebirds' first game in London against the Knights.
Flint Firebirds
The Firebirds' moved to a Michigan address for the 2015-16 season after a long and successful run under the ownership of Peter Karmanos Jr. in Plymouth. While Flint has a storied hockey history, never had the city played host to a CHL team. Things got off to a rocky start, when, in November, the entire team quit in protest of the firing of head coach John Gruden, who was allegedly let go due to the lack of playing time he was giving owner Rolf Nilsen's son, Hakon. Thanks to the intervention of OHL commissioner David Branch, the situation was resolved in time for Flint not to miss any scheduled games.
---
Read: The Flint Firebirds saga in one easy timeline
---
The most recent fallout from the debacle saw former GM Terry Christensen moved to a different role in the organization, while Gruden assumed the dual role of coach/GM. Although officially announced just days ago, the organizational shift had been in the works since the November incident. Gruden has already been active on the trade front as he tries to build a competitive team in the OHL's tough Western Conference.
He does have a couple of solid pieces to build around. Draft eligible Will Bitten embodies character, grit and determination. He possesses a big heart and is mature enough to take on a leadership role. He's projected to be a top 50 pick in the 2016 NHL Draft.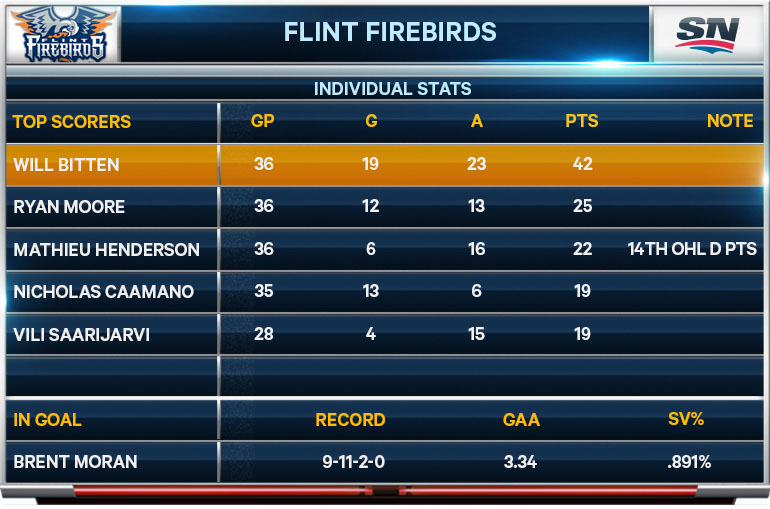 The makeup of the forward group is not quite like its predecessor. Plymouth was typically a big, playoff-built team that traditionally took off in the second half to become the playoff foe no one wanted to face. The Firebirds' current front line is not quite as big, skilled or proficient, however, as Gruden continues to put his stamp on things. Ryan Moore and Nicholas Caamano have provided ample scoring. An address change for Luke Kirwan is what Gruden hopes will spark his career. Kirwan, acquired from Windsor, was once thought to be a surefire first-round pick in 2016. His indifferent play in Windsor has altered that course, but he does have all-world skills.
Flint has a nice defensive corps. It's led by Detroit Red Wings prospect and gold medallist Vili Saarijarvi, who will play his first game since leaving for the world juniors in early December. He was brilliant for the hometown Finnish squad throughout the entire tournament. Alex Peters has good bloodlines and is a Dallas Stars prospect who's been limited to just 26 of Flint's 36 games to this point. He's a big body, shutdown player who's at his best when playing a simple defensive game. Mathieu Henderson has exceeded expectations with his offence.
In goal, Flint traded former OHL Goalie of the Year and U.S. world junior player Alex Nedeljkovic to Niagara for Stars prospect Brent Moran, who is still in the process of finding his game. While the early returns have not been great, Moran does have potential that new scenery may help realize.

NHL Drafted/Signed Players
Villi Saarijarvi, DET, 73rd in 2015
Alex Peters, DAL, 75th in 2014
Brent Moran, DAL, 115th in 2014
NHL Central Scouting
PTW B
Will Bitten
PTW C
Luke Kirwan
Under The Radar
Will Bitten plays every shift like it's his last. He's dangerous in all situations with great ice awareness, is a leader and extremely coachable.
London Knights
London returns the bulk of its offence from the world juniors. Mitch Marner looked brilliant at times for Canada, especially in their 6-5 quarter-final loss to Finland, but he did show some youth in his game and the learning experience will definitely pay dividends down the road.
Matthew Tkachuk and Christian Dvorak are bronze medalists and will be happy to be reunited with Marner as the league's most dangerous trio. In their absence, J.J. Piccinich, Aaron Berisha and Max Jones did a fine job holding down the fort.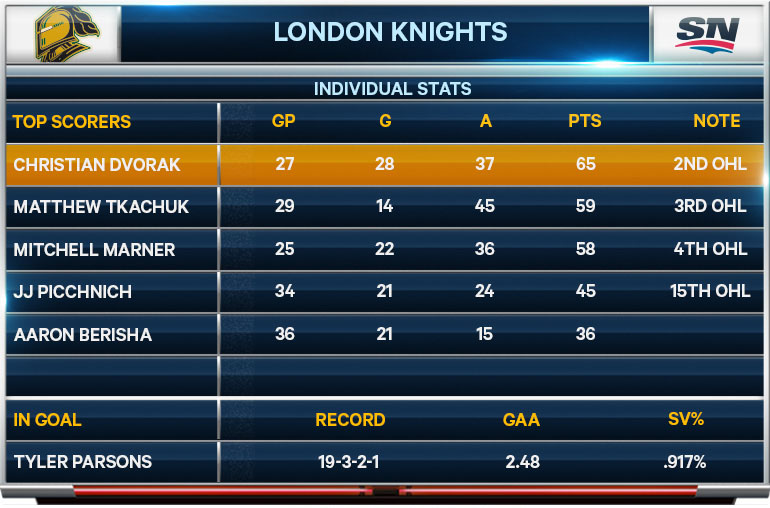 With Olli Juolevi busy having won a gold medal with Finland, the Knights got an opportunity to reignite Victor Mete and give valuable developmental minutes to future star Evan Bouchard. Nicolas Mattinen emerged over the month of December as well. London is better defensively than it gets credit for thanks to the likes of Chris Martenet, Brandon Crawley and Aiden Jamieson. Newly acquired Jacob Graves was brought in from Oshawa to be London's top shutdown defenceman.
In goal, Tyler Parsons has played once over the past seven games, while the Knights gave Brendan Burke a long look before deciding what to do with him. That rest period should serve Parsons well down the stretch for a London team that is expected to play deep into the spring.

NHL Drafted/Signed Players
Mitch Marner, TOR, 4th in 2015
Christian Dvorak, ARI, 58th in 2014
JJ Piccinich, TOR, 104th in 2014
Chris Martenet, DAL, 103rd in 2015
CJ Yakimowicz, STL, 172nd 2014
NHL Central Scouting
PTW A
Matthew Tkachuk
Max Jones
Olli Juolevi
PTW B
Victor Mete
Tyler Parsons
PTW C
Brandon Crawley
Cliff Pu
Nicholas Mattinen
Emanuel Vella
Under The Radar
Like Dmytro Timashov, JJ Picchnich is a late Toronto pick who excelled while the big boys were away at the world juniors. He has three goals and nine points in his past seven games.