Due to four games in four nights last week, there's only one game on Sportsnet's docket this weekend—an East vs. West game pitting the Niagara IceDogs in Kitchener to take on the Rangers on Friday Night Hockey.

With all the hype surrounding the re-birth of the London Knights and the success of the Connor McDavid-less Erie Otters, there's been little talk about the Rangers in the Midwest Division—but they should be considered an OHL heavyweight. For their part, the IceDogs are all-in. Niagara is stocked with NHL Draft picks and has added via trade throughout the season in an attempt to become the Beast of the East.
Kitchener Rangers
Kitchener is enjoying its first season under head coach Mike Van Ryn, who has made waves in the scouting world for the results he's achieved to this point. The Rangers started the season earning points in 16 straight games and 19 out of their first 20. The Aud has been a tough place for the opposition, where Kitchener has a league best 20 wins, tied with London.
---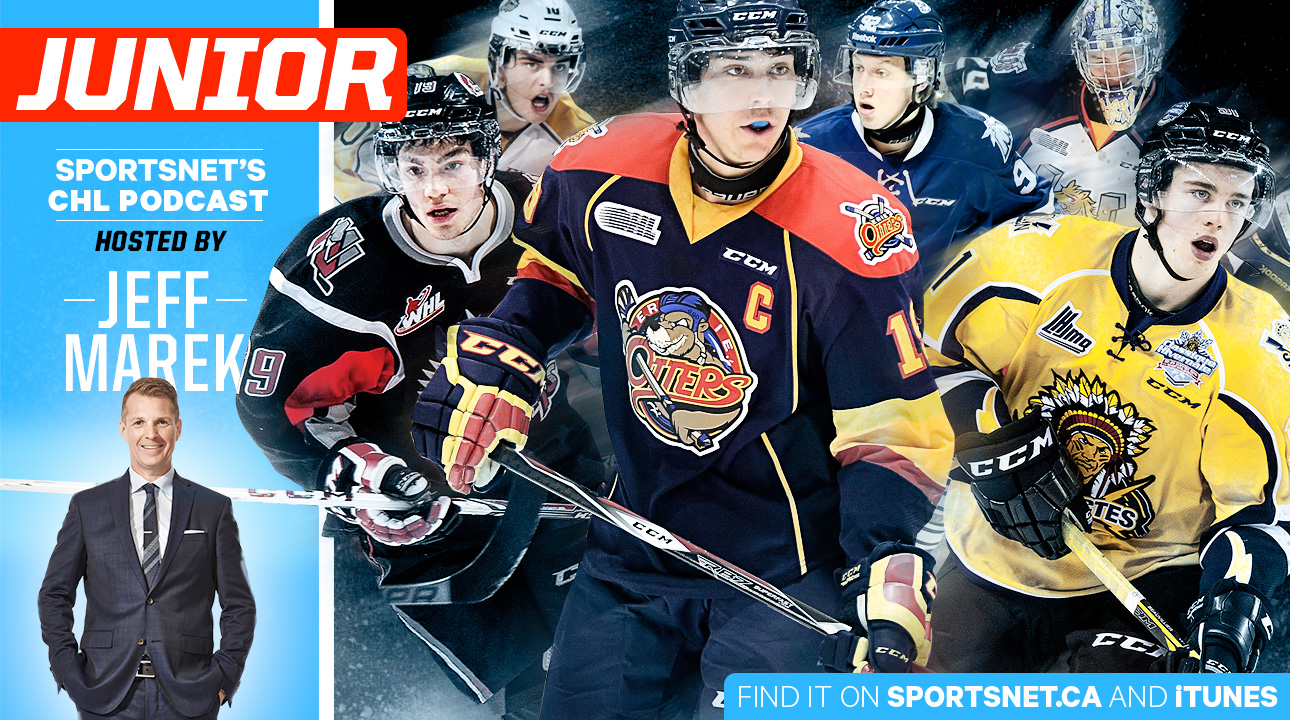 Mike Van Ryn joins Jeff this week to talk about the CHL's toughest division, coaching this generation of players and much more.
Listen now | iTunes | Podcatchers
---
Van Ryn has made his mark as a coach helping defencemen get to the next level and his team mirrors that defensive image, having allowed the second fewest goals in the Western Conference. A big part of that, has been goaltending and the addition of St. Louis prospect Luke Opilka (146th in 2015), who ranks amongst the league's best in wins, goals against and save percentage. When Opilka has been out of the lineup, Luke Richardson and Dawson Carty have done a great job holding down the fort.
Defensively, the Rangers brought in veteran Miles Liberati from North Bay for his experience and ability to add points while mentoring the up and coming Elijah Roberts. Pre-season addition Brian Brosnan is a known commodity and brings similar stay-at-home attributes as Dmitrii Sergeev and Frank Hora. Dylan Di Perna is a solid two-way contributor. Kitchener does have options with Doug Blaisdell and Connor Hall, who recently returned from a broken jaw.
Up front, Kitchener lucky to land Toronto Maple Leafs prospect Jeremy Bracco, who brings much needed offensive flair to the group. He's got great vision and is an above average puck distributor. Ryan MacInnis has come into his own in terms of consistency and draft eligible Adam Mascherin has a big league shot. He's starting to realize that his talent is only as good as his work ethic will allow it to be.
Mason Kohn and Gustaf Franzen are smaller offensive options, who the opposition can't sleep on. Connor Bunnaman made NHL Central Scouting's midterm list, while Darby Llewellyn brings Ranger know-how to the table. Brandon Robinson is highly underrated and when healthy, plays a pro-style game.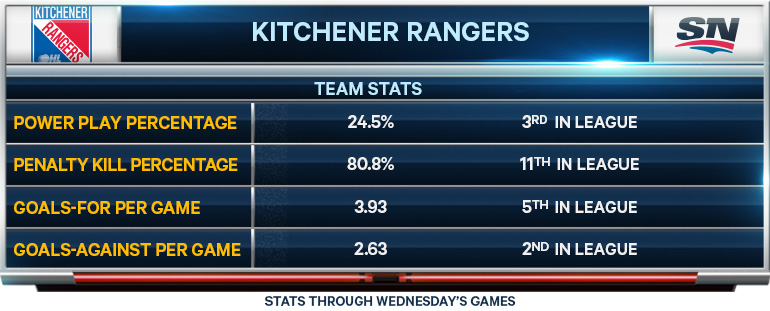 NHL Drafted/Signed Players
Ryan MacInnis (ARI, 43rd 2014)
Jeremy Bracco (TOR, 61st 2015)
Nick Magyar (COL, 93rd 2014)
Luke Opilka (STL, 146th 2015)
Miles Liberati (VAN, 205th 2013)
Dmitrii Sergeev (signed FA STL)
NHL Central Scouting Midterm Rankings
Adam Mascherin, No. 57
Connor Bunnaman, No. 81
Niagara IceDogs
An interesting case study. At their best, they should challenge for a conference title if not a shot at the MasterCard Memorial Cup. At their worst, they are a disjointed but highly talented group that could still reach some lofty goals.
As is the case with most high-end teams, it starts in goal. When Alex Nedeljkovic is on, and he usually is, he's among the best in the CHL. "Ned" has allowed three or more goals in four of his past five appearances, but his rich history trumps this latest blip on the radar. Stephen Dhillon is the backs up.
Niagara went into the year with one of the deepest bluelines in the OHL and was expected to produce offence as equally as defend. Only Vince Dunn has produced consistently. Ryan Mantha has a big shot, but has only a handful of goals to show for it. Blake Siebenaler has been steady but not spectacular. The trio of Josh Wesley, Aaron Haydon and Aleksandar Mikulovich are all big, bruising defenders who are more adept at taking care of business in their own end as opposed to leading the rush.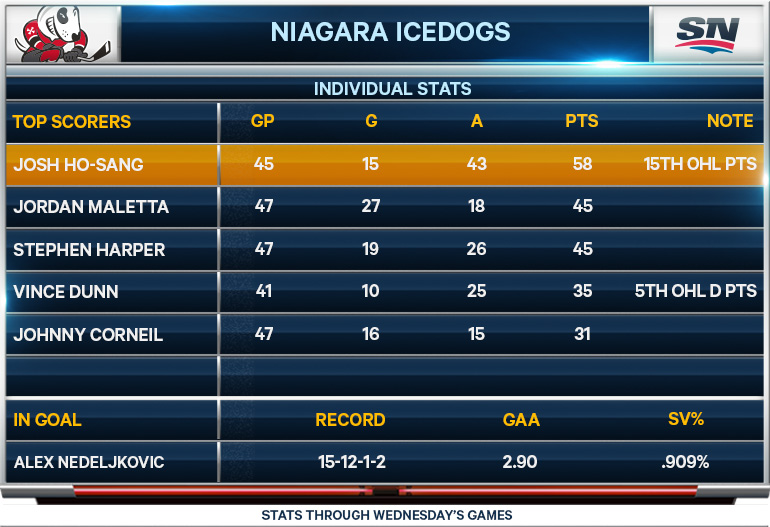 Niagara's forward corps has underachieved. Josh Ho-Sang is over a point per game, but with his skill set he should be closer to two. Jordan Maletta, Anthony DiFruscia and Pavel Jenys have held up their end of the bargain, but there is no way Arizona first-rounder Brendan Perlini (12th in 2014) should be under the point-pergame mark. He's got size, amazing speed and an even better shot that's as effective off the rush as it is standing still.
Stephen Harper and Tyler Boston were both acquired to add offence, but they have just eight points in 21 combined games. Graham Knott has also left a little something to be desired. Johnny Corneil has been a nice surprise while Christopher Paquette brings a unique skill set to the table. On paper, this offence should be in the 4 goal per game range, yet struggles to score just over 3 per game. Same with the powerplay, that at 20% is decent, but should be in the 25% range based on talent alone.
The IceDogs have a chance to do great things, but it will require everyone pulling on the rope the same way at the same time, all the time. With roughly 20% of the schedule remaining there's plenty of time for this team to come together.
NHL Drafted/Signed Players
Brendan Perlini (ARI, 12th 2014)
Josh Ho-Sang (NYI, 28th 2014)
Alex Nedeljkovic (CAR, 37th 2014)
Graham Knott (CHI, 54th 2015)
Vince Dunn (STL, 56th 2015)
Blake Siebenhaler (CLB, 77th 2014)
Josh Wesley (CARM 96th 2014)
Ryan Mantha (NYR, 104th 2014)
Aaron Haydon (DAL, 154th 2014)
Pavel Jenys (MIN, 199th 2014)
NHL Central Scouting Midterm Rankings
Christopher Paquette, No. 87