It's an OHL Midwest Division matchup that takes centre stage on Friday Night Hockey when the London Knights host the Erie Otters at Budweiser Gardens. A division title is on the line with these two teams play the first of back-to-back games to end the regular season. With a few permutations possible, we know one thing for sure: first place in the division, conference and league is up for grabs.
On Feb. 5, the Otters woke up with a six-point lead in the Midwest Division over the Kitchener Rangers. The Knights had lost four out of five games and were eight points back, but have closed the gap thanks to a streak that has seen them win 16 of 18 games. Seven of Erie's losses have come since the 10th of February, a trend started with a 4-1 loss to London on home ice.

Erie Otters
Erie won the conference a year ago and went all the way to the OHL final before bowing out to Oshawa, the eventual MasterCard Memorial Cup champion. With the loss of Connor McDavid to the NHL, nobody expected Erie to be back in this situation again, but the Otters have barely missed a beat. The Otters fell out of top spot in the CHL's top 10 rankings two weeks ago, but are still a dangerous team.
---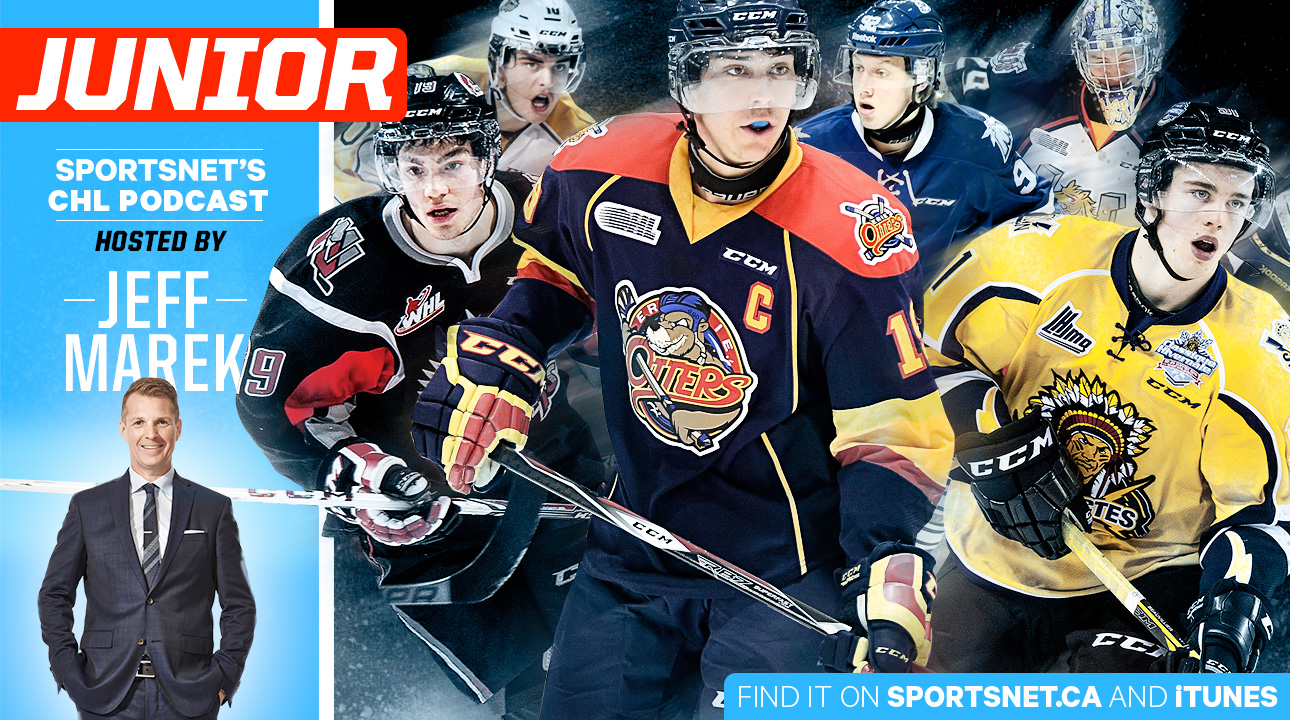 On this weeks' podcast, Jeff and Sam Cosentino preview the Erie-London series and Otters sniper Alex DeBrincat joins the show.
Listen now | iTunes | Podcatchers
---
Devin Williams has been key to Erie remaining at or near the top of the OHL all season. The overage netminder's play has been remarkably consistent, especially considering he's one of just four OHL goalies to have played more than 3,000 minutes. Head coach Kris Knoblauch has tried to work Jake Lawr into the mix, but it's been difficult with Erie's schedule and the fact they are hunting down No. 1 overall.
Ironically, it was former London general manager Mark Hunter who selected Erie defenceman Travis Dermott in the second round of the 2015 NHL Draft. Dermott played well for Canada at the world juniors and has turned himself into one of the league's very best. He produces points by playing with edge and confidence.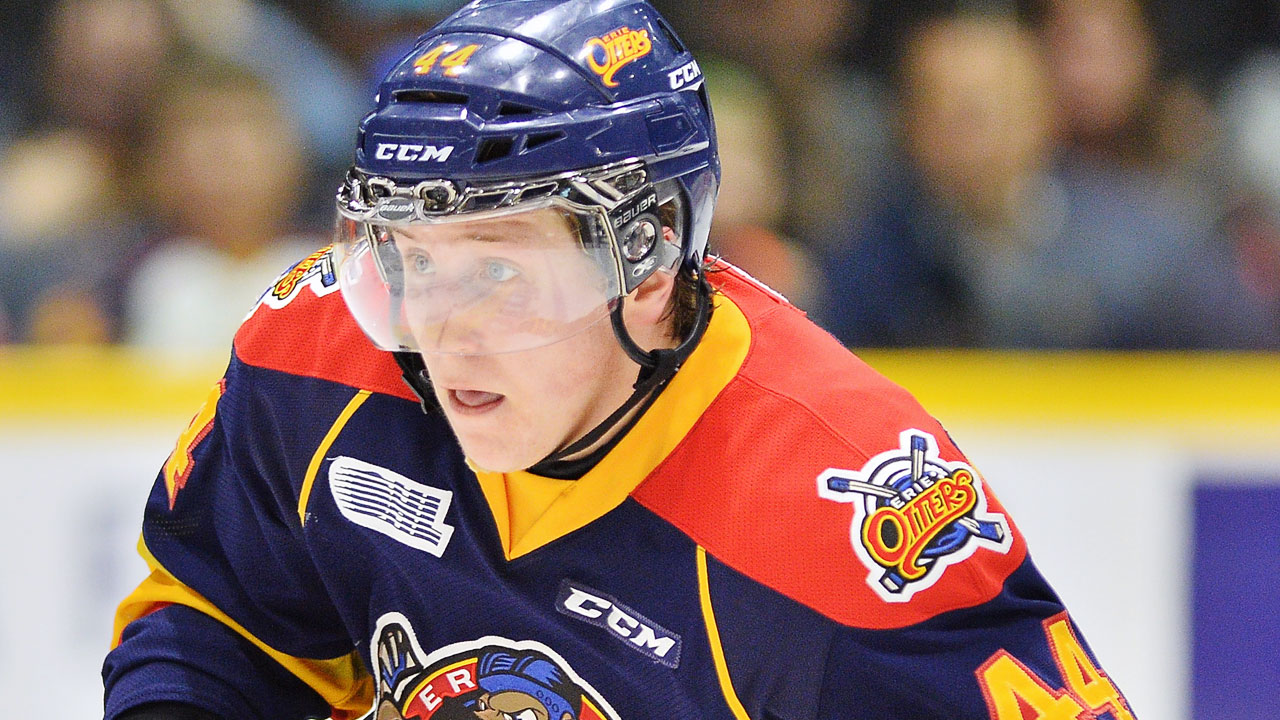 Dermott is sixth in points per game among OHL defencemen. (OHL Images)
Rookie Jordan Sambrook has been an excellent find for GM Dave Brown. Sambrook has exceeded expectations on all fronts. Erik Cernak and Taylor Raddysh are similar players in that they can defend, play with bite and chip in with point production.
Getting T.J. Fergus back at the start of the month was helpful. Overall, this is a much more mobile group than last year. None of Erie's defencemen were taken before the fourth round of the OHL Priority Selection.
The loss of Connor McDavid to the NHL was no surprise, but several players have stepped up in his absence to alleviate some of the production loss. Kyle Maksimovich has experienced almost three times the point totals as he had a year ago. Raddysh has had more than a 40-point improvement. A full season of Jake Marchment has added grit and improved point production.
Dylan Strome is on a similar pace to last year, and would be ahead of that pace if he didn't miss a month playing at the world juniors. The same can be said about Alex DeBrincat, who should best his 51-goal performance from 2014-15, but may have difficulty replicating the 103 points he totaled. Nick Betz is on a similar pace to last season. Rookies Vanya Lodnia and Brett Neumann have fit in quite nicely.
Erie Otters 50-14-1-0 (27-6-0-0 Road), 2W, 2nd Midwest Division, 3rd Western Conference, 2nd BMO CHL Top 10
| Individual Stats | | | | | |
| --- | --- | --- | --- | --- | --- |
| Top Scorers | GP | G | A | PTS | Note |
| Dylan Strome | 53 | 36 | 67 | 103 | 5th OHL Pts |
| Alex DeBrincat | 57 | 49 | 46 | 95 | 8th OHL Pts |
| Taylor Raddysh | 64 | 22 | 49 | 71 | |
| Kyle Maksimovich | 65 | 27 | 41 | 68 | |
| Nick Betz | 65 | 17 | 27 | 44 | |
In Goal
Devin Williams (39-9-1-0, 2.34, .916%)
| Team Stats | | | Rank |
| --- | --- | --- | --- |
| PP | 61/246=24.8% | | 2nd |
| PK | 36/216=83.3% | | 4th |
| GF/gm | 3.94 | | 3rd |
| GA/gm | 2.69 | | 2nd |
NHL Drafted/Signed Players
Dylan Strome (ARI, 3rd in 2015)
Travis Dermott (TOR, 34th in 2015)
Erik Cernak (L.A., 43rd in 2015)
Jake Marchment (L.A., 157th in 2014)
Kyle Pettit (VAN, 156th in 2014)
NHL Central Scouting Midterm Rankings
Alex DeBrincat, No. 20
Taylor Raddysh, No. 34
Under The Radar
Kyle Maksimovich has almost tripled his point production from last year. He sees the game well and gives a consistent effort every night. Despite being just 5-foot-9, he is starting to generate NHL interest.
London Knights
Tyler Parsons has been on fire in London's net. In his past 12 starts, he has yielded more than two goals just once and has one shutout. In order to rest him up for the big regular season ending series against Erie, Parsons was pulled about halfway through London's 7-3 win over Flint Wednesday night. Brendan Burke has the rare distinction of being an overaged backup, but has helped nurture Parsons along in his first season as the clearly defined No. 1.
Defensively, the Knights can play it a number of ways. Olli Juolevi will be taken in the first round of the NHL Draft in June and is the team's defenceman scorer from the blueline. Nicolas Mattinen has a big-league shot and is also generating plenty of NHL interest. Victor Mete is a one-man breakout and has defended better than expected; he too will hear his name called in the first three rounds in June. Chris Martenet, Jacob Graves and Brandon Crawley are all great defenders and Evan Bouchard is well on his way.
Up front, the usual suspects have continued to rip up the league. The trio of Mitch Marner, Matthew Tkachuk and Christian Dvorak have surpassed the 100-point plateau. Dvorak trails Barrie's Kevin Labanc by six points going into Friday night and will need two monstrous efforts if a Knight is going to win the scoring title.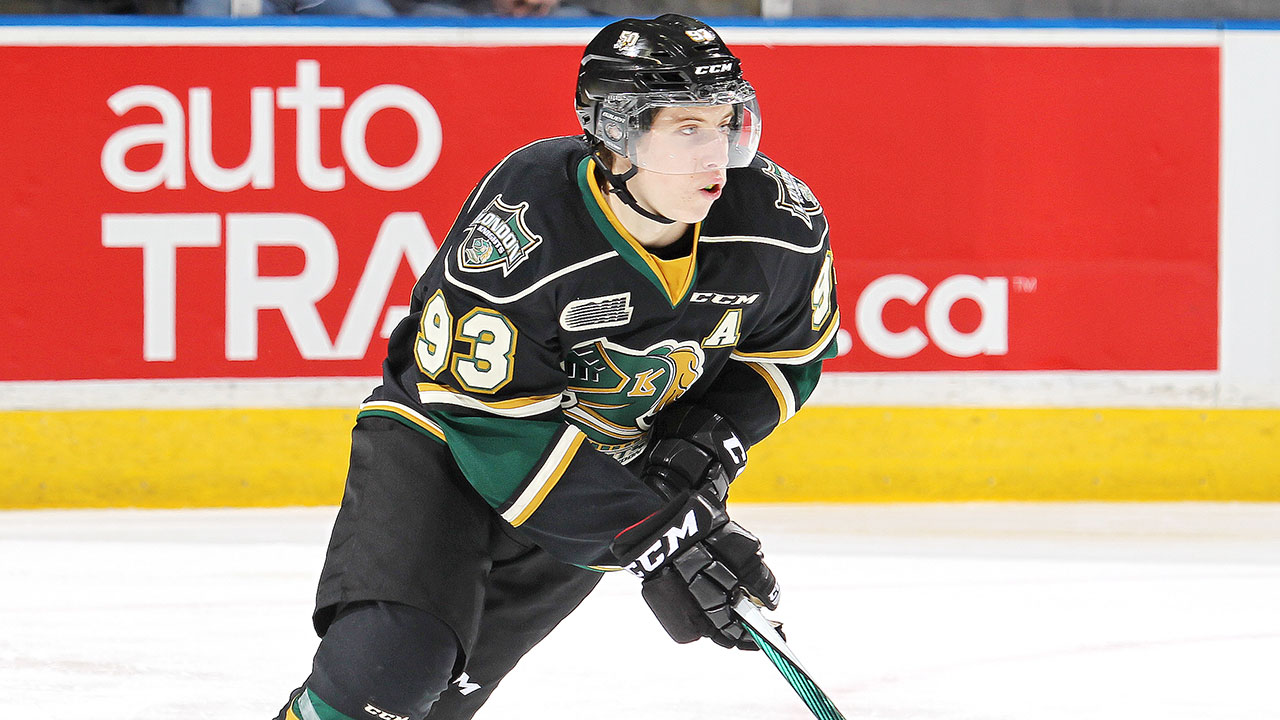 Toronto Maple Leafs pick Marner leads the OHL in points per game. (Claus Andersen/Getty)
There's plenty of secondary scoring in Aaron Berisha, Max Jones and Toronto prospect J.J. Piccinich. The forward depth extends to Cliff Pu, Daniel Bernhardt and Owen MacDonald. Robert Thomas will have to bide his time, but he looks like the real deal and C.J. Yakimowicz and Chad Heffernan can handle the rough and tumble.
London Knights 50-13-2-1 (28-3-1-1 Home), 8W, 1st Midwest Division, 1st Western Conference, 3rd BMO CHL Top 10
| Individual Stats | | | | | |
| --- | --- | --- | --- | --- | --- |
| Top Scorers | GP | G | A | PTS | Note |
| Christian Dvorak | 57 | 51 | 68 | 119 | 2nd OHL Pts |
| Mitchell Marner | 55 | 39 | 75 | 114 | 3rd OHL Pts |
| Matthew Tkachuk | 55 | 29 | 76 | 105 | 4th OHL Pts |
| Aaron Berisha | 64 | 44 | 27 | 71 | |
| JJ Piccinich | 64 | 30 | 35 | 65 | |
In Goal
Tyler Parsons (36-8-2-1, 2.30, .922%)
| Team Stats | | | Rank |
| --- | --- | --- | --- |
| PP | 90/312=28.8% | | 1st |
| PK | 555/318=82.7% | | 6th |
| GF/gm | 4.74 | | 1st |
| GA/gm | 2.65 | | 1st |
NHL Drafted/Signed Players
Mitch Marner (TOR, 4th in 2015)
Christian Dvorak (ARI, 58th in 2014)
JJ Piccinich (TOR, 104th in 2014)
Chris Martenet (DAL, 103rd in 2015)
Daniel Bernhardt (NYR, 119th in 2015)
CJ Yakimowicz (STL, 172nd in 2014)
Brendan Burke (ARI, 163rd in 2014)
Kole Sherwood (FA, CLB in 2015)
NHL Central Scouting Midterm Rankings
Matthew Tkachuk, No. 1
Olli Juolevi, No. 5
Max Jones, No. 11
Victor Mete, No. 58
Cliff Pu, No. 83
Brandon Crawley, No. 96
Nicolas Mattinen, No. 103
Tyler Parsons, No. 6 among goalies
Under The Radar
Chris Martenet has embraced the shut-down role. He consistently gets the opposition's best and often times gets in their kitchen.