Friday Night hockey features the two highest scoring teams in the OHL with the London Knights hostin the Barrie Colts at Budweiser Gardens. The Knights have lost four of their past ten games and are in the midst of the toughest stretch of their season. The Colts have one regulation loss in their past 12 and are playing the best hockey of their season.

Barrie Colts
Barrie's run-and-gun style has battled through six weeks of the season without having Mackenzie Blackwood as the last line of defence. Having dealt with suspensions and a stint at the world juniors, Blackwood is now back in his Barrie groove save for his last outing against Kingston. The New Jersey prospect is among the best in the CHL and allows Barrie to be itself offensively when he's between the pipes.
---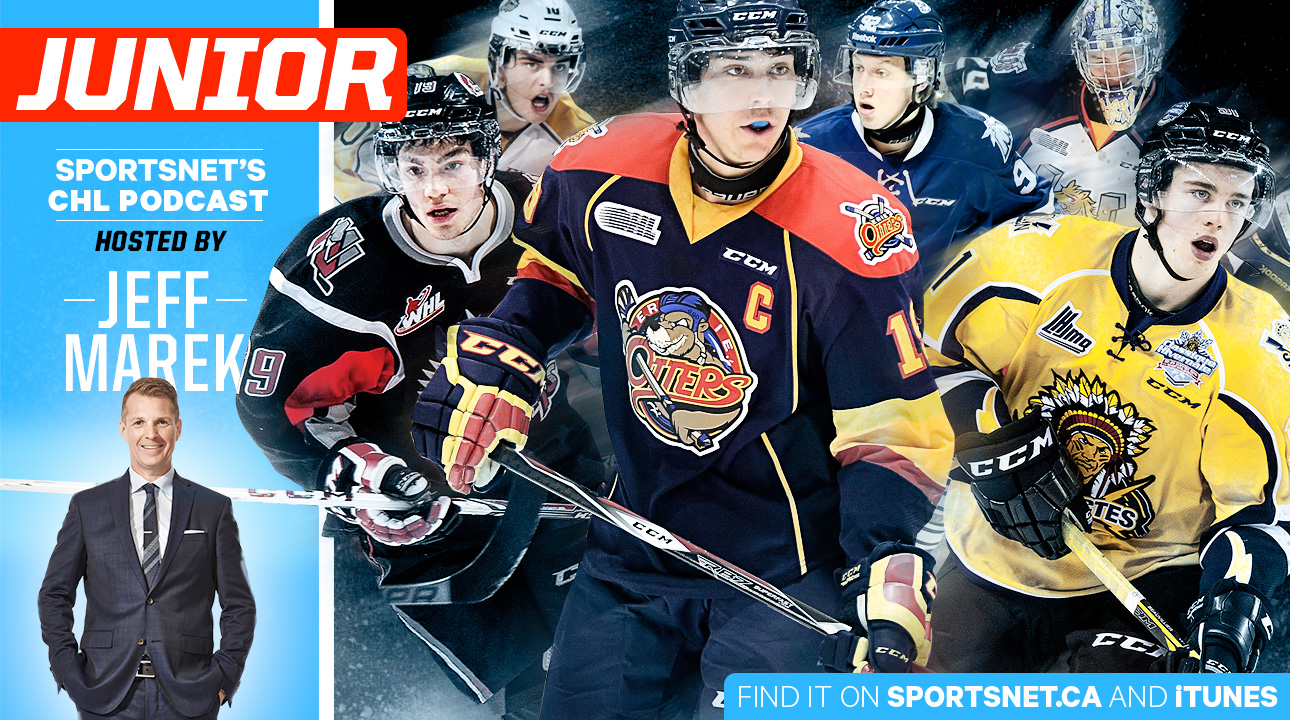 Get the lowdown from Jeff and Sam Cosentino on the Knights versus Colts, plus Barrie's Kevin Labanc joins Jeff for a wide-ranging discussion. That and much more on this week's podcast.
Listen here | iTunes | Podcatchers
---
Defensively the Colts are encouraged to support the rush, and with the likes of Calgary prospect Rasmus Anderson and free agent Michael Webster, Barrie is often coming up the ice with four skaters. But the Colts are multi-faceted with stay-at-home defencemen Cameron Lizotte and Greg Di Tomaso, and youngsters Josh Carrick and Justin Murray.
There's no player hotter in the CHL right now than San Jose Sharks sixth-rounder Kevin Labanc. He has 55 points over his pas 22 games and has multi-point efforts in each of Barrie's six February games.

Mangiapane leads the Colts in goals with 41 through 45 games. (Terry Wilson/OHL Images)
Another San Jose prospect, Dylan Sadowy has 13 goals in 14 games since coming over from Saginaw. His speed and sniping ability fit in perfectly with what Barrie wants to accomplish offensively.
And don't sleep on Andrew Mangiapane, he's on pace for another 100-point season. Julius Nattinen and Justin Scott provide secondary scoring as does Anthony Stefano, whom many thought was a throw-in in the Brendan Lemieux trade with Windsor. Roy Radke, Cordell James and Ben Hawerchuk are well appointed in bottom-six matchups.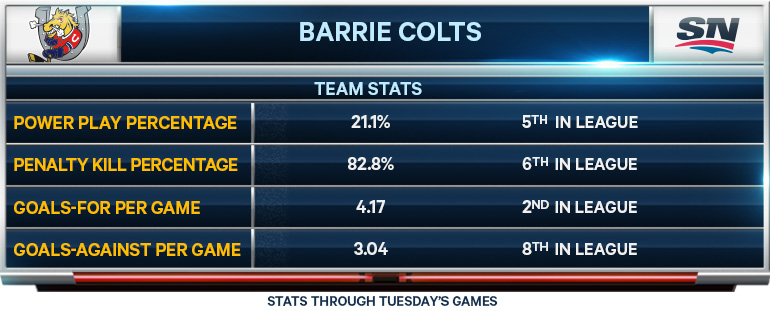 NHL Drafted/Signed Players
Mackenzie Blackwood (NJ, 42nd 2015)
Rasmus Andersson (CGY, 53rd 2015)
Julius Nattinen (ANA, 59th 2015)
Dylan Sadowy (SJ, 81st 2014)
Roy Radke (CHI, 164th 2015)
Andrew Mangiapane (CGY 166th 2015)
Kevin Labanc (SJ, 171st 2014)
NHL Central Scouting Midterm Rankings
Ben Hawerchuk, No. 159
Justin Murray, No. 171
Under The Radar
Despite being the highest-drafted forward on the Colts, Julius Nattinen falls in behind the likes of Labanc, Mangiapane and Sadowy in reputation, but his contributions all over the ice do not go unnoticed by the Colts coaching staff.
London Knights
London made a bold move when keeping 20-year-old Brendan Burke on the roster. It's not often a potential championship team has an overage, back-up netminder. Tyler Parsons is the starter and his numbers are good, but he's not played in high-pressure situations previously and with Burke as the No. 2, he does provide a decent insurance policy considering he has MasterCard Memorial Cup experience with Portland in 2013.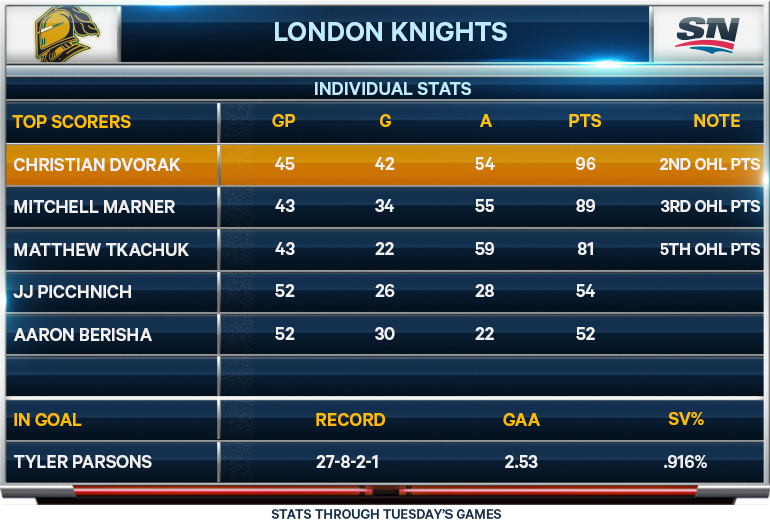 Defensively, opponents feel they can take advantage of London. Not because the group is lacking in skill, but because it lacks in experience. Victor Mete is underrated for the 2016 NHL Draft: He's an excellent skater, moves pucks well and has shown a penchant for defence this year with a plus-40 rating, among the league leaders. Olli Juolevi has more than half his points on the power play, but is a surefire first rounder.
Chris Martenet, Jacob Graves and Brandon Crawley are all similar in that they provide defensive stability. Evan Bouchard is a star in the making and has made it difficult for Dale Hunter to keep him out of the lineup.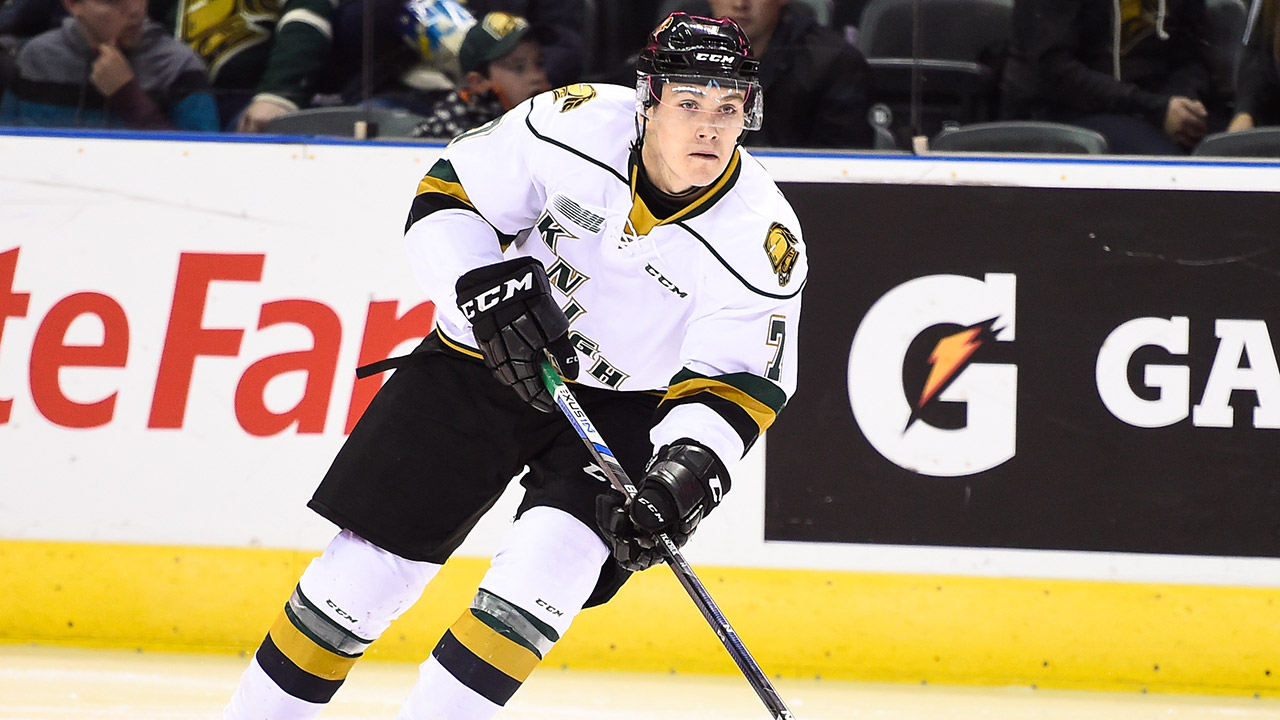 Matthew Tkachuk is the top ranked North American skater for the 2016 NHL Draft. (Aaron Bell/OHL Images)
London makes its bones up front. The trio of Christian Dvorak, Mitch Marner and Matthew Tkachuk is deadly. All three should reach the 100-point plateau and all three play big minutes, especially on the power play. Maple Leafs pick JJ Piccinich has had a brilliant campaign, as has overager Aaron Berisha, who has already hit 30 goals.
The depth doesn't end there. With Max Jones, Owen MacDonald, Cliff Pu and Kole Sherwood, the Knights make life difficult for opponents right through the forwards corps. London plays its top guys plenty, especially in the first two periods, where they're a combined plus-68 in goal differential. The special teams are also deadly, led by a power play that is operating at just under 30 percent on the season.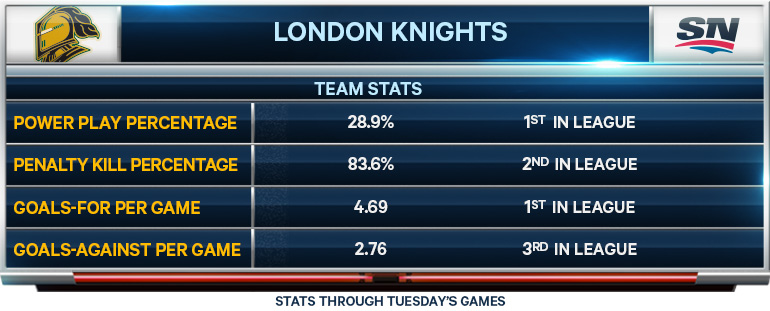 NHL Drafted/Signed Players
Mitch Marner (TOR, 4th 2015)
Christian Dvorak (ARI, 58th 2014)
JJ Piccinich (TOR, 104th 2014)
Chris Martenet (DAL, 103rd 2015)
Daniel Bernhardt (NYR, 119th 2015)
CJ Yakimowicz (STL, 172nd 2014)
Brendan Burke (ARI, 163rd 2014)
Kole Sherwood (signed FA, CLB 2015)

NHL Central Scouting Midterm Rankings
Matthew Tkachuk, No. 1
Olli Juolevi, No. 5
Max Jones, No. 11
Victor Mete, No. 58
Cliff Pu, No. 83
Brandon Crawley, No. 96
Nicolas Mattinen, No. 103
Tyler Parsons, No. 6 among goalies
Under The Radar
Cliff Pu is learning to bear down on scoring chances and has plenty of mentors to help him. He has great speed, handles the puck well and his shot is improving.