Harbour Station in Saint John, N.B., plays host to this week's edition of Friday Night Hockey, where the Sea Dogs match-up against the Cape Breton Screaming Eagles for the sixth time this season. This game also represents the first of back-to-back games these two teams will play this weekend. The Sea Dogs have dominated the season series to date with a 4-1 record.
There's plenty of intrigue in this tilt as the two teams jockey for playoff position. It's not likely either one will catch Moncton for the Maritimes Division lead, but in the QMJHL's 1-16, 2-15, etc. playoff format, top eight positioning is key.
Saint John is one of the hottest teams in the league. The Sea Dogs trail Gatineau in the standings, but have three games in hand. Meanwhile, Cape Breton has won three straight to remain in the league's top eight, but Quebec, Victoriaville and Chicoutimi are all within striking distance.
---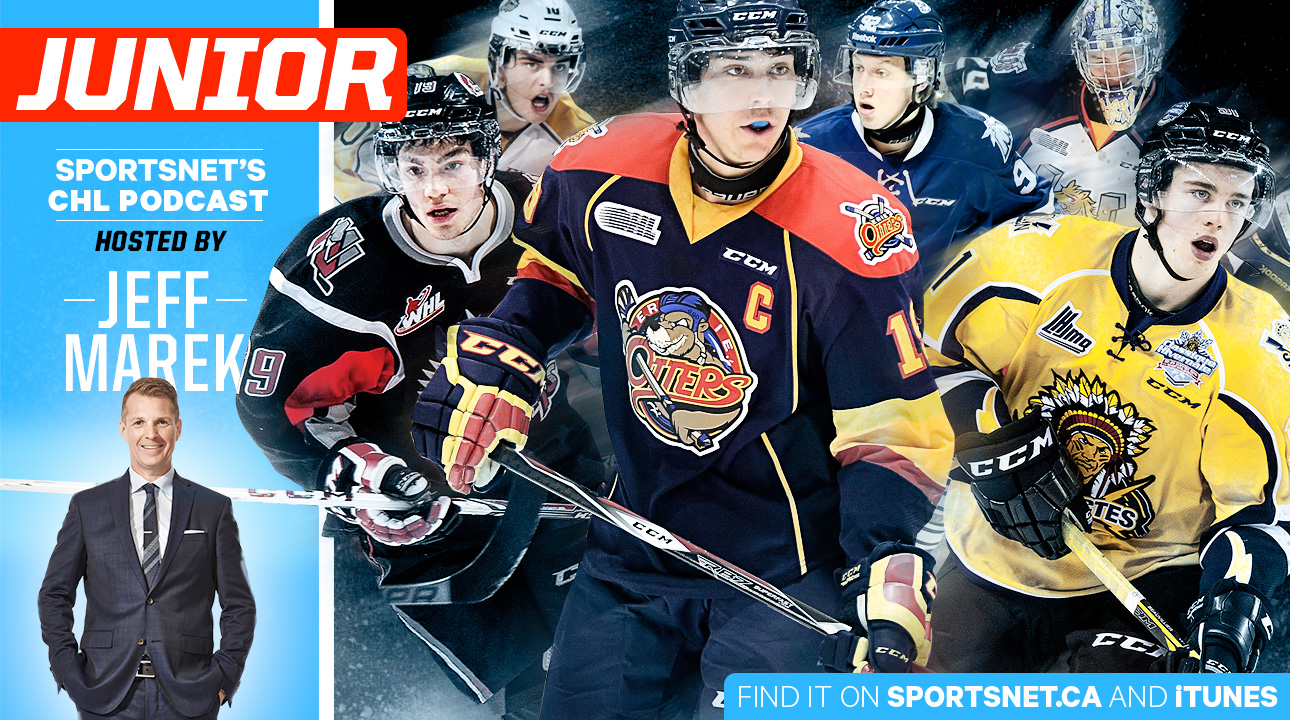 Sam Cosentino joins Jeff Marek every week on Sportsnet's CHL podcast, a one-stop shop for news, analysis, opinion and interviews covering the WHL, OHL and QMJHL. Saint John GM Darrell Young guests this week.
Listen now | iTunes | Podcatchers
---
Cape Breton
With the additions of Michael Joly, Massimo Carozza and Giovanni Fiore, the Screaming Eagles added an entire second scoring trio to a team that already featured one of the best lines in the CHL with draft eligible Pierre-Luc Dubois and Russian world junior teammates Maxim Lazarev and Evgeny Svechnikov.
In the five games since all three have been in the lineup, the new trio has combined for 13 goals and 26 points. As a team, the Eagles have outscored the opposition 36-19, winning four of the five contests.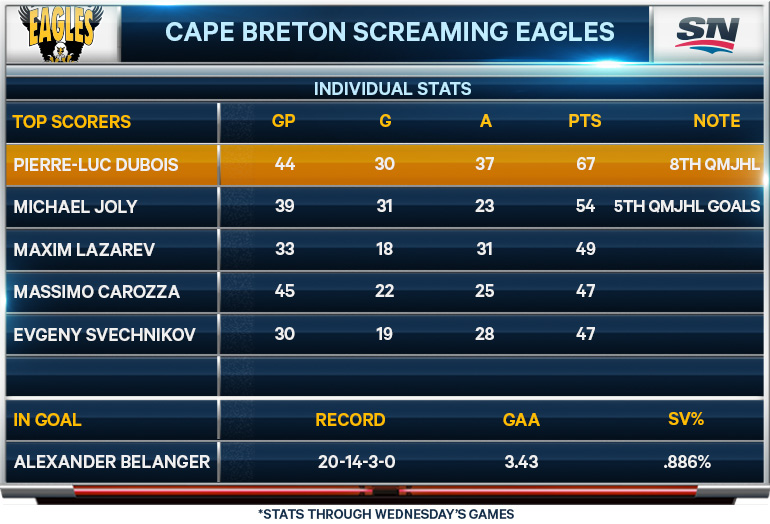 Joly and Carozza bring with them MasterCard Memorial Cup experience, while Fiore comes from a high-flying Shawinigan team that has enjoyed plenty of success over the last year and a half. Carolina prospect Clark Bishop and gritty Jordan Ty Fournier complement hard-working Phelix Martineau to round out Cape Breton's top nine up front.
Defensively, Loik Leveille and Olivier LeBlanc add offensive punch and leadership. There is a minute-eating element after that with Duncan MacIntyre and Alexandre Gosselin. Tobie Paquette-Bisson and Lee Dower complete the six defencemen set.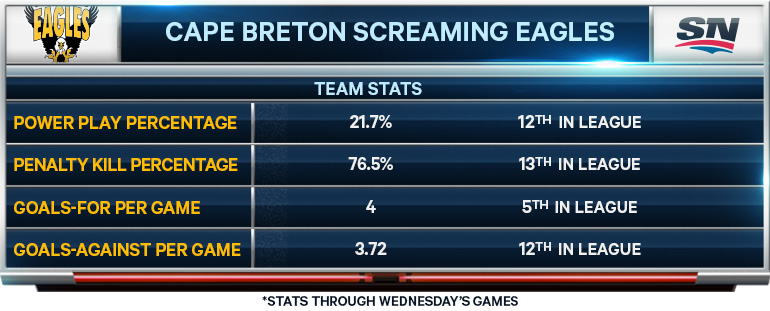 In goal, Alexandre Belanger continues to get the bulk of the work. He is backed up by seasoned veteran Darryl MacCallum.
NHL Drafted/Signed Players
Evgeny Svechnikov, DET, 19th in 2015
Clark Bishop, CAR, 127th in '14
Olivier LeBlanc, CLB, 197th in '14
Alexandre Belanger, MIN, 200th in '13 (did not sign)
NHL Central Scouting Mid-Term Rankings
Pierre-Luc Dubois, No. 7
Under The Radar
Massimo Carozza has Memorial Cup experience, is a big body that can dominate with strength. Has continued to score in all situations despite being moved from Quebec to Cape Breton.
Saint John
The Sea Dogs were expected to set the league on fire this season, but have only started to play their best hockey in the last month and a bit. Ironically, the run Saint John is currently on came at a time when the team was without top defencemen Thomas Chabot and Jakub Zboril, who where both away with their respective countries at the world juniors.
Since Mike Kelly was let go during the 2013–14 season, Saint John has experienced change at every level of the organization. It started with Ross Yates being hired as head coach and co-GM along with Christian Vermette. Darrell Young took over the GM's duties to start the 2014–15 campaign and then replaced Yates with Danny Flynn to start this season. High profile names Jeff Cowan and Paul Boutilier round out the coaching staff, while Trevor Georgie was recently introduced as the club's new president.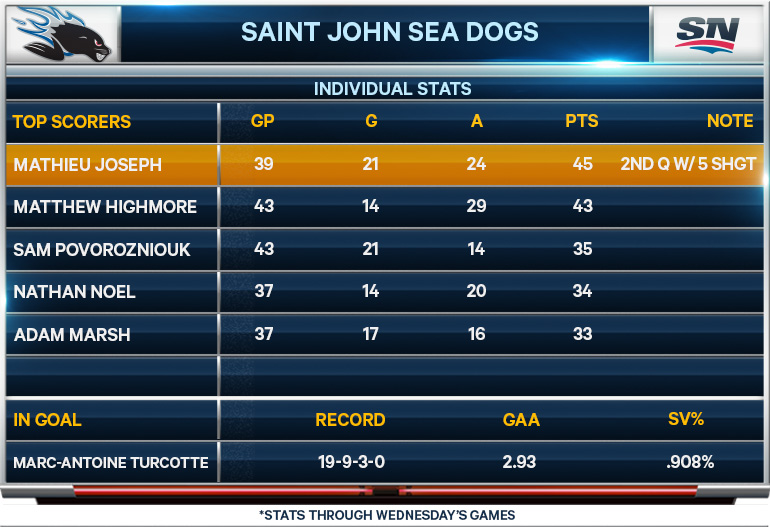 Seven Sea Dogs were selected in the 2015 NHL Draft, including Zboril and Chabot, who were taken 13th and 18th overall. Add to that, Joseph Veleno, the Q's first ever exceptional status player and you have the makings of a potential juggernaut.
Young leaves no stones unturned and has brought in players from just about everywhere to come up with the current roster. When a shift in Memorial Cup hosting rotation looked as if the 2017 edition would return to the QMJHL, everyone believed Saint John would be the front runner. The CHL has returned to it's regular rotation—the 2017 Cup will be in Ontario—but the Sea Dogs would have a team worthy of hosting.
The strength of the Sea Dogs is on defence, where Zboril and Chabot lead the way. The addition of Matt Murphy brings leadership and Memorial Cup pedigree. Luke Green is a likely second-round pick in the 2016 NHL Draft, while Oliver Felixson is projected to go later. Bailey Webster has also been noticed by NHL scouts.
The group is lead by defensive guru Paul Boutilier who was added to the coaching staff to start the season. Boutilier has not only helped craft a defensive development system but his worked with the Nashville Predators, whose reputation has always been predicated on defensive play.
Even with all the NHL picks up front, Saint John is not as dynamic as you would expect. Unheralded Tampa prospect Mathieu Joseph leads the team in points for a group that is more balanced than it is high-end. Matthew Highmore, Nathan Noel and Adam Marsh complement Sam Povorozniouk, who followed Daniel Del Paggio from the OHL. Spencer Smallman and Veleno have had similar seasons, while the Sea Dogs really miss Samuel Dove-McFalls who was injured 10 games into the campaign.
Marc-Antoine Turcotte has been a revelation in goal, emerging from the shadows of Samuel Montembault in Blainville-Boisbriand. Alex Bishop earned a relief win against Charlottetown last Friday, earning him a start against Halifax a night later, a game which he also won.

NHL Drafted/Signed Players
Jakub Zboril, BOS, 13th in 2015
Thomas Chabot, OTT, 18th in '15
Samuel Dove-McFalls, PHI, 98th in '15
Spencer Smallman, CAR, 138th in '15
Mathieu Joseph, TB, 120th in '15
Bokondji Imama, TB, 180th in '15
Adam Marsh, DET, 200th in '15
NHL Central Mid-Term Scouting Rankings
Luke Green, No. 37
Nathan Noel, No. 136
Oliver Felixson, No. 142
Under The Radar
Despite leading the team in points, Joseph was a relative unknown until the Canada-Russia Sereies in November. He may very well by the team's MVP.