With no Sunday game last week, it's been a while since our last CHL action, but we're back in action with Friday Night Hockey. It's the Kingston Frontenacs playing host to the Windsor Spitfires. Both teams are division leaders, with Kingston having held top spot in the East Division for most of the season. Windsor is not likely to catch Erie for the conference title, but winning the West Division and having second seed in the conference will be key for a more favourable first round match-up.

Windsor Spitfires
The Spitfires have a very unique situation in goal. Earlier in the season, GM Warren Rychel tabbed the services of former Spokane Chief Garret Hughson in order to work rookie sensation Michael DiPietro into the fold slowly. Hughson then became a victim of the overage numbers game, leaving rookie Mario Culina as Windsor's second goalie. Culina got into one game in November when DiPietro was at the World U-17 Challenge, and has been quite successful since replacing Hughson on the roster. There is no question about DiPietro's future, but his numbers have suffered since becoming the go-to guy.
Defensively, the Spitfires boast draft-eligible twin towers Logan Stanley and Mikhail Sergachev. Stanley is a likely first-round pick who gets better by the minute, while Sergachev has an unlimited ceiling and should be a top-10 pick in June. Jalen Chatfield has cooled off offensively since the start of the season, but he is a threat to get up and go at anytime. Patrick Sanvido and Tyler Nother are more stay-at-home types, while Andrew Burns has yet to miss a game this season.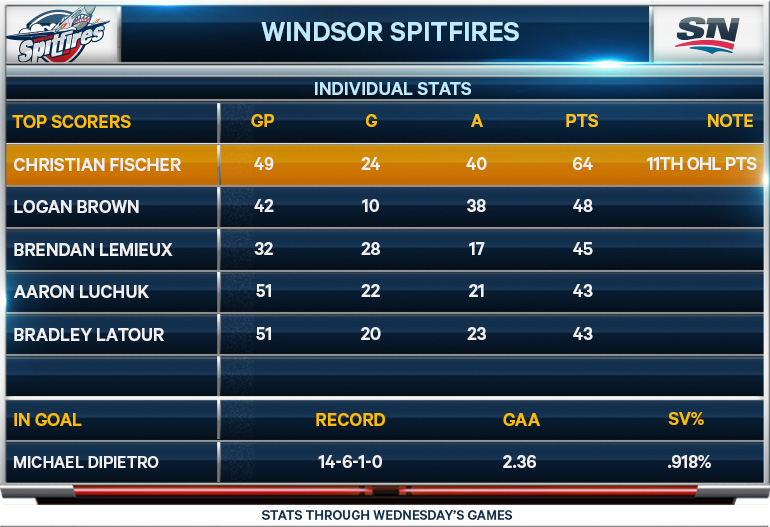 Arizona prospect, Christian Fischer, is Windsor's top point-getter. Draft eligible Logan Brown is next, but is being chased down by trade deadline acquisition Brendan Lemieux, who is averaging almost a goal per game since coming over from Barrie.
Bradley Latour and Cristiano DiGiacinto add grit and experience to the front line, while Connor Chatam is still finding his way in a world where he doesn't play as many minutes as he did in Flint.
The Spitfires are ahead of schedule thanks to some standout performances by a few unsung players. Aaron Luchuk, and rookies Cole Carter and Gabe Vilardi have exceeded expectations and have experienced deep developmental curves under the tutelage of first year head coach Rocky Thompson. Mads Eller was an interesting pick-up by Rychel. He has a Mastercard Memorial Cup ring from Edmonton's win in 2014.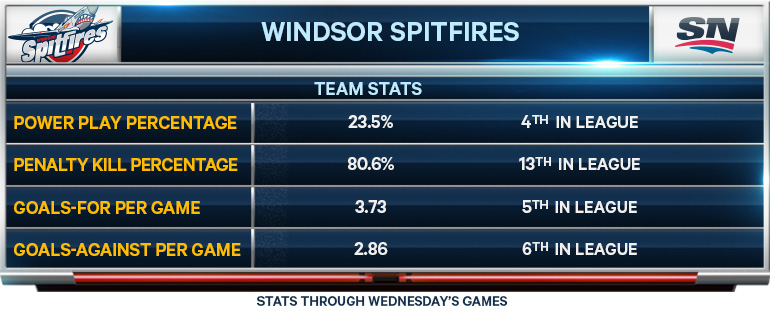 NHL Drafted/Signed Players
Brendan Lemieux (BUF, 31st in 2014)
Christian Fischer (ARI, 32nd in 2015)
Connor Chatam (NJ, 71st in 2014)
Cristiano DiGiacinto (TB, 170th in 2014)
Markus Soberg (CLB, 165th in 2013)
Patrick Sanvido (DAL, 195th in 2014)
NHL Central Scouting Midterm Rankings
Mikhail Sergachev, No. 10
Logan Brown, No. 14
Logan Stanley, No. 23
Under The Radar
A trip back to his hometown of Kingston is always welcome for Aaron Luchuk, who has nearly doubled his point production from a year ago. Of his 43 points this season, 41 have come at even strength.
Kingston Frontenacs
Under Paul McFarland, Kingston will always play a defence-first style of game. In goal, Jeremy Helvig is starting to sneak-up on Lucas Peressini. Helvig has started three of Kingston's past five games, winning one and dropping the other two in the shootout. Meanwhile Peressini has allowed 12 goals in his past three starts, having been pulled in a 5-2 loss on Jan. 29 to Owen Sound.
Michael Dal Colle has recorded at least one point in 13 of the 14 games he's played for Kingston, including nine multi-point efforts. What's even more impressive is he's made an already good Spencer Watson even better.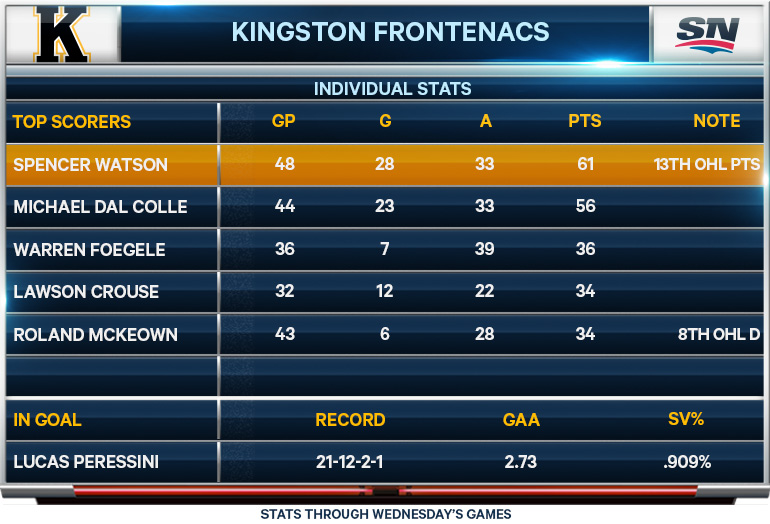 Since Dal Colle's arrival, Watson has doubled his production, averaging two points per game. Warren Foegele has been a great addition as a puck distributor. Lawson Crouse continues to go about his business as a pro despite numbers that don't dazzle. Juho Lammikko is an honest, two-way player who is good on the power play.
The Frontenacs have had huge performances from rookies Jason Robertson—who ranks third on the team with 16 goals—and Ryan Cranford, whose gritty style suits coach Paul McFarland to a tee.
The Frontenacs have nice balance between offensive and defensive defencemen. Stephen Desrocher and Roland McKeown have combined for almost 70 points. Chad Duchesne and Liam Murray are solid minute-eaters. When Nathan Billitier and Konstantin Chernyuk return from injury, Kingston's blueline will have great depth. In the interim, Jacob Paquette and Graeme Brown have been given more minutes than expected and have performed well.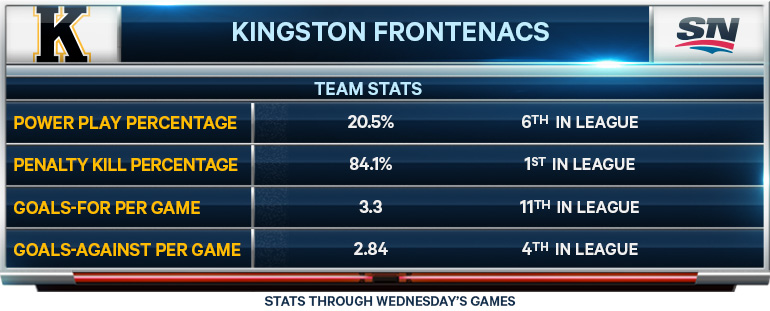 NHL Drafted/Signed Players
Michael Dal Colle (NYI, 5th in 2014)
Lawson Crouse (FLA, 11th in 2015)
Roland McKeown (LA, 50th in 2014)
Warren Foegele (CAR, 67th in 2014)
Juho Lammikko (FLA, 65th in 2014)
Stephen Desrocher (TOR, 155th in 2015)
Spencer Watson LAK 209th 2014
NHL Central Scouting Midterm Rankings
Konstantin Chernyuk, No. 104
Under The Radar
Ryan Cranford is the only Frontenac to have played in every game. That's a big accomplishment considering how hard he plays.