It's the All-Star break in the NHL, but there's plenty of action going on around the Canadian Hockey League.
It will be a battle of the Kings at Rexall Place as Edmonton hosts Brandon on Friday Night Hockey in the third of four meetings between the two Eastern Conference rivals. Edmonton won the first two meetings by identical 4-3 scores, both of which were decided past regulation.
---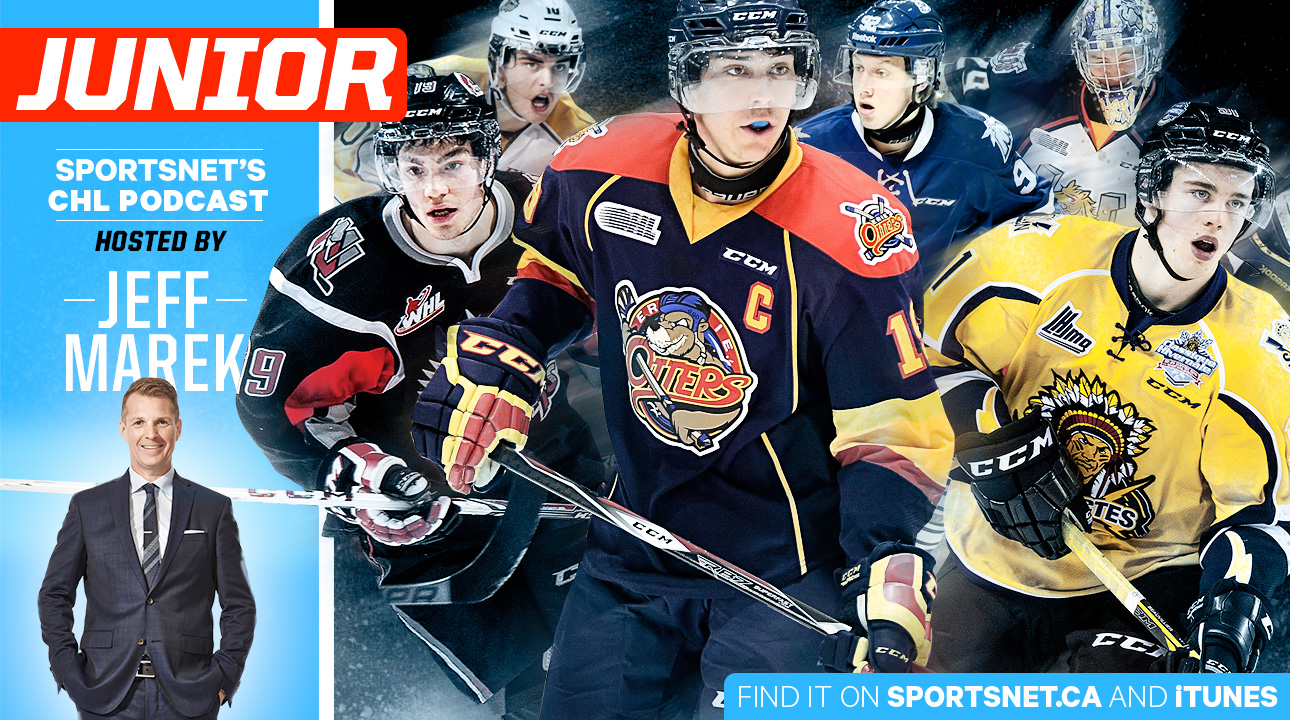 Sam Cosentino joins Jeff Marek every week on Sportsnet's CHL podcast, a one-stop shop for news, analysis, opinion and interviews covering the WHL, OHL and QMJHL. Saint John GM Darrell Young guests this week.
Listen now | iTunes | Podcatchers
---
Brandon Wheat Kings
As expected, Brandon has established itself as the class of the Eastern Division with a seven-point lead over Prince Albert. The Wheat Kings have been on quite a run over the last month and a half, compiling a record of 12-3-1-0 since Dec. 12. Brandon has locked it down defensively of late with three of its last four wins coming by way of shutout and lead the Eastern Conference in goals against.
For a division-leading team, Brandon's special teams numbers are very pedestrian with the the 11th ranked power play and the 16th ranked penalty kill in the WHL. Having said that, the Wheat Kings have been short-handed 154 times, second fewest in the league.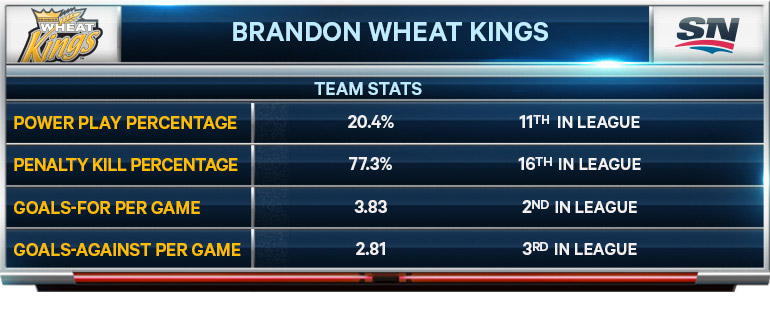 Goaltender Jordan Papirny is riding a shutout streak of more than 122 minutes but has not fared well against Edmonton, allowing seven goals in two starts.
The back end is led by Philadelphia Flyers first-rounder Ivan Provorov, who continues to put up impressive numbers at both ends of the ice, while Macoy Erkamps is among the league's top scoring D-men. To lock things down GM and head coach Kelly McCrimmon acquired Mitch Wheaton and Schael Higson from Saskatoon. Draft eligible prospect Kale Clague will be fresh in the minds of CHL fans having played for Team Cherry in the Top Prospects Game. While he is healthy, it will be interesting to see if he is in the lineup due to Brandon's heavy weekend schedule and having to travel on game day.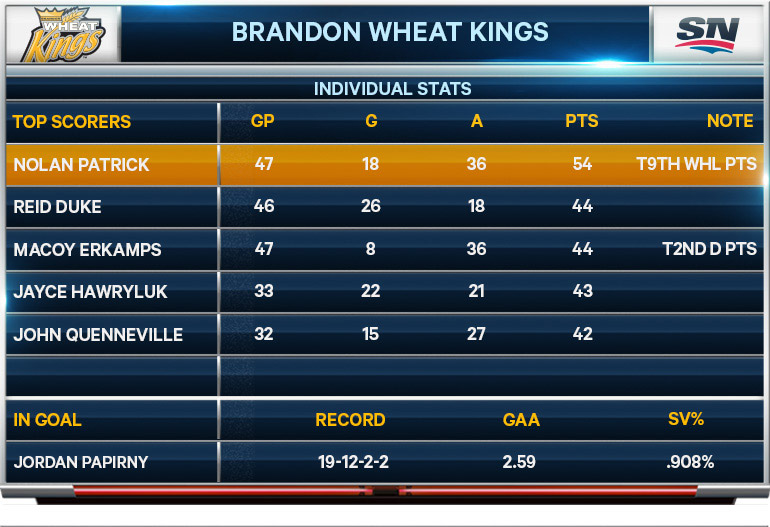 Up front, it's the regular cast of characters with Jayce Hawryluk, John Quenneville over-ager Tim McGauley, Reid Duke and budding superstar Nolan Patrick, who leads the team in scoring. Of Patrick's 54 points, 36 of them have been tallied at even strength. Duke has come into his own and leads the Wheaties with five game winners, while Hawryluk and Quenneville are pesky point producers who have succeeded at more than a point per game.
NHL Drafted/Signed Players
Ivan Provorov, PHI, 7th in 2015
John Quenneville, NJ, 30th in 2014
Jayce Hawryluk, FLA, 32nd in 2014
Mitch Wheaton, DET, 139th in 2013
Reid Duke, MIN, 169th in 2014
NHL Central Scouting MId-Term Rankings
Kale Clague, No. 22
Tanner Kaspick, No. 76
Under The Radar
Tyler Coulter is as reliable a player as there is on Brandon. He's appeared in 162 of Brandon's last 165 games and plays in all situations, chips in with offence and doesn't hurt you defensively.
Edmonton Oil Kings
This is not the Edmonton Oil Kings of old. Just two seasons removed from winning the MasterCard Memorial Cup, Edmonton is hanging on for dear life in the Eastern Conference playoff race. While a divisional post-season berth is unlikely, the Oil Kings still hold the second wildcard spot with both Medicine Hat and Saskatoon within striking distance. The Oil Kings have won just three of their last 10 games.
Goal scoring has been a major concern for Edmonton — the Oil Kings rank third-last in the conference with just 129 goals for and have just seven goals in their last five games. When it was thought GM Randy Hansch was going to be a seller at the trade deadline, he held his ground and kept his top producing players to make a run for the playoffs — a bold move considering their slim lead in the wild-card race.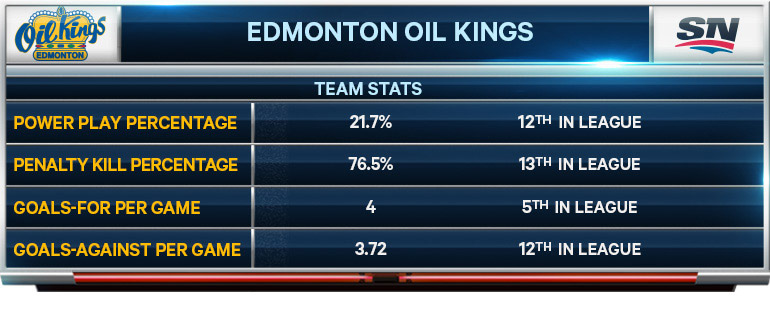 Leading the way offensively is Dallas Stars pick Brett Pollock, whose skill set is off the charts. He has five game-winning goals and is plus-15 on a team that is offensively challenged. Inconsistency is still an issue for Pollock, but when he's on he's dangerous. Lane Bauer is also at the top of the charts, leading the team with 21 goals. Secondary scoring is provided by super beast Brandon Baddock, Tyler Robertson and import Dario Meyer. Luke Bertolucci has had an off year and the Oil Kings are expecting big things out of youngsters Andrew Koep and Davis Koch in the future.
Dysin Mayo was one of the most coveted players at the WHL trade deadline, but in order to make a push for the playoffs his presence in Edmonton's lineup was essential. He draws all the top assignments, quarterbacks the power play and is a team leader. Aaron Irving is still a work in progress, but there are some tools there — four of his five markers have come on the power play thanks to his great shot. Ben Carroll and rookie Brayden Gorda have had solid seasons. Two other rookies, Anatolii Elizarov and Jordan Dawson, round out the top six.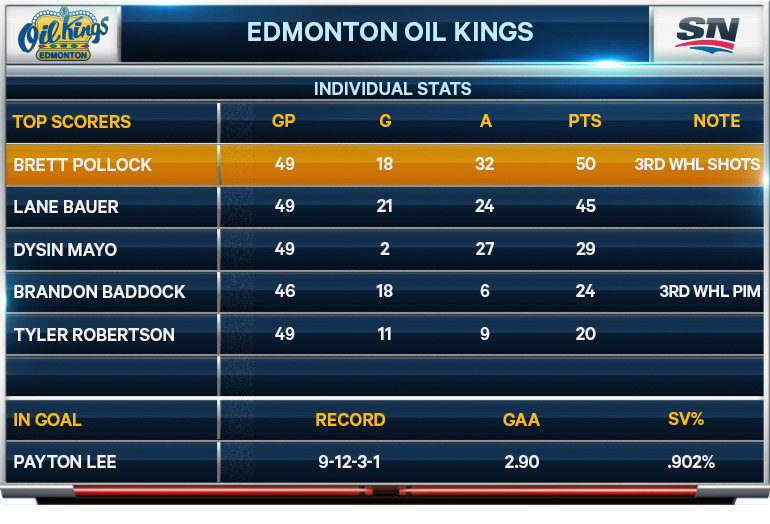 In goal, Payton Lee has taken over the starting job from Patrick Dea. Lee has allowed just eight goals in his last five appearances, but has suffered from lack of goal support. Lee has shaved almost a goal per game off his docket since coming over from Vancouver.
The Oil Kings aren't likely to blow anyone out, as they have played 38 games decided by two goals or less.
NHL Drafted/Signed Players
Brett Pollock, DAL, 45th in 2014
Dysin Mayo, ARI, 133rd in 2014
Alec Dillon, LA, 150th in 2014
Brandon Baddock, NJ, 161st in 2014
Aaron Irving, NAS, 162nd in 2014
Under The Radar
Payton Lee has put up big-league numbers in January (4-3-2-0, 1.93, .928SV%) and will have to continue his solid play if the Oil Kings plan on playing in the post-season.