KINGSTON – Lawson Crouse comes barrelling in on an Oshawa Generals defender. Now he's digging. Crouse is in the corner with two Generals, and somehow No. 67 for the Frontenacs has the puck. Crouse loses it then runs over a General and gets it back. He brings it around the Oshawa net and dishes to a teammate, the result of 20 seconds of crashing and banging. As Crouse skates off for a rest, Frontenacs fans cheer. That was one heck of a forecheck.
Meet the kid they call "The Sheriff."
You might think they call Crouse that because he runs Kingston. That's not it. You might take one look at him and figure it's because of his size, and because he'll drop the gloves to protect his teammates if the situation demands it. (He does lead his team in PIM.) But that's not it. You might think he earned the badge thanks to his stats. That's not the case either. You might even think it's because he was a surprise invite to Canada's world junior selection camp. But, no. There's more to Crouse than all of that.
Sit down with the left-winger from tiny Mt. Brydges, Ont., and you'll almost immediately notice a maturity you won't find in most his age. Maybe it's because Crouse's mom is a principal. "She's always reminding me to focus on school," he says. (He's an A student.) The kid with the reddish-blond hair is sitting in a Kingston hotel restaurant, wearing dress shoes, dark pants and a button-up shirt, talking about how he has to be a leader since he's now in his second year in the Ontario Hockey League. "Obviously I have to preach to the young '98s, tell them what's going on and how to adapt to the game," Crouse says. (He's an old '97.) "It's a big step up for them. Since I'm always around them and I pick them up on the way to school, I think I can help that way." So he drives the rookies to school, almost like a parental figure? "Yeah," Crouse says, grinning. "Exactly."
That's the reason for the "Sherrif" tag: Crouse feels responsible for these Frontenacs. It's the type of quality a coach will boast about. "He's the kind of role model we want to represent not only our team and our league, but the game of hockey," says Frontenacs bench boss Paul McFarland. "He's someone all the younger guys on the team—and even some older guys—look up to."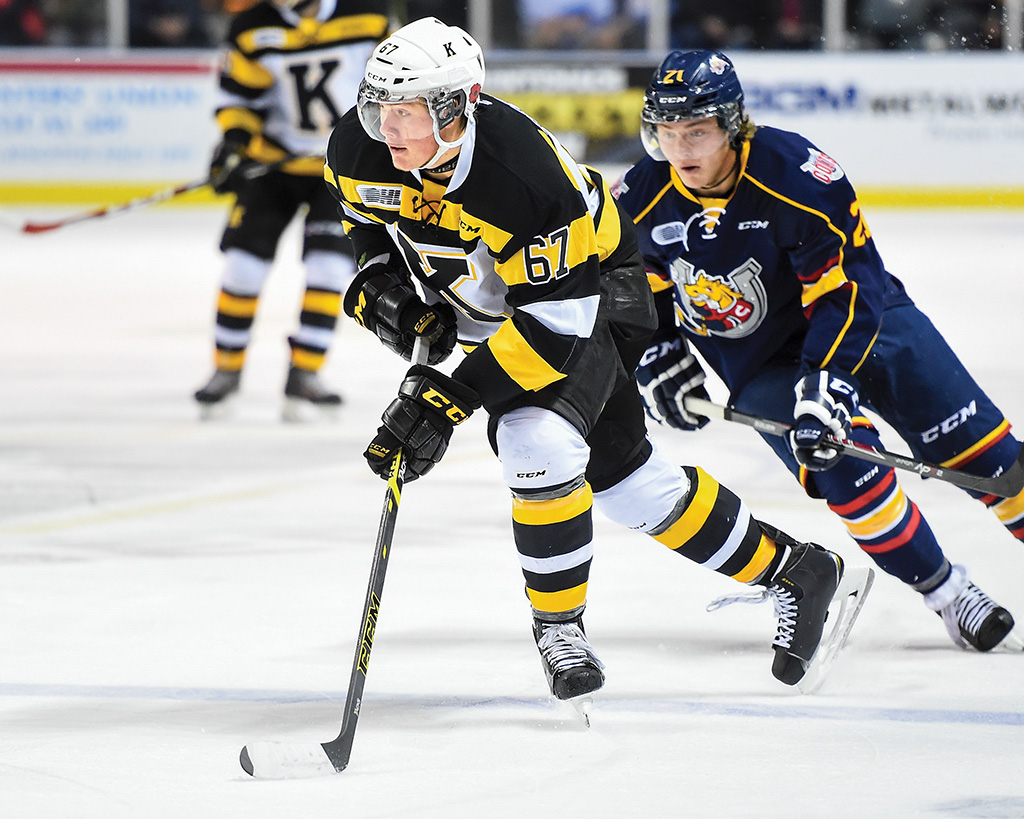 (Aaron Bell/OHL Images)
The first thing you'll notice when you sit down with Crouse, though, is his impossible-to-miss size. He is six-foot-four in a way few 17-year-olds are six-foot-four—his is not a lanky frame. And with 10 extra summertime pounds, he now tips the scales at 215 lb. Of his size, one NHL scout says, "It's an anomaly." His largeness is so ubiquitous a topic that you won't speak to a hockey mind about Crouse without hearing the word "big" or "power" in the first sentence. As one NHL club's head scout puts it, "He's not someone who can manoeuvre quickly in and out of tight spaces. He bowls his way through." Crouse is a textbook power forward who uses his big frame to create opportunities for his linemates and himself. That's among the reasons you'll find him on NHL teams' radars as a possible top-five pick next June.
Of the pressure that comes with the ranking, Crouse says he learned a lot as an OHL rookie under the wings of older teammates like Roland McKeown and Sam Bennett. Crouse billetted last season with the same local family as Bennett, who was taken fourth overall by the Calgary Flames in June. "He had a lot more of a spotlight because he was rated so highly, but I was used to seeing all the attention he got last year, so I knew a little bit of what to expect," Crouse says.
He has looked at NHL draft rankings "a couple times," but he tries not to pay attention. Sometimes, though, it's unavoidable. "I was out bowling one night, and a buddy was like, 'Hey, look up on TV.' And it was me. It's kinda cool. I'm not an attention-seeker, but when all this stuff surrounds you, it pushes you to be better."
That work ethic is something McFarland noticed right away in Crouse. "That's my favourite thing about Lawson," he says. "He always wants to work on extra things and shoot more pucks than everybody else. I think he's never satisfied. He brings those intangibles that you'd love to see in every player, where he's willing to block shots and play physically and do all the right things. I trust him just as much as any player we have."
From the beginning of the season, McFarland has noticed an improvement in Crouse's ability to keep the puck on his stick in the offensive zone and take advantage of his chances. That work ethic and improved play hasn't been lost on scouts, either: "Internally," says one, "he's very driven."
Crouse got his start at age four or five with the Mt. Brydges Cougars minor-league system, the youngest of three, with two older sisters (they never beat him up when he was younger, "because I was always tall"). He spent hours on the backyard rink with his sister Kyla, who now plays for the varsity women's team at Queen's. His dad took him to London Knights games when he was a kid (Sam Gagner was his favourite player), and after he made the jump to AAA with the Elgin-Middlesex Chiefs, Crouse set his sights on the OHL. He attended the PEAC School for Elite Athletes in Toronto, along with his former Chiefs centreman and best buddy, 2013 OHL Rookie of the Year Travis Konecny. At PEAC, Crouse was on the ice 50 minutes a day during school hours, and he worked out every morning.
Kingston made Crouse the fifth-overall pick in 2013, and he was voted to the second OHL all-rookie team. He earned a spot on Canada's roster at the world under-18s in Finland last spring, one of three underagers to do so, and scored the winner in the bronze-medal game. Last summer, between workouts and time spent fishing at the family cottage, he starred for Canada at the Ivan Hlinka Memorial Tournament, potting six goals in five games, including two in a 6–2 win over the host Czech Republic to secure gold.
But the scoresheet doesn't show much of what makes Crouse so valuable. His numbers this season won't blow your socks off. Crouse is nowhere near others in this draft class in points, but he's still flying past many of them in the rankings. That's because he creates opportunities, and you'll often find him planted in front of the net or digging a puck out of the corner for a teammate while he punishes the opposing team. "I like to scare the D a little bit," Crouse says, smiling.