VANCOUVER—Even before it was his turn, Brett Howden was familiar with the anxiety that can come with being a top prospect in his draft year. When his brother, Quinton, was awaiting his fate in the 2010 NHL Draft, Howden was in attendance at the Staples Center in Los Angeles. "I heard some talk in the bathroom that he was going to Pittsburgh, 20," says Howden. When Quinton wasn't selected with the 20th pick, Howden began to panic. Luckily enough, that panic was short-lived. The Florida Panthers took Quinton at No. 25, which felt like "a weight coming off my shoulders," explains Howden. "And it wasn't even me."
Ahead of the 2016 BMO CHL/NHL Top Prospects Game at Pacific Coliseum, Sportsnet sat down with Howden and his fellow CHL stars to get to know them a little bit—and to find out what it's really like to be a prospect in his draft year. One thing was clear: The players see the game as a chance to prove their worth, and maybe even improve their draft stock.
---

Team Cherry vs. Team Orr, Thursday on Sportsnet East, Ontario, West, and Pacific
---
STILL GROWING
With so much attention placed on these players, it's easy to forget that they're still just teenagers. But here's a helpful reminder: Many of them are still dealing with the awkwardness brought on by adolescent growth spurts.
Six-foot-six centre Logan Brown says the biggest challenge of shooting up so quickly is "finding your legs." He adds: "For a year or two I've been saying I'd like to stop growing. Six-five, six-six is good enough for me."
Tim Gettinger, also six-foot-six, had his biggest growth spurt the year he went from six feet to six-four or six-five. "I had trouble skating," he says, noting that he's finally starting to feel more comfortable in his own body.
The tallest of the bunch, Logan Stanley, stands six-foot-seven. He's pretty sure he's done growing, though. "I haven't grown for a few months," says Stanley, who looks to vertically gifted NHLers like Zdeno Chara and Tyler Myers for inspiration.
While being a teenager learning to live in your body can be a challenge, that height is an obvious advantage, too. "Having a long reach, that helps a lot, breaking up plays," says Stanley.\
---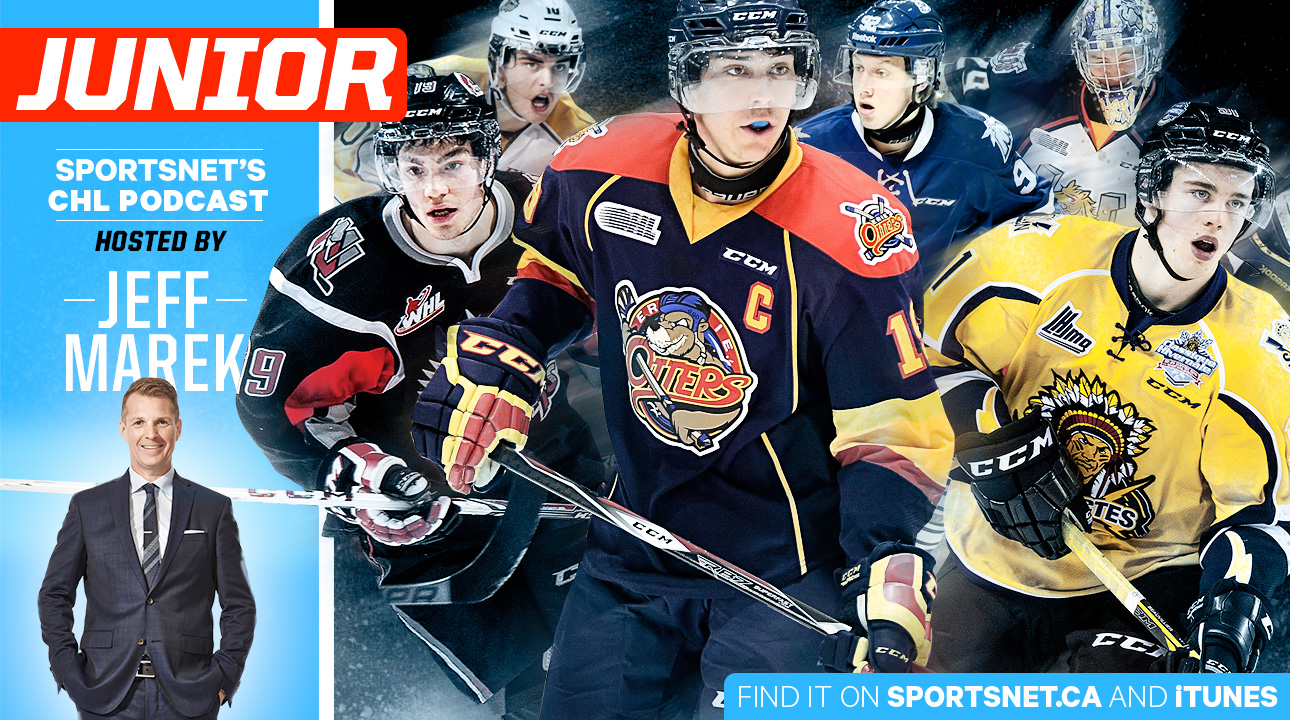 Jeff Marek hosts Sportsnet's weekly CHL podcast. Listen to his Top Prospects preview pod now and a post-game show Thursday/Friday.
Listen now | iTunes | Podcatchers
---
THE RIGHT DIET
Goalies are notoriously superstitious, but Carter Hart is mostly just obsessive about his diet. "I eat the same food at the same time," he explains. He'll consume three eggs, two pieces of toast and a glass of chocolate milk for his 8:30 a.m. breakfast. At lunch, he'll eat two chicken wraps—prepared, he's very careful to point out, on a George Foreman Panini press. Then, at 3:15, he'll eat a plate of chicken penne alfredo.
BEST FRIENDS DO EVERYTHING TOGETHER
There are multiple sets of best friends in this year's crop of top prospects. Sean Day and Max Jones are more or less inseparable during their off-seasons, though Jones admits to not always liking him. "I grew up hating him first," he says.
Logan Brown and Jakob Chychrun are best friends, too. "It's pretty special to be going through something like this with my best friend," says Brown.
SIBLING RIVALRIES
While Brett Howden was happy to see his brother land with Florida with the 25th pick, make no mistake: Howden intends to best his brother's result. "He knows I'm trying to beat that," Howden says, laughing.
Alex Nylander of the Mississauga Steelheads agrees; he's looking to beat his brother, William, taken by the Toronto Maple Leafs with the eighth pick in 2014.
Luke Green, meanwhile, ranked 37th in the NHL Central Scouting midterm report, is hoping his twin brother, Matt, who also plays for the Saint John Sea Dogs, will get a shot at a pro hockey career. "He's pretty underrated," says Green.
WATCHING THE RANKINGS
Do the players pay attention to the rankings? The results are mixed.
"I put enough pressure on myself," says Sam Steel, who concedes that when the rankings are talked about on Twitter, "it's hard to ignore it."
Brett Howden says he tries not to look at them too much, while Mike McLeod claims not to look at them at all. Ditto Olli Juolevi. "They're changing all the time," he says, explaining why he doesn't think they're all that important right now.
"It's really hard to avoid," says Jake Bean. Max Jones echoes that statement, noting that he dreamt about the draft the week before.
Mikhail Sergachev, when asked if he's surprised by how good he's looking on the rankings—especially considering he only took up hockey as a nine-year-old—refuses to soak in the praise. "I can be better," he says.
Matthew Tkachuck, currently the top-ranked prospect playing in North America, admits he pays attention, though he's quick to insist that it's never his idea. "I'm never the one to initiate looking at the rankings," he says.
TRENDING UP
The BMO CHL/NHL Top Prospects Game might be an all-star matchup, but the games tend to be heated. There's a lot on the line, after all. Tkachuck is clear that he doesn't want anybody to catch him in the rankings—"Now I've got a target on my back," he says—while others are hoping to make an impression and move up the list.
For Day, who, once upon a time, was seen as a potential No. 1 pick, the game is a chance for skeptics to take another look. "Being 14, with an agent, it gets to your head a bit," he says of his decision to take exceptional-player status, which he now admits was probably a mistake. "I just want to be known as another draft-eligible player." He's hoping to stand out at Pacific Coliseum. "Maybe I can jump back up the drank rankings," says Day.
Logan Brown echoes the notion that a great performance could be especially meaningful. "I think everyone in the game wants their draft ranking to go higher, their draft stock to improve," he says.
"I think this is a game where I can really prove myself," says goaltender Dylan Wells, who's had an up-and-down season.
Logan Stanley sums up the collective feeling as these kids get set to take the ice: "It's gonna be intense," he says.