It's a Friday night in Vancouver and for the first time in seven months, Tyler Benson is taking pre-game warmup with his Giants teammates. It was a big night. The team finally had its best player back in the lineup after having been sidelined with a back injury. There were banners with Benson's likeness outside the arena and Tyler Benson T-shirt deals in the team shop. For Benson, it was the end of a frustrating period. He couldn't play, couldn't help his team, his friends. And then, as Benson was skating off the ice, han errant puck off a teammate's stick struck him square in the jaw. He'd missed 10 games for the Giants and now he'd have to wait just a little bit longer.
As his team faced off against the Seattle Thunderbirds 20 minutes later, Benson was in the dressing room getting stitched up. "It was a little frustrating but you can't show too much emotion about it," he says. "The guy who did it feels pretty bad, so you really can't do anything about it."
Benson was back on the bench 10 minutes into the first period, a little bloody, and sporting a full cage for extra protection. It didn't take long for him to get into the swing of things and before too long he was manning the point on a Vancouver power play, he was back.
In the third period, down by two, he scored a goal to bring the Giants within striking distance, only to watch as Seattle answered with a score a few seconds later, winning the game and spoiling Benson's return. He was rusty, and he knew it. "Especially right off the bat I seemed really slow," he says of his first game back. "It felt a lot quicker out there than when I'm watching from up top, but as the game went on I felt comfortable and started to get chemistry with my linemates."
---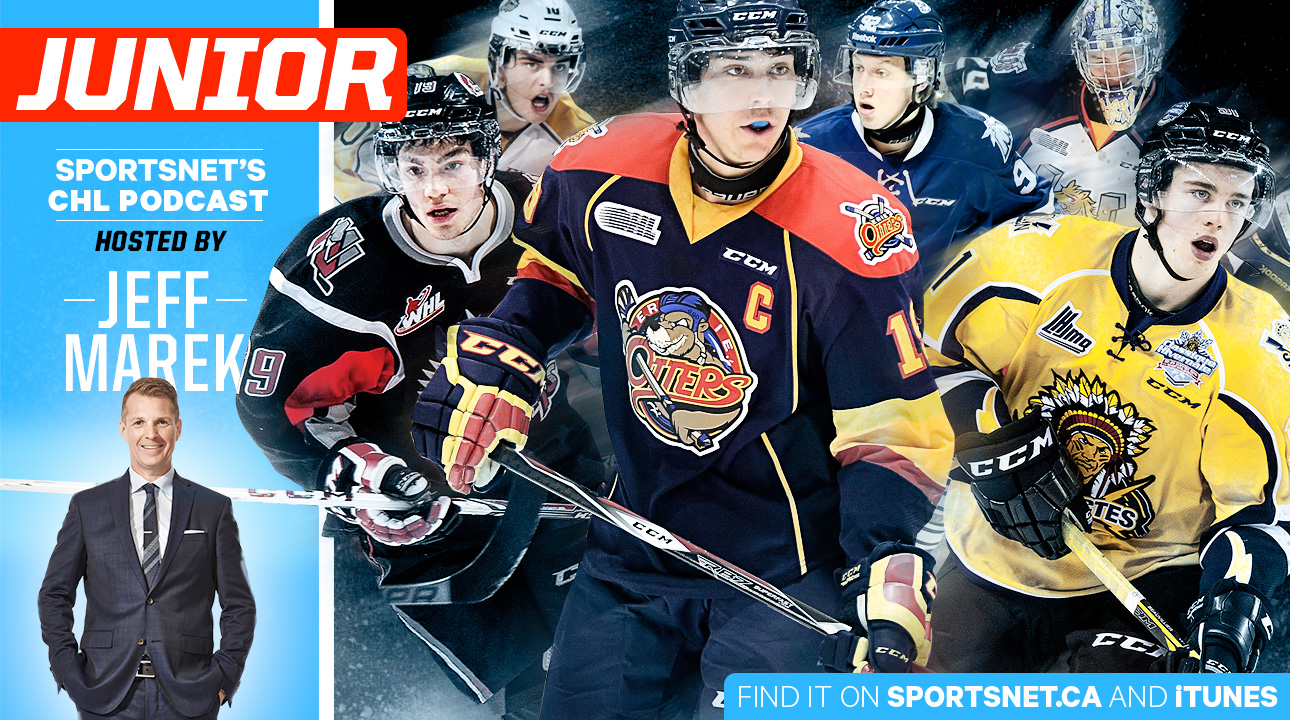 Puck drop | iTunes | Podcatchers
---
Getting whacked in the jaw is an apt description of how the Giants season has fared so far. Hoping to be a playoff team, the campiagn has instead been a struggle. They lost the first seven games after Benson's return, had two player defections and made a slew of trades in an attempt to salvage a season that is starting to slip away. They find themselves at the bottom of the Western Conference standings but with plenty of hockey still to go, they are by no means out of the playoff hunt.
Vancouver wants to build around Benson, so much so that they named the 17-year-old captain before the season began. He says he's more of a lead-by-example type and relies on some older teammates to help get the team headed in the right direction. "It's a huge honor," he says. "You look back at the past captains for the Vancouver Giants and to add my name to that it's a pretty special feeling."
On top of the captaincy, it's his draft year which brings more pressure to the table. The good news for Vancouver is that Benson is used to the pressure and scrutiny that he's now under. He was drafted first overall in the 2013 Bantam Draft by the Giants and almost immediately high expectations were placed on him. He's responded well, potting 14 goals as a 16-year-old last year, which had him pegged as a first-round draft pick in June's NHL Draft.
He's got good size at 6-feet, 196 lb., he's strong and plays a tough, 200-foot game. "Really like Benson," one NHL scout says. "He plays a heavy game with a good skill set that reminds me of Logan Couture. Good vision and sense, does a good job generating offence on five-on-five. Questions for me will be pace of play for a top-six player and his overall fitness level."
---

Download it now: iOS | Android | Windows
---
Benson is still trying to round his game into form since returning from injury. He has nine points through 13 games but you would expect that pace to pick up as the team finds some stability. If the Giants are to get back into the playoff race, Benson will have to be the spark to get them there.
All in all it has been a frustrating start for the Giants and Benson. He was ready to go this summer, ready to help and show off what he can do. After playing for Team Canada and winning gold at the Ivan Hlinka tournament, everything was building towards a big year. All of that got delayed with the injury. "It was really frustrating," Benson says. "I wanted to come into the season and start playing with the team. I had a good off season training and I felt I was ready."
He knows there are upcoming events like the BMO Top Prospects game that he'll play in as well as more media requests and draft rankings published. That's a lot of distractions and Benson is learning to push it all aside. "My main focus is here and to win games," he says. "If our team's having success I'll be having success. We're hoping to do a lot this year."