It was a quote that had everyone not just going back through years but counting back.
Wayne Gretzky told the Edmonton Journal that he considers Connor McDavid "as good as I've seen in the last 30 years, the best player to come into the league in the last 30 years."
Watch Sault Ste. Marie vs. Erie in Game 6 on Saturday night at 7:30 p.m. ET on Sportsnet 360

Duly noted and counted. Mario Lemieux came into the league 30 years and seven months ago.
Still it's a great big statement by the Great One. In the hockey milieu it's bigger that the Queen wielding the sword for the shoulder tap. It's bigger that helping the Pope move and His Holiness saying, "You're a saint." I mean, knighthoods and sainthoods aren't quite handed out willy-nilly but they come around more than once every 30 years.
Okay, No. 99 seemed to step his pronouncement back every so slightly when he told the Journal that McDavid is "the best to come along since (Mario) Lemieux and (Sidney) Crosby." Since Crosby came along into the league in 2005, Gretzky would seem to be attaching an asterisk to his name a little after the fact but no matter. Still, Gretzky is on the record as saying that McDavid would trump Steven Stamkos and John Tavares—even Eric Lindros if you want to track it back.
When I heard this, it made me think back to the flak we took at Sportsnet magazine in the fall of 2013 when McDavid graced our cover. "Better than Crosby" was the cover line and it was set in type of a size usually reserved for declarations of war. We (meaning me) took the expected bath in acid criticism for over-hyping a kid who, if you took comment sections as fact, couldn't possibly be compared to the best player to this point in the millennium.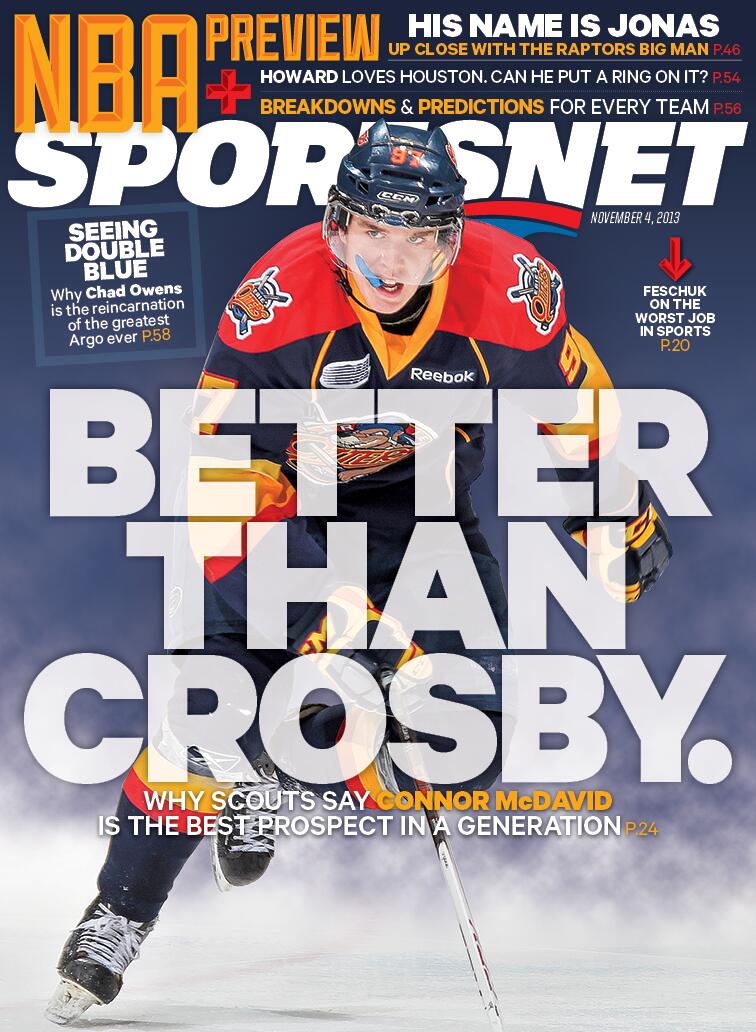 Of course, the Better than Crosby line was not a summary of our (meaning my) opinion on the talents of then precocious McDavid. No, in fact, the line captured the opinion in the NHL scouting community. A majority opinion in those ranks if not quite a consensus: McDavid as a double under-age player at the world under-18s had outperformed Crosby as 16-year-old at the Ivan Hlinka. That is, McDavid was ahead of Crosby at that stage. More than a few veteran scouts who had filed reports on both of them would tell you in the hypothetical they'd take McDavid over Crosby. A few just didn't want to go there but nobody would come out and say that Crosby was ahead of McDavid at the same stage.
We (meaning me) will refer all complaints about the cover and the story thesis to Gretzky from this point on.
Gretzky's forthcoming assessment was also a case of deja entendu. When Gretzky stepped on the ice with Crosby at a summer training camp back in the Kid's Shattuck-St Mary's days, he made similar bold pronouncements about No. 87. And the push back was immediate. Fans don't want to hear that type of stuff. They take the Public Enemy line.
Nobody wants to hear that the next phenom is that good. I wound up doing a book on Crosby's life and times to the age of 18, a fool's errand in the estimation of many. I heard how he had done nothing to deserve that sort of attention although this came entirely from people outside the professional—and junior-hockey industry, people who had never seen him play. (In those quaint days before YouTube, streamed video and the rest, Crosby was playing in Rimouski and in a QMJHL that didn't have a team in Montreal at the time.)
---
STANLEY CUP PLAYOFFS: | Broadcast Schedule
Rogers NHL GameCentre LIVE | Stanley Cup Playoffs Fantasy Hockey
New Sportsnet app: iTunes | Google Play
---
Media types, as much as they root for the story (and they do), will inevitably root for the phenom to be exposed. This is exactly how it played out for Crosby at the Memorial Cup in London in 2005.
Because of the cancelled season the tournament had blanket coverage from all the major news outlets and those along press row were seeing him for the first time other than glimpses at the world juniors a few months before. (Crosby had a good but hardly sensational under-20 tournament, which was the foundation of the media's case that he was being oversold as the Next Big Thing.) Crosby had the scribes dropping pens and spilling coffee in their laps on the very first shift, blowing by a London defenceman with electrifying speed—he was clearly just another animal entirely.
It occurred to everyone over the next 20 minutes or so that Gretzky might have known something when he was tipping people on Crosby a few years before.
I'm not here to scapegoat the Crosby doubters in the media. They are really no different than their readers, their watchers and their long-time-listeners-first-time-callers. People don't want to hear Better than Crosby. Rather than tune it out, they push back. Couldn't be. You're just saying that to sell magazines. Click bait. But NHL scouts, who raved about Crosby and now rave about McDavid, have no stake in our magazine sales or other revenue streams. Neither does Wayne Gretzky.
Early this season I bumped into Jeff Jackson, the Orr Agency operative who handles the business affairs of Young Master McDavid. When I told him that we would be doing another story about his heralded client he had one question: "Anything in mind for the cover?" he asked.
"'Way Better than Crosby,'" I said.
Of course, "Better than Crosby sez Gretz" has a nice ring and would save us bile in the comment section.