VICTORIA, B.C. – It seems everything Ian Scott does is calm. His heart rate probably doesn't get above 60 when he plays hockey, and it was surely less than that Friday night when he spoke — quietly and in very short sentences — to reporters after helping Team Canada dump Slovakia 6-1.
The goalie from Calgary said he gets this calmness from his mother, Catherine.
"She said there could be people watching," Scott explained.
Yeah, like an entire country.
Five days before Canada opens defence of its world junior hockey championship title in Vancouver, Scott impressively auditioned for the starting job in net. The Toronto Maple Leafs draft pick stopped 22 of 23 shots and for 55 minutes didn't allow anything into his net except Slovakian forward Patrik Hrehorcak, who crashed there without the puck in the second period when it was already 5-0 for Canada.
Scott's performance seemed more important than his team's second pre-tournament warmup because two nights earlier, in Canada's untidy 5-3 exhibition win against Switzerland, goalie Michael DiPietro looked poor on a couple of goals.
The world juniors are a Christmastime tradition in Canada. But a periodic, dark theme has been hockey's most powerful national team getting submarined by untimely goaltending. Calmness would seem to be a very beneficial trait. So, of course, is simply stopping the puck, which Scott has done a mind-blowing 94.3 per cent of the time this season with his Prince Albert Raiders junior team.
"They're different goalies," Team Canada coach Tim Hunter said of Scott and DiPietro, a Canucks draft pick from Amherstburg, Ont., who was the favourite to win the starting job. "Michael's a really aggressive, athletic guy. He competes. It's not that Ian doesn't do that (but) it looks different. He looks calm in the net, he looks composed.
"It's just a different look. It's not like one guy has something else that the other guy doesn't because he's better or he's not as good. They have the same abilities. Ian is just a calmer-looking goalie when he plays. He makes it look so easy because, I think, he has so much confidence with the year he's had in [Prince Albert]."
[relatedlinks]
Hunter, whose regular job coaching the Moose Jaw Warriors makes him extremely familiar with Scott, indicated he's likely to use Scott and DiPietro when Canada closes its rehearsals with a game Sunday against Finland at Rogers Arena in Vancouver.
Team Canada opens the tournament with back-to-back games, beginning on Boxing Day, so Scott and DiPietro should each get a start. But then someone's going to get the chance to try leading Canada to a world championship on home ice.
"I think that's every goalie's dream," Scott said of being the starter. "Me and DiPietro, we can both steal games for this team. It doesn't really matter who's in net.
"I felt pretty confident (tonight). I went into it thinking it was just another game, and I think that helped. There were moments it felt much bigger than that. You look around and the crowd's doing the wave and stuff like that. After a while, I just kind of settled in and you're fine."
His best save was a breakaway stop against Adam Ruzicka when the game was only four minutes old and still scoreless.
Canada got goals from six different scorers – Max Comtois, Jack Studnicka, Nick Suzuki, Cody Glass, Shane Bowers and Ty Smith – and outshot the Slovaks 45-23. In that respect, Hunter said, it wasn't much different than what Scott is accustomed to with his powerhouse Prince Albert team, which is 31-2-1 in the WHL.
"They play really well in front of him as a team," Hunter said. "Getting 19 shots, 20 shots and watching your team get 40 is not unlike tonight. He only had 23 shots, not a lot of action. That's where he's really grown as a goalie – his mental approach. He's consistent, he's focused for 60 minutes. As a coach, it's calming to watch."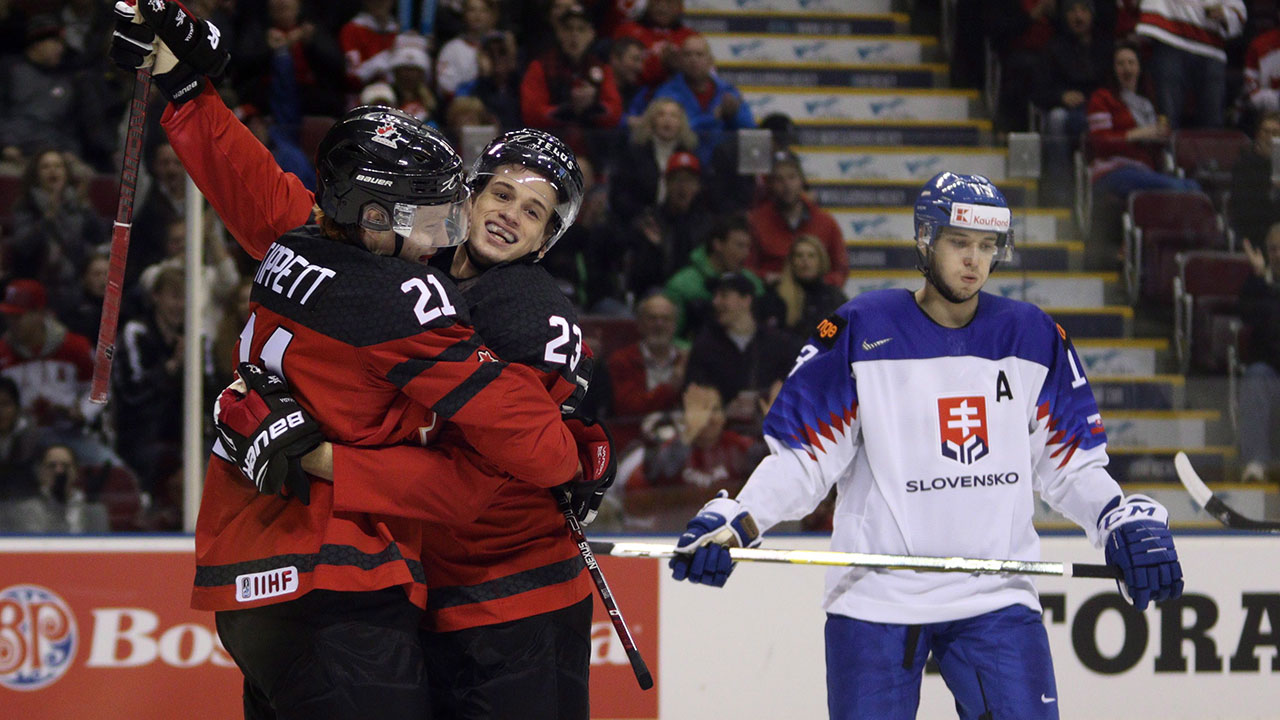 Maybe it was calming for Team Canada, too, because it was much cleaner with the puck and more cohesive and consistent than during the nail-biter against the Swiss, who fell behind 4-1 before scoring twice and staying within a goal until Comtois' empty-netter.
Hunter took his team to the video room on Thursday and the Canadians looked well-schooled on Friday.
"We improved on our game form the Switzerland game, and that's what we're looking for," Smith said. "We do have a lot of players that have a lot of speed and skill. Tim's always on us to play fast and get pucks up ice as fast as we can."
Glass said: "We went over video and cleaned some things up. I felt like we managed the puck a lot better. We were moving pucks quick and the D did a great job of moving the puck up. I thought we did really well today. Moving forward, it's going to be a lot of fun with this team."
A nation hopes so.