TORONTO – It's only one game so it's a thin limb to crawl out on if you're making any big declarations. And those first 60 minutes were across the ice from the Russians, who did win silver medals in the last two tournaments but have a well-established reputation for raising their games as days pass. So think of these more as impressions rather than emphatic predictions.
Making sense of the goalie situation
In the wake of Canada's 5-3 win, I noted that goaltender Carter Hart lived to tell the tale. Coach Dominique Ducharme gave a pretty tepid endorsement of Hart after the game —"happy with our goalies" suggests that he was satisfied with the cumulative performances of Hart in the game and backup Connor Ingram in the warm-up. Into that, however, you probably can't read too much. Certainly strategic. Some sort of mind game. Insulation from pressure from the fan base. Or maybe some real doubt. There's no knowing, only guessing, for what lies ahead but the fact is, if you put Hart in the ejector seat off 60 minutes, you're pushing all your chips in on Ingram who has been the second choice from summer camp on. And that would be for the duration of the tournament. It seems like a low-percentage play to throw Hart overboard right now. I suspect Ingram will get a start (Latvia, maybe) but it's still Hart's job to lose, though his grip might have loosened on it a bit Monday night.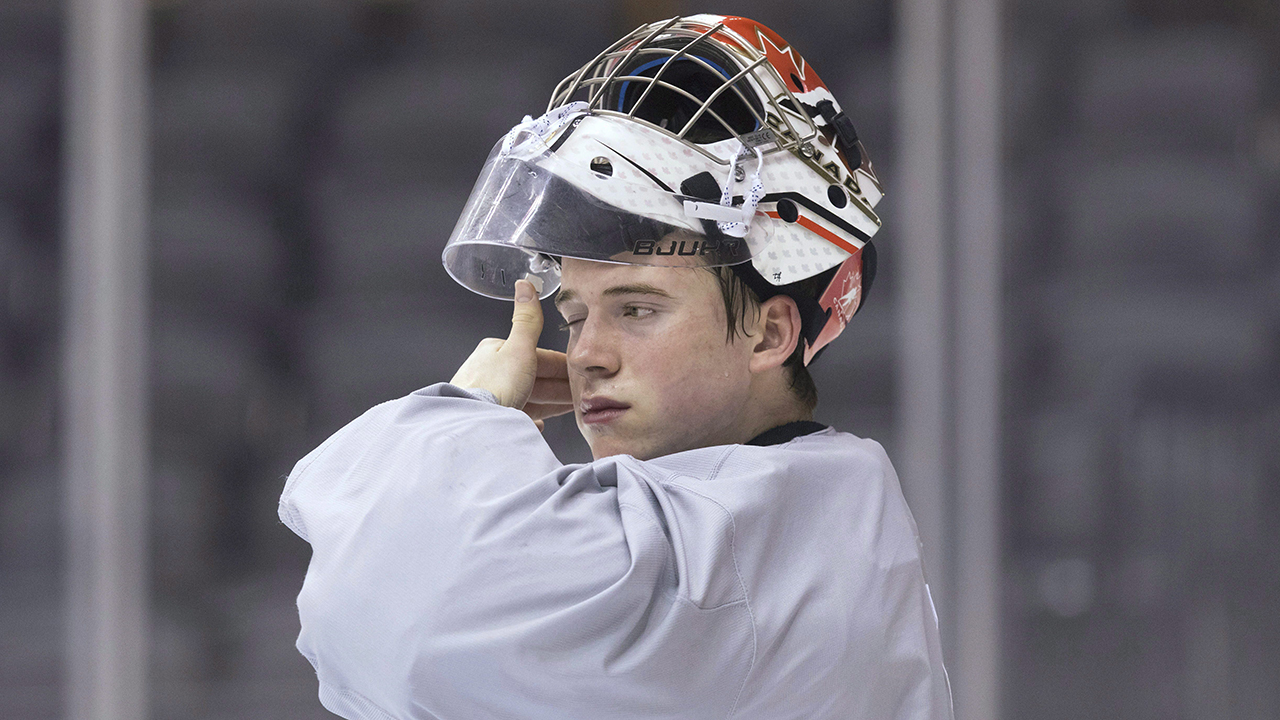 Canada's Carter Hart. (Chris Young/CP)
Barzal has come a long way
I thought that the selectors of the game awards would get it wrong again last night—most of the time when these prizes are awarded in the post game you wonder which game the voters were watching. (And please don't presume that the working media gets ballots in these matters.) I thought that they'd name Dylan Strome as Canada's best against the Russians based on his two goals. Against the odds the rightful kid was named: Matt Barzal, the centre for the Seattle Thunderbirds and the Islanders' first-round draft pick in 2015. Chatting with a couple of scribes Monday I mentioned that I had thought Barzal should have played more in last year's tournament. Their reaction: Did he play in last year's tournament? That's a definitive measure of how little Barzal factored into the mix with the team that was knocked out by the host Finns in the quarterfinals. Against the Russians you can see that Barzal might develop into the second-line centre the Islanders need. (For some NHL teams, it would in fact be first-line upside we'd be talking about.) Barzal has a lightning fast stick, almost on the level of Patrick Kane's. He was able to buy time and let his linemates find open ice by mesmerizing Russian defenders with ginsu puck-handling. His passing ability is the stuff that can make a power play hum on its own—his two assists on Strome's goals were as good as if not better than the finishes.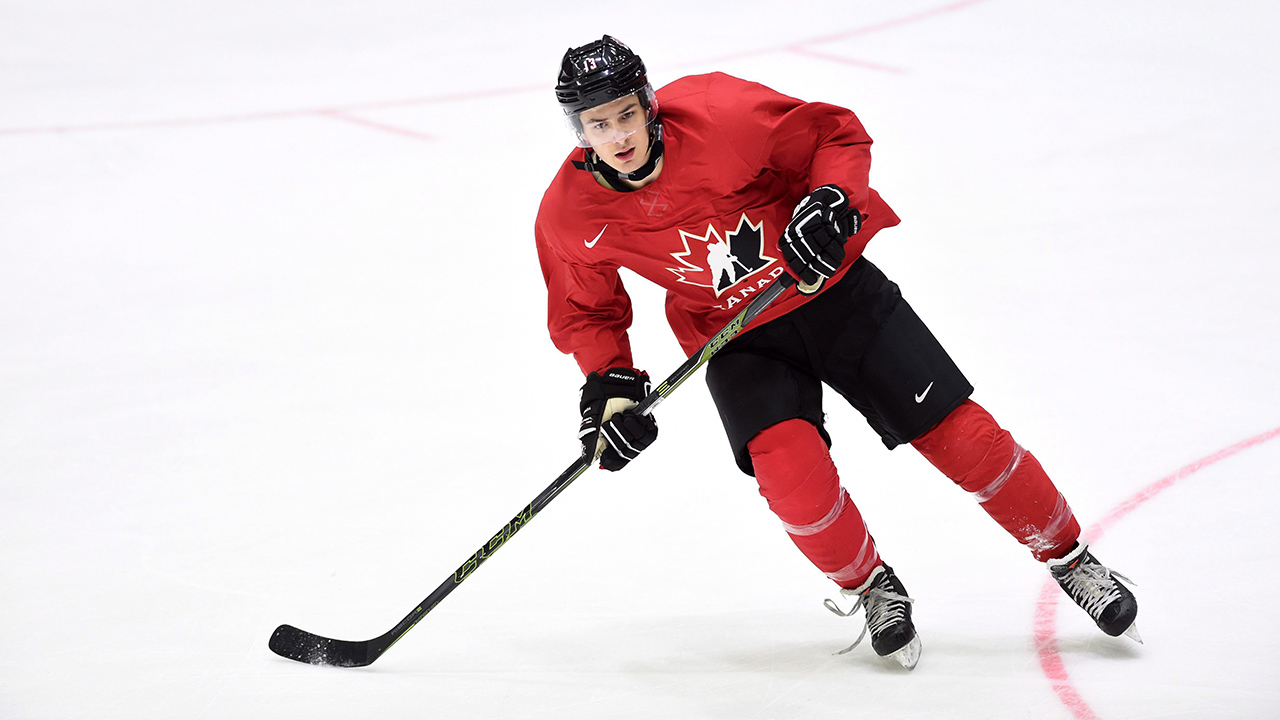 Canada forward Matt Barzal. (Frank Gunn/CP)
Weird side note: Two winters back, I watched a game in Prince Albert standing beside Barzal who was on crutches. I had been riding the bus with the Thunderbirds on their lllooonnnnnnngggggg road trip from Seattle to Brandon with umpteen stops in between. Barzal rode the bus from Seattle to Saskatoon but managed not to get through the first practice on the roadie—in fact, he didn't even manage to get through suiting up for the first practice. The details are in the story here and it should be enough to scare junior players off a lot of the dressing-room goofing-around. The injury Barzal suffered aside, he came off as a smart and focused kid, maybe even a bit of a hockey obsessive, the one who's every waking hour is spent playing hockey, practising hockey, working out or watching video. I'd guarantee that when Ducharme and the Hockey Canada coaches are screening video of the Russian game for players Tuesday it will be at least the second time Barzal has watched the footage. All of this is to say that he should fit in really well in a dressing room with John Tavares, a like-minded sort.
Russian standouts
On the Russian side of the equation Monday night, a couple of players jumped out. Everyone was looking to see Montreal's first-rounder Mikhail Sergachev, the defenceman who was sent back to Windsor just after the regular NHL season started. By all reports, Sergachev didn't handle the return as well as might have been hoped but that's not a knock. A lot if not most elite kids struggle after their first pro camp and Sergachev might have had an actual grievance—he did everything the Canadiens asked and more but really wasn't given a chance to win a job. Hard not to see him in the NHL next season. If there isn't an obvious opening, the Canadiens will have to make one. You could also see Kirill Kaprizov playing in Minnesota, maybe a couple of years down the line. Maybe the most competitive Russian up front and certainly the one with the biggest attitude (in a good way), he looks like a find in the fifth-round in 2015. I also liked the game of forward Danil Yurtaikin, a 97-birthday with Lokomtiv Yaroslavl who hasn't been drafted in his first years of eligibility but has to be worth a shot in June.