All you have to do to see the particular challenges of running a junior hockey team is stand in the doorway of the dressing room. As Ottawa 67s players start to trickle in for a morning practice in mid-February, they all have that loose-jointed strut of the high school jock, but that's where the sameness ends.
Like all CHL teams, this roster ranges in age from 16 to 20. Some of them are still kids, basically, and their faces show it—cheeks and chins that are perfectly smooth and a tiny bit pudgy, as though someone Photoshopped the head of a Grade 1 class photo onto the body of a hockey player. Others look like they belong to a different species, as stubbly and sinewy and grizzled as construction workers.
---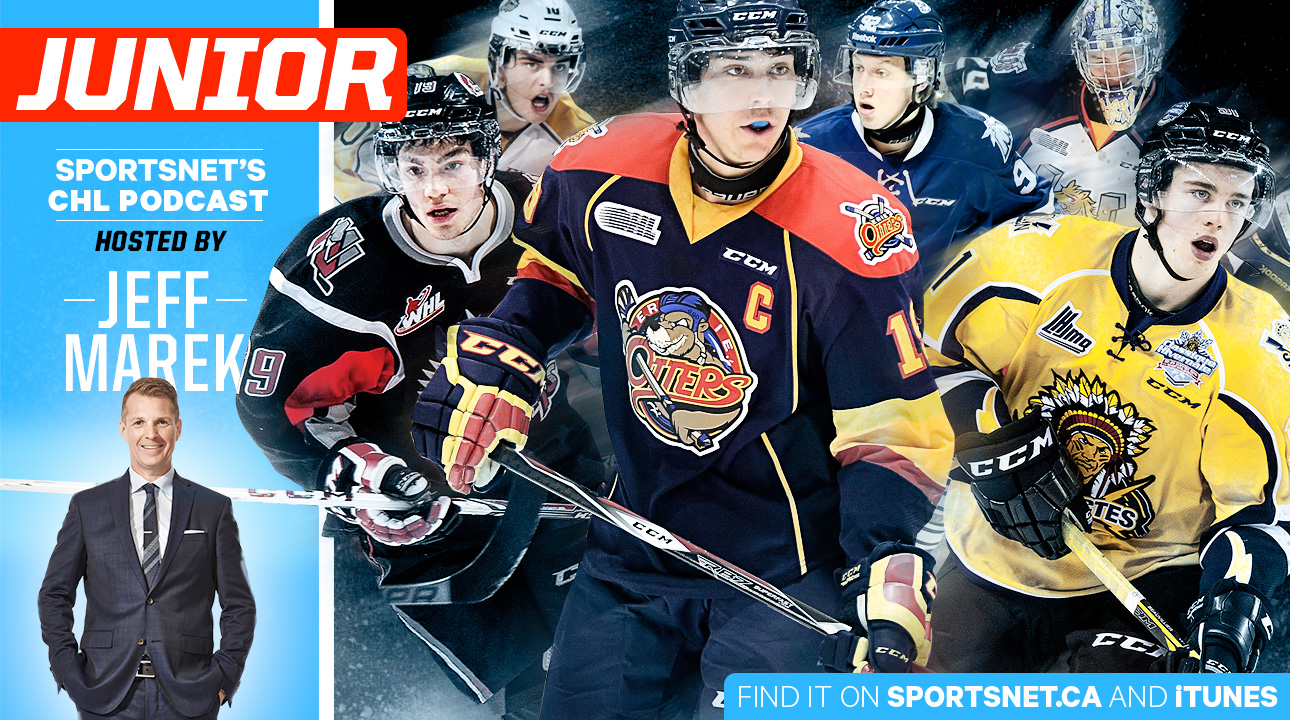 Jeff Marek hosts Sportsnet's weekly CHL podcast, a one-stop shop for news, analysis, opinion and interviews covering the WHL, OHL and QMJHL.
Listen now | iTunes | Podcatchers
---
Under the surface, there are wildly different triumphs and anxieties, too. Some of these rookies will be crushed when they see the scratch list for tonight's game; others are just thrilled to be here and happy to wait their turn.
For the 18-year-olds, their NHL Draft year will be one long job interview in which they'll pray not to be injured before they have a chance to make a case for themselves. Some of the overagers will just be coming to terms with the fact that the NHL isn't going to be their destination; this will come out in jokes that aren't really jokes about going to university next year. Others will ignore the memos from the league asking for contact info the league can pass along to schools, refusing to talk to anyone about collegiate hockey until the season is over.
Junior hockey is a strange, intense waiting room—a real workplace that also functions a little like a boarding school, where the employees are hired as children and retire as men. It's a place where teenagers who have been the best player on every team growing up have to come to grips with the gap between what they dreamed and the real life they're going to live, a decade or more before most of us have to face that.
Orbiting around the young players is a group of adults who make the show run. They do more with fewer resources than an NHL team would ever dream of, often because they simply fell in love with the whole thing and can't walk away. Here's what a junior hockey team looks like and how it functions, viewed from the inside.
Part 3: Head Equipment Manager Chris Hamilton
Chris Hamilton has developed an astonishing range of talents in his seven years with the Ottawa 67's. He's discovered he likes sewing. He can ferret out supplies that players have swiped and stockpiled in their lockers like squirrels readying for winter. He designs the team's warm-up sweaters and has big plans for decorating the lounge. He doesn't even notice the hockey smell anymore, which is both convenient and amazing.
And of all the "adults" who work with the team, Hamilton might be closest to the players, both because of his age—he's 28, and when he started, he wasn't much older than the players—and simple physical proximity around the dressing room. "Hammy sees us all pissed off or happy, comments we're saying about the game, about this and that," says winger Adam Craievich. "Hammy's kind of like one of the boys." The players trust him because he's always around, hears everything and just tries to boost them up when they need it.
Hamilton was a student at the University of Ottawa and working part-time at Play It Again Sports when he happened to see a job posting for an assistant equipment manager on the 67's website. The job became full-time in 2012, when the team moved out of their arena during major renovations. They spent two seasons bouncing between a practice rink near the airport and home games at the Senators' rink, the Canadian Tire Centre. Every game, they had to pack up and drag with them every single thing they needed, from pucks to exercise bikes to Gatorade.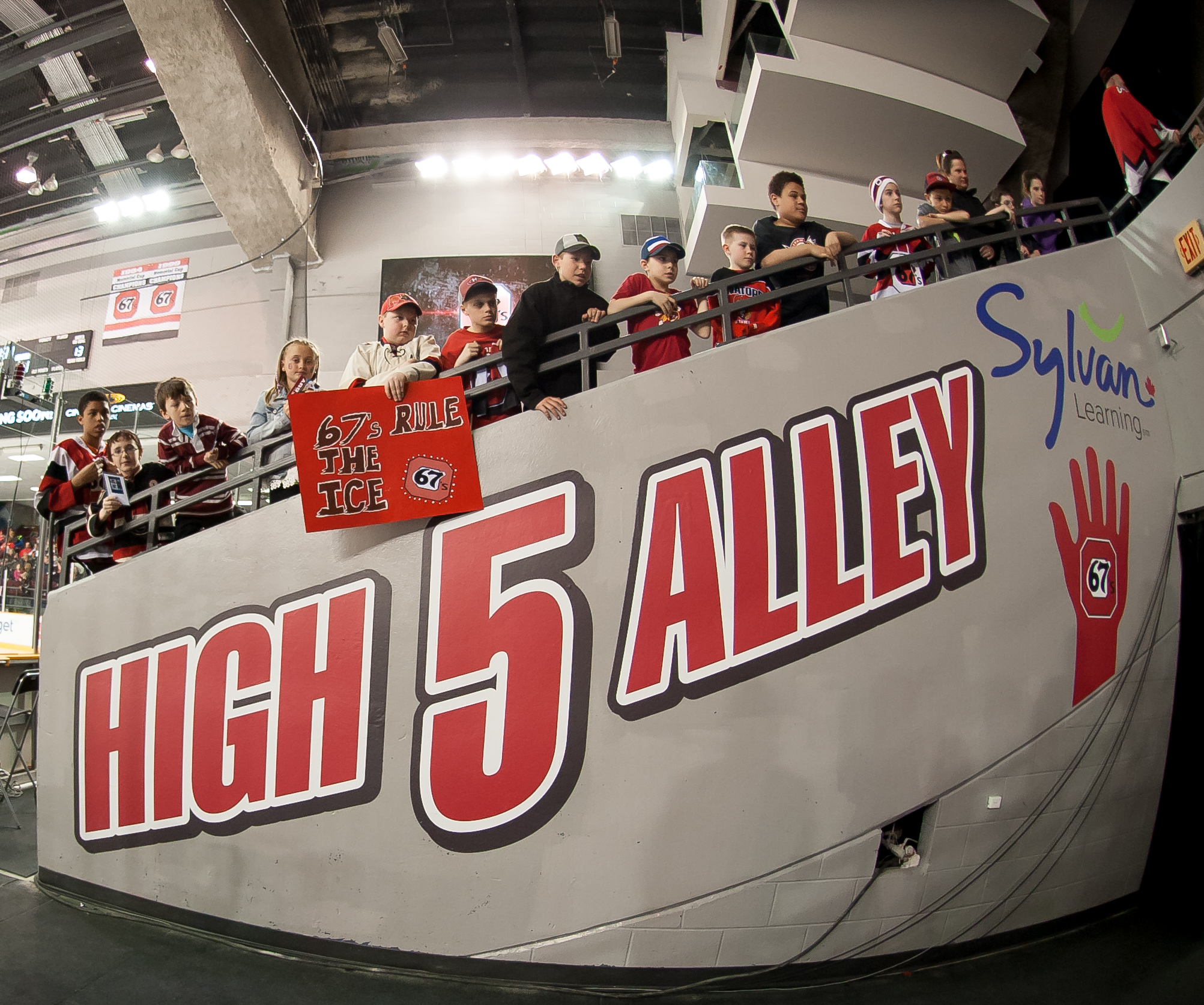 Hamilton does just about everything except paint the rink. (Photo courtesy Ottawa 67's)
These days, the hours are long, but the season is short, and Hamilton's life looks a lot different than that of his high-school buddies, who all stayed in town and mostly work government jobs. Hamilton is at the rink most days by 9:00 AM and doesn't leave until 7:00 or 8:00 PM on practice days, and later if there's an evening game. One recent weekend, the 67's had a home game Friday night followed by a Saturday matinee, so Hamilton just planned to sleep on the big leather couch in the players lounge "It's the laundry," he says. "You gotta wait for the laundry."
The laundry room, surprisingly, smells like clean laundry and not like hockey equipment—which is to say, microwaved death. It's as neat as it can possibly be while stuffed with two washers, three dryers, piles of towels, socks, underwear, shelves of spare equipment and flats of Gatorade mix, a small forest of broken sticks and dozens of sweaters grouped by design and hung on racks. Hamilton used to draw a lot when he was younger, and a few years back, he realized no one had strong opinions about warm-up sweaters, so he started designing them—a plaid lumberjack look, a scratched-up ice surface where the arms look like goalposts.
Down a hallway is the rear entrance to the suite of rooms where the players change out of street clothes, get treatment and just hang out. Hamilton has a small workroom in a back corner. Just inside the door, there's a sewing machine and a pile of 67's socks waiting for repair; he's also fixed shirts for the players, and he's working up the courage to try hemming his own pants. "I actually really enjoy sewing," he says. He laughs a little, then a little more, and then full-on chortles, as if he just heard himself. "It's weird." There's a big workbench with a toaster oven where he warms up plastic shot blockers to mold them over skates, and behind that is the skate sharpener. He's gotten so adept at sharpening skates, he can tell by the angle of the sparks flying off the wheel if a blade isn't perfectly level.
For some reason, the players covet bottled water and hockey tape like they're official currency, so Hamilton has learned to hide his reserves. He once found an entire case of bottled water stashed in a player's stall, which he quietly counter-swiped and returned to the lounge; now he conducts covert supply scouting missions while he cleans up the room.
He's also an astute observer of the social dynamics of the team. He knows which kids are the hockey equivalent of the students who study night and day because getting a B is unacceptable; he knows which overagers are still trying to process the fact that they won't end up in the NHL and who's just decided to enjoy the end of the ride; and he knows that the saw on the stick work table can be intimidating to the rookies, so sometimes you just have to cut their sticks for them.
Along the back hallways, there's one refrain you hear from the young players almost constantly: "Where's Hammy? Have you seen Hammy?" Hamilton is such a key part of their little crew that he's had to devise a trick to render himself invisible in plain sight when he has work to do and can't get drawn into conversation: he puts on his headphones.
Hamilton grew up playing hockey, drawing oxygen from the same NHL dreams as the players he now works with, but he was a goalie who topped out at 5-goot-7. "By the time I was 16, I was like, 'This is probably not going to work out,'" he says. "I started to figure it out." That was hard, so he knows it's an even tougher reality for these junior players who have always been the best player on any team they've been on. Hamilton figures his real job here—in addition to organizing and repairing and cleaning and restocking and fine-tuning—is just to keep things as loose and light and friendly as possible while these young players figure out whether their road heads toward the pros or a different sort of life.
Click here to read Part 1: The Coach & GM
Click here to to read Part 2: The Den Mother