All you have to do to see the particular challenges of running a junior hockey team is stand in the doorway of the dressing room. As Ottawa 67s players start to trickle in for a morning practice in mid-February, they all have that loose-jointed strut of the high school jock, but that's where the sameness ends.
Like all CHL teams, this roster ranges in age from 16 to 20. Some of them are still kids, basically, and their faces show it—cheeks and chins that are perfectly smooth and a tiny bit pudgy, as though someone Photoshopped the head of a Grade 1 class photo onto the body of a hockey player. Others look like they belong to a different species, as stubbly and sinewy and grizzled as construction workers.
---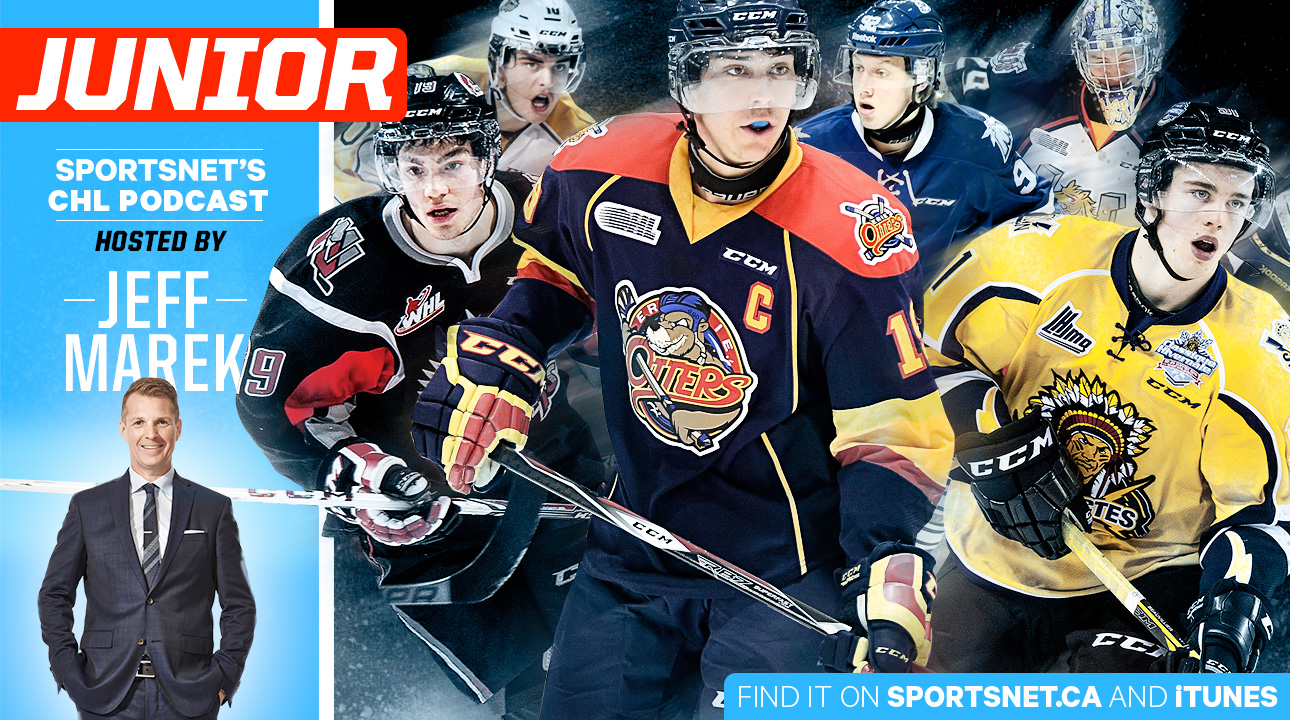 Jeff Marek hosts Sportsnet's weekly CHL podcast, a one-stop shop for news, analysis, opinion and interviews covering the WHL, OHL and QMJHL.
Listen now | iTunes | Podcatchers
---
Under the surface, there are wildly different triumphs and anxieties, too. Some of these rookies will be crushed when they see the scratch list for tonight's game; others are just thrilled to be here and happy to wait their turn.
For the 18-year-olds, their NHL Draft year will be one long job interview in which they'll pray not to be injured before they have a chance to make a case for themselves. Some of the overagers will just be coming to terms with the fact that the NHL isn't going to be their destination; this will come out in jokes that aren't really jokes about going to university next year. Others will ignore the memos from the league asking for contact info the league can pass along to schools, refusing to talk to anyone about collegiate hockey until the season is over.
Junior hockey is a strange, intense waiting room—a real workplace that also functions a little like a boarding school, where the employees are hired as children and retire as men. It's a place where teenagers who have been the best player on every team growing up have to come to grips with the gap between what they dreamed and the real life they're going to live, a decade or more before most of us have to face that.
Orbiting around the young players is a group of adults who make the show run. They do more with fewer resources than an NHL team would ever dream of, often because they simply fell in love with the whole thing and can't walk away. Here's what a junior hockey team looks like and how it functions, viewed from the inside.
Part 1: The Coach & GM
OTTAWA – One day, Jeff Brown thinks, he would like to be the good cop.
The role of head coach often means being the "hardass," he says—making tough roster decisions, demanding more of players, telling a kid who's been the best on every team he's ever played for that he needs to work harder because all his teammates have been that, too. It's the assistant coaches who have the job of building the guys back up and offering a softer touch, says Brown, who's also general manager of the Ottawa 67's. At some point, he thinks that would be a nice role to have. "They all come in here with the dream of the NHL," he says of his players. "You've got babies, basically. They think they're men, but they're not."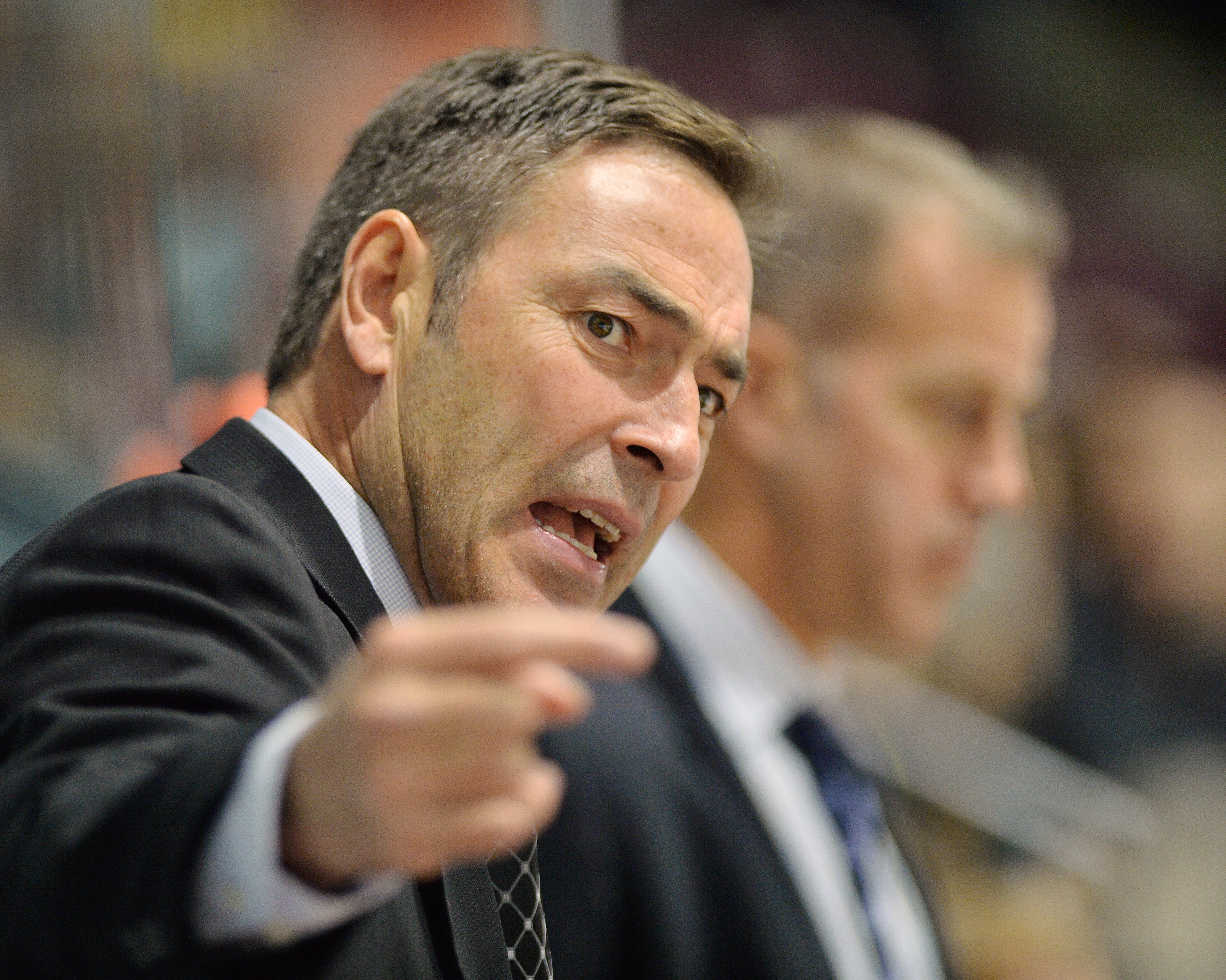 Brown played 747 NHL games and won a USHL championship as coach of the Indiana Ice in 2014. He has spent the past two seasons with the 67's. (Terry Wilson/OHL Images)
The hardest part as a coach is figuring out his players' personalities and what they'll respond best to—some guys need a kick in the pants, and others need to be coddled a bit. To sort that out, you test them a little bit early on and then recalibrate your approach once you get a read on them, Brown says—but sometimes you make a mistake and push a kid the wrong way, and then have to pick them up again. "A lot of them have never faced adversity before," he says. "They've always been on the first power play, they've always had the accolades. Then they come here and they're in and out of the line-up for the first time: 'What do you mean, I'm not playing tonight?'"
Morning practice ended not too long ago, and Brown is sprawled on a leather armchair in his office, wearing black CCM warm-up pants, a 67's shirt and red Nikes. His office, across the hall from the dressing room, is pretty bare bones; everything is still a work in progress since the 67's moved back to Lansdowne Park last season following major renovations. There are a couple of massive, mismatched pieces of leather furniture off to one side, and behind Brown's desk, there's a white board with roster positions and a scratch list, with little movable tiles representing all the players.
By the time those "babies" have been in the CHL for four or five years, they've seen it all and figured out that some of them are going to make it to the show and some are not, Brown says, steepling his fingers to demonstrate the tough reality. "As they get older, the pyramid comes like this, and then at the end, everyone falls off on the way up," he says.

Winger Travis Barron was ranked 60th among North American skaters in NHL Central Scouting's Midterm Rankings, the highest of any draft-eligible 67's player. (Terry Wilson/OHL Images)
He views the support staff who work very closely with the players, such as head equipment manager Chris Hamilton and head trainer Dan Marynowski, as crucial to managing the unique emotional needs of junior hockey players. "They're the buffer," says Brown, who was a journeyman defenceman for parts of 13 NHL seasons with seven franchises. "A lot of times when a kid's having trouble or they're down, they don't feel comfortable walking across the hall, as much as we encourage them to—that we're not bad guys and ultimately we want the best for them. But they do feel comfortable with the trainers."
He counts on support staff to do a sort of emotional triage assessment for him. Brown says he doesn't need to know about every little "chickenshit" drama, like a player breaking up with his girlfriend, but he counts on the trainers and assistant coaches to let him know about serious things that are affecting his players.
The way Brown describes a junior hockey team, it's a workplace, but one not quite like any other. You need players to perform, and as a coach, if you don't ask for more, you won't get it. But these are kids. The ruthlessness of pro sports—or even a regular adult workplace—where you offload people who aren't pulling their weight just doesn't fit here. "You've given their family your word that you're taking them, and you owe it to the kid to do as much as you can for them," Brown says. "It's a little bit different when you're talking about a child who moved away from home and their entire dream is to play in the NHL.
"You've gotta give kids second, third and fourth chances."
Check back Thursday for Part 2 in the series.