Connor McDavid and Jack Eichel will be the talk of hockey when the puck drops at the World Junior Championship. On New Year's Eve, when Canada faces the U.S. in the opening round's final game in Montreal, the media will cast it as a matchup of Connor versus Jack, a battle to see who will be the top pick in the 2015 NHL draft. That might seem unfair to great players on both teams, not giving them due respect. And it might seem unfair to raise expectations for the two kids whose names are thrust up there.
For his part, Eichel, a freshman at Boston University, has accepted both the attention and the fact that he and McDavid are and seemingly will be forever paired. "I hear Connor's name every day," says the pride of North Chelmsford, Mass. "It's been like that for a long time."
True enough. It's been that way since they were barely out of grade school. "I remember the first time we played was the Can-Am peewee tournament in Detroit," Eichel says. "I was playing for Boston Mission and he was playing for York Simcoe. We lost and he had a hat trick."
Seemingly the die was cast that day in Detroit. Ever since, the billing has been McDavid and Eichel, not Eichel and McDavid. It didn't change when Eichel's U.S. team notched a shootout win over McDavid's Ontario squad at the World Under-17 challenge in Victoriaville, Que. And it remains that way when you ask scouts about the draft.
According to the majority in a recent poll of a dozen NHL scouts, the draft order can be written in indelible ink if not carved in stone: McDavid No. 1; Eichel next. To a man, scouts who have locked in the order note that Eichel would be No. 1 in any other Crosby-free draft. But three scouts do suggest Eichel is more than a consensus No. 2 this season—they hint the order may reverse on draft day. "Eichel is making it close," says a scout whose team has a shot at the top pick. "He's exceeded expectations wherever he has played the last couple of seasons. He was better than McDavid at the under-20s, but people gave McDavid a let on that. I wouldn't have said it was close at the start of this year, but what Eichel has done at Boston University this season has been really amazing."
Says another: "They're the same position but different players. McDavid, it's all speed, skill and vision. Eichel, he's a bigger, stronger kid with a lot of skill, too. It might come down to what you like in a player. And it might be a case of Eichel breaking through at exactly the right time with McDavid out [he broke a bone in his hand in the run-up to world juniors]."
Just a couple of weeks after McDavid was getting fitted for a cast, Eichel took centre stage at BU. The Terriers were down a pair of goals to the University of Maine but rallied late with Eichel capping it off with an end-to-end highlight-reel overtime goal. That not only won the game but also secured BU the No. 1 ranking in NCAA Div. I and made Eichel the leading scorer in the college ranks.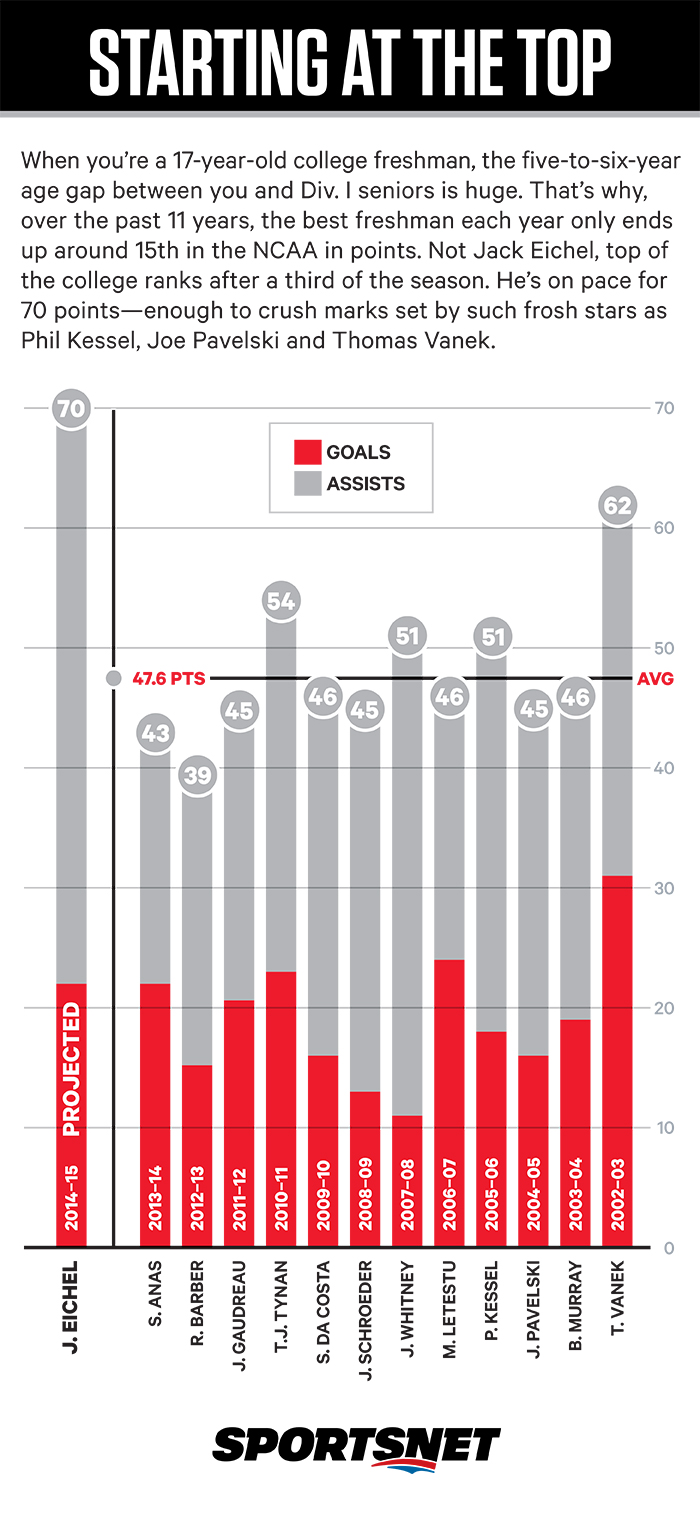 Maine coach Red Gendron couldn't have been more emphatic in his assessment: "Jack Eichel, if he were old enough, could be playing in the National Hockey League right now."
Eichel is sheepish when Gendron's scouting report is read back to him. "It's just one game," he says. "The goal is the NHL but I don't know if I'm ready. It might be another season or two at BU. Whatever it takes."
NHL scouts' opinions are more in line with Gendron's than Eichel's when it comes to his readiness for the pros.
Yes, next season he'd be a 19-year-old boy among NHL men, but that wouldn't be the first or biggest step up in his career.
Eichel took a road less travelled by top prospects out of New England. He didn't go the academy route, the likes of Shattuck-St. Mary's or Culver. He didn't enrol at a prestigious prep program like Andover or Choate. Instead, at age 13, he made the Boston Junior Bruins and played with and against college-bound players five and six years older than him. "I was big for my age, five-foot-nine and 155 lb." Eichel says. "Small for the league but not so small I was going to get pushed around or into trouble out there."
Many would consider this too ambitious and risky, but after one season it paid dividends. In his second winter with the team, Eichel racked up 86 points in 36 games, which put him on the radar of USA Hockey and NCAA Div. I schools—not to mention QMJHL teams. (The Q has the CHL's claim to players in the New England region.)
Though Saint John owned his rights, there was never any threat of Eichel going to major junior. "I grew up watching NCAA hockey in Boston," he says. "I went to games with my father. I was a BC [Boston College] fan but really it was just the game I loved. I was going to go to college and I wanted to play somewhere my folks would have a chance to see me play."
To prepare for that next stage, Eichel went a more conventional route, signing on with USA Hockey's under-17 program for the 2012–13 season and staying on to play with the under-18 team the next season. By the time he arrived in Ann Arbor, Mich., Eichel had grown to six-foot-two—compared with players his own age, he was a giant. In his season with the under-18s he ran up 87 points in 53 games, the fourth-highest point total in the program's history, trailing only Patrick Kane, Phil Kessel and Andy Hilbert. "Jack was the model player coming through our program," says Scott Monaghan, the director of the U.S. under-18 program in Ann Arbor. "No one ever worked as hard as he did. He was a beast in the gym. His commitment and focus were way beyond his years."
Eichel has carried that on at BU, but not without the occasional hiccup. The Terriers followed up their win over Maine with an upset loss at home to Harvard and Eichel followed up a sensational game with an average one. "He looked tired," says a scout who was on hand. "Teams are going to lean on him. He'll be seeing a lot of juniors and seniors trying to be physical with him."
Eichel suggests being thrown on the ice with men has prepared him well. "That's what I had with the Jr. Bruins, facing older, stronger guys," he says. "That's what the under-17s and under-18s in Ann Arbor had—we played games all the time against older teams, getting really challenged and knocked around."
This season, Eichel has been the youngest guy on the ice in the NCAA and he's been the one knocking others around. He'll still be one of the younger players at the under-20s, but opponents will be a lot closer to his age than the collegians. He says it's more the event than the personal challenge he's looking forward to."It's always a thrill to wear the American sweater, but the world juniors, playing in Montreal on New Year's Eve, will be a game I'll always remember," he says.
And no one will forget it if, for once, people come out of that game talking about Eichel, then McDavid.