Josh Ho-Sang has promises to keep in his final OHL playoffs—not so much those pertaining to his individual potential, but to his fellow Niagara IceDogs.
The 19-year-old New York Islanders prospect, whose path has occasionally evoked the line that not all who wander are lost, has been locked in of late as the right wing alongside overage centre Stephen Harper and Minnesota Wild-drafted left wing Pavel Jenys. With multi-point efforts in each of Niagara's first three playoff games, Ho-Sang has 16 in nine games since the second-last weekend of the regular season.
---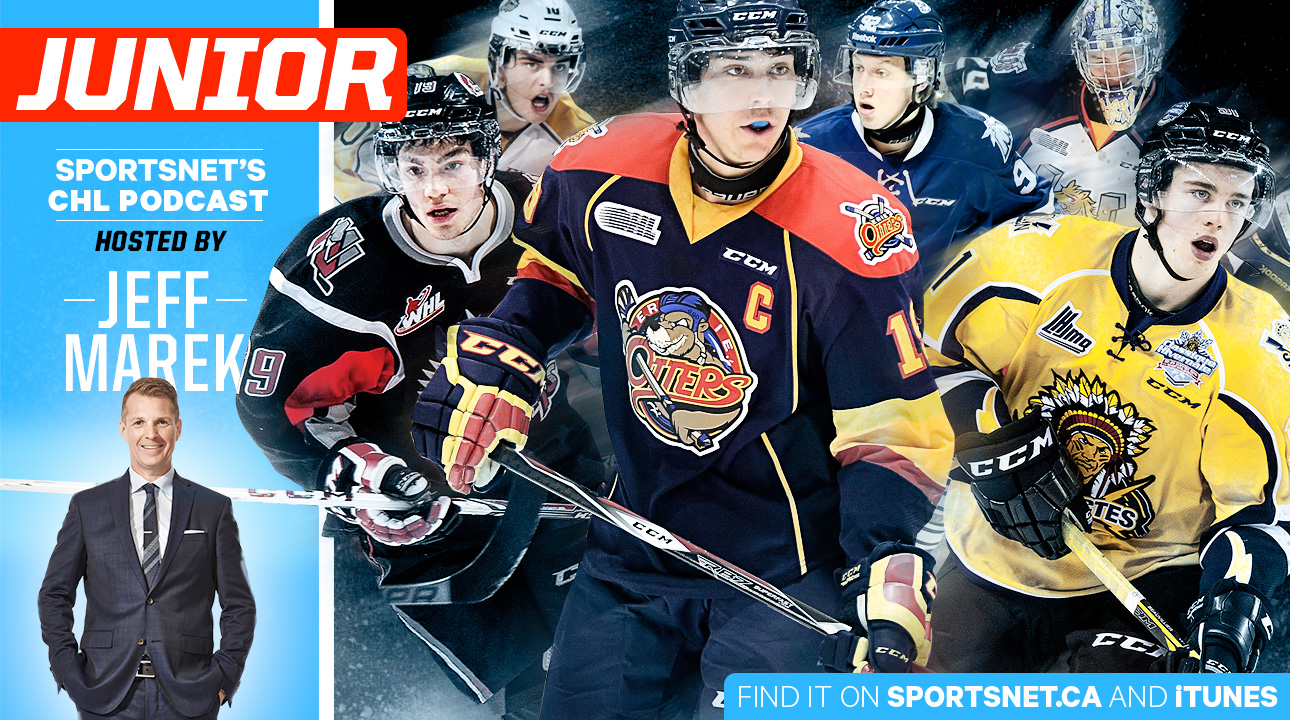 Jeff Marek hosts Sportsnet's weekly CHL podcast, a one-stop shop for news, analysis, opinion and interviews covering the WHL, OHL and QMJHL.
Listen now | iTunes | Podcatchers
---
That hot streak happened to begin not long after had Ho-Sang's first interaction with Islanders' brass since being sent home from training camp last fall after being late on the first day, although he says that is mostly just a convenient narrative.
"That was just one of many things that happened, part of a bunch of coincidences," says Ho-Sang, whose IceDogs lead the Ottawa 67's 2-1 in their best-of-7 Eastern Conference quarterfinal. "It's great that I got to talk to them for the first time in a long time. That was a relief for me, but in terms of our team, we're in a groove. I feel I am playing better away from the puck, which is helping my linemates. Now I know what I have to be in order to be a good part of the line.
"There is a lot more trust going through our team," adds Ho-Sang, who had primary assists on both IceDogs goals in a 4-2 loss Monday. "I trust my teammates and they trust me… that is a work in progress every day. We'll fall apart for a second, but the leadership in our group is really strong. We have guys stepping up. [Dallas Stars-drafted defenceman] Aaron Haydon is a big voice and so is [overage centre] Jordan Maletta."
The IceDogs are out to show that switching from black to red helmets and pants for the playoffs was more than a symbolic sartorial swap. The reason they are the No. 4 seed and, should they oust Ottawa, might face the Kingston Frontenacs in Round 2, stems largely from a sluggish second half. Counting playoffs, they are 15-14-1-1 since the Jan. 11 trade deadline. Of course, this is that team that loaded up with four notable OHL vets: Jenys from Sudbury, Harper from Hamilton and defenceman Josh Wesley and goalie Alex Nedeljkovic from Flint.
"The mentality we have as a team right now comes from knowing that we kind of underachieved this year," says Ho-Sang, who counted 19 goals and 82 points in the regular season. "We have taken it upon ourselves to get a bit of redemption. We came together and just agreed that if we are going to go out, let's do it the right way—as opposed to being on our own page."
Ho-Sang is the Mr. Outside on his line, playmaking and coming off the wall to create scoring opportunities. The 6-foot-3, 203-pound Jenys, is the finisher, Mr. Inside. Harper, as the mature middleman, tries to build consensus.
"Sanger is creative with the puck and Jens plays that power game," Harper says. "As much as we can, we tells Jens, 'play the north-south game' and I do a bit of each. You'll see Jens finishing off the plays. We know each other's style now.
"The first while I was here I played on different lines," Harper adds. "You need that to find the perfect fit. The other lines are gelling and it's not just us."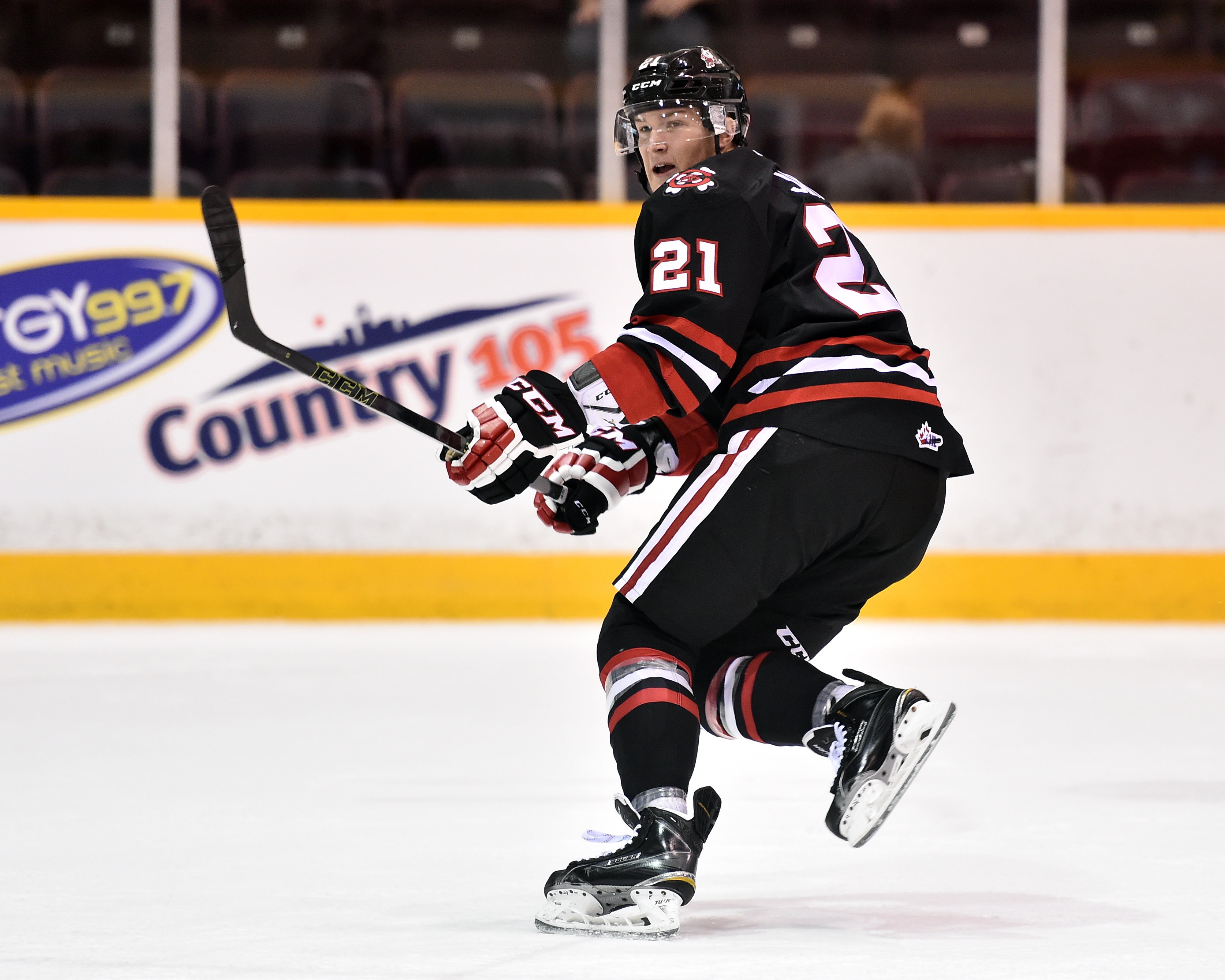 Jenys had 11 goals and 25 points in 42 games with Niagara. (Aaron Bell/OHL Images)
Ho-Sang is the only one on the line that has been past the first round in the OHL's post-season. Harper's first four seasons, and Jenys' first North American season after being drafted by the Wild 199th overall in 2014 all came with rebuilding clubs. That feeds a desire to play till May.
"It's my first playoff in Canada, so I'm really excited," says Jenys, who has three goals in as many playoff games. "The game is a little different. It's a good chance to show what you can do at the next level."
A non-division winner has not won the Eastern Conference title since the No. 6-seeded Sudbury Wolves in 2007. Since the trade deadline, Niagara is 0-2 against the No. 2 Barrie Colts and lost twice against the Frontenacs before Kingston had the top spot sealed.
"We know that when we want to play hockey, we are one of the best teams in the league, if not the best," Harper says. "If we prove it in the playoffs, that would be something special."
It is a 20-man (or more) effort to win four best-of-seven playoff series. Ho-Sang, with his acumen for smoothly slaloming around checkers with his stick skills and advanced edge work, is the X-factor. Sticking to the team-success mantra, though, he says his line's success owes more to Jenys and Harper.

After a down season in terms of scoring, Brendan Perlini must be better for the IceDogs to make a post-season run. (Terry Wilson/OHL Images)
"Playing with older guys helps a lot," Ho-Sang says. "Harps really understands the game. He also brings the puck out of the [defensive] zone really well, which helps Jens and I generate speed. Jens is burying everything. It brings a bit more dynamic offence to our team, and it's been working out."
Now the next few weeks will show if Ho-Sang and Niagara have found a winning edge.